By Steve Pike
Come for the mojitos, stay for the food. That's my advice for guests at the new Mojito Bar restaurant at Sawgrass Mills in Sunrise, Fla. Renowned Chef Douglas Rodriguez has fused his signature Nuevo Latin Cuisine with the classic Cuban cocktail for a terrific indoor and outdoor dining experience.
Located on the edge of some of Sawgrass Mills' more popular store, the vibrant and colorful Mojito Bar is an ideal spot for people watching, as well as lunch and dinner.
The experience begins, of course, with the mojitos. Mojito Bar has a deep selection of mojitos, led by the Classic served with DonQ Cristal rum; the robust Coconut mojito features DonQ. Try them each in Mojito Bar's 24-ounce glass and you might never want to leave. If you're looking to take the experience up another notch, Mojito Bar serves its namesake cocktails in a souvenir 32-ounce light-up tower glass.
Now on to the food. Start with the Smoked Pineapple Guacamole that has unbelievable flavor thanks mostly to the pineapple that's smoked for up to eight hours before being served.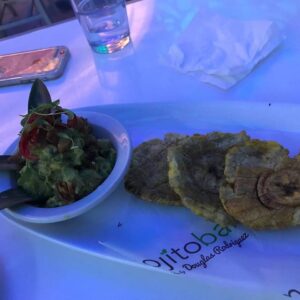 "Not your typical guacamole,'' said Mojito Bar Manager Bar Jose Reigosa.
The Smoked Pineapple Guacamole is just one example of Rodriguez's menu that also features dishes such as Cuban Sandwich on a Stick, Short Rib Soft Tacos (my favorite), Mojito Shrimp Ceviche and Brazilian Coconut Seafood Casserole.
"Douglas brought us a menu to match who we are,'' Reigosa said.
It's a perfect match.
Steve Pike is an award-winning food and travel writer at Spike's Peek's: The Art of Travel (www.myspiketravel.com). He lives in Delray Beach, Fla.
Hello Foodie Friends,
While on my trip to Orlando last week, I got invited to participate in an impromptu tasting by my Instagram friend Chef Matt Oakley from Tommy Bahama. It was an honor and I was so excited to meet Chef Matt and taste his food since I began following him on Instagram.
I was immediately shown the "Aloha" spirit when I walked through the doors and was greeted warmly by the hostess who proceeded to ask if I was Denise.  With a big smile, I answered yes and then was asked to follow her to a table that had been set up for me.
The Pineapple Paradisio, made with Bacardi Pineapple and St. Germain Elderflower was waiting for me on my table when I arrived. As I progressed through the tasting, two other cocktails were presented. The Coconut Cloud, made with Ron Matusalem Platino, Stoli Vanil, Cruzan Coconut and Cream of Coconut and the Mai Tai, made with Flor de Caña 4 Year, Orgeat, Orange Curaçao, Lemon, Lime, Pineapple and a Dark Rum Float. Although I am not familiar with several of the above mentioned ingredients, that didn't stop me one bit from enjoying them immensely! (Don't worry, not all three cocktails were consumed to their entirety during my tasting)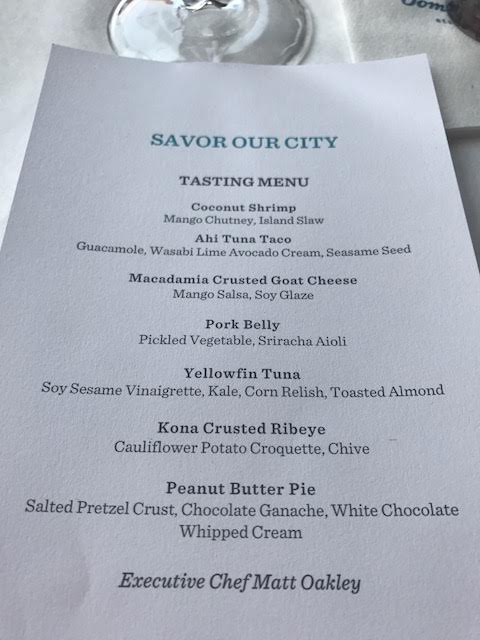 After meeting Chef Matt and chatting with him for a bit, he told me that Tommy Bahama and their restaurants serving Island fare have been around since 1993; the first one opened in Naples, FL. Today they can be found spreading the Island cheer all around the globe. This Tommy Bahama happened to be the company's Research & Development for their restaurants and Chef Matt works closely with their corporate chef to create some of the menu items. (The pork belly and the Peanut Butter Pie below are two of his own creations).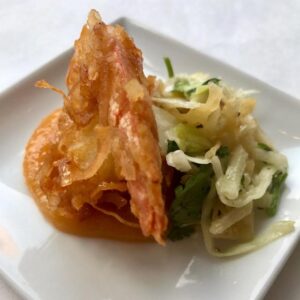 Coconut Shrimp..Tiger Shrimp coated in light beer batter with shredded coconut, accompanied by a Mango Chutney and Island Slaw composing of cabbage, red onion, cilantro, jicama and dressed with a lime vinaigrette. I am in love with this "world famous" appetizer dish and could eat it all day long. But today, I had to resist and just have the one-biter presented to me so I could move on…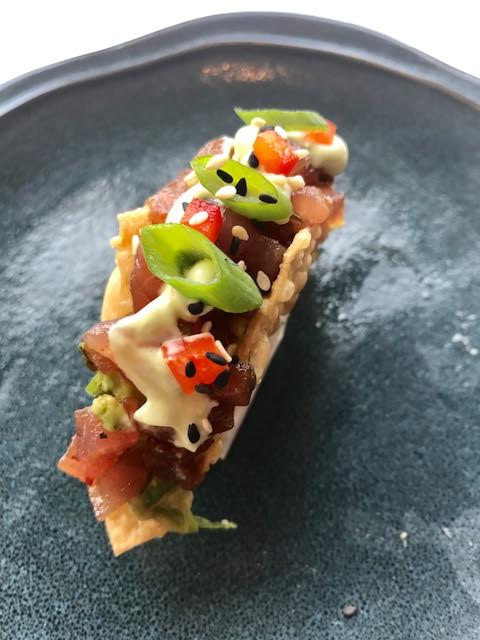 Ahi Tuna Taco..Crispy Wonton Taco Shell, Yellowfin Tuna dressed in a mix of Soy Sauce, Sesame Oil, Cilantro, Capers, Ginger, Garlic and a hint of Chipotle Pepper. Topped with Red Bell Pepper, Scallions and a Wasabi Lime Avocado Cream Sauce.  Every component of this dish came together to create the perfect bite. It was well thought out and executed. Oh yeah and so cute too! You can find these under their Appetizer section. Chef Matt shared with me that Tommy Bahama is big on sourcing their fish from those who practice sustainability. Today's tuna that I was served was line caught from Costa Rica. All of their fish is fresh and they never serve anything more than 3 days old. Gotta like that!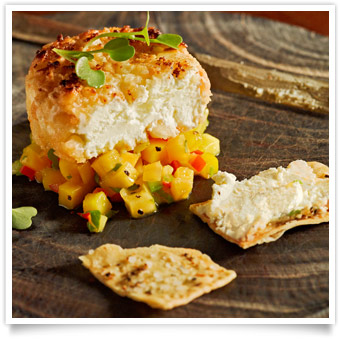 Macadamia Nut Crusted Goat Cheese…Laura Chenel Chevre coated in toasted Wailea Valley Plantation Macadamia Nuts warmed in Clarified Butter and served with a Papaya Mango Chutney and Soy Glaze paired with Lavash Flatbread. The combination of Macadamia nuts, clarified butter and goat cheese was amazing and the sweetness from the mango salsa truly made my tastebuds get up and do the Happy Dance. This is an awesome appetizer dish!

Pork Belly..Duroc Pork Belly braised in Soy Sauce and Brown Sugar. Seared then served on a Brioche Toast, topped with Pickled Vegetables, accompanied by a Sriracha Aioli.  I LOVED LOVED this dish. The pork belly was lean, which is a welcome change to the usual fatty pieces served these days. The combination of flavors from the sweet sauce used in the braising of the pork belly to the pickled vegetables placed on top, to the slight heat from the sriracha aioli on the finish, all had their part in creating a really tasty, balanced dish. You'll be able to find the pork belly in sliders only during their IT (Island Time) Happy Hour, each day from 4-6pm.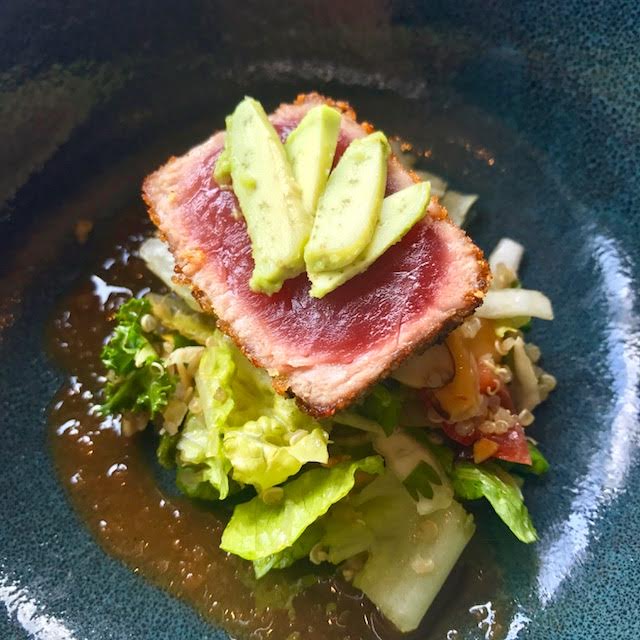 Yellowfin Tuna Salad.. Brown Chile Crusted Tuna, Kale, Roasted Corn, Quinoa, Toasted Almonds, Avocado, Island Slaw, Field Greens and dressed with a Soy Sesame Vinaigrette. The tuna had a lovely sear on it and was a wonderful accompaniament to this creative version of a field greens salad.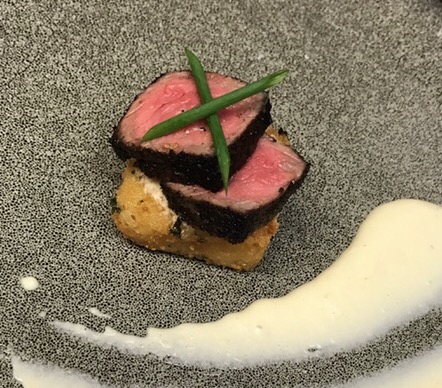 Kona Crusted Ribeye..Ribeye Deckle seasoned with a Kona Coffee Rub, the seared in cast iron. Served on a Cauliflower Chive Mash Croquette with White Miso Butter and accompanied by a Horseradish Aioli. Just when I think I've had the best bite of the day, Chef Matt goes and screws things up for me by presenting this little beauty. This here is just heaven on a plate. The rib eye was cooked absolutely to perfection and melted like butter in my mouth. I loved his cauliflower mash croquette creation and the horseradish aioli. You can find this Kona Crusted Ribeye entrée on their lunch and dinner menus.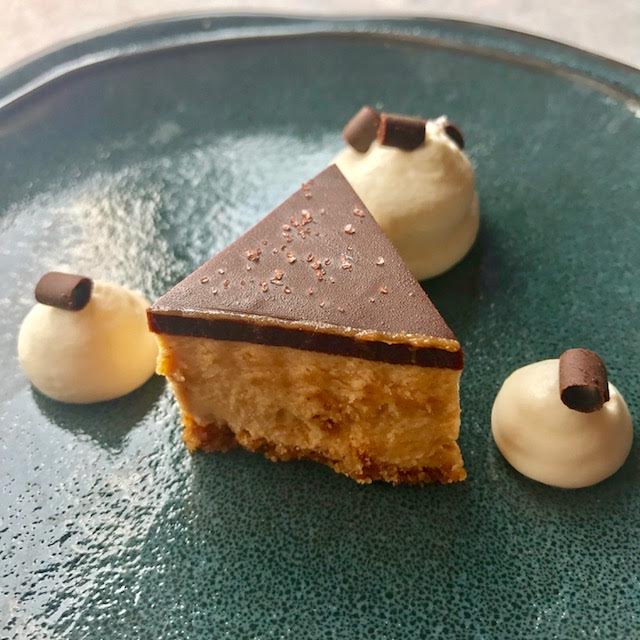 And finally…the Peanut Butter Pie..Whipped Peanut Butter, Salted Pretzel Crust, Callebaut Chocolate Ganache, Red Hawaiian Sea Salt and White Chocolate Mousse Whipped Cream. Oh my!!! Chef Matt really hit all the right notes on this one that is for sure. Loved the sweet and salty and creamy and crunchy contrasts that came together in harmony in a single bite.
I wish that Tommy Bahama would open a restaurant closer to where I live in Boca Raton, as the closest one to us here in South Florida is in Jupiter.  But in the meantime, with future travel plans in the works to Orlando, you can count on my making plenty of stops back here to this one in Pointe Orlando to visit my pal Chef Matt.
CURRENT PROMOTION: All Tommy Bahama retail locations with restaurants have implemented a 20% off retail purchases with proof of a sales receipt at the restaurant, valid on the same day. So eat, shop & save all you Tommy Bahama fans. You're welcome!
IT = Island Time, Tommy Bahama's version of Happy Hour. Available EVERY DAY between 4-6pm where you can belly up to the bar and partake in great bites and cocktails such as:
House Wines $5
Signature wines $7
Selected beer $4
Well Drinks $4
Martinis $7
Classic Cocktails $6
Small Plates:
Ahi Tuna $7

Blackened Fish Tacos $6

Angus Burger Sliders $6

Macadamia Goat Cheese $5

Jerk Chicken Lollipops $5

Pulled Pork Quesadillas $5
I want to thank my friends at Tommy Bahama in Orlando for hosting me during my recent trip to Orlando. It was my very first time eating at a Tommy Bahama and I can't wait to come back again. To visit this location:
Pointe Orlando
9101 International Dr
Orlando, FL 32819
RESTAURANT HOURS & PHONE
321.281.5888
Open: 11:30 AM daily
Happy Hour: 4-6 PM daily
---
STORE HOURS & PHONE
321.281.5886
11 AM – 10 PM Mon-Sat
12 PM – 8 PM Sun
---
Until we eat (and drink) again…
I send you delicious wishes, xo
Denise
Hello Foodie Friends,
DISARONNO turned the literal translation of amaretto 'a little bitter' into something sweet for amaretto enthusiasts in Delray in honor of National Amaretto Day, this past Wednesday, April 19th. DISARONNO, the original amaretto since 1525, hosted a self-guided bar tour in Delray for DISARONNO Day, which also happens to be National Amaretto Day. During the bar tour, revelers were able to enjoy cocktails such as the Italian Margarita, Bourbon Sour and DISARONNO Breeze.
Starting off at City Oyster at 5pm, DISARONNO Day participants were also able to visit Tramonti, 32 East, Luigi's Coal Oven Pizza, and Buddha Sky Bar as part of the official tour. Guests were provided a DISARONNO Sour Jar in which they could enjoy the cocktails and take it home as a keepsake souvenir. In addition, guests were given a DISARONNO t-shirt.
I started off at one of my favorite places on "The Ave", City Oyster & Sushi Bar where bartender extraordinaire Wayne Pasik poured me the Bourbon Sour to get this party started. Nice pucker to it. Off to a good start!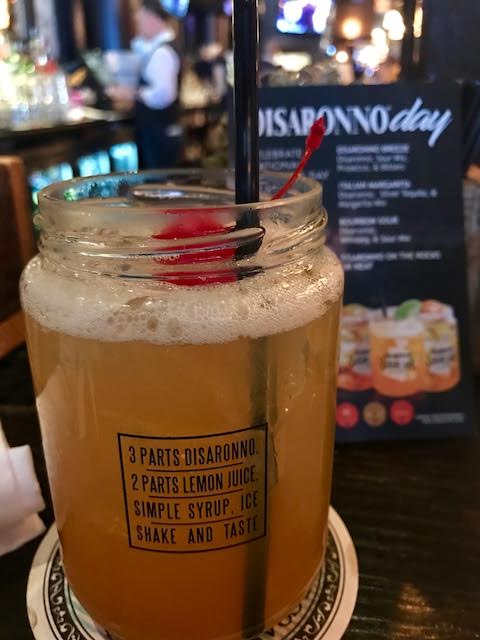 Next, I headed over to Tramonti where Timothy crafted the DISARRONO Breeze for me. This was made with DISARRONO of course and sour mix, Zonin Prosecco & Bitters. It was delicious!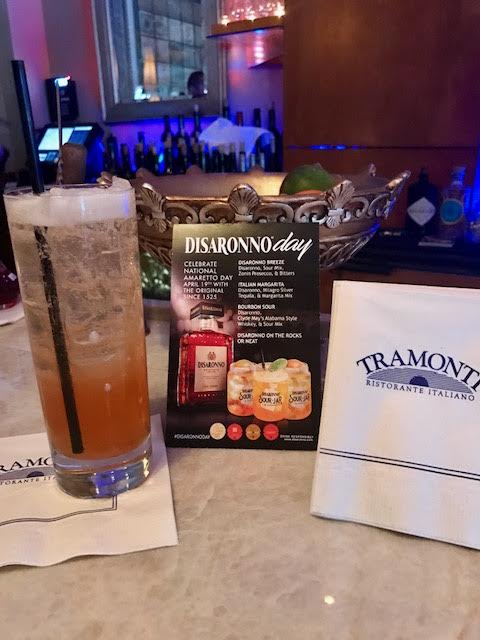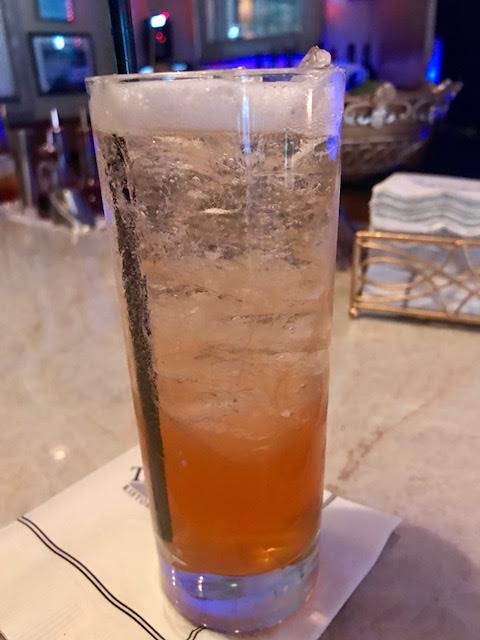 Next up was 32 East. As I pulled up a seat at the bar, I could no sooner get out the words "DISARRONO" when the lively group of guys hanging out at the bar next to me blurted out "we would like to buy you that drink". While I was flattered, I explained that I was participating in this tour and before I finished, they repeated their kind offer. Then it dawned on me, they were from DISARRONO. Dave, Ed, Matt and the rest of the gang were so much fun to hang out with.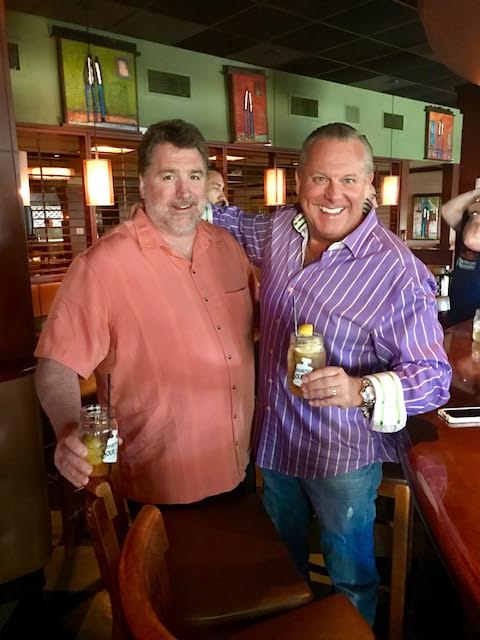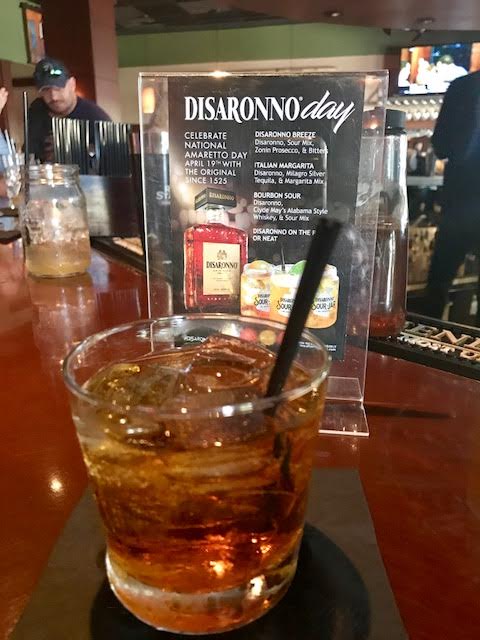 Following 32 East, I made my way to Luigi's Coal Fire Pizza. Here, bartender Ryan poured me an Italian Margarita. How fitting in an Italian restaurant. The drink was great and so was Ryan!
The final stop on this amaretto tasting tour was Buddha Sky Bar where Chrissy got real creative and made me an impromptu cocktail featuring DISARRONO. She came up with a Black Cherry Collins – made with DISARRONO, passion fruit puree, agave, a splash of grenadine and muddled blackberries and raspberries. I think this one my favorite creation of the night. Way to go Chrissy!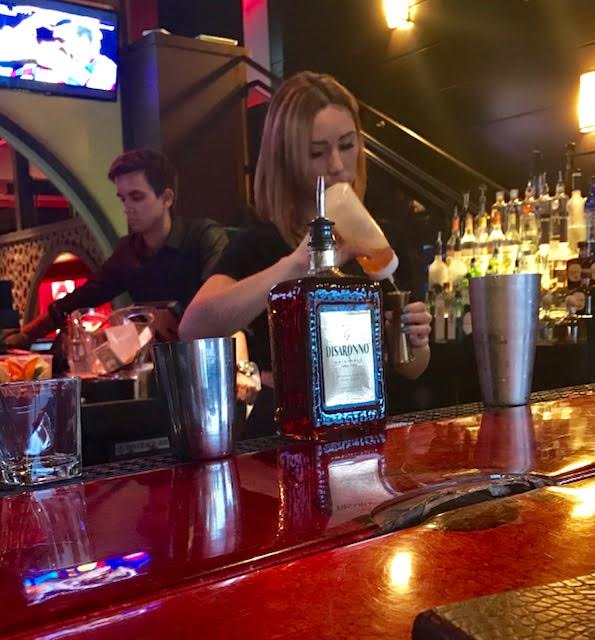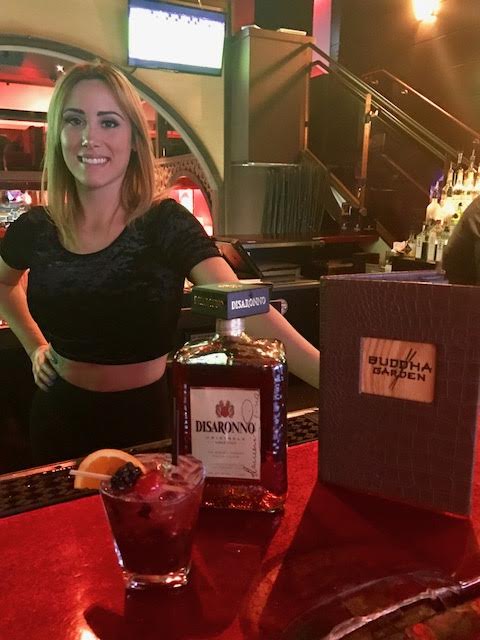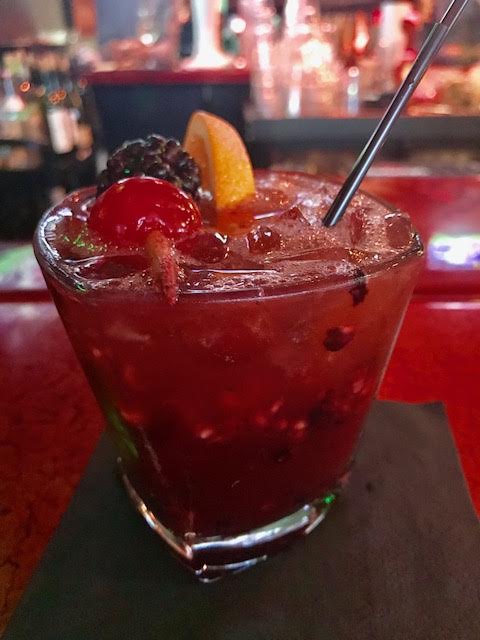 I want to thank the folks at DISARRONO for inviting me to participate in this cool bar tour. I think I see some synergy here with my culinary tours. Can't wait to explore the possibilities of collaborating with them again.
Here are a few recipes of the signature DISARONNO cocktails that were featured on the tour. Enjoy and drink responsibly!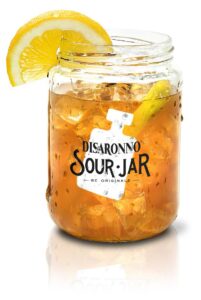 DISARONNO SOUR
2 parts DISARONNO
1 part fresh lemon juice
¼ part simple syrup
Fill a Disaronno Sour Jar with ice. Pour in Disaronno and then the fresh lemon juice. Add a teaspoon of sugar. Stir and garnish with lemon slice.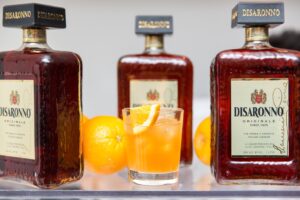 BOURBON SOUR
1 oz. DISARONNO
1 oz. Bourbon
1 oz. Lemon Juice
½ oz. Simple Syrup
Shake all ingredients with ice, and pour over a highball glass with ice and garnish with a lemon or orange slice
Until we eat (and drink) again…
I send you delicious wishes, xo
Denise