By Chloe Sommers
On Saturday, Downtown Ft. Lauderdale was flooded with beer enthusiasts and local breweries for the second annual FemAle Brewfest. It was a sunny day – perfect weather to throw back a cold one!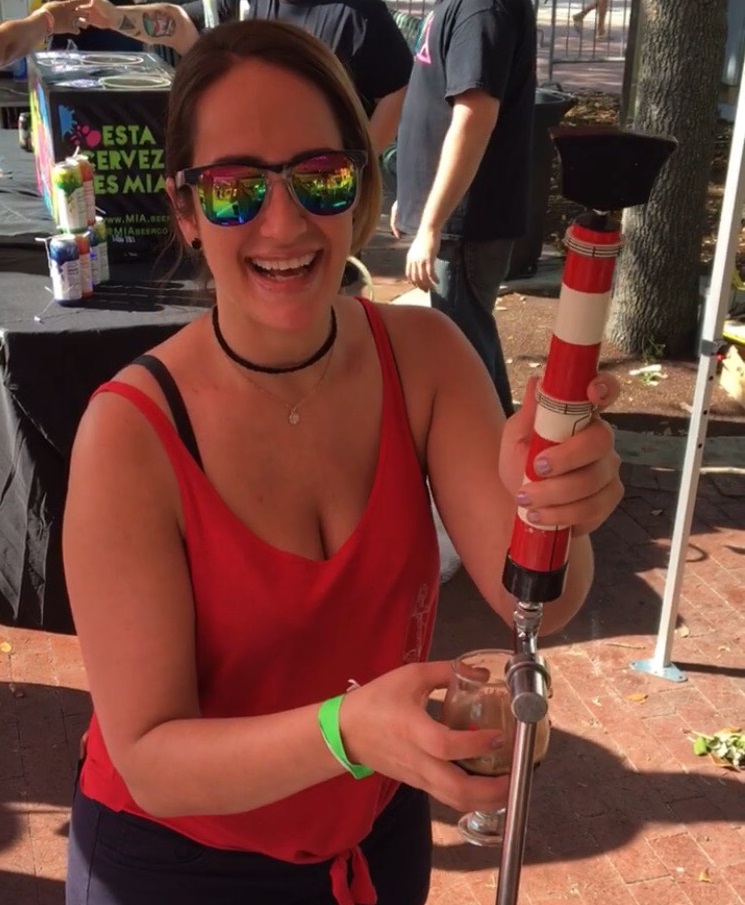 The outdoor event moved to Huizenga Plaza in downtown Ft. Lauderdale this year. The new venue allowed for more breweries and more than doubled the capacity. This not-so-secret gem of a festival was brimmed with tasty local breweries. And the best part is that this Brewfest was specifically aimed at highlighting women in the beer industry as all the businesses were women-owned or founded. One brewery featured a female master brewer, Kayla Brogna, of Bousa Brewery in Miami. We tried their coffee stout and found it was the perfect sip to start the day off!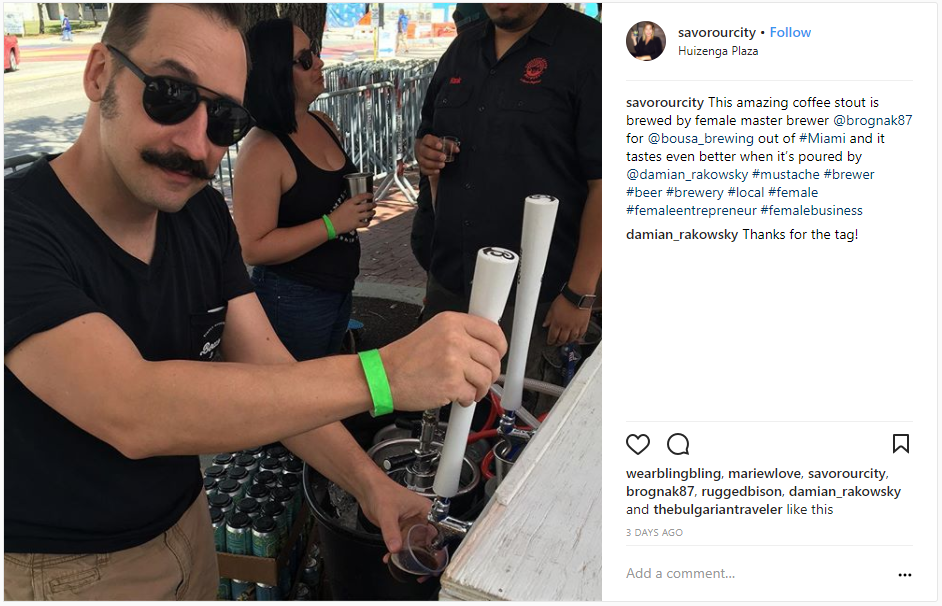 Next, we tried the Pomegranate Passion Fruit Evil Kiss. A Berliner Weisse by Tallahassee's Proof Brewing Company.Tart yet full-bodied, the German-style beer awakened our taste buds!
There were people from all over the state in attendance, including Dana who recently moved to Florida from Colorado. She was involved in the Colorado beer scene and said this event was the first of its kind that she's ever experienced. Dana told us she was really happy to see this event celebrating women in an industry normally dominated by men.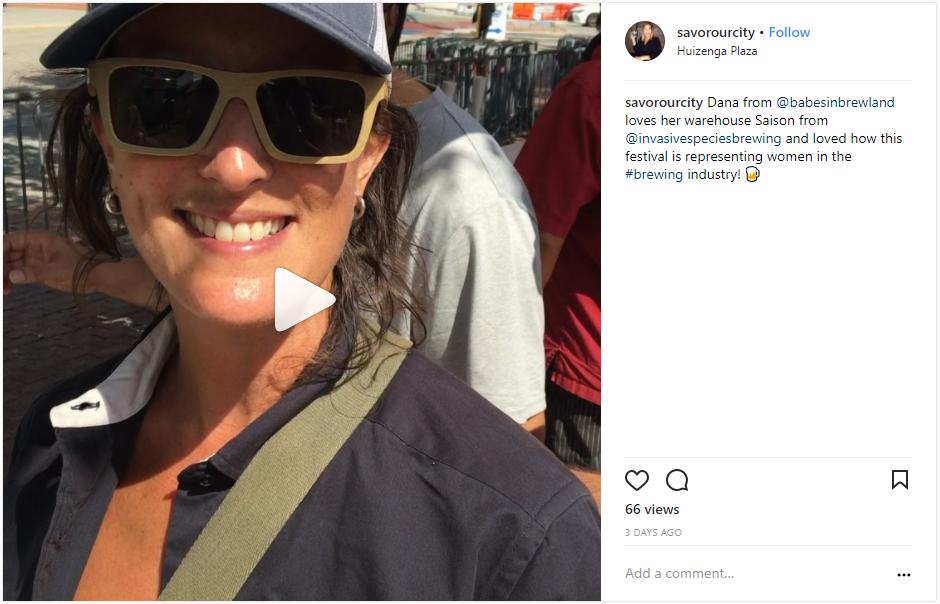 By far, our favorite beers of the day came from MIA Brewery in Miami. We kept coming back for their crisp and refreshing 'Hard Water' series so often that they gave us a can! A low calorie, gluten-free, low carb beer with only 5% alcohol, it's great for a long day at the beach. We suggest the Cucumber and Lemon Lime flavor.
Finally, what beer fest would be complete without some beer-infused sweets? We found this eye candy by Lola The Baker at the festival. Her beer cupcakes are divine and come in fun flavors including; Fruity Pebbles, Chocolate Raspberry, French Toast Maple Bacon, and Chocolate Cookie Dough. Her custom bakery in Miami even has gluten-free and vegan desserts!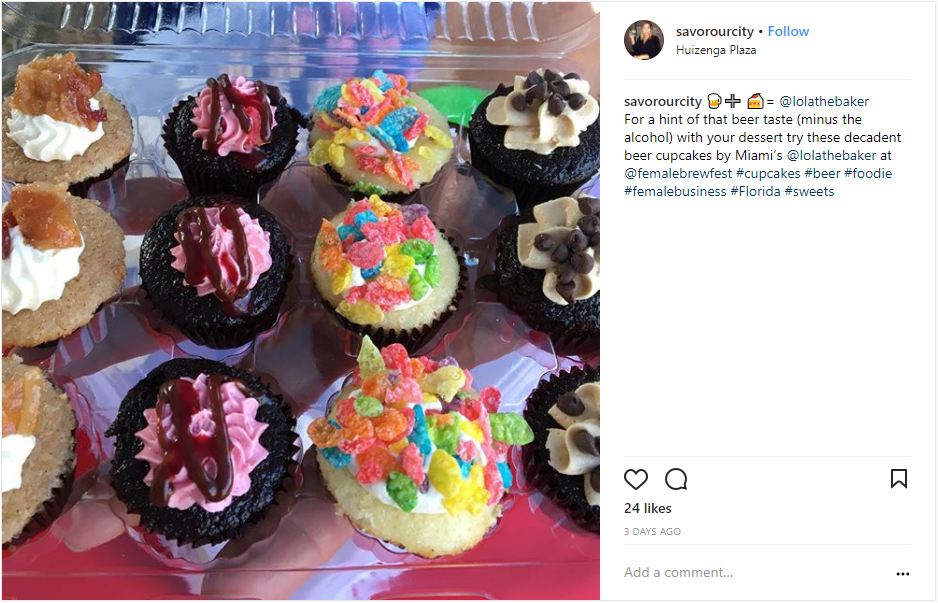 The second annual FemAle Brewfest boasted live music, outdoor games, a Jameson Whiskey-sponsored tent (with free shots), and great vibes. We recommend getting your tickets early next year because it's only a matter of time until more people find out about this intoxicatingly fun and lively Brewfest.

Hello Foodie Friends,
I am sorry for the big gap in between posts. I have been busy growing my company. Lots of exciting things will soon be revealed. A brand new website is just one of the things you can expect to see before the end of the year, woo hoo!
For any of you who have ever been on one of our culinary tours, you probably received a goodie bag provided by one of our sponsors, Whole Foods Market, which we fill with info and offers from each of the places we took you to during the tour, plus a sample from another sponsor, Sheila G's Brownie Brittle.
Today's blog post will be short and sweet. I wanted to let those of you in or near the Boca Raton Whole Foods Market location know that you should make a point to stop into their new Tavern on the Glades. This full service sit-down eatery located inside the store celebrates flavor and features all-day breakfast, pub burgers, amazing salads, sandwiches and more. At the Tavern, guests can choose from 16 craft beers on tap, Sommelier selected wines and non-alcoholic beverages.
TAVERN HOURS ARE 8AM TO 9PM, DAILY
Whole Foods Market is located at 1400 Glades Road, Boca Raton, FL 33431  561.447.0000
Check out their menu!
Until we eat again…
I send you delicious wishes, xo
Denise