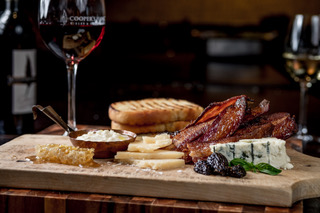 Written by Dawn Bryan
Recently, Savor Our City was invited to attend the opening of the new Cooper's Hawk Winery & Bar in Pembroke Pines, FL, a fantastic place to visit for any occasion. What a unique concept. Not only are their signature wine pairings reason enough to visit, but their culinary selections, all made in their scratch kitchen, are delivered to perfection to compliment one's wine pairing.  Each recommendation is made by their highly trained Chef and house staff along with a professionally trained management team.
Truly a unique culinary and wine tasting experience.
The Cooper's Hawk concept includes four different components: an upscale casual dining restaurant, full-service bar, private barrel-aging room, and Napa-style tasting room with a great adjoining retail store. All under one roof.
Upon arrival, we were directed to the large Napa-tasting room which was quite impressive. For a set fee or with the wine membership they offer, you can sample their latest reserved and private label wine selections. The tasting room is a great way to learn about the wines and you actually feel like you are in a true winery tasting room.
Then came the real fun part…sampling all of Cooper Hawk's favorites on the menu which included 9 courses, each selected with wine pairings all recommended by their head Sommelier, Emily Wines…She is amazing!
Whether you're an avid wine enthusiast or a novice, Cooper Hawk's has make it easy for their quests to select the perfect pairings; each food item is offered with a wine pairing suggestion labeled on the menu by bin number, as suggested by the winemaker.
My personal culinary favorites were the Candied Bacon & Artisan Cheeses, delicious award-winning Asian Pork Belly Tostadas, Fresh Pan Roasted Barramundi with Thai Lemongrass Sauce and my favorite of all….Short Rib Risotto with White Truffle Oil…OMG!!!  Just to die for… And then of course to top it all off, the Cooper Hawk's Chocolate Cake.
Their menu is extensive, so more reasons to go back time after time to experience it all. They also offer a Life Balance menu as well as a Gluten Free menu.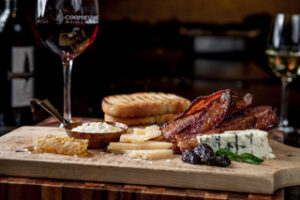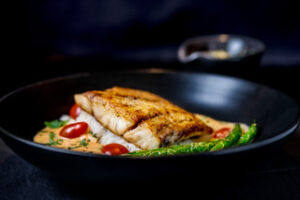 At the end of this memorable dining experience, along with making new friends over sensational food and wine pairings, I had left feeling VERY content and probably a few pounds heavier as well… It was so worth it.
I highly recommend Cooper's Hawk Restaurant & Bar Pembroke Pines any time and for any occasion.
Cooper's Hawk Pembroke Pines
10310 Pines Boulevard
Pembroke Pines, Fl 33026
954-582-9463
Hello Foodie Friends,
I am excited to share with you part one of a two-part series on my experience at the Marriott on Singer Island. I had been invited by the property's PR firm for quite some time now to come experience a meal at their signature restaurant, 3800 Ocean and I finally was able to make that happen. Let me tell you, it is well worth the 45-minute drive it took us from South East Boca. Speaking for myself and I'm guessing that many of you might fall into this category as well, when it comes to deciding on where to dine, hotel restaurants may not be on the forefront of your mind with the multitude of choices that abound. Well, I'm here to set the record straight and possibly get you to rethink this notion forever more. 3800 Ocean at the Marriott Singer Island is as good as it gets and shouldn't just be enjoyed by visiting guests, but by us local foodies as well.
The Marriott Singer Island has several dining experiences available:
3800 Ocean: Ocean views share the spotlight with South Florida's abundant harvest at the resort's signature restaurant. The 3800 Ocean menu reflects a "collective kitchen" inspired by the cultural backgrounds of each of its chefs – from New England and Long Island to Mexico and Jamaica – who bring their own personal influences to a rich bounty of local seafood and produce. Complementing the menu is an extensive wine list. Elegant interiors and an expansive covered patio give guests a choice of dining environments. Open for breakfast, lunch and dinner.
Kitchen Table: This one-of-a-kind experience, for groups of no more than five, takes diners with adventurous palates into the 3800 Ocean kitchen for a five-course menu created on the spot by the executive chef. The dinner typically spans three hours and is priced at $69 per person, with cocktail and wine pairings on request. Available Thursday through Saturday evenings; reservations required a minimum 24 hours in advance.
3800 Ocean Lounge: An inviting gathering spot for guests and locals, the lounge serves a casual lunch menu daily, exotic cocktails and bar fare every evening, and happy hour Monday through Friday.
Reef Tiki Bar: A casual menu of Pacific Rim cuisine is offered on the beach, complemented by cocktails handmade with fresh juices. The resort's signature Coconut Island Breeze is served here in a fresh cracked coconut and is a popular choice at the bar's Bubbles on the Beach happy hour. Open for lunch and happy hour daily.
Lagoon Cantina: Fresh-made margaritas, Mexican specialties and grilled fare are the draw at this poolside, Caribbean-style cantina. Open for lunch to resort guests and spa members/guests only.
Ocean Breeze Café: Starbucks drinks, pastries, salads and wraps are served to guests seeking a quick bite on the go.
In case you're not familiar with Singer Island, it's a peninsula (barrier island) on the Atlantic coast of Palm Beach County, Florida, in the South Florida metropolitan area. Most of it is in the city of Riviera Beach, but the town of Palm Beach Shores occupies its southern tip. The Marriott Singer Island Beach Resort & Spa is Palm Beach County's only all-suite beachfront hotel, with the Atlantic Ocean on one side and the Intracoastal Waterway on the other, it offers a wealth of opportunities for adventures on land and sea.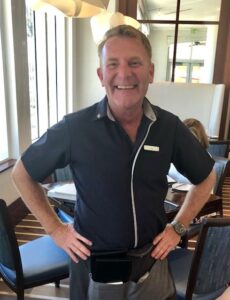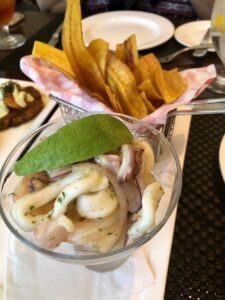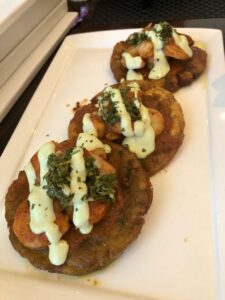 3800 Ocean has a VERY extensive & impressive wine list along with a whole lot of hand crafted cocktails and bourbons to choose from. For starters, we tried the seafood ceviche and the tostones rellenos. Both were superb dishes. I could have stopped right there (along with the glass of New Zealand Sauv Blanc) and had been a happy camper, but wait…there's more…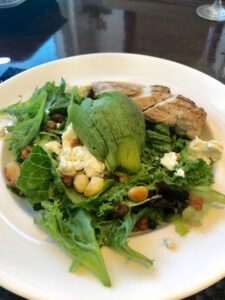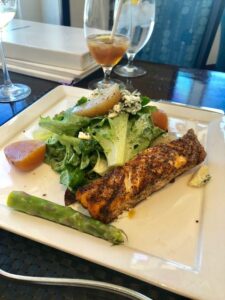 Even though I was already quite stuffed, I just had to make room for what has to be one of the most creative desserts I have ever had. The S'mores pot de creme. Take a look at this beauty! House Made Marshmallow, Graham Shortbread, Chocolate Pot De Crème, Biscoff Malto (OMG, Yum!!!)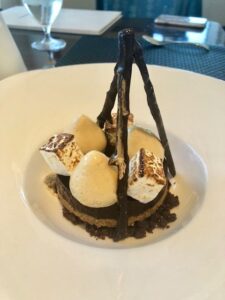 After lunch, we were given a tour of the property which we really appreciated. The grounds are gorgeous and although non hotel guests are invited to dine at 3800 Ocean, you must be staying at the property in order to access these other areas: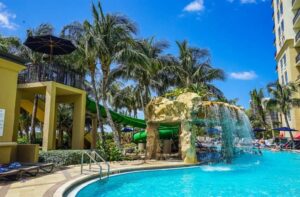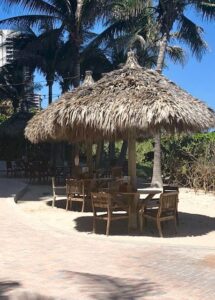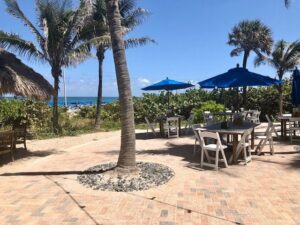 Later this summer I will be coming back to stay overnight in order to fully immerse myself into all the amenities that this lovely beachfront property has to offer. Stay tuned for part two of this feature highlighting this hot staycation destination.
Until we eat again…
I send you delicious wishes, xo
Denise
Hello Foodie Friends,
I had the great pleasure of dining at Chops Lobster Bar's sister property Lobster Sea Grille in Miami Beach this past week. I came to Miami for the purpose of building & solidifying new partnerships with restaurants in the Miami market for our new culinary tours and experiences being presented to our cruise line and destination management partners. Exciting stuff going on, I tell ya! Anyway, I had met Dawn Bryan, So Florida Marketing Manager for the Buckhead Restaurant Group, a couple years ago when I was invited for a tasting at Chops Lobster Bar by Chef Sean (who, by the way, creates stunning masterpieces, both visually and in taste).
On this occasion, I was joined by my product development manager, Annette, and Dawn. The place is gorgeous, inside and out.  The restaurant occupies the former China Grill spot, for those who need a familiar landmark. Shortly after being shown to our table, Matt approached and asked if it would be ok if he selected the tastings for us for the evening. After confirming we didn't have any food allergies or specific dislikes, he was given the go-ahead to surprise us. I always enjoy and prefer the tastings to be done this way, actually. To get the evening started, I began with a lovely glass of Cloudy Bay New Zealand Sauvignon Blanc which paired exceptionally well with the calamari, tuna tartare and quinoa, and jumbo lump crab cake.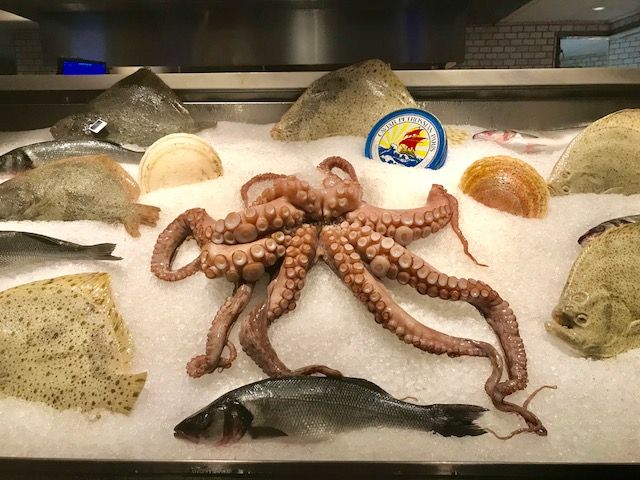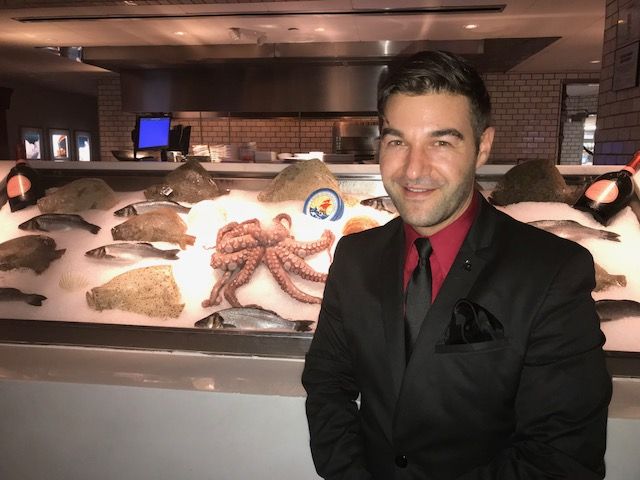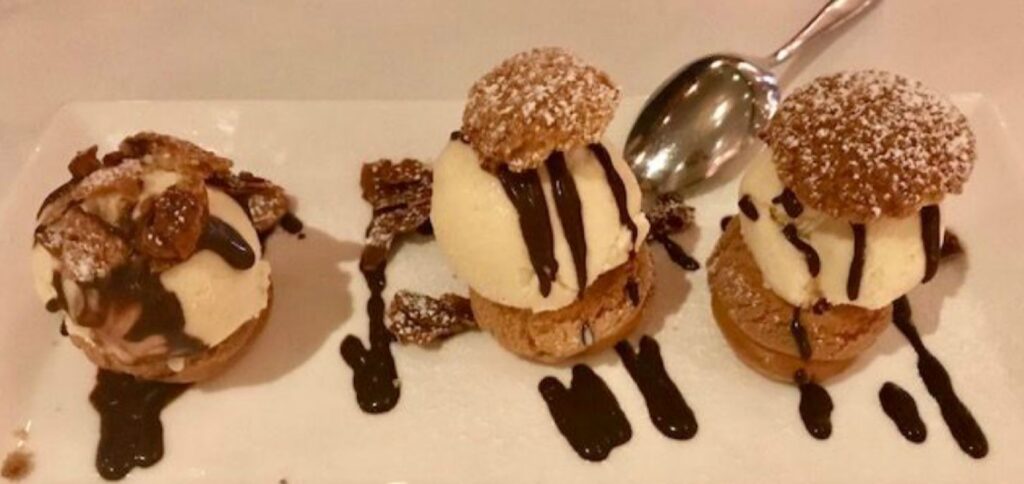 Lobster Bar Sea Grille is located at 404 Washington Avenue, Miami Beach  (305) 377-2675
| | |
| --- | --- |
| Tuesday | 5:30–11PM |
| Wednesday | 5:30–11PM |
| Thursday | 5:30–11PM |
| Friday | 5:30PM–12AM |
| Saturday | 11:30AM–3:30PM, 5:30PM–12AM |
| Sunday | 5:30–11PM |
| Monday | 5:30–11PM |
Until we eat again…
I send you delicious wishes, xo
Denise