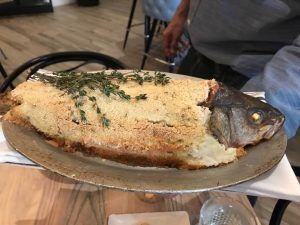 David Valencia has been in restaurant kitchens for the past 14 years – a relatively short time by executive chef standards – but the 33-year native of Colombia has experience far beyond those years. Valencia, executive chef at Costa Palm Beach, has cut his teeth at such fabled restaurants as The Modern in New York City and trained under Michelin-starred chef Alain Ducasse.
He later joined renowned hospitality group EMM Group to open Catch with Top Chef Winner Hung Huynh in New York and Miami and was Chef de Cuisine at Meat Market Palm Beach before opening Costa (with owner and veteran Palm Beach restaurateur Sascha Bennemann) earlier this year.
All of Valencia's high-powered training and learning is paying off at Costa, located on the second floor of The Esplanade on Palm Beach's trendy Worth Avenue.
"Modern Mediterranean'' is how Valencia describes Costa's menus, which feature several of what might be considered Valencia's "signature'' dishes. Among them is the amazing Salt Baked Branzino, a three-pound Crispy Pork Shank (for two) and for lunch, an off-the-chain Lamb Burger.
"I wanted to bring something different with a lot of different flavor profiles – big bold flavors,'' Valencia said.
Those bold flavors certainly come out in dishes such as the Salt Baked Branzino served with arugula emulsion, grilled lemon, olive caper tomato relish. It's a terrific explosion of flavors that has many guests telling friends, "Get the Branzino,'' when they go to Costa.
"I've been doing something similar (in terms of preparing the Branzino) for the past seven or eight years,'' Valencia said. "For whatever reason, this is the dish people come back for. I didn't expect it to be like that.''
And don't fret. The full fish is for presentation purposes only.
The Crispy Pork Shank goes back to Valencia's childhood days in Colombia.
"Pig was my thing,'' Valencia said with a smile. "We had a big farm and we had a pig for every big holiday.''
Valencia's Crispy Pork Shank is cured in salt, garlic and spices for 24 hours and cooked for three to four days to allow the meat to tenderize. When customers order it, Valencia flash fries the pork shank to get the skin extra crispy. It's then presented to the guests table side and returned to the kitchen where in the inside meat is prepared for serving.
The result?
"You'll never have a better piece of pork,'' Valencia said.
I'm certainly not going to disagree. If you're into pork, the Crispy Pork Shank is a "must have'' on the Costa menu. Same with the Branzino if you're into fish.
Some of my other favorites? The Hamachi (served with finger lime, avocado, sumac and cilantro) as an appetizer. The Moroccan Lamb Stew is outstanding. And you can't leave without having the House Hummus served with house made Naan Bread.
A good way to get to know the Costa menu is to take advantage of its Summer Menu (3 p.m. to 7 p.m.), which features items such as the Hamachi and House Hummus, as well as Jumbo Shrimp Cocktail and Chicken Escalope (grilled chicken breast, zucchini, eggplant, herb puree, arugula, lemon), each for 50 percent off the regular menu prices.
"I don't change the quality or the sizings,'' Valencia said. "That menu is a real treat for somebody to try something that's not as expensive and to try something maybe they haven't had before.''
One taste of Valencia's big, bold flavors, however, and they'll be back.
Steve Pike (www.myspiketravel.com) is an award-winning food and travel writer. He lives in Delray Beach, Fla.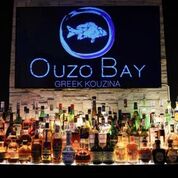 Hello Foodie Friends,
I was recently invited to dine at the new Ouzo Bay, which opened up their second location just under four months ago in Mizner Park (Downtown Boca) in the former Jazziz spot.  The 325-seat restaurant reflects the core concept of Ouzo Bay's flagship location in Baltimore, Maryland, which opened in 2013 to rave reviews, and has been named the #1 restaurant in the city by Baltimore Magazine, which offers contemporary Mediterranean cuisine with a strong Greek influence.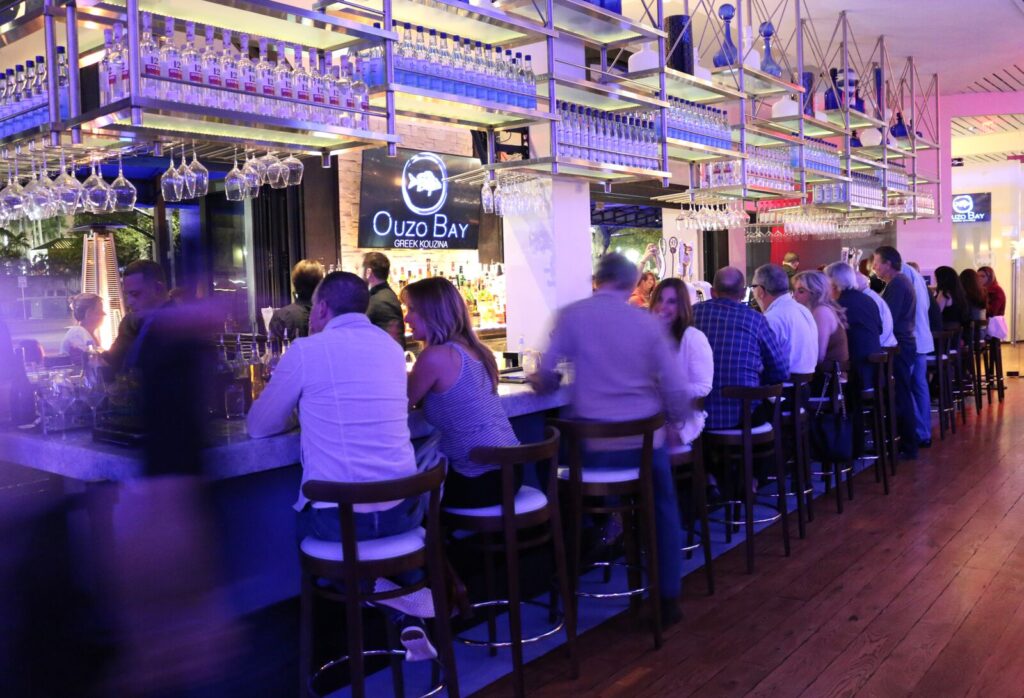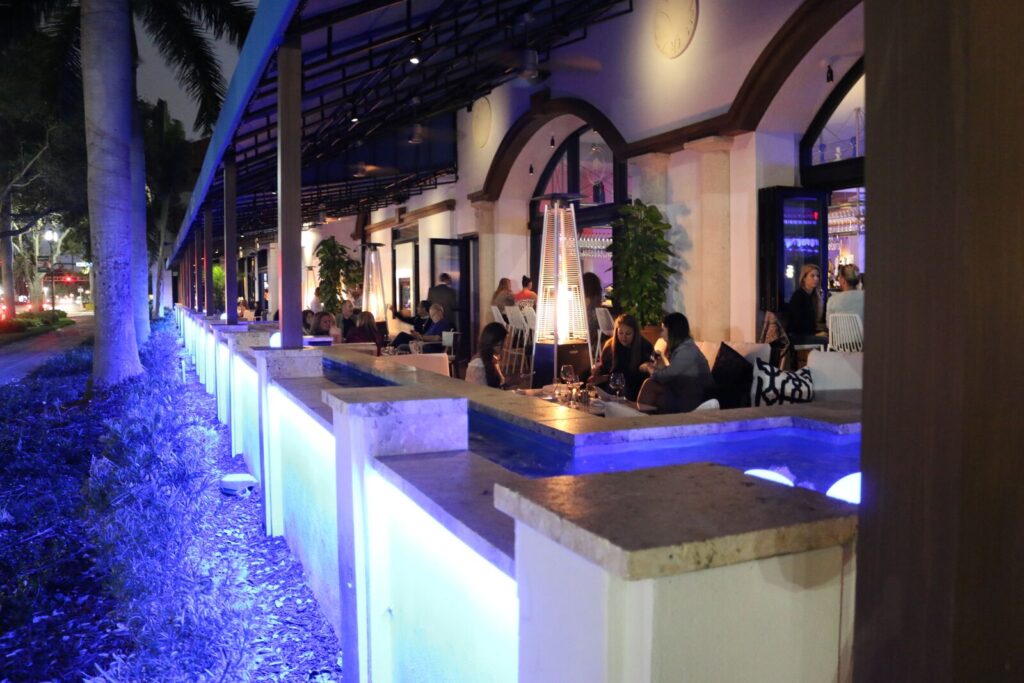 Ouzo Bay's interior was designed to reflect the Greek influences in a modern way. The signature blue accent lighting throughout the restaurant helps to create an upscale, yet relaxed atmosphere. Comfortably seating roughly 225 inside and 100 on the outside patio, there are also separate lounge sections inside and outside, as well as a 30-seat private cigar lounge attached to the restaurant. "With Ouzo Bay Boca Raton, we will continue to bring our customers the finest quality ingredients from the Mediterranean, matched by our chic bar atmosphere," says Alexander Smith of the Atlas Group Restaurant, owners of Ouzo Bay. "We feel that Mizner Park and Boca Raton will be a perfect fit for our fish flown in fresh daily from around the world complemented with handmade cocktails and an enormous wine and spirits list."
Highlighted by a variety of Whole Fish flown in daily from around the world, the menu includes only the freshest and finest-quality ingredients.  Complimenting the seafood menu, Ouzo Bay also has an extensive selection of fine-quality cuts of grass fed lamb, prime beef and organic chicken.  In addition to the impressive culinary lineup, Ouzo Bay's posh full-service bar is overseen by Bradford White, the restaurant's resident Sommelier/Beverage Manager and features handcrafted cocktails, small-batch whiskeys and a wine list that is emphasized by Greek wines. Ouzo Bay's name is a nod to one of the East Coast's largest selections of traditional Greek ouzo and the complimentary shot that is given to each diner at the end of their meal.
L to R: Baked Feta, Greek Salad, Grilled Octopus
The Feta Sto Fourno (Baked Feta) was a unique and tasty dish. The Feta was baked (obviously) which in and of itself was an entirely new presentation to me.  It kind of resembled a Greek version of an Italian Caprese. The perfectly browned feta sat on top of a beefsteak tomato and a delicious eggplant purée & balsamic reduction.
The Horiatiki (Traditional Greek Salad) was light and crisp and did not disappoint; Beefsteak Tomatoes, Cucumbers, Bell Peppers, Onions, Feta, Olives, Kalamata Extra Virgin Olive Oil & Red Wine Vinegar.
My eyes always light up when I see Xtapodi Sharas (Octopus) on the menu. I am cautiously optimistic. It's easy to over cook this delicacy and unfortunately, I have had my share of over charred/over cooked octopus that tasted more like chewy rubber. I was so hoping that this would not be the case here. To my big fat happy chagrin, it was not. This charcoal-grilled octopus was cooked to sweet and tender perfection and tossed with Sweet Onions & Red Peppers in a Red Wine Caper Vinaigrette.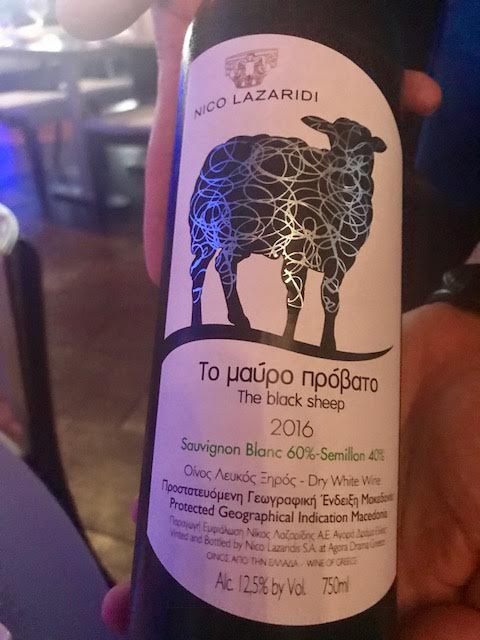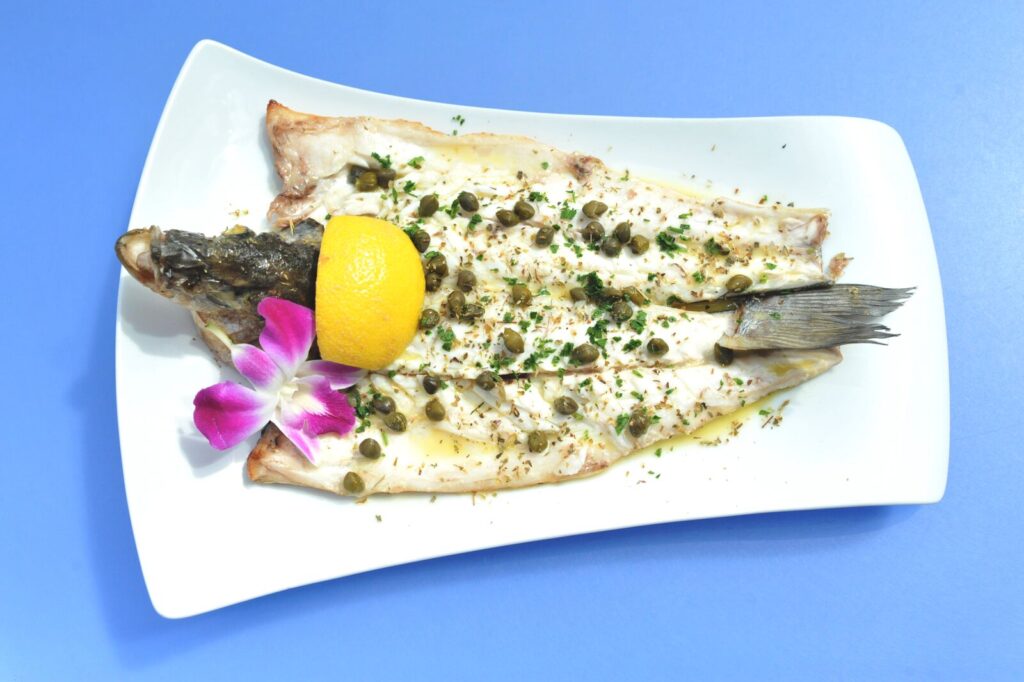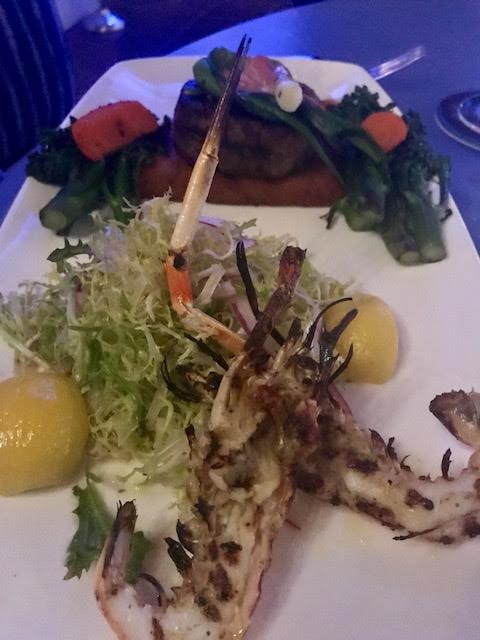 Our overall experience at Ouzo Bay was a 10, in food, service and decor. Ouzo Bay is a welcome addition to the culinary scene at Mizner Park and in South Florida in general. Very excited to have them here and can't wait to come back and try some more items.
Ouzo Bay is open for:
LUNCH Monday-Saturday 11a–3p
HAPPY HOUR Sunday-Friday 3p–7p
DINNER Sunday-Wednesday 4p-10p (Bar until 12a)
Thursday-Saturday 4p-12a (Bar until 2a)
BRUNCH Sunday 10a-3p
They are located on the South end of Mizner Park at 201 Plaza Real, Boca Raton, Florida 33432 561.757.0082. Check out their online menu and other info here.
Follow Ouzo Bay on:
Instagram: @OuzoBayBoca
Facebook: /OuzoBayBoca
Twitter: @OuzoBayBoca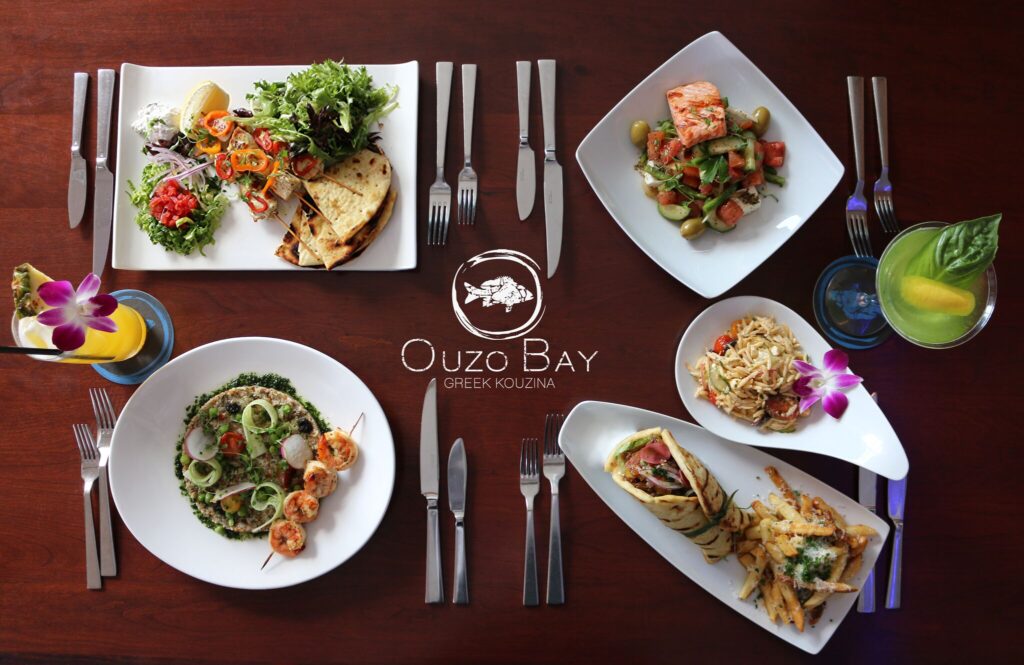 Until we eat (and drink) again…
I send you delicious wishes, xo
Denise
Hello Foodie Friends, it was just last month that I was invited to visit a little hidden gem South of Fifth in Miami Beach called Santorini by Georgios and I am already dreaming of my next visit back!  It was a gorgeous day that my friend Laura and I visited and the only thing better than the weather was the hospitality, food and ambience.  The spacious, indoor/outdoor restaurant tucked ay inside the Hilton Bentley was entirely redone with outdoor, poolside and beachside service available.
Santorini by Georgios restaurant presents authentic, fresh Greek and Mediterranean cuisine that is locally sourced and fresh seafood is caught daily. Executive Chef, Owner and Creator Georgios Vogiatzis offers a menu of recognizable, yet creative dishes for breakfast, lunch, dinner and weekend brunch in a lively, upscale-casual pool and beachside atmosphere complimented by friendly and professional service.
Santorini by Georgios prides itself on defining what true quality food is with their fresh cuisine, in addition to exceeding every one of their customers' expectations. Whether it's a girls' afternoon luncheon (which is what Laura & I came for), an after work happy hour get together, or a romantic dinner for two, Santorini by Georgios will make sure the challenge to delight their clients is met.
To complement each dish, Georgios has created a refreshing selection of cocktails with in-house made purees and infusions. The beverage program includes full beer and wine lists, as well as large exotic fruit cocktails sold in unique hollowed-out pieces of fruit, such as pineapples and watermelons. (We tried the Pineapple but we had our eye on the Watermelon which I'm sure we'll try the next time we're there). The "Giant Bowl" menu also consists of beautifully crafted cocktails in bowls large enough to share – perfect for taking that "I'm on vacation" Instagram photo.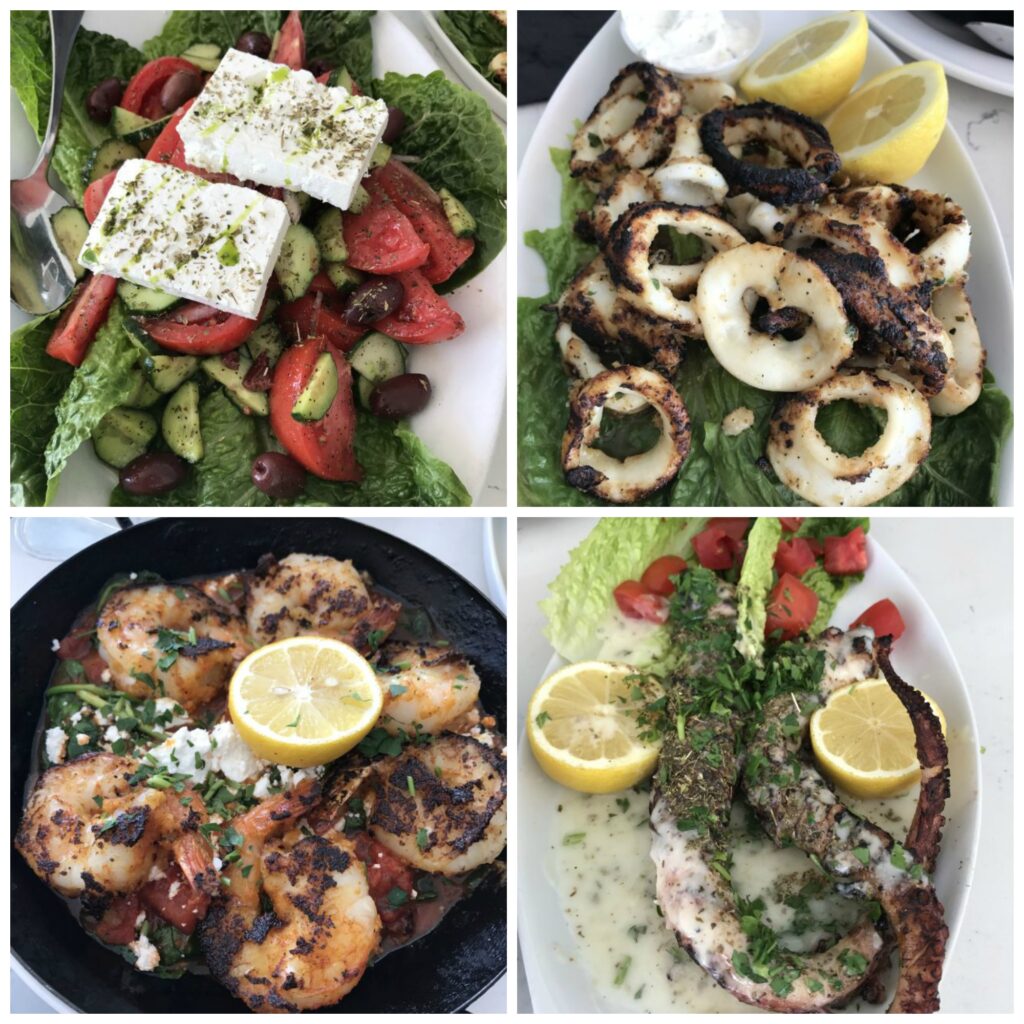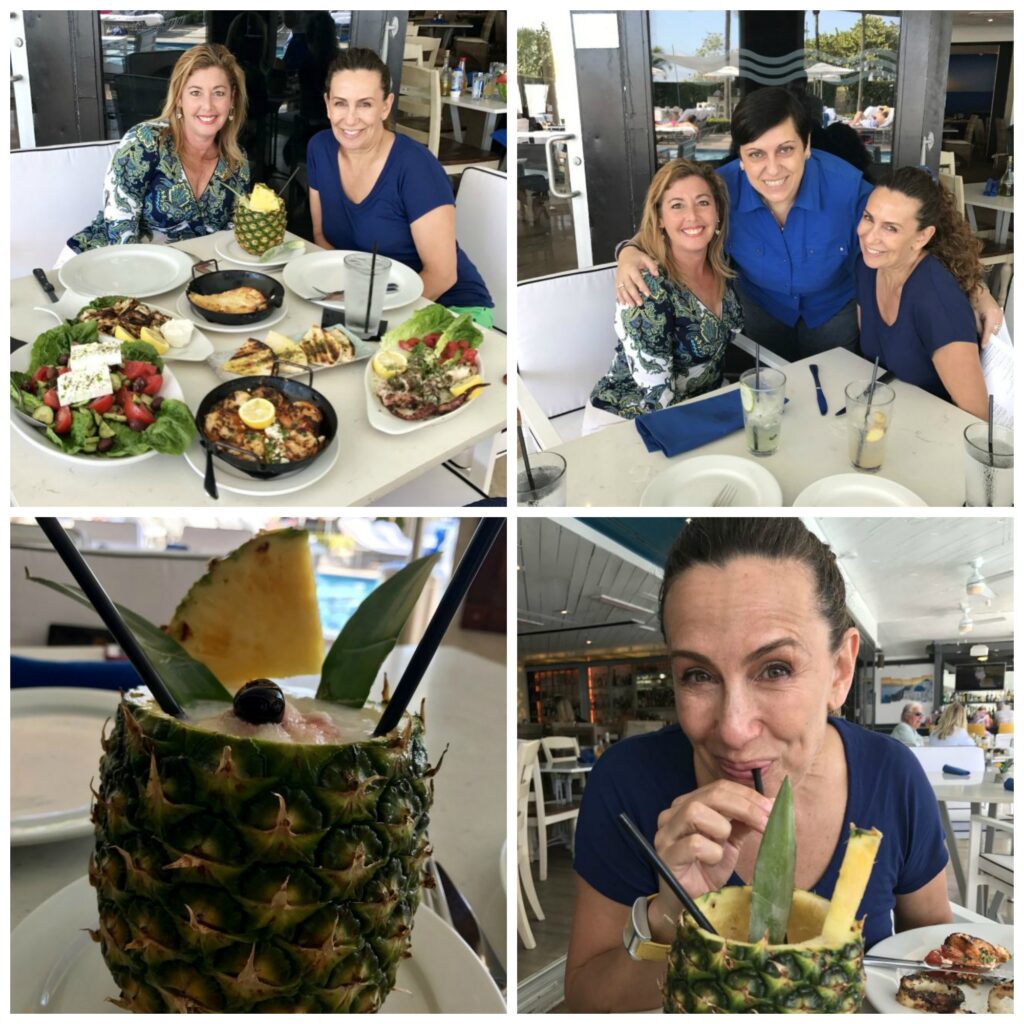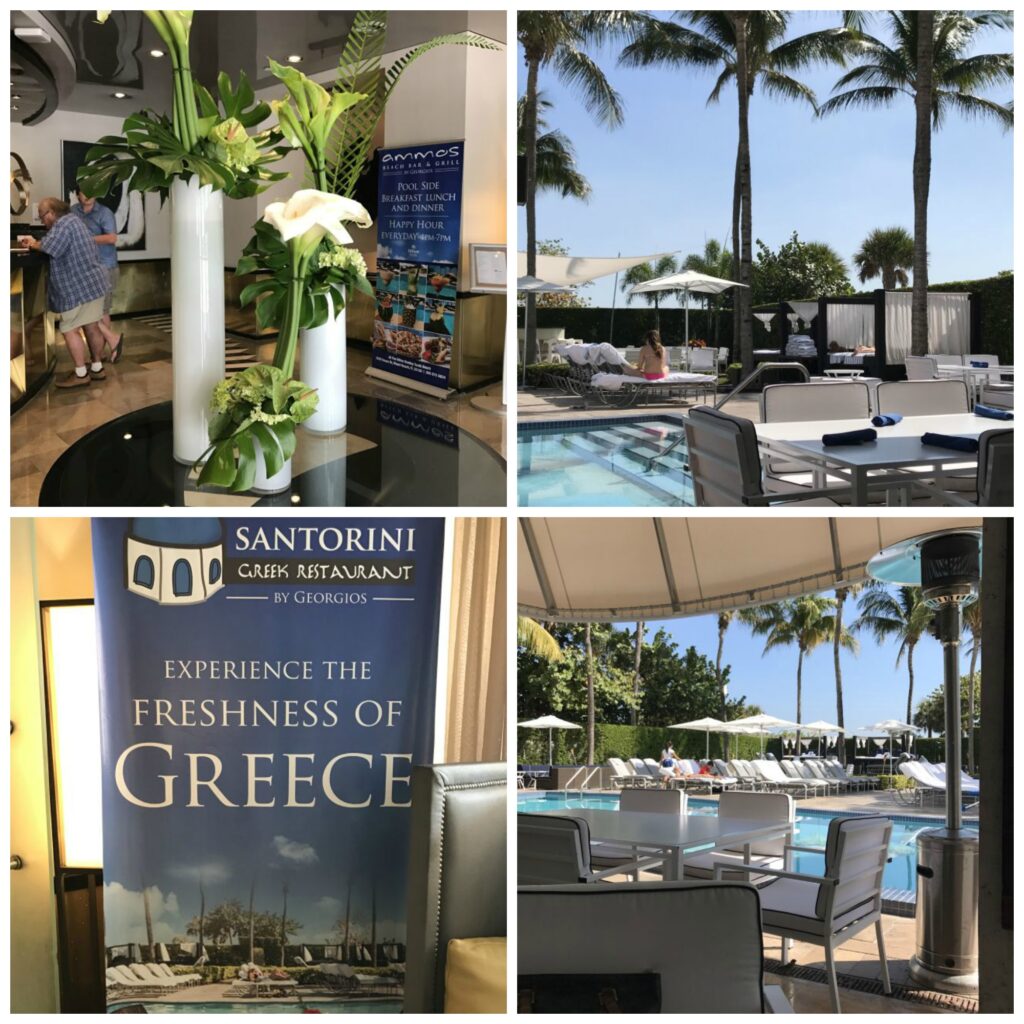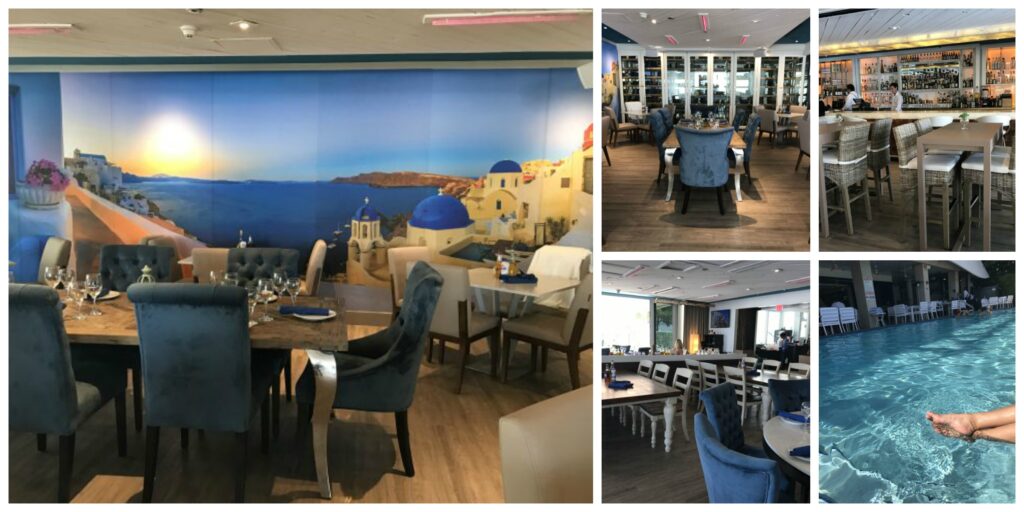 Located in Miami Beach's South of Fifth Avenue, or "SoFi" as locals call it – the enclave South of Fifth Street – is a vibrant destination and the ideal place for millionaires to live in Miami Beach.
-Valet parking available
-Take-out service is available
–Happy Hour seven days a week
-Weekend brunch with omelette and waffle stations
-Weddings and private event reservations
Well there you have it. We savored every bite we ate and every sip we drank. We truly felt we were transported to the Mediterranean and are very much looking to going back again soon.
They are located at 101B Ocean Drive, Miami Beach, Florida 33139, inside the Hilton Bentley Miami/South Beach.
Phone: (305) 672-6635
Website: www.SantoriniByGeorgios.com
Email: info@santorinibygeorgios.com
Hours of Operation: 7 days a week; 7 a.m. – 1 a.m.
Until we eat again…
I send you delicious wishes, xo
Denise