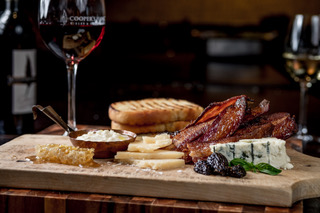 Written by Dawn Bryan
Recently, Savor Our City was invited to attend the opening of the new Cooper's Hawk Winery & Bar in Pembroke Pines, FL, a fantastic place to visit for any occasion. What a unique concept. Not only are their signature wine pairings reason enough to visit, but their culinary selections, all made in their scratch kitchen, are delivered to perfection to compliment one's wine pairing.  Each recommendation is made by their highly trained Chef and house staff along with a professionally trained management team.
Truly a unique culinary and wine tasting experience.
The Cooper's Hawk concept includes four different components: an upscale casual dining restaurant, full-service bar, private barrel-aging room, and Napa-style tasting room with a great adjoining retail store. All under one roof.
Upon arrival, we were directed to the large Napa-tasting room which was quite impressive. For a set fee or with the wine membership they offer, you can sample their latest reserved and private label wine selections. The tasting room is a great way to learn about the wines and you actually feel like you are in a true winery tasting room.
Then came the real fun part…sampling all of Cooper Hawk's favorites on the menu which included 9 courses, each selected with wine pairings all recommended by their head Sommelier, Emily Wines…She is amazing!
Whether you're an avid wine enthusiast or a novice, Cooper Hawk's has make it easy for their quests to select the perfect pairings; each food item is offered with a wine pairing suggestion labeled on the menu by bin number, as suggested by the winemaker.
My personal culinary favorites were the Candied Bacon & Artisan Cheeses, delicious award-winning Asian Pork Belly Tostadas, Fresh Pan Roasted Barramundi with Thai Lemongrass Sauce and my favorite of all….Short Rib Risotto with White Truffle Oil…OMG!!!  Just to die for… And then of course to top it all off, the Cooper Hawk's Chocolate Cake.
Their menu is extensive, so more reasons to go back time after time to experience it all. They also offer a Life Balance menu as well as a Gluten Free menu.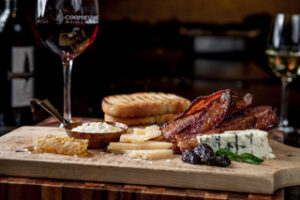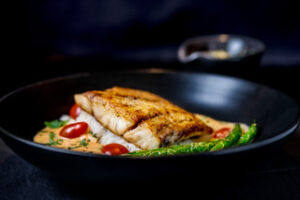 At the end of this memorable dining experience, along with making new friends over sensational food and wine pairings, I had left feeling VERY content and probably a few pounds heavier as well… It was so worth it.
I highly recommend Cooper's Hawk Restaurant & Bar Pembroke Pines any time and for any occasion.
Cooper's Hawk Pembroke Pines
10310 Pines Boulevard
Pembroke Pines, Fl 33026
954-582-9463