Hello my Dear Foodie Friends,
Today's post is about an amazing tropical oasis located in the Grandview Heights Historic Neighborhood of West Palm Beach. It's called the Grandview Gardens Bed & Breakfast and is owned and operated by Peter Emmerich and Rick Rose. (They also own and operate Palm Beach Vacation Rentals). Rick is a third generation Floridian born and raised in the Palm Beach area and is the official historian and tour guide for the Worth Avenue Association. I had the pleasure of meeting Rick a few years back while taking his tour.
Nestled in a tropical garden on Howard Park across from the West Palm Beach Armory Art Center, this historic 1925 property has been carefully restored to reflect the original Spanish Mediterranean architecture inspired by many famous architects in South Florida over the last century.
It's conveniently located within walking distance of Grandview Public Market as well as other great dining and entertainment destinations such as Rosemary Square (formerly known as City Place).
There are 5 luxurious and spacious suites (each approximately 400 sq. ft.) at the B & B and all are accessible with a private entrance and French doors opening to private terraces overlooking the swimming pool. Each guest suite is individually decorated to reflect the style of the Spanish Mediterranean house and features a king size bed or two queen beds, a desk, a walk-in closet and a sitting area with sofa and arm chair. All rooms feature: En suite bathroom with bath/shower combination, Air conditioning and ceiling fans, Cable TV and Radio, Direct dial telephone, High speed internet access, including wireless, Tea and fresh coffee making facilities, complimentary bottle of water, Refrigerator and Hairdryer. In addition to the B & B Suites, guests can also choose from 5 superbly renovated historic vacation rentals which are located adjacent to the Bed and Breakfast. These 2 and 3 bedroom vacation homes are ideal for families looking for spacious, fully furnished rentals with self catering kitchens.
I got to stay in the Royal Poinciana Suite. From the moment I arrived, I knew I was in for the royal treatment as I stepped through the doors and was warmly greeted by name and told they were expecting me.  I was shown around the lovely home and told about  breakfast in the morning before being escorted to my suite. The room was very well appointed with the finest of amenities listed above as well as nice bathrobes which came in handy. The service was definitely top notch. On my second day, I decided to take a dip in the very inviting pool and before I knew it, a float  "mysteriously" appeared beckoning me to hop on followed by a glass of ice water that one of the staff brought for me to enjoy when I got out of the pool. Talking about attentiveness- I left the room to attend a brief meeting at The Breakers in the morning and returned back to the room within one hour to find that the room had already been tended to. Wow, now that's service!
Breakfast is of course included at the Grandview Gardens B & B and I took advantage of it on both days. A nice assortment of fruits, yogurts and granola as well as eggs, bacon and toast along with choice of coffee, tea and juice were offered. Everything was delicious.
Bikes are available for guests to use during their stay, although I didn't take advantage of it this time. I just might have to do that on my next visit back. I did venture off to Darbster's for dinner on one of the nights I stayed. I've been to this place once before and remembered how unique it was and was looking forward to going back. It also has a tropical oasis vibe found in a most unusual location directly under a billboard under I-95. It's a Vegan restaurant, and although I do not lead a Vegan lifestyle, I am always down for good food and good creative food is what they specialize in at Darbster's. I absolutely adore their Palm Cakes. Other dishes I got to try were the "Tuna" Club served on flax bread, butter lettuce, tuna (pulled almond), dill mayo, eggplant bacon, avocado, tomato—served with a side house salad. I swear I couldn't tell I wasn't eating real tuna. It tasted so yummy! The flax bread was definitely a new taste/texture for me. Bread is a weakness of mine and since I began doing the Keto Diet a couple weeks ago, I am mindful of staying away from bread, so this flax bread was a cool alternative. I also got to sample the Barley Risotto which was made with barley, oyster mushrooms, shitake mushrooms, butter, garlic, cashew goat cheese, Arugula, cherry tomatoes, cashew Parmesan cheese. This dish was very tasty as well.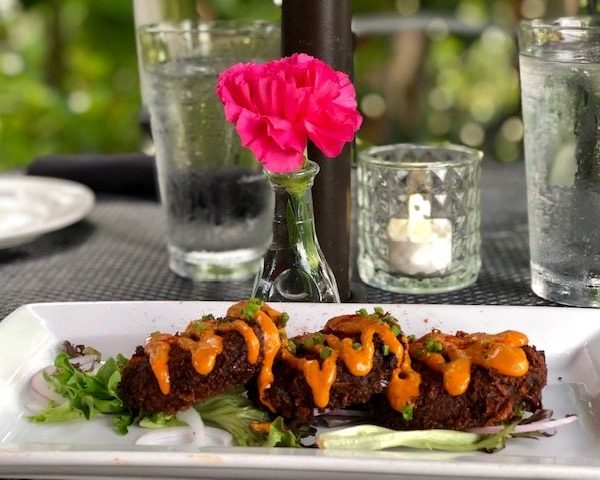 Contest: How would you like to win an autographed copy of Rick Rose's Palm Beach The Essential Guide To America's Legendary Resort Town? One lucky winner will be selected on Friday, August 30th. All you have to do for your chance to win is TAG @RickRoseWPB #GrandviewGardensBandB and @SavorOurCity #Staycation (Instagram) and tell us who you would bring with you on your Staycation at the Grandview Gardens B & B in West Palm Beach, FL and WHERE you are coming from. Good Luck!!!
To wrap this all up, I loved my little Staycation in West Palm Beach and would highly recommend you visit each of the places I mentioned here in my post. Just click on the links below for more info.
Grandview Gardens Bed & Breakfast
Until we eat again…
I send you delicious wishes, xo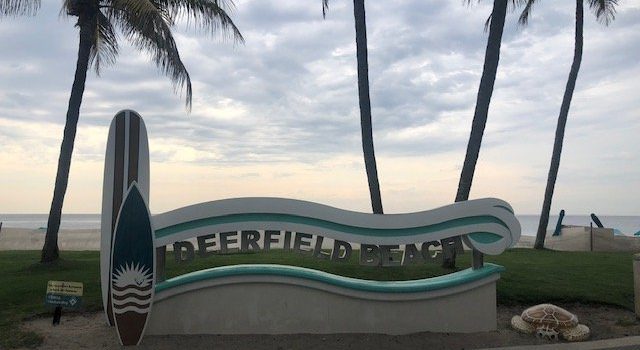 Hello Foodie Friends,
It's that time of the year again…you know, the one when kids are off from school, the days get longer and hotter, tourists go home cutting our commute times in half (SoFla) and local businesses start extending the best offers. Ah…Summer in South Florida!!!
Yours truly kicked off summer with my two new team members, Marti my personal assistant and Jennifer my marketing & branding specialist. Time for some company bonding and what better place to host a little staycation retreat than at the Wyndham Deerfield Beach Resort, who happens to be a new partner of Savor Our City's. (More on that later…)
After checking into the room, I met the girls at The Patio Bar & Grill for some happy hour drinks and lite bites. Lucky for us, when we checked in, we were given some complimentary drink coupons and once we used those up, drinks were still half-off making the already great wine at $6 a glass even tastier at $3 (SCORE!!!) 
Started off with a lovely glass of Sauvignon Blanc and peel & eat shrimp and the tuna tartar (ahi tuna, spicy mayo, BBQ teriyaki glaze, cucumbers, avocado, wonton, wakame slaw) ooooh so yummy! Here's a closer look at it…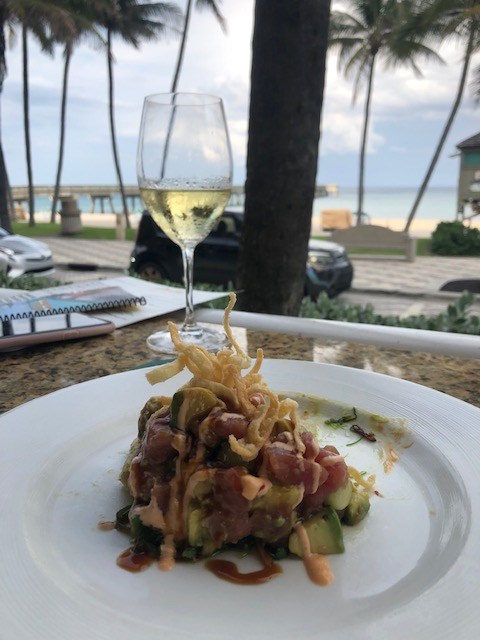 We continued to enjoy ourselves for 3 solid hours at which point we decided to take a stroll up the street to a place called Barracuda which Jennifer used to visit frequently and wanted us to check out. We had just enough room in our bellies to try another cocktail and a sample platter of assorted tapas. Our server was friendly and was happy to engage in conversation with us. I would definitely go back.
Get Your Eat On…
Patio Bar and Grill, a popular casual restaurant facing the beach and the ocean, features traditional American cuisine and has an extensive & impressive list of tropical drinks. Burger Craze restaurant features a nice bar, burgers, wings, and hot dogs. If you're in the mood for more upscale Italian cuisine, then Café Med restaurant, under the helm of Chef Lilo Teodosi, has got you covered. To round out the night, or on a nice hot summer afternoon, have an authentic Italian gelato at the very popular Vaniglia E Cioccolato Gelateria where there's something for everyone. Wanna sample them all? Well guess what?!?  You can do that on "A Taste of Wyndham Deerfield Beach" – a new food tour that started up about a month ago.  It is open to the public and tickets must be purchased in advance. It is offered every Thursday evening from 5:30pm – 8:30pm (unless otherwise stated) for $65pp. The price includes a full meal with food & alcohol tastings at all four activations within the Wyndham Deerfield Beach Resort with a local Savor Our City guide, a goodie bag with special offers from area businesses and from the restaurants sampled, a stroll along the International Fishing Pier, and gratuities.
Besides boasting three distinctive restaurants on its premises with entirely different menus and different cuisines and a gelateria, other amenities include a hot tub, a spa and an outdoor pool and bar, as well as a 24/7 fitness center and a business center.
Let me tell you about the room. I was given a room with floor to ceiling windows and man did I have a spectacular view. The room was very pleasant, modern and had an ocean like vibe. The Resort underwent a complete renovation in 2011. Not sure if you know this or not but the Wyndham Deerfield Beach Resort is independently (privately) owned. It was built by the Chase Family who have owned and operated it since its opening day.
Every room at the Wyndham Deerfield Beach Resort has floor-to-ceiling windows (either ocean view or city view), Wi-Fi and flat-screen TVs, as well as minifridges and coffeemakers. Suites have additional bedrooms and separate living areas as well. Some feature ocean views. Room service is available.
The Resort is a full-service hotel with 172 rooms, a ballroom, and meeting space, totaling about 4,500 square feet which can accommodate weddings up to 180 people and meetings up to 250 people.
The next morning was quite magical, awakening to this…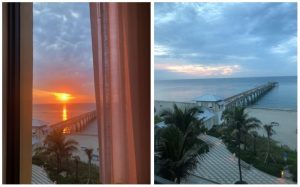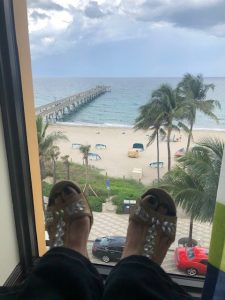 This beach front property is centrally located, halfway between Fort Lauderdale and West Palm Beach and are approximately 20 or 30 miles away from both airports.
Its location is just one aspect that sets the resort apart. The Resort is located directly across from a very quaint, pristine, safe, clean beach – one of the nicest ones in south Florida. There's a village-like atmosphere here; the height of the buildings is limited to 55 feet, so there are no tall buildings, skyscrapers, etc.  It looks like old Florida and reminds folks just how things used to be, yet with modern and clean buildings. There are shops, restaurants, entertainment, sporting activities, all within walking distance.
The Wyndham Deerfield Beach Resort is especially proud of its reviews, as they should be. They have received excellent reviews and are very proud to have been the number one hotel on Trip Advisor in Deerfield Beach for five consecutive years.
In 2016, they were voted Wyndham Property of the Year – the number one Wyndham hotel in the system. They also received the Best of Wyndham Award for their reviews, not just on Trip Advisor but compiled from data originating from a combination of all the reviews from all different sites.
To book a stay at The Wyndham Deerfield Beach Resort, click on this link to be taken to their website.
To book your Taste of Wyndham Deerfield Beach Food Tour, please visit Savor Our City's website.
Their address is: 2096 NE 2nd St, Deerfield Beach, FL 33441 and Phone: (954) 428-2850
Until we eat (and drink) again…
I send you delicious wishes, xo
Denise
Hello Foodie Friends,
Today's post is a two-for, featuring both a wonderful new hostel/boutique hotel and restaurant we were introduced to right in the heart of South Beach. Founded in 2011, Generator, a London-based brand known for their trendy design-forward European Hostels that feel more like boutique hotels, has just opened its first US location in Miami Beach this past August on famed Collins Ave, just one block from the beach. Generator, remodelled from a 1940's condo building, offers 300 beds in 105 rooms. One of the unique things about this hostel is that in addition to the traditional shared rooms (which start at $20 per bed per night), is the addition of private rooms that start at just $95/night. Generator is not the hostel you might have stayed at while travelling around Europe (probably in your early twenties). They have pulled out all the stops to create a sense of community, incorporating such amenities as an inviting pool, 2 on-site restaurants, beautifully designed shared and private rooms and several really unique common spaces for guests to interact with one another or just take in the serene environment that's been created for the solo traveler to enjoy on their own – not to mention the awesome location, right in the heart of South Beach. Several activities are being offered at Generator including yoga, mixology demonstrations, movies, a pool table, DJs and more planned.
I was invited by Desirey, the Event Sales Manager and my lovely host for the afternoon who arranged a tour of the hostel/hotel and a lovely lunch for us at Driftway, one of the two restaurants found on the property. As we made our way past the pool heading towards Driftway, I couldn't help but notice this amazing mural painted on the side of the building. It had been painted by South African artist Chris Aurett. The food & beverage operations are being overseen by Gui Jaroschy, whose impressive resume includes opening the Broken Shaker in Miami Beach as well as several other locations in Chicago, Los Angeles and New York; managing the Anderson in Miami's Upper Eastside; and consulting on cocktail menus for Ricochet Lounge, Drunken Dragon and British Airways.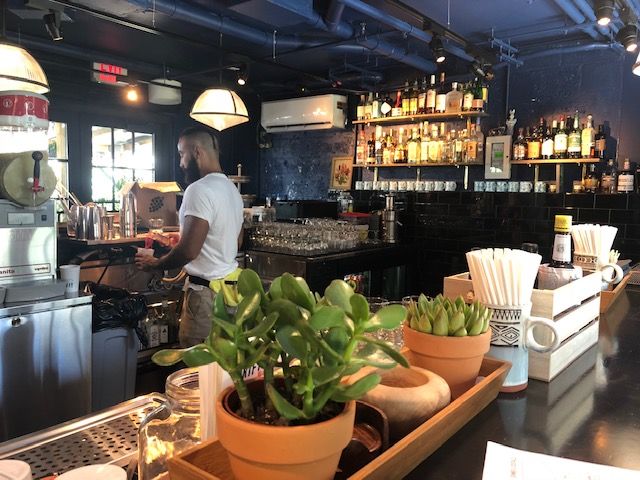 Alex, our Driftway guy let me sample all four of their frozen drinks; the Suze and Coke, OMFG Margarita, Bird of Paradise and the Friesling. I enjoyed them all, but my favorite was the Bird of Paradise which was made with Beefeater Dry Gin, Chinola Passionfruit Liqueur, Martini Bitter and J Wray Rum, allspice and cubeb pepper.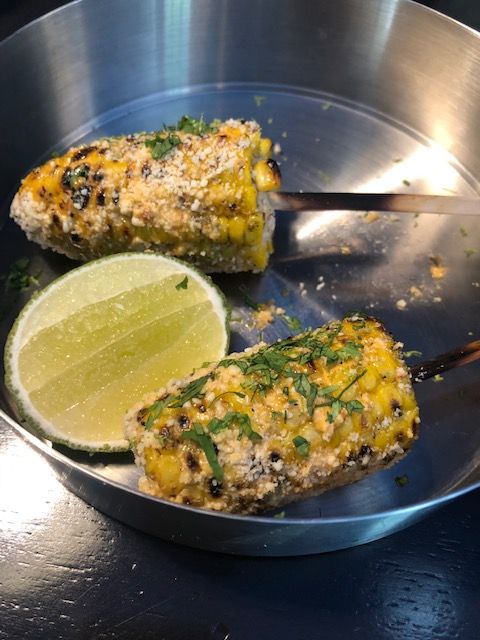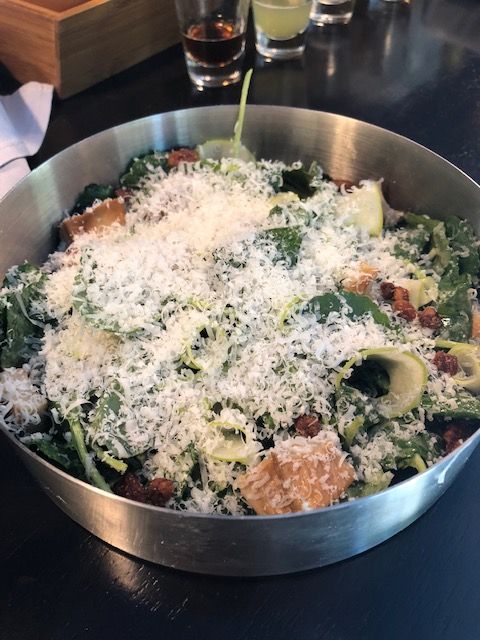 The food and frozen drinks were amazing, as was the ambience and the company. I am looking forward to planning my next Staycation right there at my new favorite place on South Beach.
If you are planning a trip to Miami Beach and are looking for things to do in the area, you might want to consider booking a Savor Our City tour. Private tours are offered for a minimum of 2 guests and groups of up to 50 people. Choose from South Beach, Wynwood, Little Havana, Miami Springs, Doral and Brickell. For more info on tours, contact Savor Our City.
Generator Miami is located at 3120 Collins Ave. Miami Beach 786 496 5730
Until we eat (and drink) again…
I send you delicious wishes, xo
Denise