Hello Foodie Friends,
I'm super excited to introduce you to Avalon, a beachy, coastal inspired steakhouse influenced by Montauk flair and Nantucket panache presenting approachable elegance and attentive hospitality that officially opened on Tuesday, February 23rd on Delray Beach's famed Atlantic Avenue.
Conceptualized by New York's veteran hospitality operators Host Restaurants, the 30-year visionaries behind award-winning dining institutions including Scarpetta, Campagnola, American Cut, Bill's Townhouse, and many others, Avalon showcases the best in land and sea from all coasts with modern dishes taking star at the dinner plate inside an atmosphere designed to radiate approachable, unstuffy elegance.   
Affectionately named Avalon, after the legendary island in the Arthurian legend, a place of haven and purity fabled for its restorative healing powers, Avalon is intent on providing guests a new comfort-minded steakhouse experience designed to evoke an air of modern tranquility and escapism through the art of delivering upon a great quality night out.
"At Avalon, we want you to linger longer, enjoy your time here and not feel pressured to rush your meal. Dinner was made to savor; life is too short to not enjoy a great quality steak," explains Host Restaurants President and Founder Curt Huegel.
Avalon brings a robust, sustainably-sourced premium selection of prime, organic, grass fed, hormone, steroid, and antibiotic free offerings, including steaks, beef, poultry, and seafood to South Florida's dining scene, anchored by an esteemed 250 bottle wine list for wine lovers of all regions, showcasing sought after labels from unique wineries around the world. Guests who prefer spirit-centric pairings to their meal will also delight in Avalon's creatively conceived cocktails presenting inventive twists on classic libations.
Avalon's beachy yet stylish interiors were also designed with intention. Bright, naturally lit and intimate, pristine and nautically-inspired, the atmosphere and palette is soft, soothing and designed to evoke the feeling of relishing in a tranquil and relaxing, stylish day at sea. Elegant neutrals and oceanic blues are topped off by the addition of picturesque coastal greens. The expansive indoor/outdoor bar was designed for laid-back and non-formal easy eating, keeping parties of one and two in mind. There are two traditional dining levels – al fresco street dining for guests who prefer sight-seeing passerbys and second floor dining for a more intimate, social dining experience. All dining areas at Avalon will be implementing the strictest of COVID-19 protocols and are mindful of personal space and superior comfort.
Avalon has created accessible price points that won't compromise quality and will honor that premise by always staying innovative and fresh with weekly rotating specials and a unique haven where friends, coworkers and associates can gather routinely to relax and enjoy this exciting new happy hour destination.  
Signature dishes at Avalon encompass modern steakhouse classics cooked to preferred temperatures such as Filet Mignon, 28-Day Dry-Aged Prime Ribeye, 36 oz. Tomahawk for 2 , to sustainably-sourced seafood specialties including Whole Roasted Fish of the Day, 32 oz Aged Bone In "Tuna Ribeye", Scallop Carpaccio with Huckleberry Agro Dolce, Spiced Cashew, Citrus Segments Basil Oil, Marigold, Angry Lobster with Fermented House Sriracha, Ginger, Pullman Toast, to light entrees for those health minded or vegetarian such as Roasted Cauliflower with Tahini, Herb Vinaigrette, Goat Cheese, Basil as well as inventive comfort dishes including Kimchi Fried Rice.            
I was invited to Avalon to preview a few select items. Every one of the staff I encountered from the Maitre D to the GM, the Partners and my server was extremely welcoming and gracious. To start off, I had the most tender, succulent octopus I can remember having,..ever. Antonello, one of the Partners brought over a lovely bottle of Sauv Blanc from New Zealand for me to enjoy with the octopus. The pairing made my tastebuds dance and put me in my happy place!
Next out was their Caesar Salad with soft boiled egg on top. This unique presentation was not only gorgeous, but thoughtfully orchestrated. My server Jerry gave me the back story filling me in that their Caesar dressing is the very same one that was created by Caesar Milano from Tijuana, Mexico, who came up with this recipe during Prohibition times. Seriously guys, this dressing is the bomb!
The BLT appetizer caught me eye and I'm sure you can see why!  The "B" or bacon is represented by pork belly which was seasoned beautifully and cooked to perfection. Arugula comprised the "L" and the "T" was represented by tomato jam. It was a fun interpretation and a tasty whimsical dish indeed.
I was offered a lovely Cab to enjoy with my BLT and Steak entree.
Avalon takes great pride in the quality of the food they serve and I for one was excited to see both wet aged and dry aged steaks on the menu. Do you know what the difference is? Here's a little fun fact for you: Dry–aged beef is hung in the air to dehydrate at a temperature just above freezing for weeks, or up to months. … Wet aging is a newer technique where beef is vacuum-sealed and refrigerated so that natural enzymes can tenderize the meat. Wet aging takes just a few days, so it's cheaper than dry aging. So which is better? Well that is a personal preference and I'll let you make that decision yourself, but this little extra info might be useful: The more common aging method used today is wet–aging, a process in which meat is vacuum-sealed in plastic and allowed to age for 4-10 days, or sometimes longer. Similar to dry-aging, the process allows enzymes in the trapped juices to break down collagen between muscle fibers, increasing tenderness. Dry aging a steak makes it more tender and flavorful. … Eat a steak that's been properly dry–aged and there's really no competition: It has a richer, beefier flavor, a more tender, more buttery texture, and a minerally, slightly funky scent. Dry–aged beef puts all other steaks to shame. I chose this incredible 20 ounce dry aged ribeye with a side of truffle Parmesan fries and let me tell you, this steak just melted in my mouth. There really is a noticeable difference when you have a steak of this quality. Bravo Avalon, bravo!
Finally, for dessert, I was presented with an attractive plate consisting of a duo of decadence: cheesecake and chocolate mouse cake. I truly loved both of them and cannot play favorites here, so don't ask me to! LOL.
Meet the Partners:
Curt Huegel, Creator/Founder
Host Restaurants (Avalon Steak & Seafood and other concepts)
Curt Huegel is a 30-year veteran American restaurateur recognized for award-winning destination restaurant brands such as Scarpetta, Campagnola and American Cut. Huegel, a New Jersey native hailing from Manhattan, has done business with the country's most respected standalone landlords, casino and hotel developers in premier establishments around the country which include Fontainebleau in Miami to The Cosmopolitan of Las Vegas.
Huegel's first venue, The Mill opened in 1992, on Manhattan's Upper East Side. Over the next several years, Huegel expanded his hospitality portfolio, developing key concepts such as Rebar in New York City and Miami, Dakota Bar and Grill and Local, also in Manhattan. In 2008, Huegel founded LDV Hospitality, establishing renowned restaurant brands Scarpetta and American Cut, Luga Caffe, Dolce Italian. Under his leadership, LDV expanded globally and partnered with celebrity chefs like Alain Allegretti, Scott Conant and Marc Forgione.
In late 2013, Huegel sold LDV and started Host restaurants, bringing together concepts including Bill's Townhouse, Campagnola, Printers Alley, Lucy's and Galli. Host's portfolio ranges from eateries with a storied New York City history and classic Italian cuisine, to mid-market galleys, wine bars, Italian Cafes and steakhouses to new concepts, such as Printers alley, which brings a Nashville- themed country music bar to Times Square. With each venture, Huegel keeps his customers top of mind, always striving to exceed his guests' and the industry's expectations. Host Restaurants average venue square footage ranges from 1600 square feet to 1200 square feet, with their newest brand, Avalon, an elegant yet approachable steakhouse concept with a Hamptonite flair expected to launch in Delray Beach's famed Atlantic Avenue, January 2021.
Antonello Paganuzzi
Director of Operations, Avalon Steak & Seafood
Antonello Paganuzzi is formerly the Director of Operations for LDV Hospitality for over 10 years. Paganuzzi holds over 25 years of experience under his belt, working for Le Cirque and the Maccioni family for over 14 years, bringing a keen insight into the hospitality industry and a high standard of service, acquired over the years from leadership positions as some of the most impressive fine dining establishments in New York, Las Vegas, Miami & London.
Avalon is now open for dinner and happy hour 7 days a week from 5pm with brunch to come at a future date. For more information, visit www.avalondelray.com.       
They are  located at 110 East Atlantic Avenue, Delray Beach, FL 33444  (561) 593-2500  
Until we eat (and drink) again…
   I send you delicious wishes, xo
Denise      
Dear Foodie Friends,
For those of you who have been around Boca Raton for the past 10 years, you might say that there has been quite the revolving door when it comes to the dining scene. Take the south west corner of Federal Highway & SE Mizner Blvd. in Downtown Boca for instance. How many of you remember Oceans 11, Saba Sushi, Ovenella and the short-lived The Little Chalet? Who remembers anything before? Let me know by commenting at the bottom of the post. I took you back as far as I could recall, since first coming to the area and immersing myself into the food scene here in Boca.
The Little Chalet was a beautiful special-occasion venue that is wildly popular in Brazil, but for whatever reason, just didn't catch on here in the company's first US location. It's a shame; they spent a small fortune I'm sure creating a lovely romantic ambiance. But, beautiful decor alone doesn't pay the bills so the owners decided early on to cut their loss and close and re-open with an entirely new hip & trendy concept.
Created by Ricky Marcellini, owner of The Little Chalet who explained that after noting a change in the area's demographics, they saw an opportunity to introduce South Floridians to a breezy, Brazilian nightlife-inspired restaurant and lounge for everyday dining. To facilitate a more communal and casual quality guest experience, he opened the space to an airier interior, expanding seating and adding a second bar to the outdoor patio.
"We have watched East Boca grow and change over the years, and we wanted to evolve our restaurant to match the tastes and lifestyles in the area, which is why we closed our doors as The Little Chalet and have reopened as The Locale," explains Ricky. "Our culinary team is as skilled as ever, and we are excited to offer a more robust and unique beverage program to complement the quality dishes that come out of our kitchen."
The hip and trendy The Locale Cocina & Bar presents guests with a Latin-inspired menu (South American influences including Brazil & Equador) and I would say Italian as well and is fast becoming the gathering spot in Downtown Boca for local friends and business associates.  I'm sure it also helps to offer Happy Hour every day from 4 – 7pm and again from 9pm til closing. What's more, is that guests can enjoy happy hour anywhere in the restaurant, not just the bar Sun – Thur (and at the bar only on Fri & Sat nights). There's a reduced price food menu and all drinks are 1/2 off.
I was invited by The Locale's PR firm to attend a media dine. They hosted a lovely event which several of my blogger friends attended, however, I was unable to attend at the time due to a lingering cold. I was thrilled to be invited back to experience the restaurant once I was well. On this dine, we started out a couple of their popular cocktails; I chose the Lychee Martini and my husband chose the Caipirinha, Brazil's National cocktail. Lychees are my newest exotic fruit obsession, by the way.
.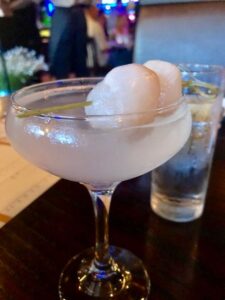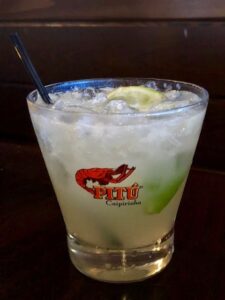 The Locale's Chef Joshua Miranda and team take pride in creatively melding exotic flavors with familiar applications in order to deploy flavorful creations to be shared. Locale's Manager Carlos took the liberty of sending out a variety of dishes for us to try: a trio of appetizers consisting of pork & beef meatballs, mushroom crostini (called tostada on the menu) and tuna tartare were presented first. They were all delicious, but the star for me was the tuna tartare. The su vide preparation of the egg yolk was something that a true die hard foodie like myself would appreciate.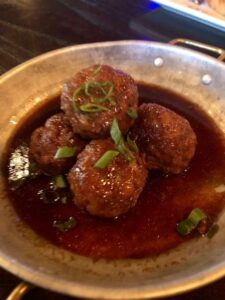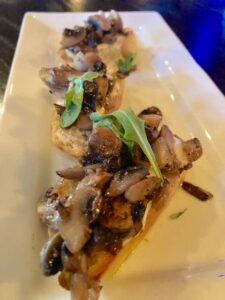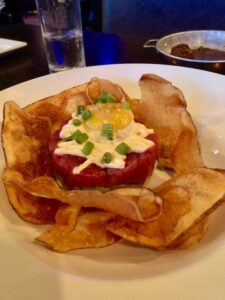 Carlos next sent out the Locale pizza which had fresh mozzarella, prosciutto, arugula and shaved Parmesan. Tip: took home leftovers and heated the pizza up and cracked a fresh egg on top to make a delicious breakfast pizza!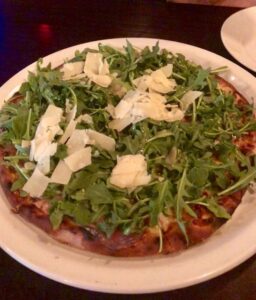 The Picarina steak had a beautiful sear on it and was seasoned and cooked perfectly and served with yuca fries.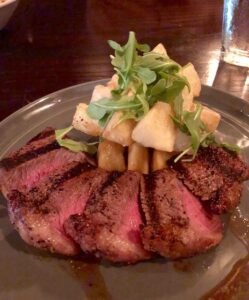 There was a generous portion of shrimp in the Fettucini Alfredo dish. Also made a nice shrimp scampi crostini the next day with these leftovers!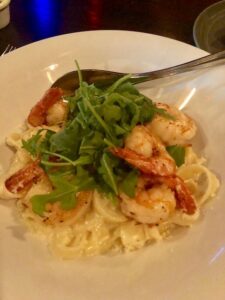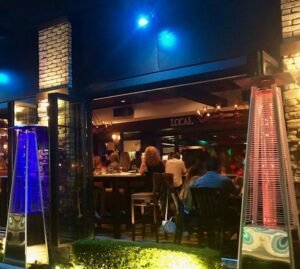 The Locale boasts Boca's only Mixology Bar. (I see a Savor Our City Mixology Class taking place there in the future)– The Locale provides libation seekers with two bars and ample seating. Inside, chocolate bitters, candied ginger and acai liqueur are at the ready behind the bar, shaken up into one-of-a-kind drinks that are as eye-catching as they are delicious. Moscow Mule drinkers can choose from four iterations of the copper-mugged classic, including a daily rotating option, in addition to cocktails like the Brazilian Rum Runner  Fig Old Fashioned, Lychee Martini and Jalapeño Aquafaba. At the newly-expanded patio, The Locale's outdoor bar is happy to shake up something on the more traditional side in addition to pouring South Florida's coldest brew at an impressive 28°F from their special imported below-freezing brewery tap. With over 35 beers from 6 countries, the perfect sip is always within reach.
Other signature dishes on the menu that look really interesting which I will have to go back for are: Beef Empanada with shredded short ribs and tomato jam; Croqueta fried dough filled with ham and cheese; and Shrimp Ajillo garlic shrimp served with white rice and broccoli bring a taste of South America to the table. Vegetarians and carnivores alike will swoon over The Locale's meat-free Portobello Burger with tamarind glaze, manchego, crispy kale, aioli on a brioche bun; and flavorful signature entrées abound, with highlights including Short Rib over manchego polenta; Faroe Island Salmon with wild rice, asparagus, yogurt crema; and Bucatini with yellow chili sauce, onions and tomatoes and choice of sautéed filet or chicken.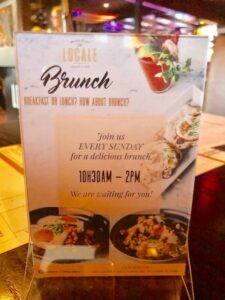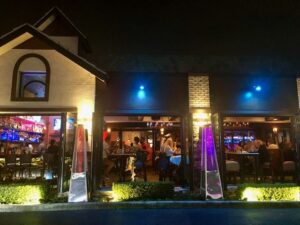 The Locale's Happy Hour is served every day from 4-7p.m. and 9p.m.-close, where guests can enjoy even more brews, beats and bespoke cocktails from anywhere in the restaurant.
The Locale is located at 499 S Federal Hwy, Boca Raton, FL 33432, They are open for dinner Sun. – Thurs. 4 – 11p.m.; Fri. & Sat. 4p.m. – 1 a.m. and brunch on Sundays fro 10:30am – 2pm. For more information or to make a reservation, call (561) 325-8000 or visit www.localeboca.com.
Until we eat (and drink) again…
I send you delicious wishes, xo
Denise
Hello Foodie Friends,
I had the great pleasure of dining at Chops Lobster Bar's sister property Lobster Sea Grille in Miami Beach this past week. I came to Miami for the purpose of building & solidifying new partnerships with restaurants in the Miami market for our new culinary tours and experiences being presented to our cruise line and destination management partners. Exciting stuff going on, I tell ya! Anyway, I had met Dawn Bryan, So Florida Marketing Manager for the Buckhead Restaurant Group, a couple years ago when I was invited for a tasting at Chops Lobster Bar by Chef Sean (who, by the way, creates stunning masterpieces, both visually and in taste).
On this occasion, I was joined by my product development manager, Annette, and Dawn. The place is gorgeous, inside and out.  The restaurant occupies the former China Grill spot, for those who need a familiar landmark. Shortly after being shown to our table, Matt approached and asked if it would be ok if he selected the tastings for us for the evening. After confirming we didn't have any food allergies or specific dislikes, he was given the go-ahead to surprise us. I always enjoy and prefer the tastings to be done this way, actually. To get the evening started, I began with a lovely glass of Cloudy Bay New Zealand Sauvignon Blanc which paired exceptionally well with the calamari, tuna tartare and quinoa, and jumbo lump crab cake.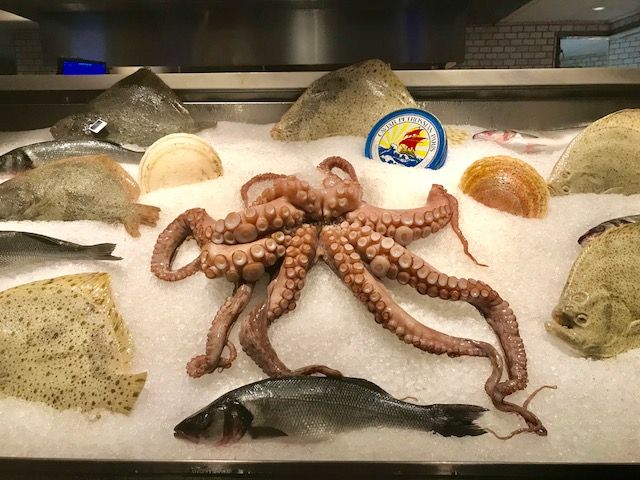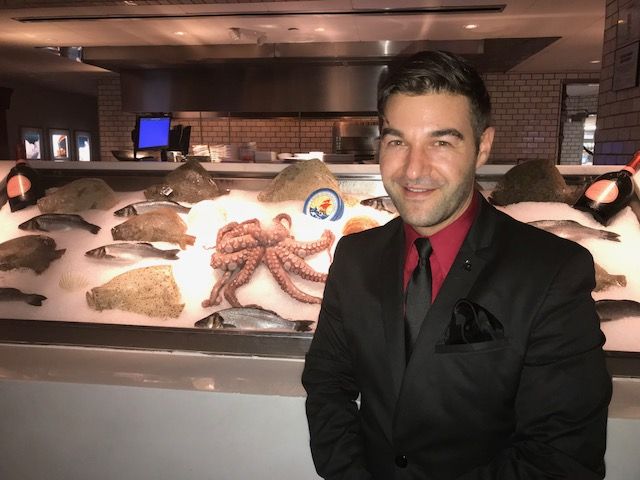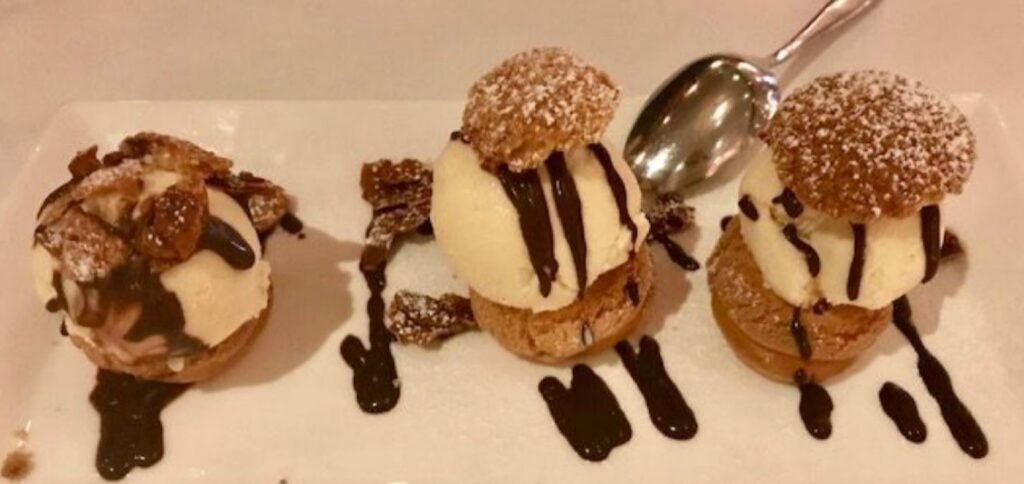 Lobster Bar Sea Grille is located at 404 Washington Avenue, Miami Beach  (305) 377-2675
| | |
| --- | --- |
| Tuesday | 5:30–11PM |
| Wednesday | 5:30–11PM |
| Thursday | 5:30–11PM |
| Friday | 5:30PM–12AM |
| Saturday | 11:30AM–3:30PM, 5:30PM–12AM |
| Sunday | 5:30–11PM |
| Monday | 5:30–11PM |
Until we eat again…
I send you delicious wishes, xo
Denise