Hello Foodie Friends,
I was recently invited to dine at Tanzy's, located inside the iPic Theaters in Mizner Park, to check out their new weekend brunch offerings. I've enjoyed a meal or two at Tanzy's before but this was my first time experiencing their brunch. It was a Saturday (and who doesn't like the idea of a leisurely Saturday brunch catching up with good friends?!?) and I was totally stoked to be able to bring my girlfriend who I hadn't seen in a super long time to join me for this brunch tasting. With so many wonderful dining choices available in Mizner Park, you might forget that Tanzy is there unless of course, you are going inside the iPic Theaters to catch a movie. While Tanzy is a great dining option for your pre or post-movie experience, I am here to set the record straight that Tanzy should be on the top of your list for a wonderful meal to be enjoyed whether your plans include a movie or not. Case in point: the epic weekend brunch, happy hour bar bites, lunch and of course, dinner.
Tanzy's artisanal Italian cuisine focuses on garden-fresh modern Italian flavors in an elegant, yet relaxed social environment where friends, family and colleagues can gather to enjoy good conversation, good food & creative cocktails. Tanzy's new menu features fresh new classics alongside time-tested favorites by award-winning Chef and Chief Operating Officer of iPic Entertainment. Diners will delight in inspiring flavors where seasonal ingredients are the star in every dish, artfully prepared by melding contemporary techniques with classic Italian influences; the resulting flavor profiles are modern and unique. Master Bartender and Advanced Sommelier Adam Seger crafts an unparalleled beverage program with local beers, an expertly curated wine list and stunning farm-to-glass handcrafted cocktails.
We started off with a Bloody Mary and a Peach Bellini. Then our server Julia surprised us with this beauty. An Italian Ice Mimosa made with liquid nitrogen. Check out the baby spoon that came with it, so cute! Can you say "Wow" factor?!?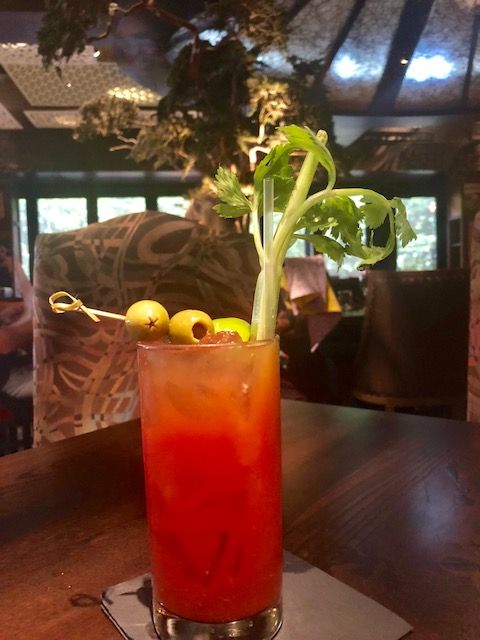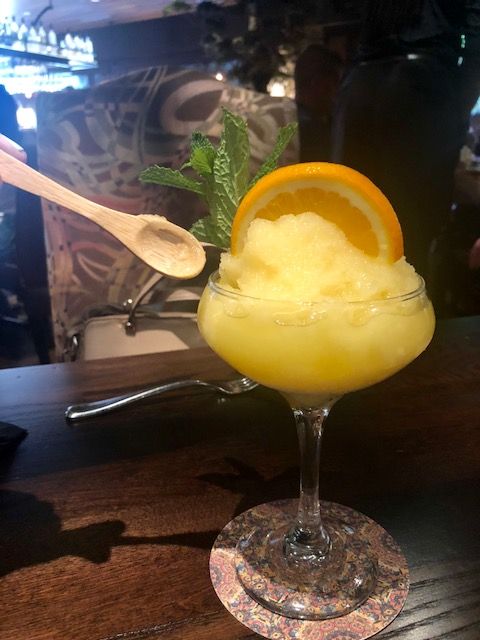 So we were off to a good start. Julia explained the menu to us and it was difficult I must say to choose because so many items caught my eye. The bread basket contained an assortment of baked items which offered a good variety, so we chose that. OMG, without exaggeration, my friend and I ate one bite of the banana nut muffin and our eyes truly bugged out. It was without a doubt the best banana nut muffin we both had ever eaten. Man, I am salivating just a little right now as I recall how scrumptious it was, lol!
Another really really fantastic item was the candied bacon. It had a slight amount of heat and the perfect amount of sweetness. Loved it! I have to give Tanzy kudos for this because try as I have, I cannot seem to perfect the art of making candied bacon.
The infamously decadent French Toast, pictured below on the left, lived up to its title.  It was made from thick sliced brioche bread stuffed with whipped mascarpone and assorted fresh berries. It reminded me a little of the one they make at Tucker Dukes which I just adore, but better, in my humble opinion. We ordered the eggs benedict, which came with our choice of crispy prosciutto, spinach or smoked salmon. We chose the salmon. The rich velvety Hollandaise sauce covered the English muffin halves like a warm comforting blankie. Yum!
Next up was the burrata & San Daniele prosciutto which came with a compressed melon, arugula and adorned with beautiful fennel flowers. It was almost too pretty to eat (almost, haha)! The spinach-ricotta gnudi was calling out to us from an early glance at the menu, so we heeded the call and gave in. Oh my, this was so worth having to do extra laps and burpees the next day!
Well, we didn't quite make it to the dessert tower, but there's always the next time.
I encourage you to check out their new lunch and dinner menus on their website and make your plans to visit there at your earliest chance. You won't be disappointed, I can pretty much say this with 100% confidence.
Below is a sample of some of the new menu items which include fresh pastas, mains and antipasti to share:
Beet Agnolotti mascarpone-potato filling, poppy seed, black winter truffle, parmesan ($28)
Spinach-Ricotta Gnudi roasted mushrooms, basil pesto, gorgonzola cream, grana padano ($24)
Yellowtail Crudo passionfruit splash, crispy shallot, radish, micro cilantro, grapefruit, herb oil ($16)
Steamed Mussels shallots, garlic, pernod cream sauce, tarragon, grilled focaccia ($16)
Black Grouper Puttanesca San Marzano puttanesca sauce, basil, Kalamata olives, capers, orzo, sautéed spinach ($25)
Crab Stuffed Whole Lobster crab-lobster stuffing, seasonal vegetables, lemon-garlic butter (MKT)
Truffled Polenta parmesan cream, chives, truffle oil ($8)
Pair Chef Yard's new dishes with inspired beverages by celebrated mixologist Adam Seger. New additions include:
Famous Mojitos Italiano – mint, Italian herbs from our herb garden, exotic citrus in a range of flavors, as single servings or punch bowls to share ($8-80)
Spiked Italian Ice think boozy liquid nitrogen gelato in limon, passion-ginger, strawberry-mojito, blood orange-pomegranate, chocolate-espresso-maldon ($15) and spirit-free ($10)
The Kiss vodka-spiked lemon berry Arnold Palmer ($12 glass/36 bottle/65 punch bowl)
Gin Gin Mule New Amsterdam gin, homemade ginger beer, apple salsa ($12); luxe with Bombay Sapphire ($15)
Spice and Ice ancho-infused tequila, mango, ginger, habanero, 7-spice ($15)
And of course, no trip to Tanzy would be complete without elegantly crafted desserts by Executive Pastry Chef James Rosselle. Try these sweet new show-stopping cakes:
Raspberry Infiniti Cake raspberry red velvet cake, raspberry buttercream, farmers market raspberries, raspberry sauce, whipped cream ($12)
Concord Cake chocolate mousse, chocolate meringue, chocolate cake, chocolate ganache, chocolate sauce, whipped cream ($12)
Warm Olive Oil Cake apricot glaze, blood orange cream, vanilla scented citrus segments, honeycomb ($12)
Enjoy Tanzy's new menu Mon. – Thurs. 11:30 a.m. – 10 p.m.; Friday 11:30 a.m. – 11 p.m.; Sat. 11 a.m. – 11 p.m.; Sun. 11 a.m. – 10 p.m.; Sat./Sun. Brunch 11 a.m. – 3 p.m.
Tanzy Boca Mizner Park: 301 Plaza Real, Boca Raton, FL. (561) 922-6699
 Until we eat (and drink) again…
I send you delicious wishes, xo
Denise
Hello Foodie Friends,
DISARONNO turned the literal translation of amaretto 'a little bitter' into something sweet for amaretto enthusiasts in Delray in honor of National Amaretto Day, this past Wednesday, April 19th. DISARONNO, the original amaretto since 1525, hosted a self-guided bar tour in Delray for DISARONNO Day, which also happens to be National Amaretto Day. During the bar tour, revelers were able to enjoy cocktails such as the Italian Margarita, Bourbon Sour and DISARONNO Breeze.
Starting off at City Oyster at 5pm, DISARONNO Day participants were also able to visit Tramonti, 32 East, Luigi's Coal Oven Pizza, and Buddha Sky Bar as part of the official tour. Guests were provided a DISARONNO Sour Jar in which they could enjoy the cocktails and take it home as a keepsake souvenir. In addition, guests were given a DISARONNO t-shirt.
I started off at one of my favorite places on "The Ave", City Oyster & Sushi Bar where bartender extraordinaire Wayne Pasik poured me the Bourbon Sour to get this party started. Nice pucker to it. Off to a good start!
Next, I headed over to Tramonti where Timothy crafted the DISARRONO Breeze for me. This was made with DISARRONO of course and sour mix, Zonin Prosecco & Bitters. It was delicious!
Next up was 32 East. As I pulled up a seat at the bar, I could no sooner get out the words "DISARRONO" when the lively group of guys hanging out at the bar next to me blurted out "we would like to buy you that drink". While I was flattered, I explained that I was participating in this tour and before I finished, they repeated their kind offer. Then it dawned on me, they were from DISARRONO. Dave, Ed, Matt and the rest of the gang were so much fun to hang out with.
Following 32 East, I made my way to Luigi's Coal Fire Pizza. Here, bartender Ryan poured me an Italian Margarita. How fitting in an Italian restaurant. The drink was great and so was Ryan!
The final stop on this amaretto tasting tour was Buddha Sky Bar where Chrissy got real creative and made me an impromptu cocktail featuring DISARRONO. She came up with a Black Cherry Collins – made with DISARRONO, passion fruit puree, agave, a splash of grenadine and muddled blackberries and raspberries. I think this one my favorite creation of the night. Way to go Chrissy!
I want to thank the folks at DISARRONO for inviting me to participate in this cool bar tour. I think I see some synergy here with my culinary tours. Can't wait to explore the possibilities of collaborating with them again.
Here are a few recipes of the signature DISARONNO cocktails that were featured on the tour. Enjoy and drink responsibly!
DISARONNO SOUR
2 parts DISARONNO
1 part fresh lemon juice
¼ part simple syrup
Fill a Disaronno Sour Jar with ice. Pour in Disaronno and then the fresh lemon juice. Add a teaspoon of sugar. Stir and garnish with lemon slice.
BOURBON SOUR
1 oz. DISARONNO
1 oz. Bourbon
1 oz. Lemon Juice
½ oz. Simple Syrup
Shake all ingredients with ice, and pour over a highball glass with ice and garnish with a lemon or orange slice
Until we eat (and drink) again…
I send you delicious wishes, xo
Denise
Hello Foodie Friends,
I recently organized and attended a media/blogger tasting at the newly opened Temper Grille restaurant in West Boca and was thrilled to take a seat and experience all the wonderful tapas and delicious wines that would start magically appearing on our tables.
Small Plates…Big taste. Food with Attitude! That's their motto. Temper Grille features fine wines, a unique tapas menu, and an assortment of dishes that resonate with the Chef's fiery tastes and attitude.
Temper Grille opened April 2010 in Granger, IN with Chef Sean Kelley and Co-founder Erick Guerra at the helm and has been wildly successful ever since. The name, Temper Grille, is a nod to Chef Kelley whose reputation in the past was that of a loose cannon with a spicy temper. "Yes, it is true," Kelley laughs a little now. "I was a hothead". Today the name now serves as a constant reminder of who he was and personifies the bold flavors he serves in each and every dish.
Midwest Living Magazine had this to say about Temper Grille… This intimate tapas-style restaurant has a unique food menu, as well as an extensive beer and wine list, all of which is sure to please any palate. From the house-cured bacon to duck bites and seared ahi tuna, Chef Sean Kelley doesn't shy away from big flavors – and you shouldn't either!
Earlier this year, plans to expand to the South Florida market came to fruition, when Chef Kelley and Erick Guerra found the perfect location in West Boca Raton to open their second location. "We are excited to share our culinary vision of an upscale American Fusion Tapas restaurant. Fresh ingredients, bold flavors and always cooked to order, each dish is plated and delivered to your table once it is ready for you to enjoy and share. No heat lamps or microwaves here. Welcome to food with attitude. Welcome to Temper Grille", says Erick Guerra.
The new Temper is double the size of the one in IN and has full a bar.  Although the core menu is much the same, Chef Ryan Emmons, the Executive Chef of the Boca Raton location, is adding his own style and attitude through the feature menu that change Wednesday of each week.
Temper Grille uses fresh ingredients that arrive daily and is always in search of local purveyors and sources that offer the quality, flavor and freshness that makes up each and every dish. The Granger location uses local sources such as duck from Maple Leaf Farms, potatoes from Arthur Snyder's farm and sauces from Sunny's Korean. In Boca, Chef Emmons has begun working with local farms and purveyors to bring the freshness of the local market to an already delectable menu.
Wing lovers are in for a treat with what Chef Kelley aims to create some of the best chicken wings in the area. The wings are brined for seven days, wood smoked using a blend of specialty woods, deep fried for a crisp texture and then tossed in one of a few different Temper Grille signature homemade sauces. The sauces range from garlic butter to hotter than even the heat-loving regulars can withstand. "I didn't want to just make a wing. I wanted to make a statement," Kelley said, and even with the hottest of the TG sauces, the statement comes through loud and clear and full of flavor.
Temper offers a selection of "bites" such as lobster, shrimp, steak and duck which are a Temper fan favorite and a staple to the restaurant. Others go crazy over the Temper Noodles which are served with a fried egg on top and tossed in one of the signature sauces to spice it up to your liking.
The number one item on the menu, Kelley says, is the signature macaroni and cheese. It is made with scientific precision and, at the same time, lots of love. "That's what food is," he explains. He doesn't just make macaroni and cheese, he takes his brush to it and creates it. He is so secretive about the four cheeses that go into this delightfully decadent mix that not even his closest of family truly know the exact blend.  Guests can select from a variety of versions:  lobster, roasted pepper, blackened shrimp and smoked pork belly and can also order a gluten-free version, with 24 hours' advance notice.
Creamed Corn with Red Pepper Sauce Lobser Bites: Sauteed Lobster finished in a Garlic Cream Sauce and served on a bed of Smashed Potatoes and served with Naan points.
Chef Kelley and Erick Guerra are collectors and aficionados and you can spend about as much as you want on a bottle of wine from their collection. "Through the years we have developed very close relationships with some of the top winemakers in the world and are working on crafting a one of a kind menu sure to please wine enthusiasts of all levels and complement our one of a kind cuisine", said Erick. An entrepreneur and investor, Erick Guerra owns a number of different companies and recently released a ultra-premium tequila and rum brands which are featured at the restaurant. "We proudly serve both of our award-winning brands, Don Cheyo Tequila and Jav's Rum, and have a number of cocktails and dishes infused with them", Erick says.
Temper Grille's staff provide attentive, informed service, the kind that helps a newcomer work through the menu and understand it better. It's not easy to find such service and a treat when it works. "It's that service that really defines a restaurant," Kelley said. I would concur. Our server Brenna, was the best in the biz if you ask me. Not only was she exceptionally attentive to our needs, but she kept us laughing and entertained throughout the evening. I will certainly request Brenna on my next visit back, you can count on that!
Temper boasts a happy hour every day from to and half priced wine bottles, $100 or less, every Tuesday. They currently have live DJ's every Friday and Saturday and are currently searching for musicians to play live on their music stage. They remain fairly active in their social media pages and constantly update followers with upcoming events, feature menus, drink specials and more. "Be sure to log into our free guest wifi and join our loyalty program to begin earning free food and drinks and receive invites to our special events and wine dinners", says Erick.
Temper boasts a happy hour every day from 4pm to 6pm and half priced wine bottles, $100 or less, every Tuesday. They currently have live DJ's every Friday and Saturday and are currently searching for musicians to play live on their music stage. They remain fairly active in their social media pages and constantly update followers with upcoming events, feature menus, drink specials and more. "Be sure to log into our free guest wifi and join our loyalty program to begin earning free food and drinks and receive invites to our special events and wine dinners", says Erick.
Temper's dishes range in price from $8 to $20 and the check average is $65 to $70.
Temper Grille is located at 9858 Clint Moore Rd. in Boca Raton. (561) 717-8081
They are open Tues – Thurs 4pm – 10pm, Fri – Sat 4pm – 12am and closed Sun & Mon
Website: TemperBoca.com
Facebook: TemperGrilleBoca
Instagram: @TemperBoca
Hashtag: #TemperBoca
Until we eat again…
I send you delicious wishes, xo
Denise