Written by – Ashley Taylor
They say to find unknown treasures, you have to leave the beaten path. In Boca Raton, areas like Mizner Park and Royal Palm Place are downtrodden with first-time visitors to our sea-kissed town. Yet, it's a little spot just south of city central where you can find a foodie experience truly delectable and adventurous in Saiko-i Sushi Lounge & Hibachi.
Saiko-i (pronounced sigh-koi-ee) Sushi Lounge & Hibachi is the creation of husband and wife team, Jason Zheng & Tina Wang. A 7,000 sq.ft. – formerly home to the local favorite nightclub, Gatsby's – offers guests a selection of dining experiences. For casual affairs and networking events, sit in the outdoor courtyard or spacious bar. To be entertained, 11 hibachi tables wait to amuse, as well as an open exhibition sushi bar. But if an intimate dinner for two is on the menu, a romantic row of private booths amongst hand-selected artworks can accommodate.
I had the honor of experiencing Saiko-i with a number of other bloggers, writers, and foodies for the restaurant's media night. While familiar with the Zheng & Wang's first Boca restaurant, Yakitori Sake House, I wasn't aware of Saiko-i. I pulled into an unassuming shopping center on Military and SW 18th St. – shared with an Outback Steakhouse nonetheless – questioning whether or not I was in the right place. Yet, as soon as I walked in the doors, I was swept into another locale altogether.
Upon entering, I paid quick homage to a 10-foot tall Buddha before being whisked to my table. A rich color template and delicate tapestries with fine detail adorn the interior of the entire restaurant. No detail was left to chance.
The night began with Saiko-i's signature cocktail, the lychee martini. Made with fresh lychee juice, it was a martini perfect for those looking for a crisp drink with just a hint of sweetness. Also offered were Japanese beers and whiskeys alongside the usual American counterparts.
First order of the night delivered the salmon carpaccio. I smelled this dish before I even saw it, something I can't ever recall saying about a raw carpaccio. The truffle oil and fried garlic scents made my stomach rumble with anticipation. Saiko-i attains fresh sushi-grade fish daily, hailing from both Florida local fisheries and Japan alike. I make no exaggeration when I say the carpaccio melted on my tongue.
Next was the roasted duck wrap, a mix of tender duck and savory spices wrapped in a lightly-fried, crisp Singapore flatbread – perfectly offset by a mango sauce and balsamic glaze.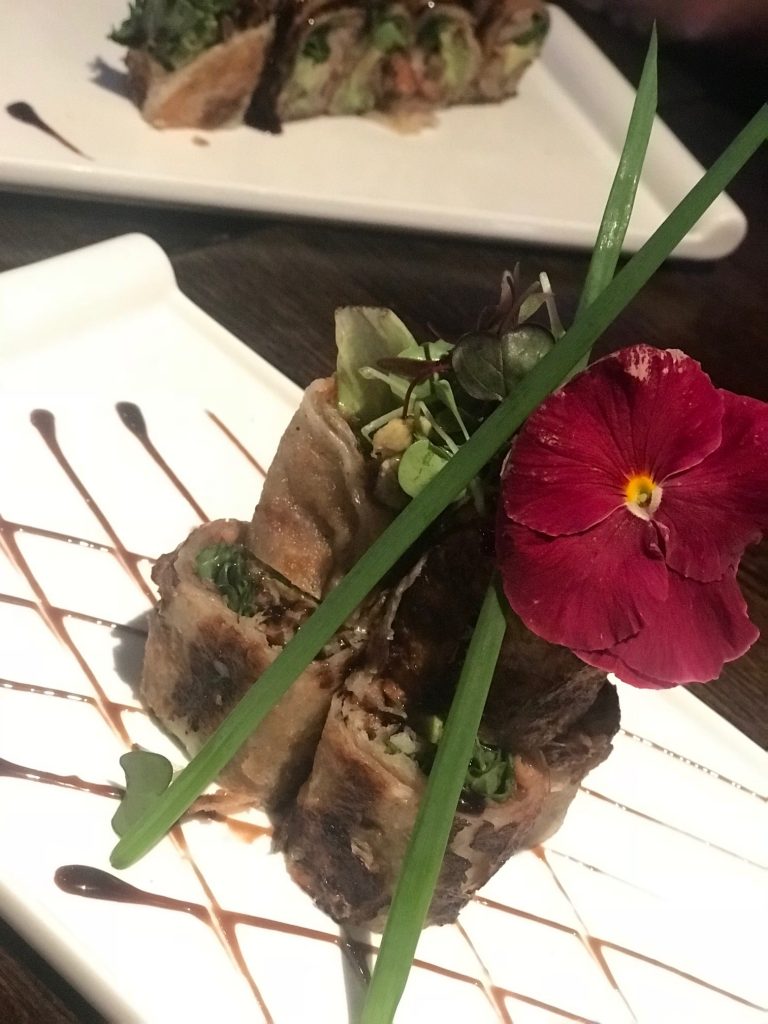 By the end of the duck, I had sipped through my lychee martini and mixed it up with a selection of Japanese whiskeys, settling on the Suntory 10 year and Hibiki 12 year. Rounds of appetizers kept appearing. Dumpling-ilke Spicy Tuna Gyoza, a crunchy UFO Roll and the refreshing fresh fish medley that is the Sexy Lady Roll.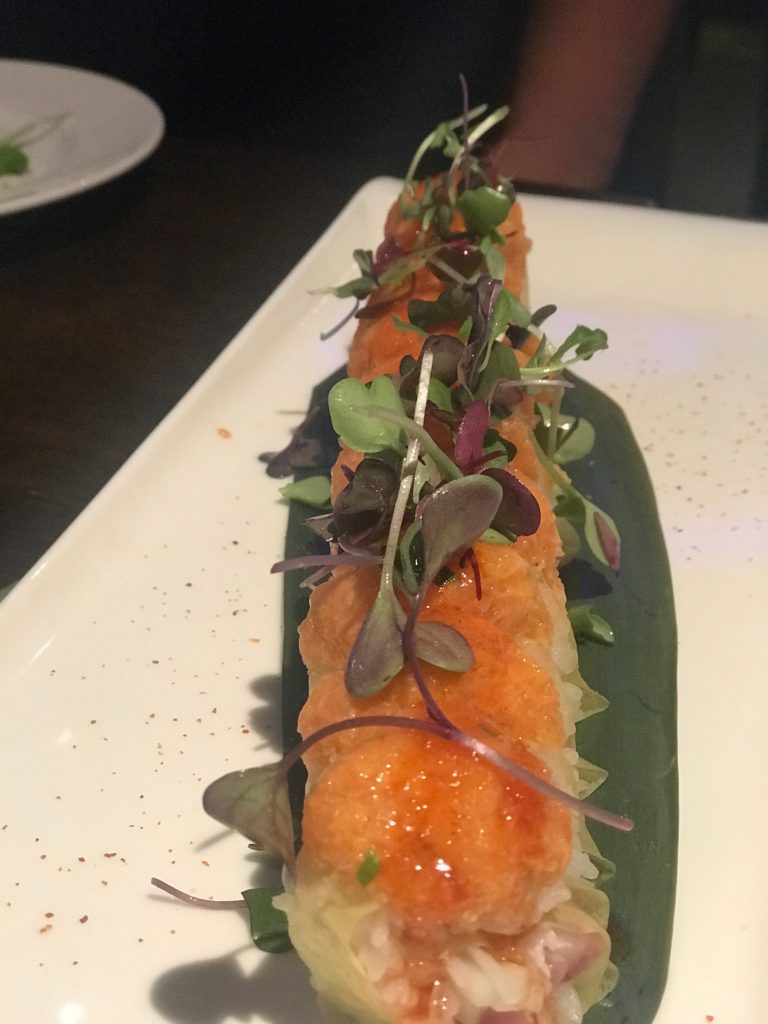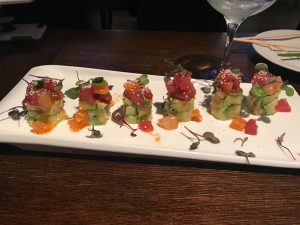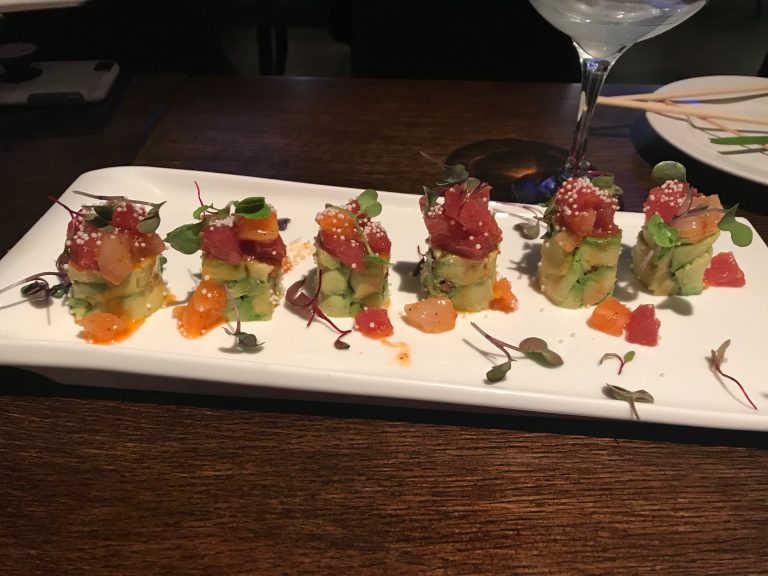 Being a fan of curries, I had to try Saiko-i's red curry with scallops for my main dish. I asked for a bit more kick and the chefs behind the scenes got it just right. The portion was easily enough for two and I was glad to have lunch for the next day.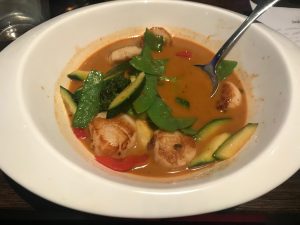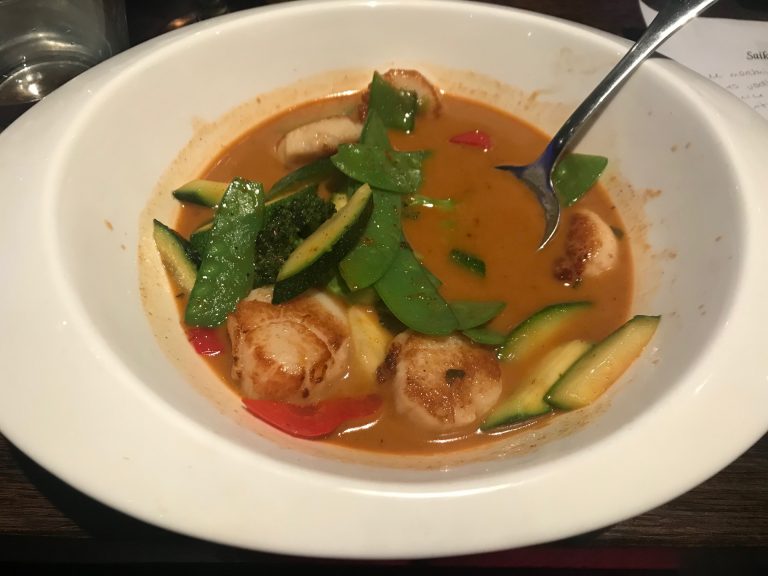 Despite being stuffed with the night's appetizing creations, the team at Saiko-i wasn't done with us yet. They had one more surprise. We had a birthday in the group and before we knew it a panda bear came to our table with a plate full of mochi – the perfect ending to an enchanting evening.
Saiko-i Sushi Lounge & Hibachi
5970 SW 18th Street, Suite E4
Boca Raton, FL 33433
www.saikoiboca.com
Reservations: 561-393-5888
Social Media:
Facebook.com/Saikoi
Instagram – @saikoiboca #saikoiboca
Dear Foodie Friends,
In planning my 5-day road trip through New England, I looked to Airbnb to see if I might find suitable accommodations in each of the cities I would be visiting. I had never used Airbnb before and thought this would be a great way to meet some local folks and save some money. Although each of my Airbnb hosts opted to provide me a room "on the house" in exchange for a mention in my blog, the costs were considerably less than a hotel room in each of the cities I was visiting.
I stumbled upon this listing in Somerville which read "The Best Boston Experience". I liked the fact that it was located in Somerville since I had planned to visit the Taza Chocolate Factory located in Somerville while I was there. But what really caught my eye was that the hosts appeared to be real foodies and had a lovely open kitchen that just beckoned people to gather and share a wonderful meal and conversation in. I contacted Peter, the host, to request a reservation for my first night in Boston. Peter was extremely accommodating and also took it upon himself to make a dinner reservation for me at his favorite restaurant in the North End. Upon my arrival, I was greeted by Peter's wife, Christy who insisted on taking my bags from my Mini Clubman up the front stoop and then straight up a flight of stairs that brought us to the main level of this beautiful tri-level home. My room was on this floor, as was the guest bath, sitting area and kitchen. Peter and Christy lived on the two floors up above.
Shortly after getting settled into my room, I announced to my hosts that I had to head into Boston to meet with my vendors in preparation for our walk through the next morning with my tour guides and our VIP client. Peter graciously offered to drop me into town and meet up with me afterward at L'Osteria, the restaurant in the North End where he had arranged for me dine.
The moment we walked into L'Osteria, I felt like I was one of their regulars,- as if I had been coming there for years. Peter, who grew up in the North End, was a regular and had arranged for Patty (who he has known for 30 years) to take care of us that evening and so as soon as we stepped inside the intimate/cozy restaurant, I was greeted by Patty with a big hello, a hug and welcomed by name. Talk about making a great first impression!
I followed Peter's lead and allowed him to order for us. We enjoyed a lovely carafe of table wine along with some house specialties which included a chicken parmigiana and sausage and meatballs, aka to the locals as "d's & b's".
My first day and night in Boston couldn't have gone better. I truly appreciated all those that made this trip possible. If you are planning a trip to the Boston area, I highly recommend you stay with Peter & Christy at their beautiful Airbnb for The Best Boston Experience!
L'Osteria is located at 104 Salem St. in Boston's North End.  (617) 723-7847  http://www.losteria.com
Interested in trying Airbnb? Click on this link to get $35  in travel credit.
Next up…the road to Portland and a night out on this foodie town.
Until we eat again…
I send you delicious wishes, xo
Denise
Hello Foodie Friends,
Today's post will highlight a media dinner I attended last week at Bogart's Bar & Grille, where we were treated to a lovely 5 course (12 item) tasting menu arranged for us in one of their 4 private banquet rooms and skillfully prepared and presented by Executive Chef Aaron Goldberg. The last time I was here was in May when I came with friend and fellow food blogger Shaina for a Girls Night Out, dinner and a movie. To read about this adventure, check out Shaina's review.  It was then, that me and my taste buds fell in love with Chef Aaron's cooking.
With training in classical French cuisine and a touch of modern influence, Chef Aaron's dishes are packed with flavor and are consistently on point. Aaron, originally from New Jersey, got started in the industry at the tender age of 13 and later moved to Florida to attend the Florida Culinary Institute. After receiving his culinary degree he went on to work in various kitchens including the one at The Seagate Hotel & Spa in Delray Beach, Admiral's Cove Country Club in Jupiter and Cafe du Park in Lake Worth prior to joining the Rapoport Restaurant Group in 2010 as sous chef at Deck 84 also in Delray Beach. Chef Aaron is a consummate professional who takes his craft seriously and embodies what he does whole heartedly. When he's not in the kitchen, he enjoys working out, going to the beach and all things food-related.  Says Aaron, "this isn't just a job. This is what I live for."
On this evening's menu, we were treated to 7 of the 15 new dishes created by Chef Aaron as well as 5 of Bogart's classics.
The Miso-Maple Glazed Edamame is an example of a classic Bogart dish that Chef Aaron put his spin on. I have to definitely give him kudos on this new rendition. The char on the edamame and the sweet/tangy sauce was a perfect combination. Loved them!
Next up was the Hummus Trio (new starter item, $8).  Dollops of roasted garlic, beet and avocado hummus the size of an ice cream scoop were playfully presented and served along with warm pita bread, celery and carrot sticks.
Glad to see Brussels Sprouts are still in. These Crispy Brussels (another new starter, $9) come with smoked bacon, candied pecans (genius) and an apple-pecan vinaigrette. To say they were delicious is an understatement, really.
Our next course started off with Sesame Seared Tuna (new starter, $16). As the name of the dish implies, the tuna was coated in sesame seeds and seared and laid upon a bed of wakame, and garnished with pickled ginger, wasabi, cracked wasabi peas and ponzu for dipping. While this dish definitely had eye appeal, I was more impressed with wasabi tuna salad I had on my previous visit. Perhaps all this one lacked was the miso ginger vinaigrette served with the salad. Well, that's just my opinion. I heard others oohing and aahing over this dish, so you will just have to try it and let me know what you think.
The Tomato Mozzarella Salad (another new item listed under 'greens', $11) consisted of vine ripe tomato, fresh mozzarella, balsamic reduction, basil oil and sea salt. Art on a plate that tasted as good as it looked!
Our third course included their Orange-Miso Glazed Salmon. (Bogart classic, $25) Check out the coloring on the salmon, it's gorgeous, don't you think?!? The salmon was placed atop a bed of black forbidden "Chinese-style" rice which I had never heard of before and drizzled with a carrot-ginger emulsion.
Mojo-braised Pork Tacos (new item under large plates, $14) come with 3 tacos filled with deliciously marinated pork and topped with a charred pineapple salsa, pickled red onion and cojita (Mexican) cheese. The tacos were simple, light and tasty and the combination of the various flavor profiles was very well thought out.
The Dijon Crusted Chicken Milano (another Bogart Classic, $20) was one of the dishes I had ordered on my last visit. It definitely deserves to remain on the menu. The chicken was cooked perfectly and the Dijon crust delivers the perfect crunch. The chicken sits atop bed of broccoli florets and sweet potato raviolis in a maple-dijon cream sauce.
The Home-Style Pot Roast came out next (new item under large plates, $22) and was served with truffle whipped potato (truffle: woo hoo, yippee, nom nom, I sure do love me some truffle, lol) and baby carrots. If sandwiches are more your thing, they also have a Pot Roast Dip (new item under handhelds, $16) served on a French roll, creamy horseradish sauce and pan jus.
Moving onto desserts, all the desserts are made in house. The Bread Pudding (new item created by Pastry Chef Kate Neumann $8) is made with roasted apples, salted caramel and creme anglaise.
The Ice Cream Sandwich is made in house with flourless (gluten-free) chocolate cake and filled with mint chocolate chip gelato and a side of whipped cream ($9)
And the final dessert of the night was a New York style Cheesecake made with a graham cracker crust with a strawberry coulis ($9).
cou·lis    
ko͞oˈlē/  a thin fruit or vegetable puree, used as a sauce.
These cocktails were so festive looking, perfect for the holidays. Strawberry Basil Sangria and Ruby Red Martini.
Bogart's Bar & Grille is located on the second floor at Cinemark Palace 20 Theatre, 3200 Airport Road in Boca Raton. Guests can dine here with or without seeing a movie. However, guests choosing to take in a show at the Premier Level may bring their food and beverages, including liquor, into the plush theaters. Popcorn and valet are also complimentary to Premier Level guests. As if that weren't enough, Bogart's offers an amazing concession stand featuring the full restaurant menu, a gourmet chocolate selection and an array of wines by the half or full bottle.
They are open from 11am until 11pm Sunday to Thursday and Friday & Saturday from 11am to 12am.
Planning a special event? Bogart's is perfect for…Birthdays, Engagements, Wedding Rehearsals, Bar/Bat Mitzvahs, Family Reunions, Showers, Holiday Parties, Happy Hour, Networking, Team Meetings, Seminars, Product Launches, Client/Employee Appreciations. For info on booking Bogart's for any of the above events, you can contact the Meeting & Events department at 561-395-7682 and let them know your foodie friend Denise from Savor Our City sent ya!
For additional info about Bogart's, please visit their website or call 561-544-3044.
————————————————————————————————————————–
Management: Burt Rapoport, Owner of Rapoport's Restaurant Group
A third generation restaurant aficionado, Burt started his career in New York City, where his family owned and operated a successful kosher dairy restaurant for 50 years. Known for providing high quality cuisine with a good value, an elegantly welcoming ambiance and impeccable service, Rapoport takes pride in all of his restaurant concepts. The collection includes Bogart's Bar & Grille in Boca, and Henry's, Deck 84, Burt & Max's and Apeiro in Delray and is a partner in Max's Grille in Mizner Park. Rappy's Deli in Boca Raton is slated to open in the Fall of 2016.
Until we eat again…
I send you delicious wishes, xo
Denise