Hello Foodie Friends,
It was earlier this year that I first visited The Winemakers Table in Delray Beach to celebrate my birthday. I had a most wonderful evening which you can read about here if you'd like. Fast forward to present day, I received an invite to attend an exclusive media dinner to introduce Jessica Scialletti, the new owner of the Winemakers Table. The evening began with a lovely welcome reception with some delicious sparkling wine and appetizers in the Champagne Lounge. Once all the guests arrived, we made our way to the intimate dining room where we continued with our elegant 5 course International Tasting experience. A tantalizing menu was well thought out, prepared and executed by Jessica and her team. Amongst the newcomers to The Winemakers Table is Executive Chef, Joshua Bradley, who previously worked at Market 17 and Café Maxx in Fort Lauderdale. In addition, The Winemakers Table brought on a new Sous-Chef, Patrick Sauveur from France, who previously worked in Marseille at a Michelin-rated restaurant.
In addition to the new staff, other changes that have been implemented under the new ownership is a new kind of food style they classify as Creative European, allowing their chefs to add their own flare to the European cuisine that is served there nightly. The restaurant keeps a collection of California wines and is bringing more wines from Europe and around the world
.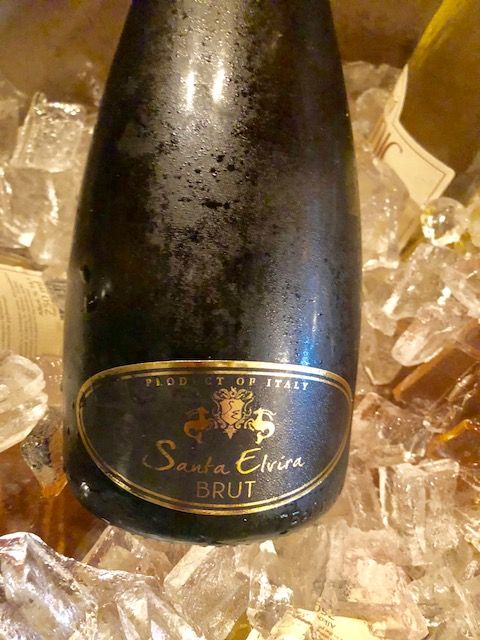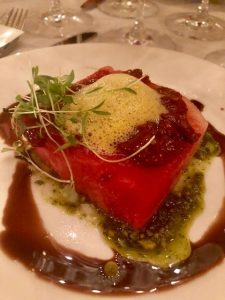 I have to say that each course was absolutely wonderful. Special honourable mention goes to the watermelon salad with dark cherry balsamic, herb pesto, tomato confit and carrot & orange foam. I fell head over heels in love with their cherry balsamic and became so inspired that I attempted to recreate this in my home. I found a recipe online and improvised using gourmet Amareno cherries from my favorite gourmet market and aged balsamic from The Ancient Olive which I reduced and drizzled over watermelon and also used on top of a pan seared duck breast that I made.
We were in for a really special treat when it came time for dessert; Jessica, the owner introduced a few special desserts from her own Swiss Brand: JesS Art Gâteaux made with European products. The new The Winemakers Table is doing a wonderful job at making guests feel welcome, pampered and fully satisfied. The restaurant serves only Prime meats and the freshest of ingredients. Positive responses are pouring in describing the restaurant as a gem with an ambience that is elegant yet relaxed, with delicious food, wine and attentive service. Monthly themed wine dinners are planned. For more information, check out their website and follow them on Facebook and Instagram.  
I know you are going to fall in love with the warm and friendly staff and the exquisitely prepared food as much as I have. When you do go, be sure to tell Jessica, Fernando and Chef Joshua hello from Denise from Savor Our City!
The Winemakers Table is open Tues – Sat 5pm – 11pm.  They are located at 2875 S.Congress Ave "A"  Delray Beach, Florida. Reservations: 561-501-4107
Until we eat (and drink) again…
I send you delicious wishes, xo
Denise
-phile:  
a suffix, denoting fondness for a specified thing; one that loves, admires, or is attracted to 

a specified thing.

Hello Foodie Friends,

Today I am here to share with you my latest Boca Food Find and that is

GourmetPhile

. As the definition above connotes, I am a GourmetPhile, a lover and admirer with a deep fondness  & passion for food, particularly of the gourmet variety and GourmetPhile, the newest gourmet specialty market to open in Royal Palm Place in Downtown Boca, which satisfies my foodie cravings in every way.

I have been waiting for this store to open for a very long time and was thrilled to be asked to work with them to assemble some of the area's social media influencers and Concierge for some special tasting events.
Their Story  GourmetPhile is the love child of Blair and Zhanna Leavell. Zhanna was formerly a university professor of mathematics in St Petersburg, Russia, and Blair owned a software consulting firm. It must have been love at first sight for the two, who were introduced by one of Blair's employees, as they were married just a few months after meeting.  Zhanna, having difficulty finding work in her own field teaching mathematics here in the US, worked as a distributor of gourmet food items across Florida. Zhanna and Blair ended up becoming quite involved with gourmet food, attending fancy food shows around the country, etc. and decided they wanted to do something fun and entrepreneurial together that reflected their expanding interest in fine food. A little over a year ago they formed GourmetPhile and broke ground on this beautifully appointed new store.
Their Vision  to be a one stop shop for everything amazingly delicious from all over the world that you can't find at Publix, Whole Foods, Cheese Course etc. To also be a gathering place of informal elegance for foodies, chefs and connoisseurs. It is their mission to offer the best of the best, at a surprisingly affordable price point, without compromising on quality.
Their Store  The Chocolate Room – It hits you right in the face when you walk in. You may find yourself salivating from the powerful luxuriant richness of the smells alone. Their chocolate room has a separate temperature and humidity regime, and their suppliers ship in refrigerated containers by air. The result is a fresher product that preserves the delicate terroir of the finest chocolates in the world.
Their filled chocolates wear their colors like tropical birds, with exotic flavors like guava/tamarind, pineapple/fennel/caramel and cardamom/rose. Their single origin bars have won the golden bean award many times.  GourmetPhile is the only store in Boca that takes such care with chocolate.
The Wine Cellar – Also a separate temperature regime. GourmetPhile's thoughtfully constructed cellar allows easy label viewing of 250 expertly curated wines you can't find anywhere else in town. Highly skilled sommeliers with deep connections in the old world and the new have found some great mid range values in wineries located very close to grand cru vineyards, for example.
The Cheese Case – state of the art new display case with over 70 award winning cheeses from around the world. These are fabulous cheeses selected by a master cheese monger, with exotic wraps like spruce cambrium and grape leaves soaked in pear brandy. Come and try them – they are generous with their tastings!
The Caviar Case – Caviar has a special place in the couple's hearts. Zhanna's father was a fisherman (he passed away 5 years ago), so she grew up with the best black caviar by the bowlful as a child. Part of the impetus for their store is a celebration of these memories. Disappointed with the quality of most of the caviar that can be obtained in the American market, Zhanna was impressed with Petrossian, particularly due to the fact that it is never frozen, and for the superb flavor and mouth feel evocative of her childhood. Petrossian, the preeminent caviar by which others are measured – literally. They developed the grading methodology for taste, mouth feel, egg size, color, fat content and brine that is used throughout the industry today.
The caviar tasting that was arranged for a select group of Concierge, was conducted by JoAnn Economou, who covers the entire state of FL for Petrossian. The Petrossian family began importing caviar from Russia to Paris during the roaring 1920's, when caviar became a popular extravaganza. Since the inception of the company, (over 95 years) Petrossian has developed a reputation for quality within the industry and are the largest importer of caviar in the U.S., selling 50 tons of it per year. Each container is labeled with the date, best used by info and detailed codes on the sourced sturgeon.
So what actually is caviar? Caviar is the salted roe (eggs) of sturgeon. Sturgeon are part of an ancient group of large fish with 27 varieties, many of which can be found in the Caspian Sea. Over fishing and pollution of the Caspian Sea has driven sturgeon to near extinction. The most notable sturgeons are Beluga, Ossetra and Sevruga. Wild caviar is no longer available and illegal to be sold in the U.S. since 205. Today, all caviar sold in the US. is farm raised, with many new varieties available in the market today. Caviar is sourced from Israel, Bulgaria China, Italy, Florida, California, North Carolina and the list continues to grow.
Caviar Knowledge: 30g is more than one ounce (28g). All caviar is offered in grams. The lid is crimped to ensure no air has entered from the time of packing it in New York until it reaches the guest.
Malossol means "little salt" in Russian. Other companies add salt to their caviar to give them a plumper look, but JoAnn explained it doesn't improve the quality, it just makes them saltier. Petrossian does not over salt their caviar.
Proper serving utensils for caviar: Mother of Pearl, Horn or Gold. No silver pieces should be used, as it imparts a metal taste on the caviar and changes the flavor.
Accoutrements such as eggs, onions, creme fraiche which are traditionally served with caviar. Purists tend to enjoy the caviar without all these extras.
Blini is the small thin pancake used to hold the caviar atop. Toast points are also used.
Very cold vodka, as well as French Champagne is the most appropriate beverages to serve with caviar. White wine, Chardonnay or Sauvignon Blanc are also acceptable. To clear the palate, many people drink tea without the sugar.
The Charcuterie Case – the finest European sausages and hams, rich pates and Scottish and Norwegian salmon
The Frozen Section – delightful Jeni's ice cream and various frozen ready to eat gourmet desserts.
Tea and Coffee – in keeping with our pursuit of the best of the best, GourmetPhile offers two products with a very rich history. Kusmi tea was originally the tea of the Russian Tsars. After the revolution, it moved to Paris to escape the Bolshevics. It was an instant success and has enjoyed a storied history at the top of the gourmet tea market ever since.  Lavazza, established in Turin, Italy in 1895, has been owned by the family of the same name for four generations. They are the quintessential Italian espresso.
The Rest – aged balsamics, olive oils, mustards, marmalades, honeys, spreads, chutneys, wine and cheese accoutrements
Services:
small plate menu – choose from cheese, charcuterie or caviar small plates, order a glass of wine from the daily pours, or just buy a bottle from their wine cellar and enjoy it right there with no corkage fee
food pairing tastings with highly regarded sommeliers and fine wines, champagnes, beers, cheese, charcuterie and other specialty gourmet foods
gorgeous gift baskets – have one created from anything in the store, with floral accents!
delivery within Boca Raton area with company delivery van
Hours of Operation: Tues – Sun 11am – 9pm
Located in Royal Palm Place, 501 SE Mizner Blvd. in Downtown Boca  (561) 757-6208
www.GourmetPhile.com  Instagram & Twitter: @GourmetPhile
Until we eat again…
   I send you delicious wishes, xo
Denise