Hello Foodie Friends,
I'm super excited to share with you my latest restaurant discovery which couldn't have come at a better time, as I have embarked on a path towards achieving a healthier lifestyle. It's called CoreLife…
Why is it so hard to eat nutritious food that feeds your body and your soul every day? The evidence supporting the power of eating well continues to grow, yet unhealthy, processed foods continue to dominate our food experiences.
It is CoreLife Eatery's mission to change that. They are determined to make the food that we eat a true energy source! They believe that the food we eat determines how we feel, how we look, and most importantly, how we perform. Whether you're an elite athlete, a weekend warrior, or you just want to feel great every day, what you eat is everything. The old saying "you are what you eat" is right on!
Focused on healthy active lifestyles, all ingredients used in CoreLife's recipes are GMO-free, antibiotic-free, and contain no high fructose corn syrup or artificial colors or flavors. The menu offers endless combinations of hearty bowls featuring greens, grains or CoreLife's signature, slow-cooked bone broth.
Led by CEO Larry Wilson, the CoreLife Eatery executive team brings individual successes and skill sets to help the restaurant grow to meet the needs of more communities lacking convenient access to healthy and affordable eating alternatives. CoreLife Eatery plans to expand to 300 locations, including both corporate and franchise restaurants, nationwide over the next five years. CoreLife's first eatery was opened in Syracuse, NY in May of 2015. With the very first locations in Florida launched this summer in Boca Raton and Royal Palm Beach by brothers Drew and Brad DeGrazia, CoreLife is one of the nation's most rapidly expanding fast casual franchises, according to Forbes.
CoreLife Eatery brings together scratch cooking with flavorful source ingredients and a fast, casual service line for a healthy and affordable eating alternative. The brand offers a wide variety of fresh ingredients that are transformed into custom-created greens, grains and broth-based dishes. All foods are free of trans fats, artificial colors, sweeteners, other artificial additives and GMO's. The chicken and steak used are sustainably raised and never given antibiotics or hormones, and the bone broth is slow simmered all day for maximum taste and nutrition. Creating a menu that tastes great because it's healthy is the secret to CoreLife Eatery's success.
CoreLife Eatery strives to promote active lifestyle activities by offering and participating in a number of health-related events in the community.  CoreLife Eatery staff are proactively sharing their food concepts as well as wellness ideals through talks at local organizations and participation in community events.
OUR FOOD VALUES
We've created CoreLife Eatery to bring clean, healthy and great tasting foods to everyone every day. We feature hearty bowls that are complete meals in themselves featuring greens, grains and bone broths. All of our ingredients are free of GMO's, trans fats, artificial colors, sweeteners and other artificial additives. Our chicken and steak are sustainably raised, and never ever given antibiotics or hormones. We buy local when and where we can, in fact, check out our "local" wall to see what's in season around us. We also believe that hiring local team members to prepare our food, and paying them well, is much better than having it come "ready to eat" from a manufacturing plant across the country.
DIETARY GUIDE & MEAL OPTIONS
CoreLife Eatery's whole, clean foods are perfect for guests who are following specific diets or living certain lifestyles such as Keto, Paleo and Vegetarian and Vegan. You can find useful dietary guides and meal options on their website offering tips on eating healthy both at the restaurant and at home. They even have a 21-day challenge you might want to check out.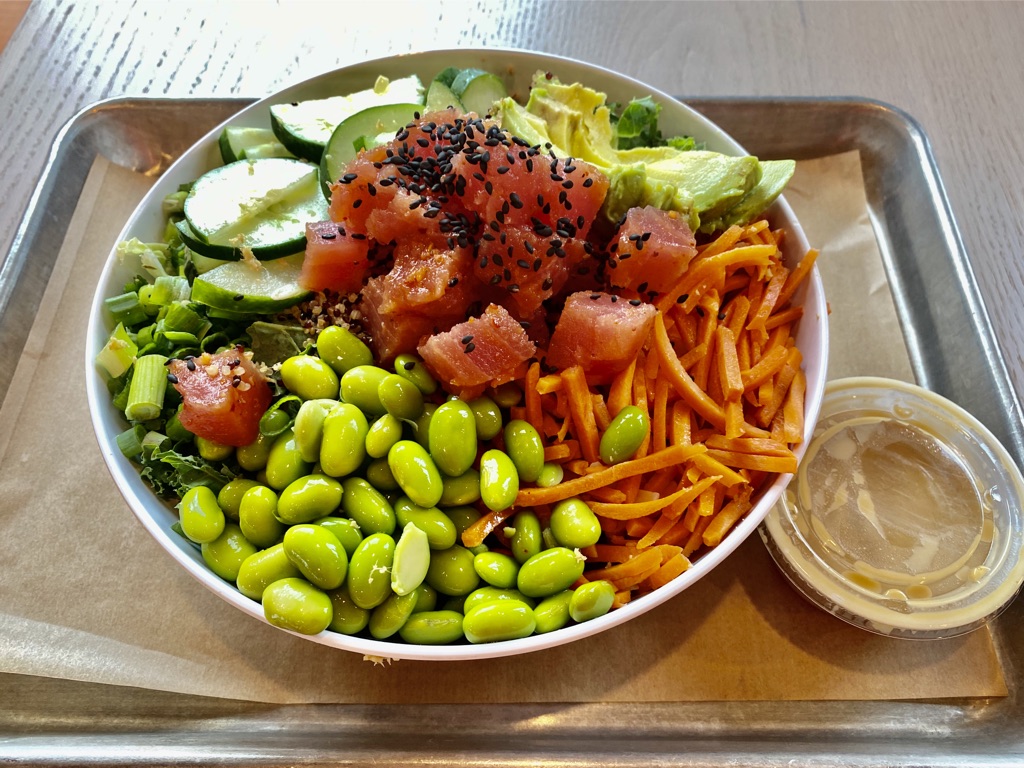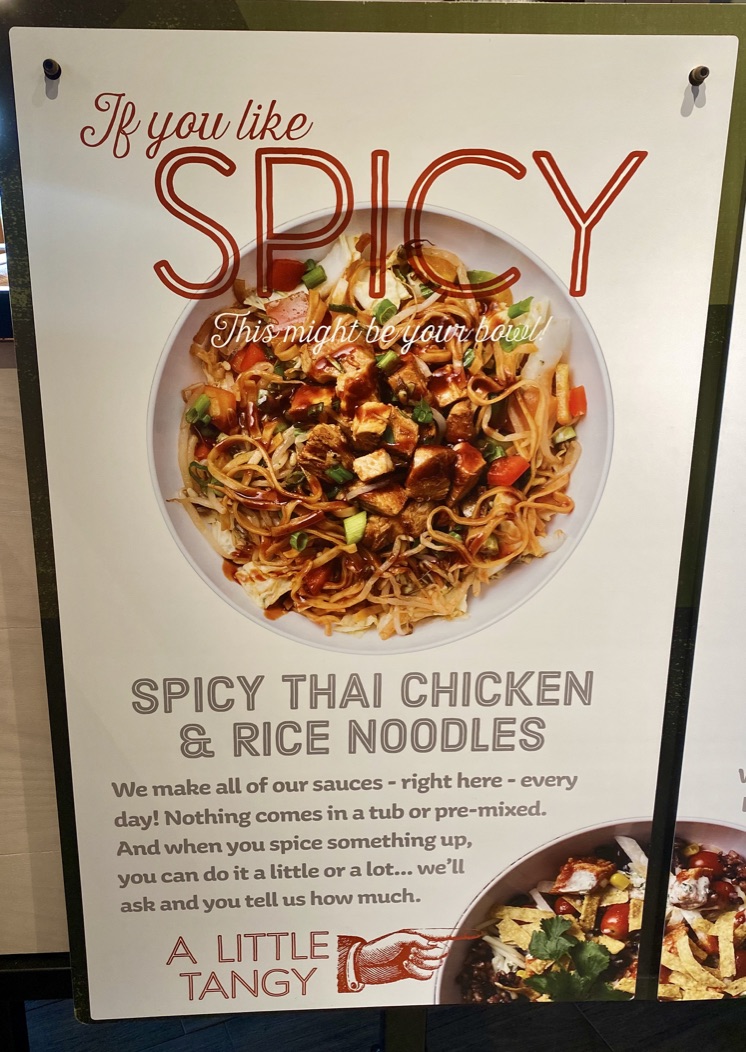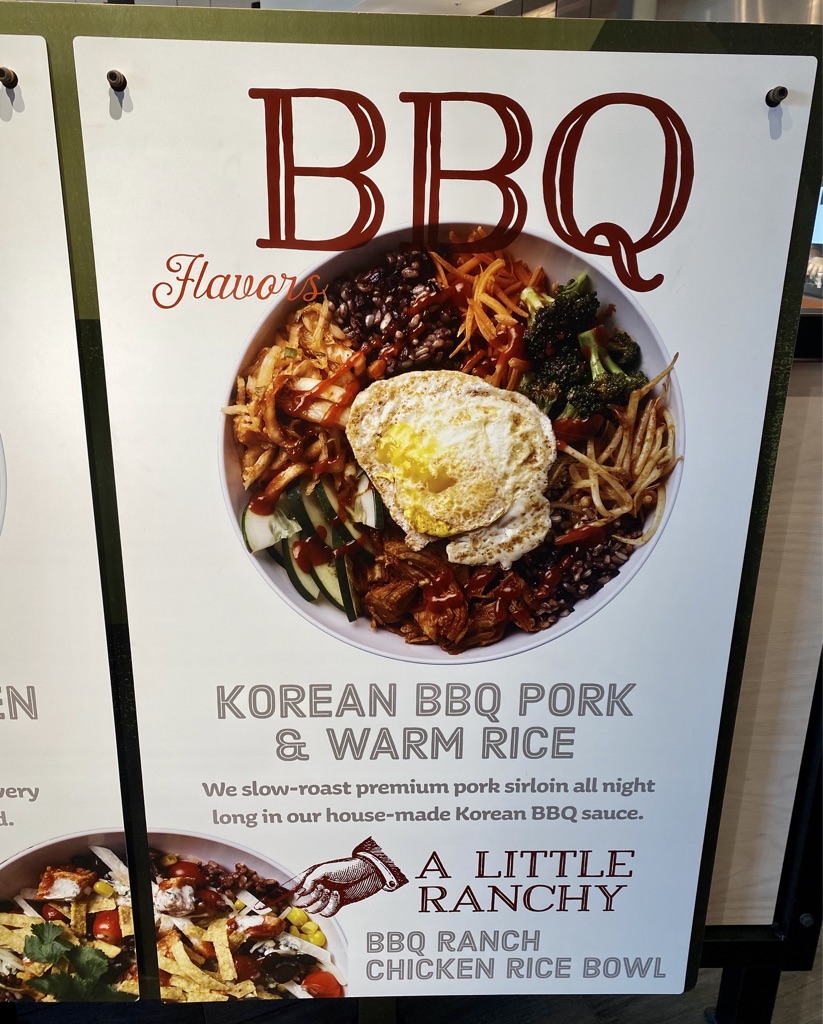 You can order online for pick up or delivery. Catering is also available. For more info, you can visit their website.
Until we eat again…
I send you delicious wishes, xo
Denise
Hello Foodie Friends,
I had the great pleasure of being invited to the pre-opening of the latest True Food Kitchen, this one, the first to open in Boca Raton, is located at the Boca Town Center; its philosophy is simple: Food should make you feel better — not worse — and you shouldn't have to sacrifice taste to live a healthier lifestyle. I am happy to report that I wholeheartedly concur. I enjoyed every single bite and left feeling terrific and yearning for my next visit back.
Co-founded by integrative medicine expert Dr. Andrew Weil and nine-time James Beard Award nominee for Restaurateur of the Year Sam Fox, True Food Kitchen's progressive and flavor-forward menu is rooted in the principles of Dr. Weil's anti-inflammatory diet and caters to foodie palates and preferences with a variety of gluten-free, vegetarian and vegan offerings for brunch, lunch, dinner and cocktails.
Based on the principles of the anti-inflammatory food pyramid, True Food Kitchen's regularly rotating menu underscores the brand's commitment to merging wholesome seasonal ingredients and simple preparations to let guests experience produce at the peak of its freshness and flavor.
The cocktail list is well thought out and the ingredients are super fresh and you can tell the difference for sure! On this initial visit, my companion and I tried the Pomegranate Mule and the Ginger Margarita. Thumbs up for both. (Side note: on my next visit back, I was torn between one of their non alcoholic Refreshers – the Pomegranate Chia Limeade and a cocktail. My server told me not to fret, I could have both. You can have your alcohol of choice added to any of their Refreshers & Teas to make it your special blend. I love that!).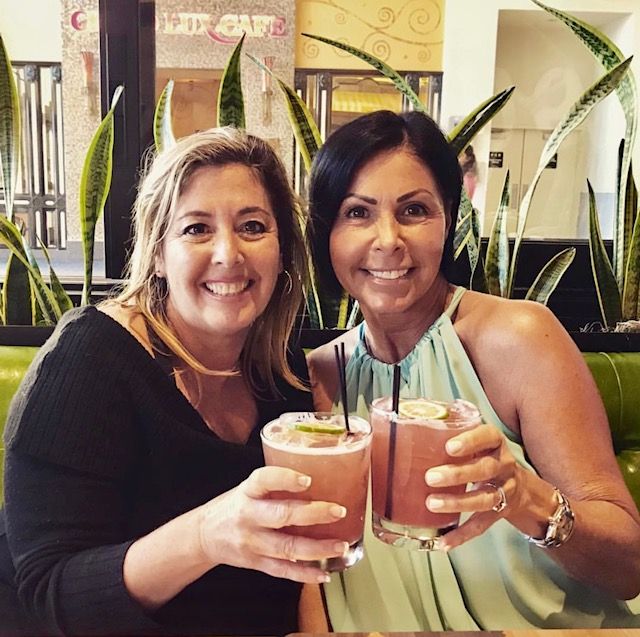 The stand out dish for me, which I got on both my visits and will continue to come back for is the charred cauliflower. Just get it and you will thank me, I promise! We also really liked the Winter Squash Toast. The Inside Out Quinoa Burger was outstanding, and so was the service. My friend and I were sharing multiple plates and after the server described the dish as stacked, we asked if she thought we could split it. She not only said yes but offered to have them split it for us in the back. It was incredible. I had the Moroccan Chicken, which I felt could have benefitted from simmering a little longer in order to have the full Moroccan flavors incorporated. We also tried the grilled steak tacos and these were very tasting and filled us up sufficiently without feeling bloated.
I have been telling all my friends about this place, whether they have issues with inflammation or other dietary restrictions or not. It's 100% legit. Check it out and let me know what you think.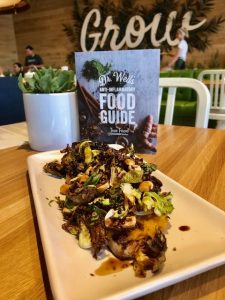 Hours of Operation
Mon – Thurs: 11am – 10pm
Fri: 11am – 10pm
Sat: 10am – 10pm
Sun: 10am – 9pm
Brunch: Sat & Sun | 10am – 4pm
Founders:
Sam Fox, Fox Restaurant Concepts
Dr. Andrew Weil
ABOUT
True Food Kitchen is a health-driven, seasonal kitchen & scratch bar merging nutrient-rich ingredients with a seasonal menu that rotates regularly to let guests experience great-tasting ingredients at the peak of their freshness and flavor. Rooted in the principles of Dr. Andrew Weil's anti-inflammatory food pyramid, the full-service restaurant caters to nearly every food preference with a variety of gluten-free, naturally organic, vegetarian and vegan offerings. True Food Kitchen's scratch bar is brimming with a wide selection of fresh-pressed fruit and vegetable juices, seasonal cocktails, wine and local beers. The open kitchen brings guests closer to its culinary craft while the outdoor patio pairs fresh food with fresh air.
MENU
True Food Kitchen is known for its healthy, seasonal fare and signature dishes like the include the Spaghetti Squash Casserole, Sustainable Seabass, Tuscan Kale Salad, Grilled Fish & Grass-fed Steak Tacos and the Inside Out Quinoa Burger, among many others. The menu also features a handful of seasonal items like the Roasted Heirloom Carrots, Winter Squash Toast, Butternut Squash Pizza and Seasonal Ingredient Salad as well as a variety of bowl options featuring a diverse range of flavor profiles including the Ancient Grains, Cashew Pad Thai, Spicy Panang Curry and the Teriyaki Quinoa.
True Food also features antioxidant-packed desserts like the famed Flourless Chocolate Cake and the seasonal Squash Pie. Weekend brunch highlights include the Smashed Avocado Toast, Sunrise Bowl, and the Quinoa Johnny Cakes. Behind the scratch bar are natural juices, teas, and refreshers all of which can be paired with organic and gluten-free spirits for a delicious cocktail ripe with flavor including the Citrus Skinny Margarita, Pomegranate Mule, Orchard Bourbon Sour and the Farmers Market Sangria.
The Kids Menu features creative, kid-friendly dishes like the Almond Butter, Banana & Apple Sandwich, Mozzarella & Organic Tomato Pizza and the Chicken Teriyaki Bowl to name a few.
ATMOSPHERE
True Food Kitchen at Town Center at Boca Raton features a lively dining room with 175 seats and an open kitchen designed to bring guests closer to the restaurant's culinary craft. An outdoor covered patio will seat approximately 66 guests in season. Indoors, natural woods and vibrant, localy-inspired artwork add a contemporary touch to the earthy color scheme, natural elements and greenery, including indoor/outdoor garden basins filled with fresh herbs and spices. Eco-friendly materials are utilized throughout the restaurant, such as the hardwood floors, which are made of reclaimed wood, and dining chairs made of recycled soda bottles.
DR. ANDREW WEIL
A world-renowned leader and pioneer in the field of integrative medicine, Dr. Andrew Weil is a best-selling author and editorial director of DrWeil.com, the leading online resource for healthy living based on the philosophy of integrative medicine. One of Dr. Weil's national bestsellers,
"True Food: Seasonal, Sustainable, Simple, Pure", is an inspiration to all dishes served at True Food Kitchen. The restaurant closely adheres to Dr. Weil's anti-inflammatory diet and pyramid, which aims to counteract chronic inflammation and help people achieve and maintain optimum health.
SAM FOX
True Food Kitchen is the realization of creative visionary and Fox Restaurant Concepts founder, Sam Fox, known for his passion for great food, design, lifestyle and hospitality. An eight-time James Beard Award nominee for Restaurateur of the Year, and New York Times best-selling cookbook author, Sam was recently named one of the 50 most influential people in the restaurant industry by Nation's Restaurant News for the second consecutive year, is the 2014 recipient of the Richard Melman Innovator of the Year Award by Restaurant Hospitality magazine, and the 2015 recipient University of Arizona Executive of the Year by Eller College of Management.
Online & Social:
Website: www.truefoodkitchen.com   www.truefoodkitchenbocaraton.com 
 Until we eat again…
  I send you delicious wishes, xo
Denise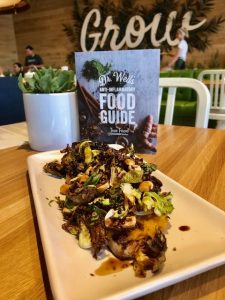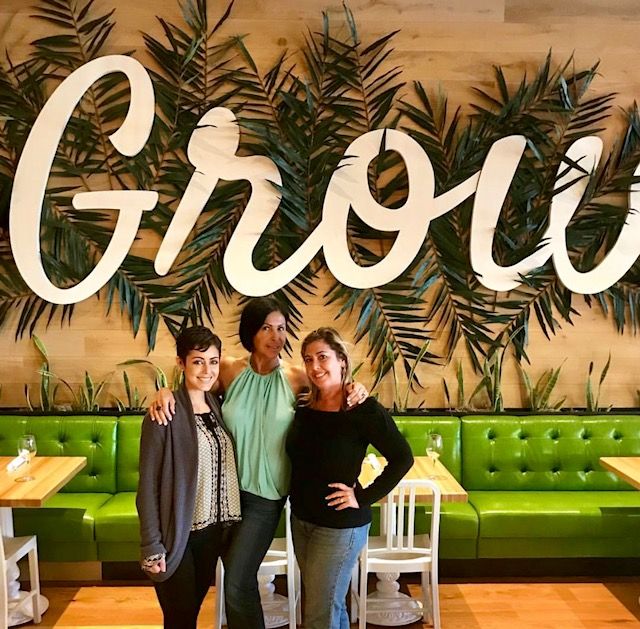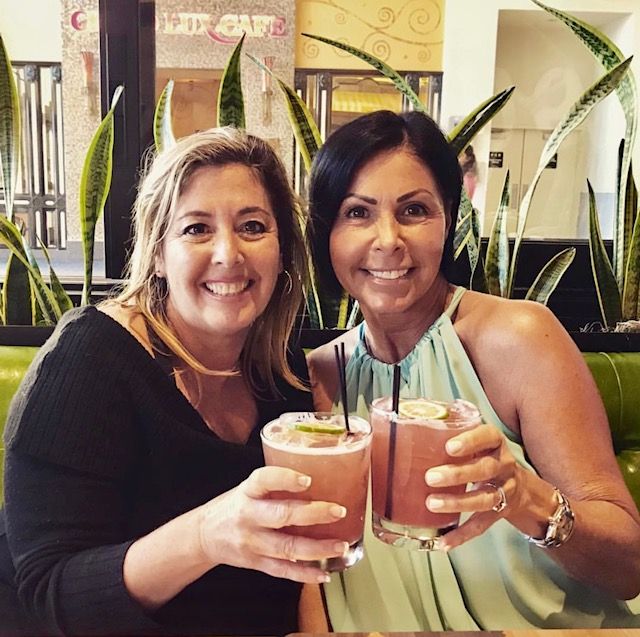 Fresh Kitchen Boca Blogger Night
I was invited to the pre-opening of Fresh Kitchen Boca, another great addition in the growing trend of healthy fast casual restaurants popping up in South Florida.  Fresh Kitchen, a 100% gluten-free, build-your-own bowl concept has now opened in Boca Raton! All of their meats are hormone and antibiotic free, all of their sauces are homemade, and their menu, which is packed with flavor, changes with the seasons.  They opened their first store in South Tampa in September 2014, followed by St. Petersburg and Sarasota, and now…are thrilled to call Boca their new home 🙂 Their goal was to create and serve fresh, high quality ingredients that nourish and energize our bodies in a fast-casual restaurant. The meal you want, when you want it, with countless combinations. Their food is made from scratch and fresh-to-order.  From their grill to your bowl, as fast as you can point!
What they serve:
100% gluten free ingredients
Dairy free and sugar free, unless indicated
Cold pressed juices, teas and frescas made in-house daily
House made dressings and sauces
Flavorful veggies that change seasonally
Hormone and antibiotic free meats
Fresh salad and slaw, rice, quinoa & sweet potato noodles used as the base for bowls
So the idea is to build your own bowl selecting from a number of bases: brown rice, coconut ginger rice, romaine salad sweet potato mash, kale slaw, vegetable quinoa, sweet potato noodles and perfect spice rice; then select your veggies: Parmesan broccoli, roasted mushrooms, sesame green beans, roasted Brussels sprouts & seasonal vegetable; next you select your protein(s): grilled citrus chicken, herb grilled steak (+$1.50), baked almond chicken, chia seed tuna poke (+$1.50), BBQ chicken, chia seed teriyaki tofu, Chef's protein; and then you can sauce it up with the following options: creamy white ginger, coconut sriracha, herb balsamic vinaigrette, cucumber jalapeno & holy kale. As if that weren't enough options, wait…there's more…bean & corn salsa ($.50), Parmesan cheese ($.50), kale pesto tomatoes ($1.50), Feta cheese ($.50) and citrus avocado ($+2)
And when you go through the line, your creation might look something like this:
Everything I had was super fresh and flavorful. My favorites were the baked almond chicken, the herb grilled steak and the kale pesto tomatoes.
The selection of cold pressed juices is impressive *available at select locations* (I didn't have any of these on this day but I'm looking forward to going back to try some. I hope they have the Macho Milk one at this location, cuz that looks right up my alley! Who am I kidding?!? They all look up my alley 😉
Chiwee Strawberry Strawberry, orange, apple, pineapple, chia seeds
MindBlown Spinach, romaine, cucumber, mint, apple, lemon
Macho Milk Matcha green tea, almond milk, maple, cinnamon, sea salt
Moo Free  Almonds, H2O, vanilla, maple, cinnamon, sea salt
Cafe Moo Free Cold brew coffee, almonds, H2O, maple, cinnamon, vanilla, sea salt
The Boss Apple, Pineapple, Kale, Cucumber, Lemon, ginger
Immune Shot Ginger, turmeric, orange, grapefruit, lemon, cayenne
Sweetberry Tea Oolang tea, strawberry, maple
Flaming Lemon Lemon, ginger, cayenne, maple, H2O
Slimberry Strawberry, lemon, ginger, mint, H2O
Here are some other pics captured from this well organized, fun blogger event:
Fresh Kitchen Boca is located at 5550 N. Military Trail in Boca
Phone: 561-406-0400 / Catering: 561-657-1140
Hours: Mon – Sat 11am – 9:35pm; Sun 11am – 9:05pm
Spread the word:
Instagram: @eatfreshkitchen & @eatflsofl
Until we eat again…
I send you delicious wishes, xo
Denise