Hello Foodie Friends,
Tis I, your favorite foodie ((wink wink)), out and about Savoring Our City once again making and sharing new discoveries in Boca and beyond. Today's post is about my most recent visit to BRAVO! Cucina Italiana at Harbourside Place in Jupiter, FL. (For a look at my previous visit there back on November 2014 where I sampled their brunch, click here.)
With everything "new" for the New Year, BRAVO! Cucina Italiana is inviting guests all across the nation to re-discover and fall in love with Italian cuisine all over again with the release of some of their time-honored and classic – Italian comfort foods. Now through February 27, as part of its special Classic Italian Combinations menu, BRAVO! is featuring traditional favorites such as Baked Chicken Parmesan, Shrimp Scampi and Grilled Chicken Picatta, each served with a side vegetable and starch with a choice of soup or salad as a starter for just $10.99, available for either lunch or dinner.
I was invited back to experience this two course menu which I graciously accepted and decided to bring along my friend Sharon, who just so happened to be my companion on my first visit to BRAVO!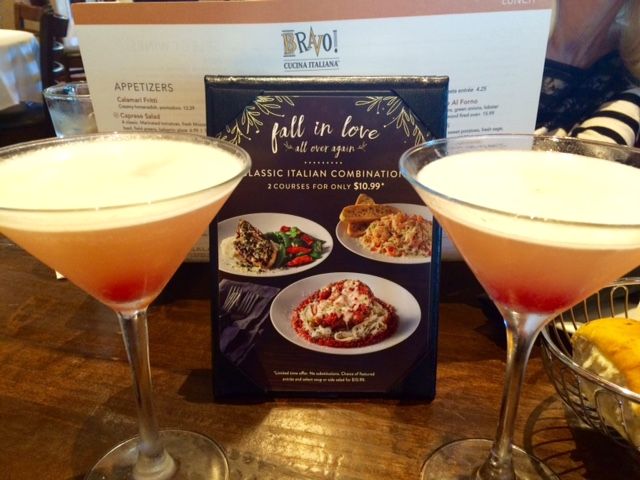 Our server Yasmine had a lovely smile and was warm and personable throughout our visit. To start us off, she brought us each a Flirtini, which we both thought was delicious.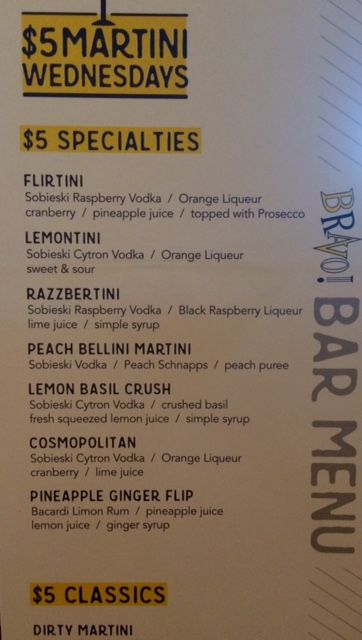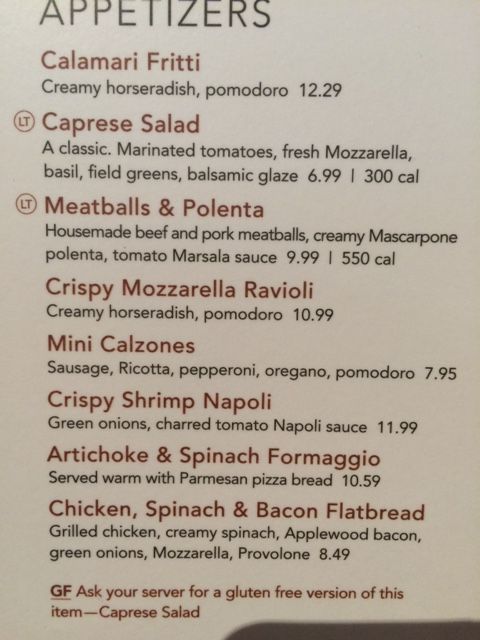 Team Leader/Manager Darryl came over to our table to introduce himself and after discussing several options, we decided to take Darryl's suggestion to try the Crispy Shrimp Napoli appetizer.  Note: the appetizer is not included in the $10.99 two course meal, but trust me, you will want to get this! Even if you're dining alone, get it and eat half and take the rest home. You don't want to miss out on this. It's that good! What makes this appetizer so good, you ask? Well, the shrimp are marinated in buttermilk for one and then dipped in a rice flour batter which make them very light and airy. They are topped with a charred tomato & lemon butter sauce. #PerfectionOnAPlate #TasteBudsDoingTheHappyDance.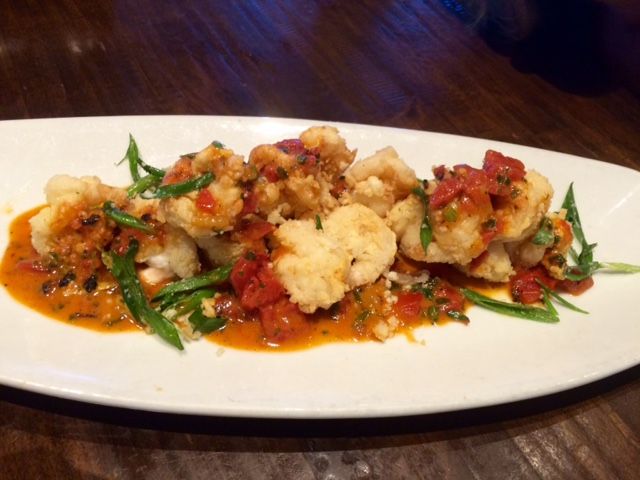 The Chicken Parmesan was the first of the entrees to come out. It was breaded and baked and served atop herb spaghettini and housemade Pomodoro sauce. The portion was ample and the chicken was perfectly seasoned and cooked, and the sauce well balanced.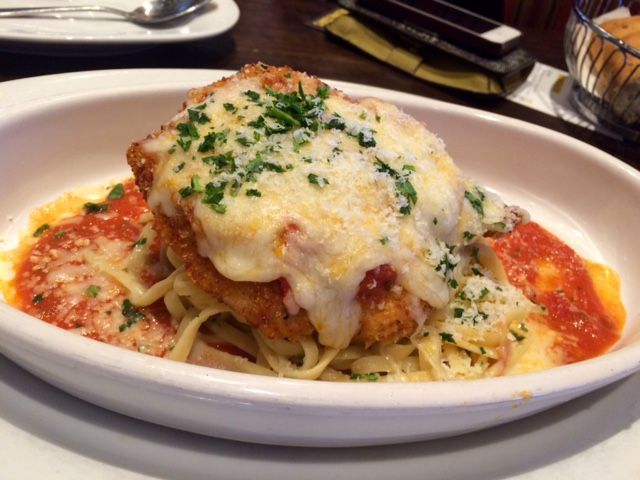 The next dish to come out was the Shrimp Scampi with linguine, garlic, lemon butter, pesto breadcrumbs, garlic crostinis and diced tomato. Loved this dish, it was delish! Again, a very generous portion, I think they put like 12 shrimp in there. The garlic and lemon butter worked so harmoniously together and really elevated this timeless classic dish.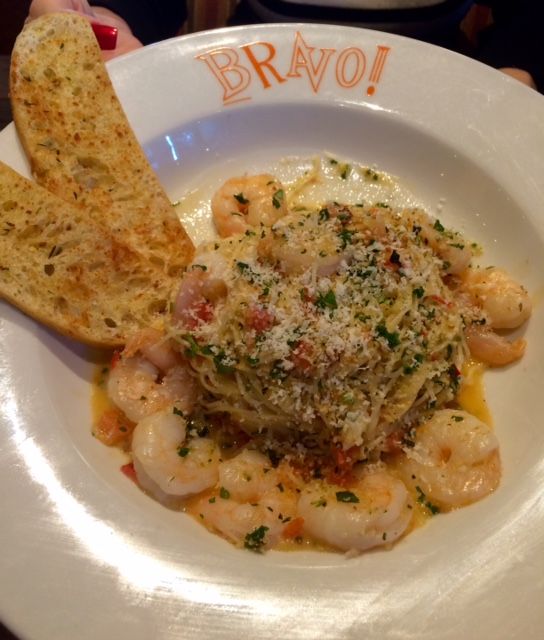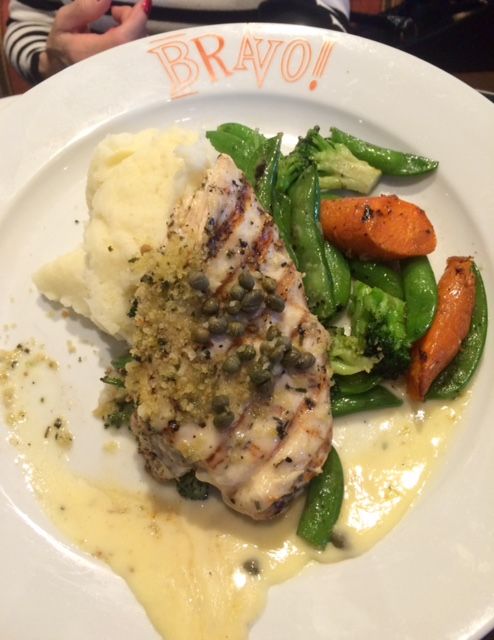 The Grilled Chicken Picatta comes with seasonal vegetables (we had the sugar snap peas, carrots and broccoli), mashed potatoes and a lemon butter caper sauce. I really enjoyed this dish too. I think I must be addicted to Chef Jon's lemon butter sauce. And speaking of Chef Jon, here I am posing with him after he made us very happy with his deliciously prepared meals.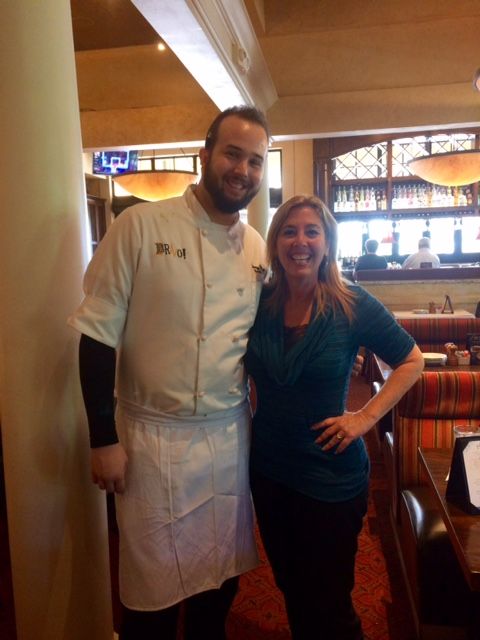 Here we have Darryl presenting to us a beautiful display of desserts. While they all looked so yummy, our bellies were pretty stuffed by this time, but despite that, we forged on and decided to give the Bravo! Cheesecake a try. It was a NY style cheesecake with a shortbread cookie crust that had been bruleed.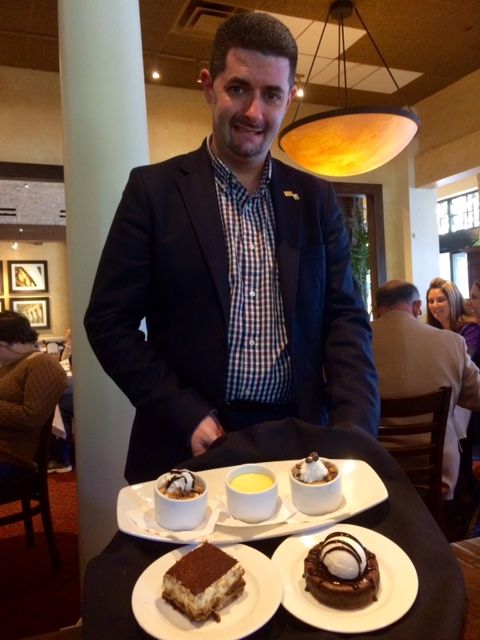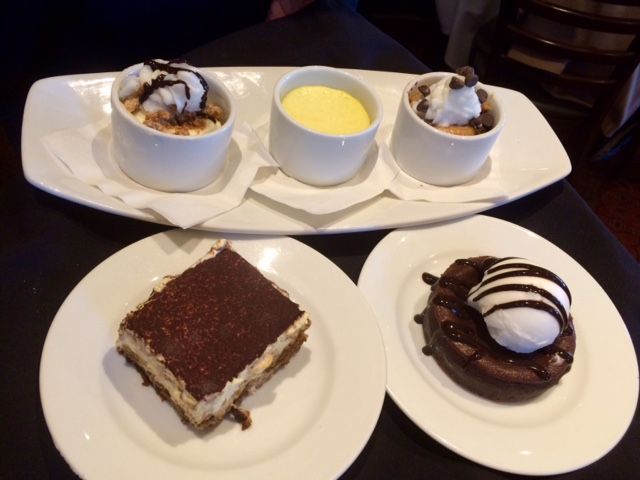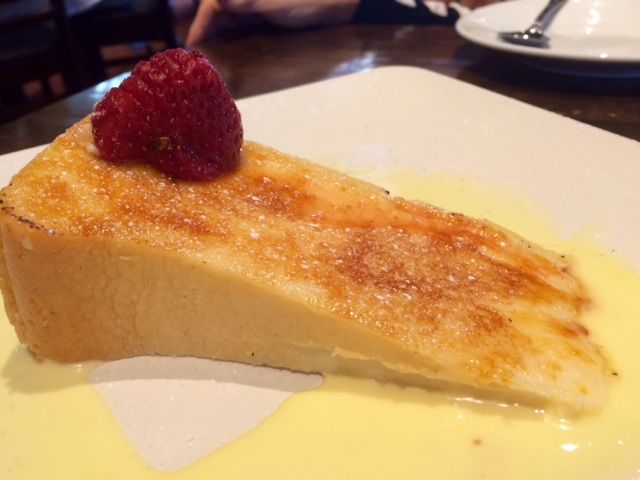 As the afternoon progressed and we were well into dining bliss, GM Jimmy stopped by to say hi and visit with us for a bit.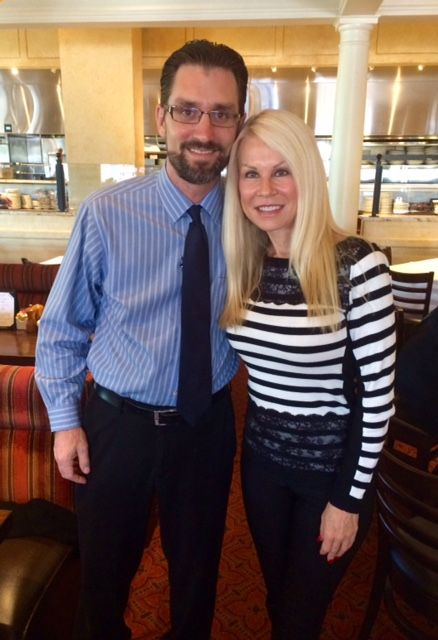 Me with our wonderful server Yasmine.
Everyone at BRAVO! Cucina Italiana at Harbourside Place in Jupiter was once again, very friendly and attentive. The food was excellent and the value, in my opinion, cannot be beat!
This Two-Course Classic Italian Combinations promotion, featuring generous portions, served at lunch & dinner seven days a week, will end on Feb. 27th, so hurry in and take advantage of this terrific value while you can! Be on the look out also for a special two course Prix Fixe  menu for Valentine's Day coming out soon. Check their website for details.
Tweet It: Indulge in your favorite #Italian classics at @Bravo_Italian for only $10.99! #mybravo
BRAVO! Cucina Italiana at Harbourside Place is located at 149 Soundings Avenue
Jupiter , FL 33477    (561) 747-4445  
They are open Sun -Thu 11am -10pm; Fri -Sat 11am -11pm; Brunch Weekends from 11 am until 3pm
Until we eat again…
   I send you delicious wishes, xo
Denise
Denise Righetti
Founder & C.F.O. (Chief Foodie Officer),
Savor Our City, LLC
Hello Foodie Friends,
Back in December, my friend Shaina and I reviewed DaVinci's shortly after they opened. (Click here to read that review.) Well, today I am pleased to share with you my latest review after being invited back to try some brand new items to commemorate their newly revamped menu executed by new Executive Chef, Ardany Rivas. Chef Rivas may be DaVinci's new Executive Chef, but he is no stranger to the Carvelli Family. He has been working in the family owned restaurants since he joined them in 2005 working in Naples, FL and Wisconsin Dells, WI before coming to Boca to head up the kitchen.
"Ardany has worked with our family for more than ten years now, providing insight and inspiration for this location, as well as our other venues, so it made sense to move him into this role," said Luigi Carvelli, who launched the restaurant with his family in September 2014. "Ardany shares the Carvelli family's passion for delivering authentic Italian dishes that are prepared with the best, freshest, ingredients possible.  We are thrilled to have him managing the DaVinci's of Boca kitchen full-time."
Shortly after we sat down, GM Francesco came to our table and asked us about our wine preferences. Luckily we were able to agree on a bottle of Rosso di Montalcino, a wonderful baby Barolo.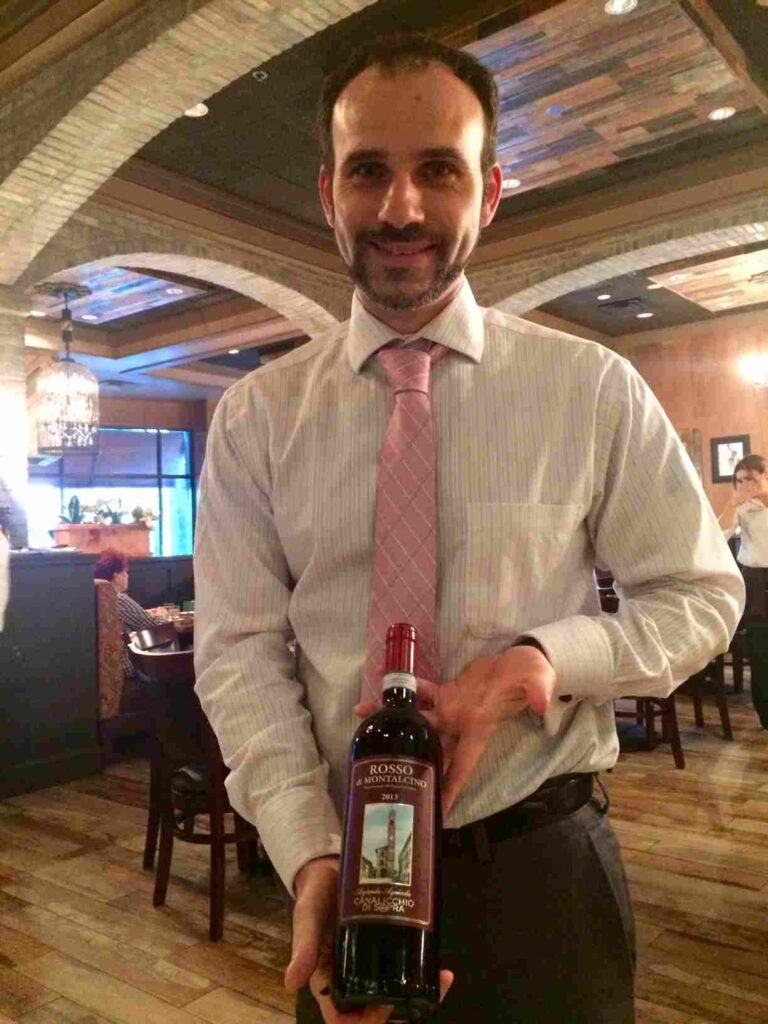 First thing to arrive on our table was their yummy warm bread basket and trio of dipping sauces that I fell in love with the first time around. (The Mascarpone with lemon zest & thyme is my personal favorite). Thank goodness this is one thing that they did not change when they created a new menu, I am pleased to announce.
Francesco informed us that Chef would be preparing a special tasting menu for us highlighting some of the new menu additions. Shaina and I especially love when Chefs do this for us. When Shaina and I dine together, we are kind of like a "Surf and Turf" duo;  Shaina only eats seafood and I prefer meat, lol. Fortunately, we both really enjoy vegetarian type dishes. Speaking of which, our first course was a Vegetable Terrine appetizer which consisted of layers of eggplant, roasted red peppers, zucchini, portobello mushroom, goat cheese, arugula and topped with a balsamic glaze drizzle.  I really liked this dish. It was a cold dish which didn't surprise me as much as it seemed to have surprised Shaina. But I do agree with her assessment that it could have just as easily been served and enjoyed warm as well. To read Shaina's review, click here.
The next dish to arrive was the charred octopus. For those of you who follow my posts, you know that Shaina and I are both huge fans of octopus. Last year when we were first introduced to DaVinci's we tried their Polipo Grigliato al Salmoriglio, aka Octopus. It was a chilled version and although it was quite tasty, both Shaina and I agreed hands down that this new version was much more to our liking. It was served atop arugula with a lemon dressing, potato confit, drizzled with a pepperoncini aioli and served with a side of the most fantastic squid ink/white bean puree.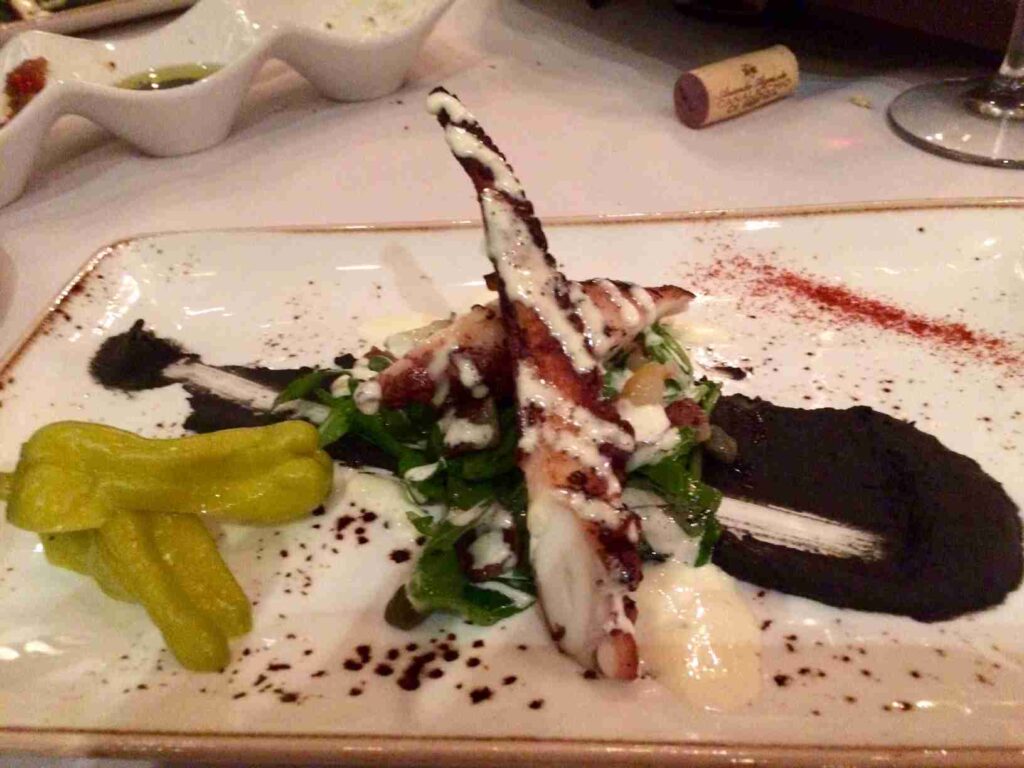 The Kale & Beet Salad was next. This colorful salad was visually very appealing and consisted of golden and red beets, pecans, pistachio-crusted goat cheese, kale tossed with a basil citrette dressing, topped with pickled onions and a drizzle of balsamic reduction. The salad was well composed and we both enjoyed it very much.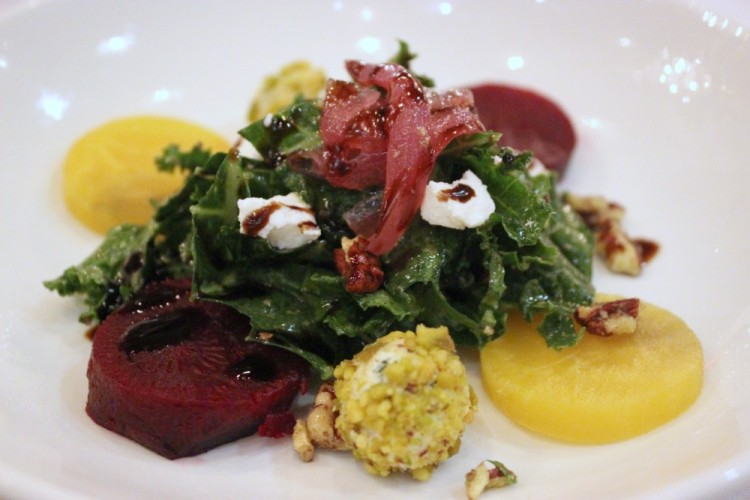 The next dish that came out was the homemade spinach gnocchi with Gorgonzola sauce garnished with strawberries. At first I was like, strawberries? But after trying it, I can definitely see that the sweetness from the fresh berries cuts some of the richness of the Gorgonzola and it works… very well, in fact. This was definitely one of my favorites of the night and I'd have to say that these gnocchi were my absolute favorite that I have ever been served (sorry mom).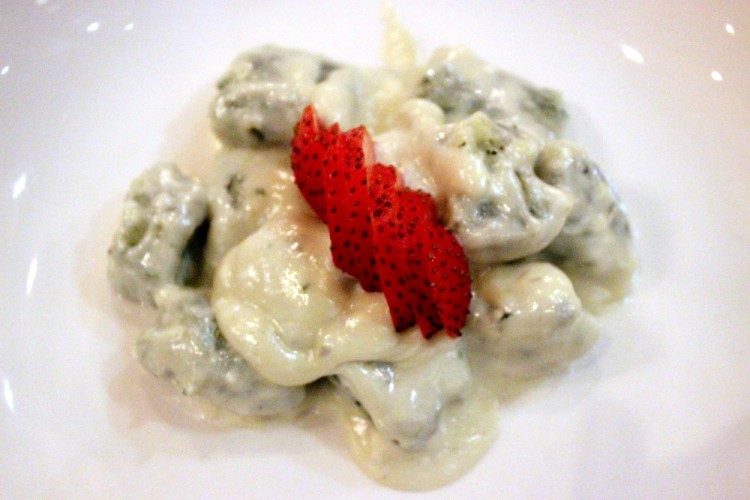 When it came time to ordering our entrees, I selected the Veal Porcini, one of the new menu items, while Shaina ordered the seafood special of the night, Shrimp-stuffed Branzino. Both dishes were accompanied by scalloped potatoes in a lemon sauce, asparagus and baby carrots. The veal was cooked with a porcini Marsala wine and cream sauce. I enjoyed this dish, although it was just a tad over salted for my preference.  Shaina loved her Branzino, which was presented in quite a unique manner in that it was filleted and stuffed rather than served whole. Pretty, isn't it?!?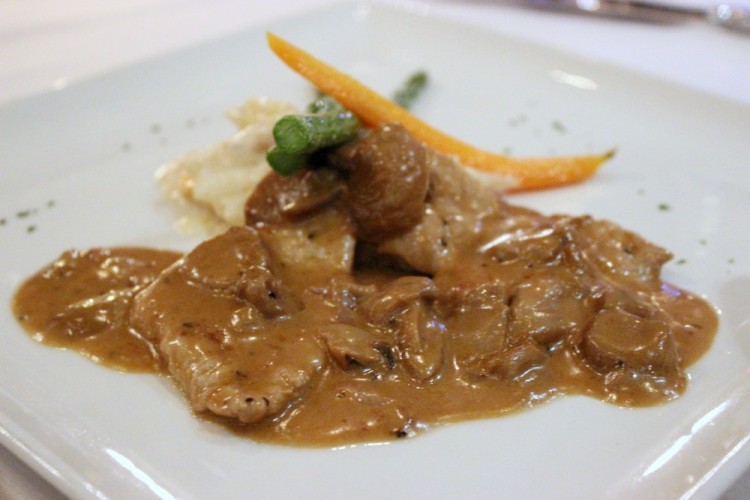 We skipped on dessert this time, since A) we were pretty stuffed and B) there weren't any new desserts on the revamped menu. We had tried the Salted Caramel Tiramisu and the Lemon Meringue Mascarpone the last time and they were both delicious. Anything that has the words "Salted Caramel" is a must have in my book. So I encourage you all to make your way over to DaVinci's and try some of these delicious items I've described for you here or anything else that catches your eye on the menu. I promise you one thing, you won't be disappointed. Exceptional food, service and ambiance.
DaVinci's offers Happy Hour  7 days a week from 11am – 6pm at the bar and patio only, as well as a late night Happy Hour from 9pm – close. They also have live entertainment and an indoor private dining room which can accommodate groups up to 40 guests and an outside patio/lounge area which can accommodate much larger groups. They are located at 6000 Glades Rd. (next to Nordstrom at the Town Center Mall). 561-362-8466. For more info, visit their website.
Until we eat again…
I send you delicious wishes, xo
Denise
Denise Righetti
C.F.O. (Chief Foodie Officer)
Denise's Foodie Events & Savor Our City™