Written by – Ashley Taylor
They say to find unknown treasures, you have to leave the beaten path. In Boca Raton, areas like Mizner Park and Royal Palm Place are downtrodden with first-time visitors to our sea-kissed town. Yet, it's a little spot just south of city central where you can find a foodie experience truly delectable and adventurous in Saiko-i Sushi Lounge & Hibachi.
Saiko-i (pronounced sigh-koi-ee) Sushi Lounge & Hibachi is the creation of husband and wife team, Jason Zheng & Tina Wang. A 7,000 sq.ft. – formerly home to the local favorite nightclub, Gatsby's – offers guests a selection of dining experiences. For casual affairs and networking events, sit in the outdoor courtyard or spacious bar. To be entertained, 11 hibachi tables wait to amuse, as well as an open exhibition sushi bar. But if an intimate dinner for two is on the menu, a romantic row of private booths amongst hand-selected artworks can accommodate.
I had the honor of experiencing Saiko-i with a number of other bloggers, writers, and foodies for the restaurant's media night. While familiar with the Zheng & Wang's first Boca restaurant, Yakitori Sake House, I wasn't aware of Saiko-i. I pulled into an unassuming shopping center on Military and SW 18th St. – shared with an Outback Steakhouse nonetheless – questioning whether or not I was in the right place. Yet, as soon as I walked in the doors, I was swept into another locale altogether.
Upon entering, I paid quick homage to a 10-foot tall Buddha before being whisked to my table. A rich color template and delicate tapestries with fine detail adorn the interior of the entire restaurant. No detail was left to chance.
The night began with Saiko-i's signature cocktail, the lychee martini. Made with fresh lychee juice, it was a martini perfect for those looking for a crisp drink with just a hint of sweetness. Also offered were Japanese beers and whiskeys alongside the usual American counterparts.
First order of the night delivered the salmon carpaccio. I smelled this dish before I even saw it, something I can't ever recall saying about a raw carpaccio. The truffle oil and fried garlic scents made my stomach rumble with anticipation. Saiko-i attains fresh sushi-grade fish daily, hailing from both Florida local fisheries and Japan alike. I make no exaggeration when I say the carpaccio melted on my tongue.
Next was the roasted duck wrap, a mix of tender duck and savory spices wrapped in a lightly-fried, crisp Singapore flatbread – perfectly offset by a mango sauce and balsamic glaze.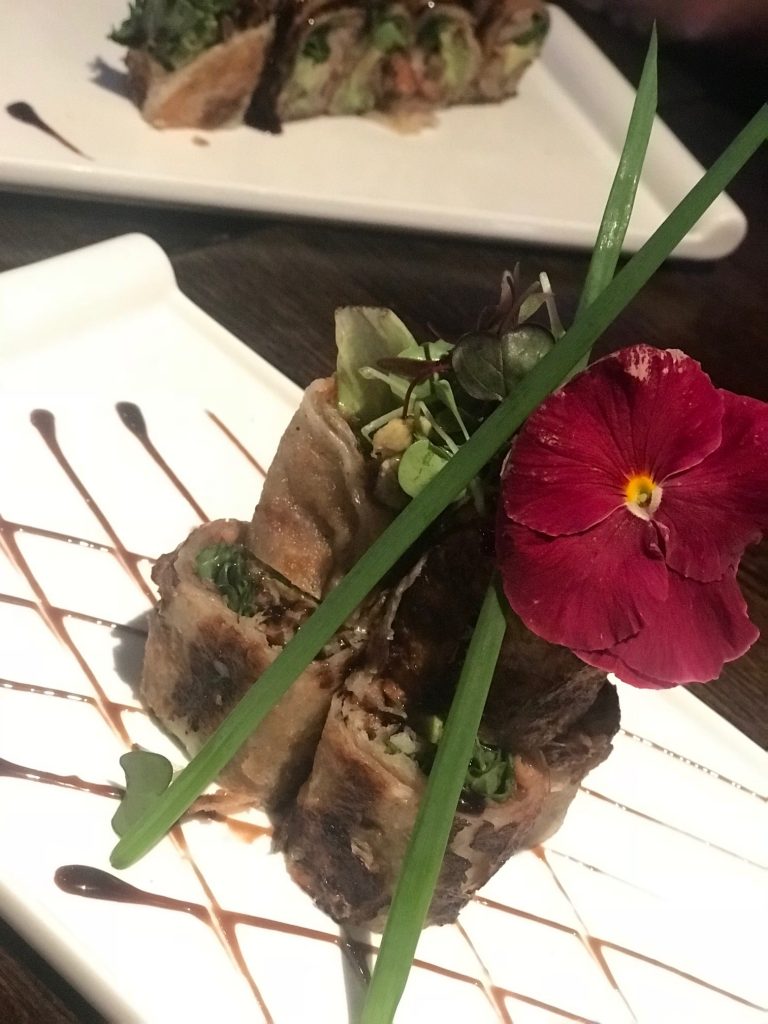 By the end of the duck, I had sipped through my lychee martini and mixed it up with a selection of Japanese whiskeys, settling on the Suntory 10 year and Hibiki 12 year. Rounds of appetizers kept appearing. Dumpling-ilke Spicy Tuna Gyoza, a crunchy UFO Roll and the refreshing fresh fish medley that is the Sexy Lady Roll.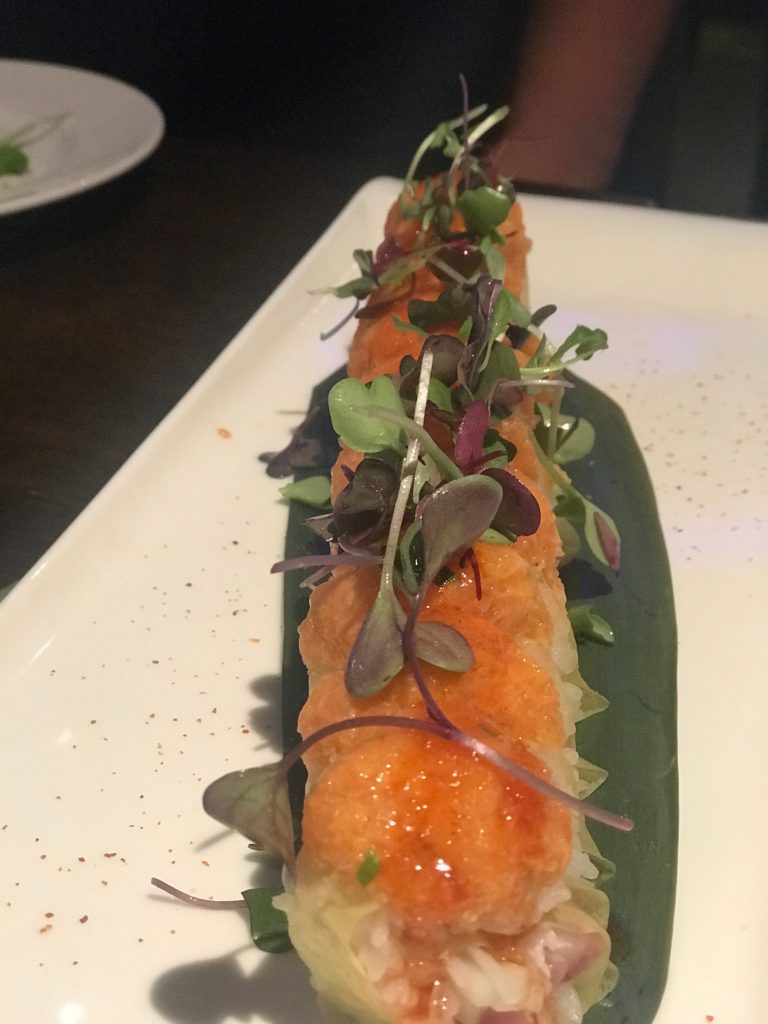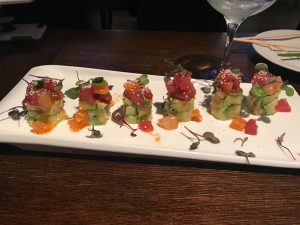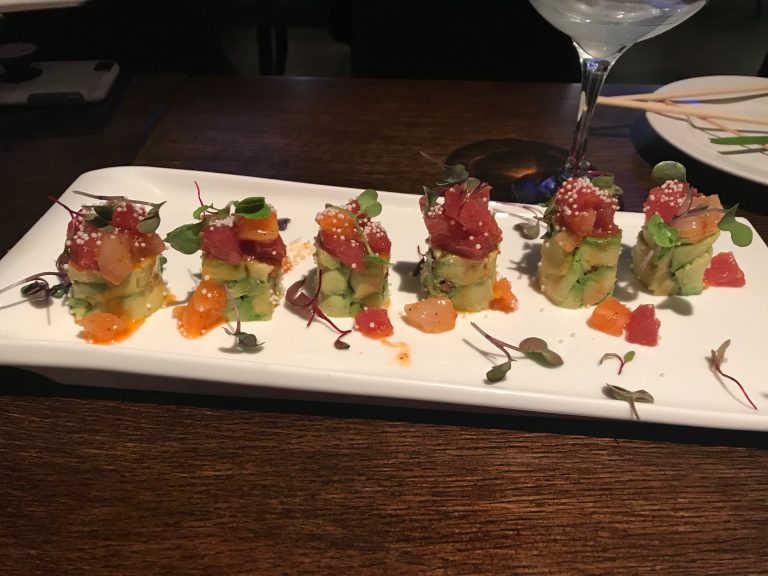 Being a fan of curries, I had to try Saiko-i's red curry with scallops for my main dish. I asked for a bit more kick and the chefs behind the scenes got it just right. The portion was easily enough for two and I was glad to have lunch for the next day.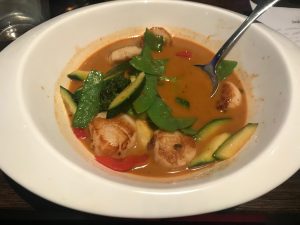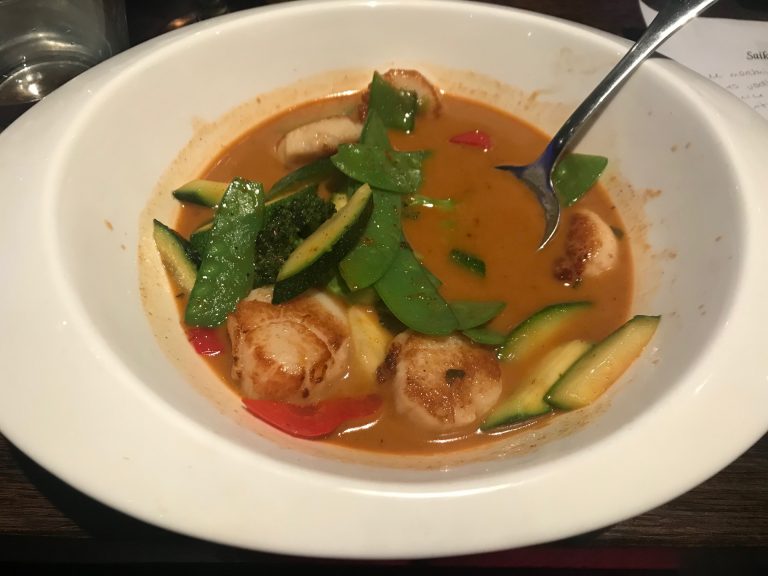 Despite being stuffed with the night's appetizing creations, the team at Saiko-i wasn't done with us yet. They had one more surprise. We had a birthday in the group and before we knew it a panda bear came to our table with a plate full of mochi – the perfect ending to an enchanting evening.
Saiko-i Sushi Lounge & Hibachi
5970 SW 18th Street, Suite E4
Boca Raton, FL 33433
www.saikoiboca.com
Reservations: 561-393-5888
Social Media:
Facebook.com/Saikoi
Instagram – @saikoiboca #saikoiboca
Hello Foodie Friends,
I recently attended a media/blogger luncheon for the newly reopened Yoko San, now under new ownership/management, in Downtown Boca. The event was organized by Yoko San's PR firm, Transmedia Group and guests were escorted to the small room to the left of the entrance where we each took a seat around the two hibachi tables. Soon after the guests had arrived, Corey Simpson, Yoko San's new owner was introduced. Corey, an affable gentleman from the Island of Jamaica, is a new restaurateur, who had started out as an investor in Yoko San who took over full time operations when the restaurant reopened the end of January under new management. One could easily tell that Corey's main objective is to ensure that each and every guest that visits Yoko San has an exceptional experience.
Our first course was miso soup followed by salad with ginger dressing; not surprising, pretty traditional and served at just about every hibachi restaurant. I'm torn between yearning for a fresh new take on the traditional Japanese soup and salad- something completely unique from what every other restaurant of this kind serves and the feeling of keeping with tradition; knowing that people have come to expect and count on these staples when they come to a place like this. What's your take on this? Are you a traditionalist or someone who prefers more modern twists?
Next, a couple of trays of sushi (spicy tuna roll and CA roll) were brought out. To me, they were pretty standard, nothing that really delivered a WOW factor. They do have quite an impressive list of sushi rolls on the menu however, so I will have to come back and try some of the more exotic offerings.
Finally the Hibachi Chefs came out and the show was about to begin! Chef Victor proceeded over the table where I sat, where he began to humor us with his funny takes on "Japanese Egg Roll" and "Butter Fly" (you'll have to sit at one of the hibachi tables there to fully appreciate these jokes).  We each were given two shrimp, fried rice, hibachi vegetables and chicken & steak for our main course. There are lots of combos to choose from; just take a look at their menu to see what I mean.  Everything that we were served on the hibachi was terrific.  Midway through service, the Chefs switched tables and we now had the opportunity to experience Chef Billy's charm. He's quite the character and we'll just leave it at that. I highly recommend you make a reservation for one of the hibachi tables, it's quite the experience.
Corey had shared with us that they have quite the international collection of chefs back there in their kitchen. Vietnamese, Thai and somewhere else I cannot recall. He said that it's both wonderful and challenging at the same time as sometimes he can't understand a word that's spoken when he goes back there, lol!
Yoko San is open for lunch, dinner and brunch on Sundays. They also have weekly special events such as Brazilian Nights every Friday night with Live Music and Drink Specials. Happy Hour drink specials every day from 5-8pm. Also every Monday, Thursday, Saturday & Sunday from 8 – 10pm- buy 2 cocktails/beer or wine and receive a sushi roll for FREE! Ladies Nights Wednesdays- Ladies enjoy 1/2 off sushi from 7 – 9pm and Free drinks from 9 – 11pm. Finally, Latin Night Thursdays – for more information on these events, please visit their website or call them at 561-430-3565
Until we eat again…
I send you delicious wishes, xo
Denise