Hello Foodie Friends,
I am here to dispel the myth that hotel restaurants are sub par to stand alone restaurants or really just somewhere tourists go to out of sheer convenience. Many of these restaurants fly under the local foodie radar, and I will be the first to admit, that that was the case with me. But thanks to a recent invite to sample the new menu at Bistro Ten Zero One, under the direction of Executive Chef Christian Quiñones, I have a new respect for hotel restaurants…especially this one. Before our tasting journey began, we had the opportunity to walk the grounds with the Director of Food & Beverage, Jimmy Alexiou. The outdoor space was very zen-like and they were in the process of expanding their garden. The herbs grown there are used to accent their cocktails and dishes.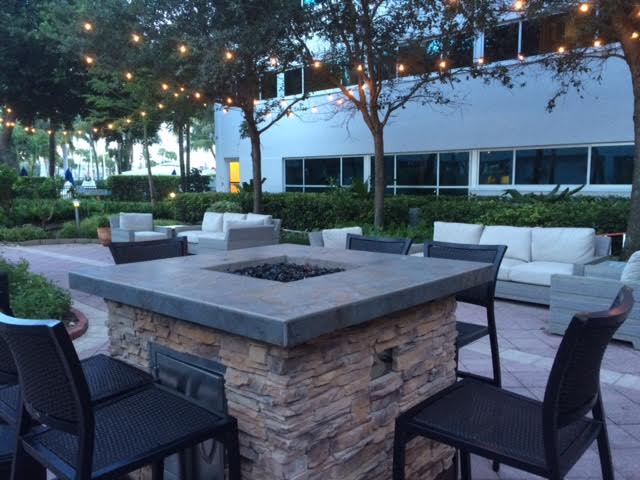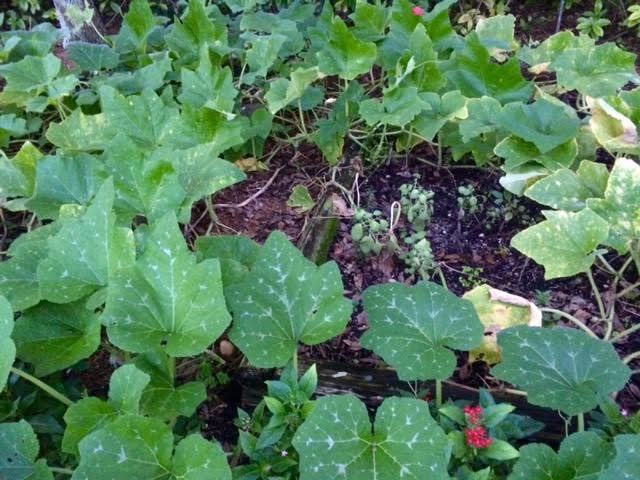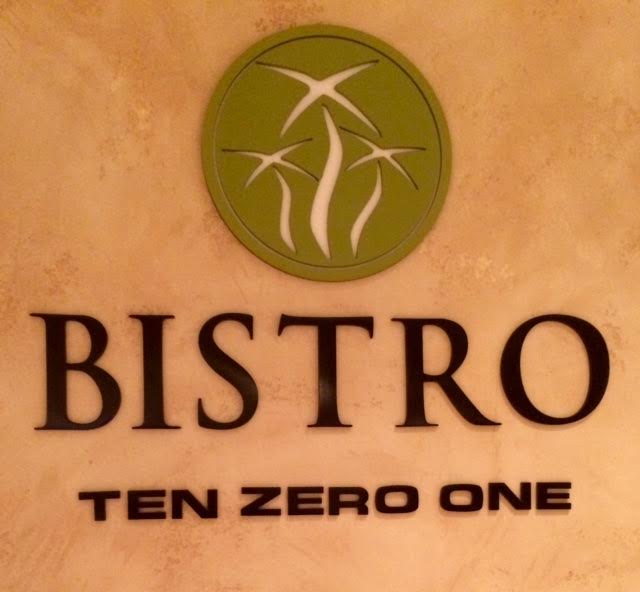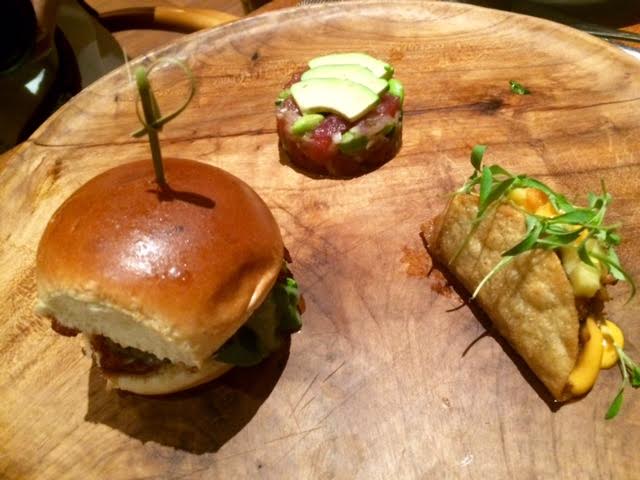 Our first course was a tasting of the Bistro's most popular appetizers served with a glass of La Marca Prosecco:
PULLED PORK TACOS / pineapple-papaya compote, spicy mayo
BEEF SLIDERS / bourbon glaze, pancetta, bibb lettuce
AHI TUNA POKE / avocado, edamame, soy truffle dressing
—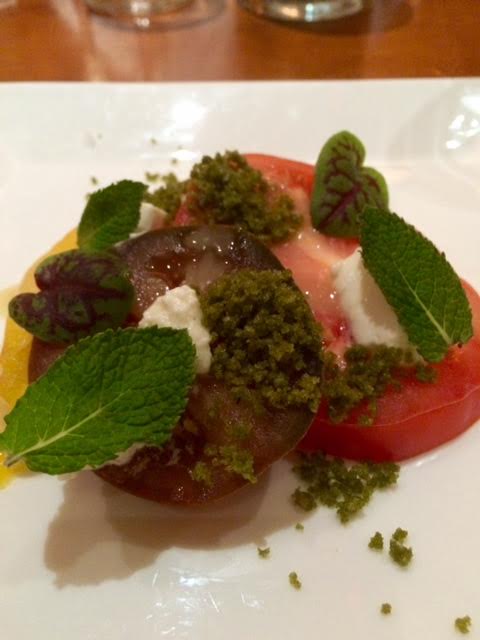 LOCAL ORGANIC HEIRLOOM TOMATO SALAD / feta, garden mint, basil powder, red sorrel, white balsamic vinaigrette
The tomatoes were from Farmhouse Tomatoes in Loxahatchee and the red sorrel came from their garden.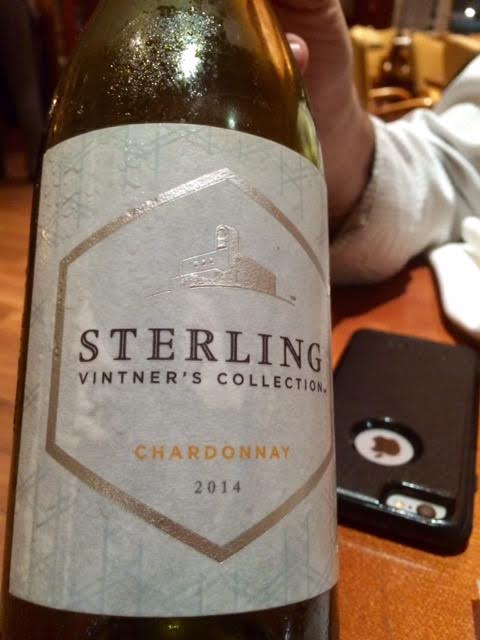 _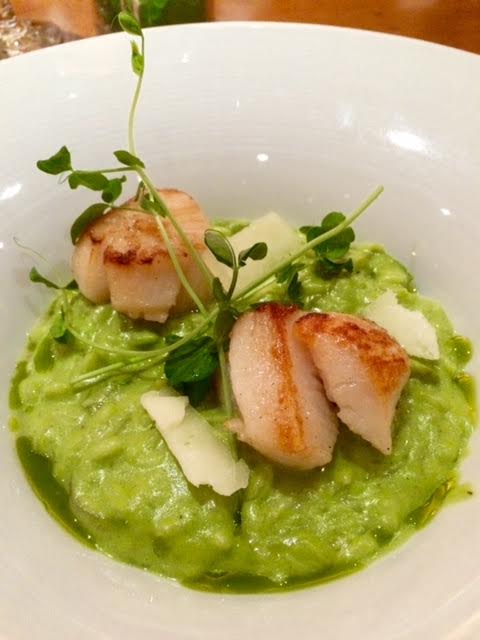 PAN SEARED SCALLOPS / green pea-asparagus risotto with a homemade basil oil.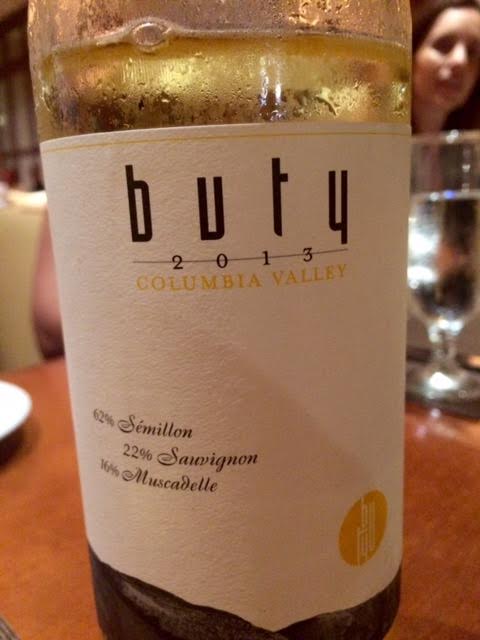 The wines were a perfect complement to the dishes.
—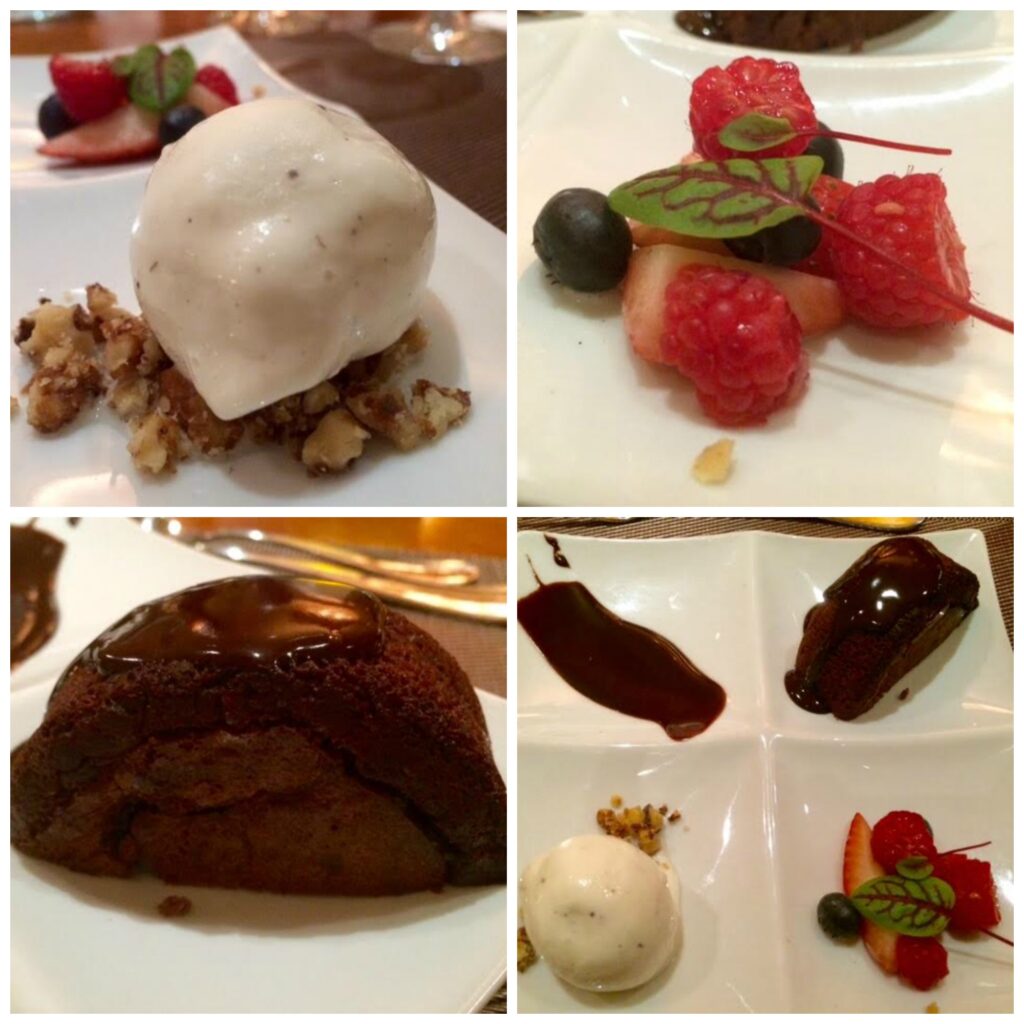 CHOCOLATE MOLTEN CAKE / vanilla bean ice cream with candied walnuts, fresh seasonal berries with red sorrel
Bistro Ten Zero One is located inside the Marriott West Palm Beach, 1001 Okeechobee Blvd.  
bistro1001.com
In addition, here's some more information on what's happening at Bistro: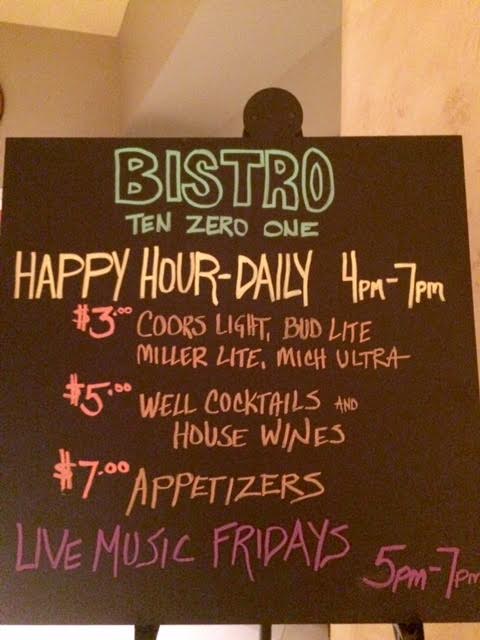 Oktoberfest at Bistro Ten Zero One
Bistro will host an Oktoberfest party in its back outside area on Wednesday, Oct. 19 from 6:30 – 9:30 p.m. Guests will enjoy a Bavarian-themed menu, along with Oktoberfest-themed beers from six local breweries. Cost is $35 per person, if purchased in advance, or $40 per person, if purchased at the door. Tax and gratuity are additional. Visit bistro1001.com to see the full menu and to RSVP.
Live Music Fridays
Bistro Ten Zero One will now offer live music in the bar and lounge area every Friday evening from 5-7 p.m.Raid the CellarDine at Bistro Ten Zero One on Friday evenings from 5-10 p.m. and enjoy 50% off select bottles of wine.
Daily Happy Hour
Get happy every day of the week at Bistro Ten Zero One with the restaurant's new happy hour. Available seven days a week from 4-7 p.m., guests will enjoy $7 appetizer specials and drink specials ranging from $3 to $6.
Bistro 10.0.1 Xpress Lunch
Refuel midday with Bistro 10.0.1's Xpress Lunch and get in and out in less than an hour.  Guests will select an item from Bistro's special lunch menu – all of which are priced at $12 and include a choice of soup, salad or house fries. This Xpress Lunch menu is available Monday through Friday from 11 a.m. until 2 p.m. Highlights include the Bistro Burger made with Manchego cheese, caramelized onion and truffle aioli; a Garden Fresh Panini with grilled vegetables, goat cheese and sun-dried pesto; a Fish BLT (fresh off the hook) with avocado, bacon, lettuce and tomato on sourdough bread; and more. See the menu.
Fresh, local ingredients creatively prepared and presented. I will definitely be back and I hope you have become inspired to check them out as well.
Until we eat again…
I send you delicious wishes, xo
Denise
Hello Foodie Friends,
Today I am sharing my recent dining experience at McCoy's Oceanfront Restaurant. Located inside the Marriott Pompano Beach, the resort's signature beachfront restaurant and lounge pays homage to its Prohibition-era namesake. Some of you may recall a post I did on McCoy's back in April of last year when I was still blogging under BocaFoodFinds. New year, new blog and new Executive Chef at McCoy's. His name is Eric Kaszubinski and he has been with the Marriott chain for like a gazillion years. Chef Eric was appointed Executive Chef of McCoy's this past April and has been turning up the heat and blazing a new trail in the food and beverage scene ever since.
Chef Eric oversees the culinary execution of the resort's food and beverage program, which includes McCoy's Oceanfront, in-room dining and catering for meetings and events. My dining companion and I were greeted at our table by Chef Eric who took the time to share with us his journey here and how excited he is to be able to explore his creativity and applying his love of the ocean to the dishes they're serving in McCoy's. He goes on to tell us how Pompano Beach has so much to offer by way of fresh, local ingredients and that it gives him such pleasure to live here and to be able to give guests a taste of this great city.
Chef prepared a variety of items from their lunch menu for us to taste. While we waited, we were presented with a cocktail & wine list. After scanning the menu up and down, my eyes kept returning to the Harlemese Sangria, a beautiful drink comprised of Chateau St. Michelle Riesling, fresh fruits, St. Germain Elderflower liqueur and garnished with HUMONGOUS blackberries, fresh strawberries and mint. It was practically a meal in itself.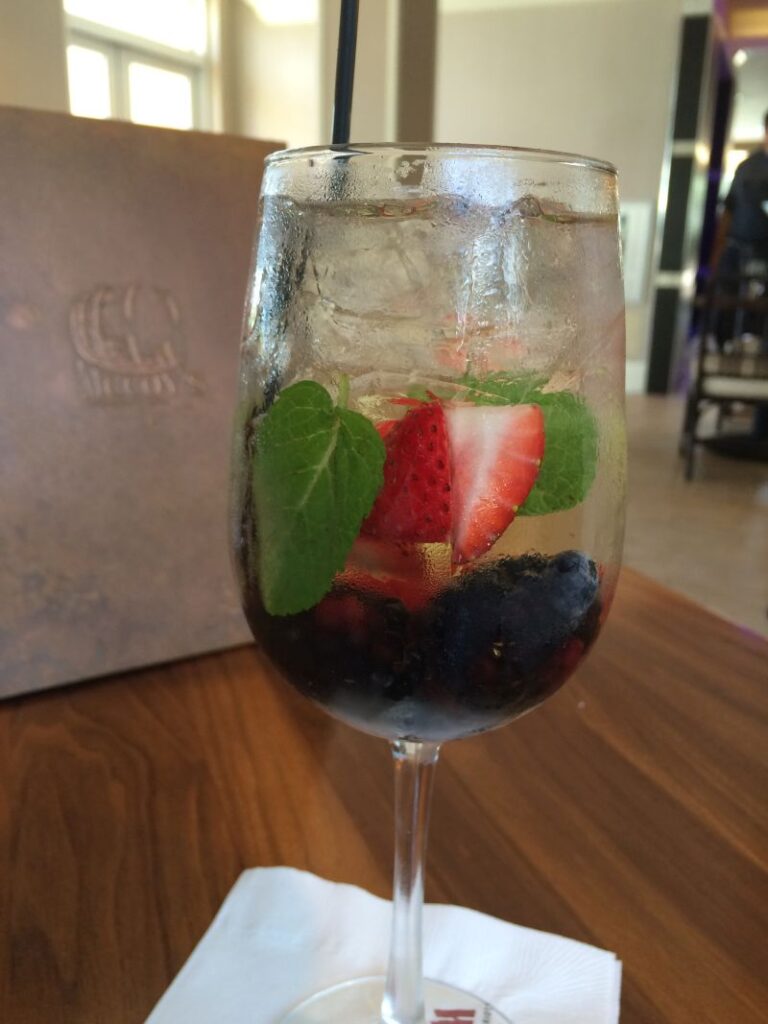 The first item the Chef brought out was the local fresh ceviche. The fish changes daily and on this day, we delighted in the Corvino which sat in a bath of coconut, rum and slivered red onions (a little too many onions for my liking) served with some lovely plantain chips; but overall, the dish was very flavorful and we both liked it very much.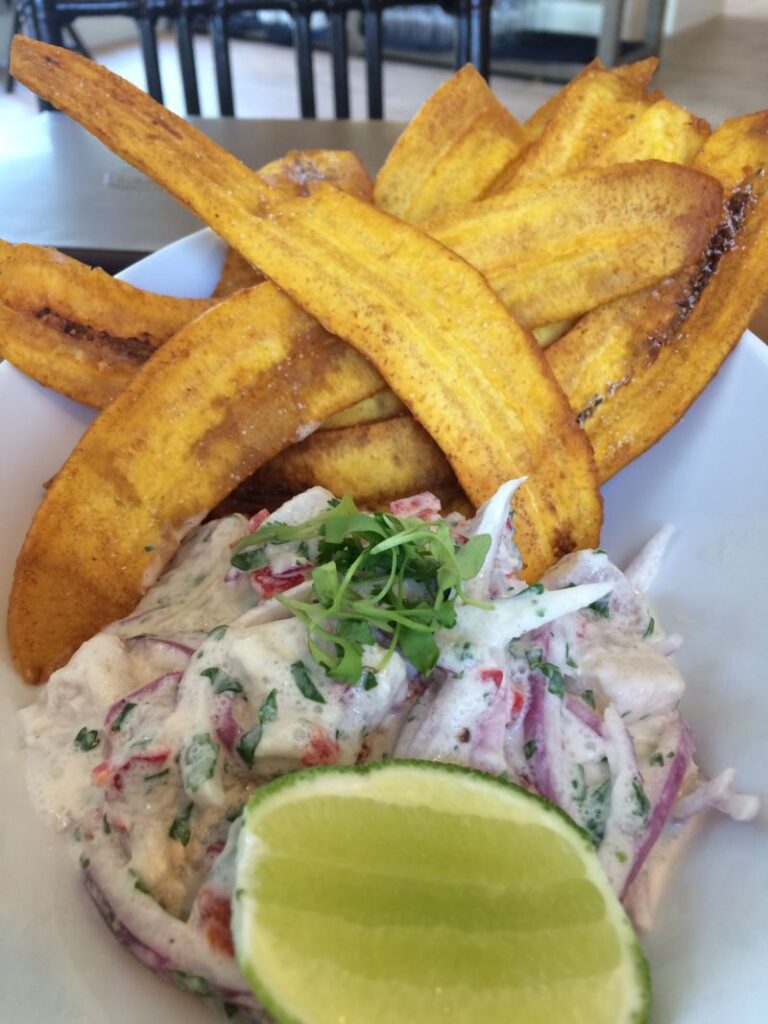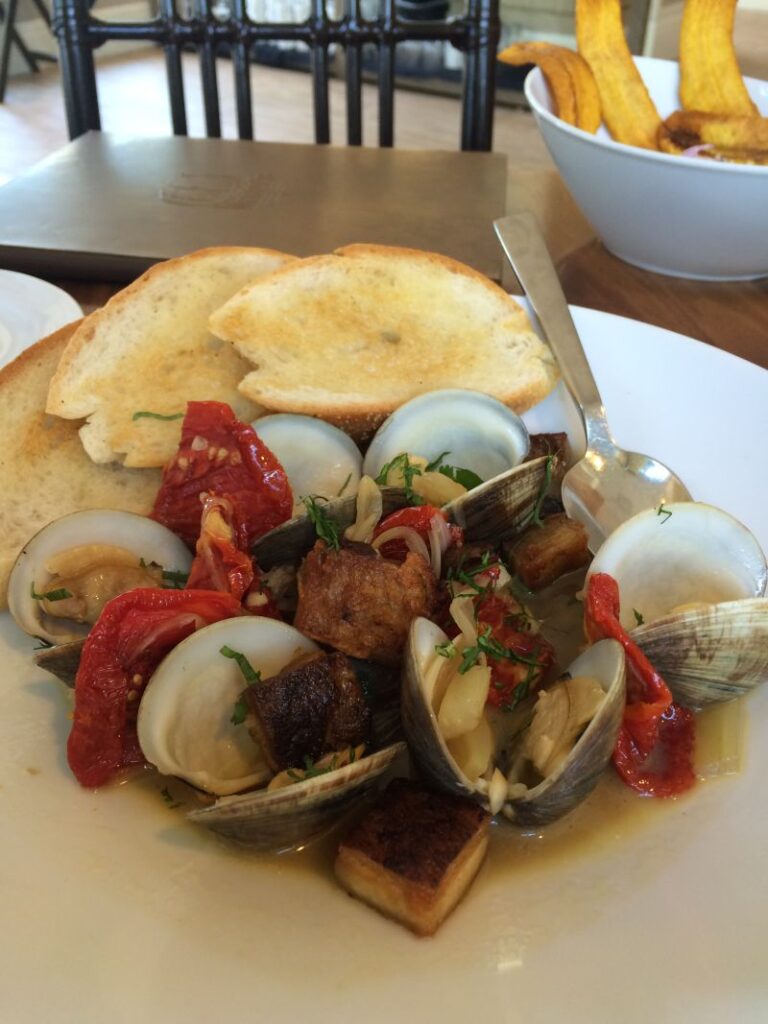 Next item to hit our table was the Ale Braised clams.  These clams happen to come from Cedar Key and were accompanied by pork belly and a broth made with Cigar City Maduro craft beer, garlic and fennel. First of all, full disclosure, I'm not a huge fan of steamed clams (or oysters or mussels for that matter). These clams were a little bit on the small side and my companion and I decided that their choice to stay local probably had a lot to do with that. Aside from the size, the combination of flavors and the other components on the plate certainly made up a well balanced dish. We both agreed that the broth resembled something of a French Onion soup-type flavor, which we both thought was delicious.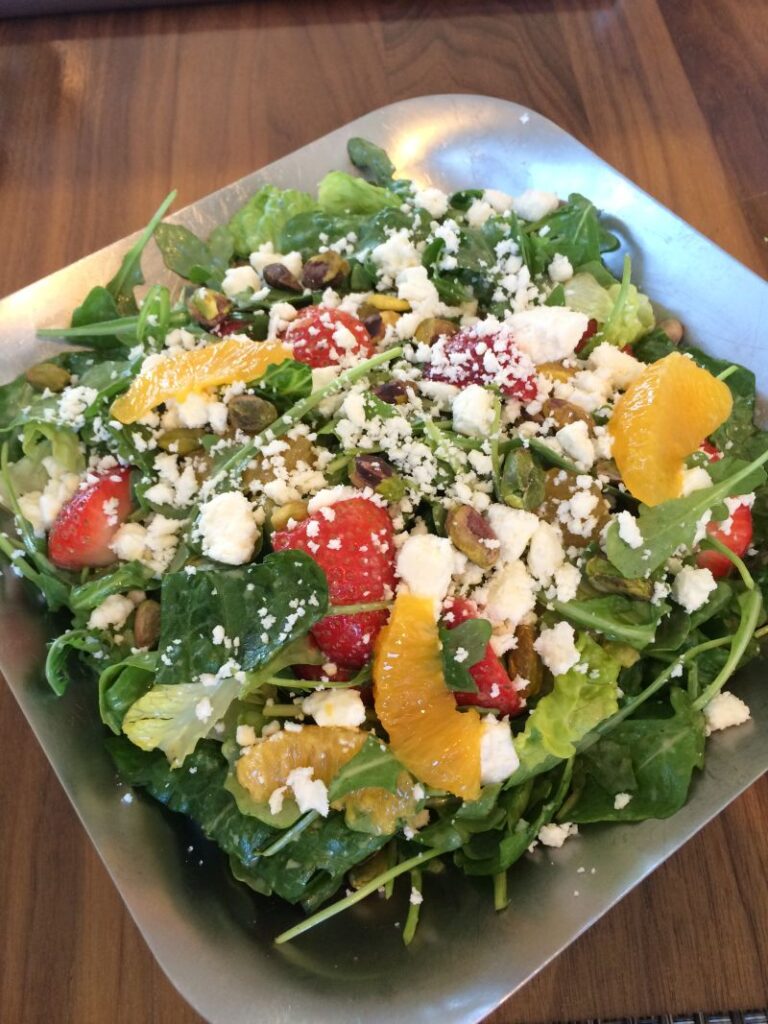 As part of its commitment to sourcing fresh, local products, McCoy's is now home to an Urban Garden, located at the front of the restaurant, where fresh plants and herbs grow and ultimately make their way into the dining menu. McCoy's has partnered with Tampa-based Uriah's Urban Farm to source local products. Plants are changed weekly and Chef Eric is more than happy to guide guests through the uses for each. We  had the opportunity to sample the fresh from the garden Strawberry & Citrus Salad made with arugula, fennel, orange, pistachio, feta cheese and tossed in a citrus vinaigrette. It was very light and well composed and just screamed FRESH!!!
Undeniably one of our favorite items we tasted throughout the day was this scrumptious crispy Rock Shrimp tacos. Served in a corn tortilla with an avocado "butter" (I'd say a more accurate description for this "butter" might be avocado crema), jicama slaw, and tossed in a sweet Thai sauce. The shrimp are from Florida. The shrimp were cooked to perfection. They were crispy but not laden in a heavy batter. I can't believe I'm saying this, because I'm usually the biggest wimp in the world when it comes to heat, but…they could stand to add a little heat to the sweet Thai sauce. The lovely jicama slaw would be right there to help soothe some of that heat. But believe me, this is a super delicious dish as is.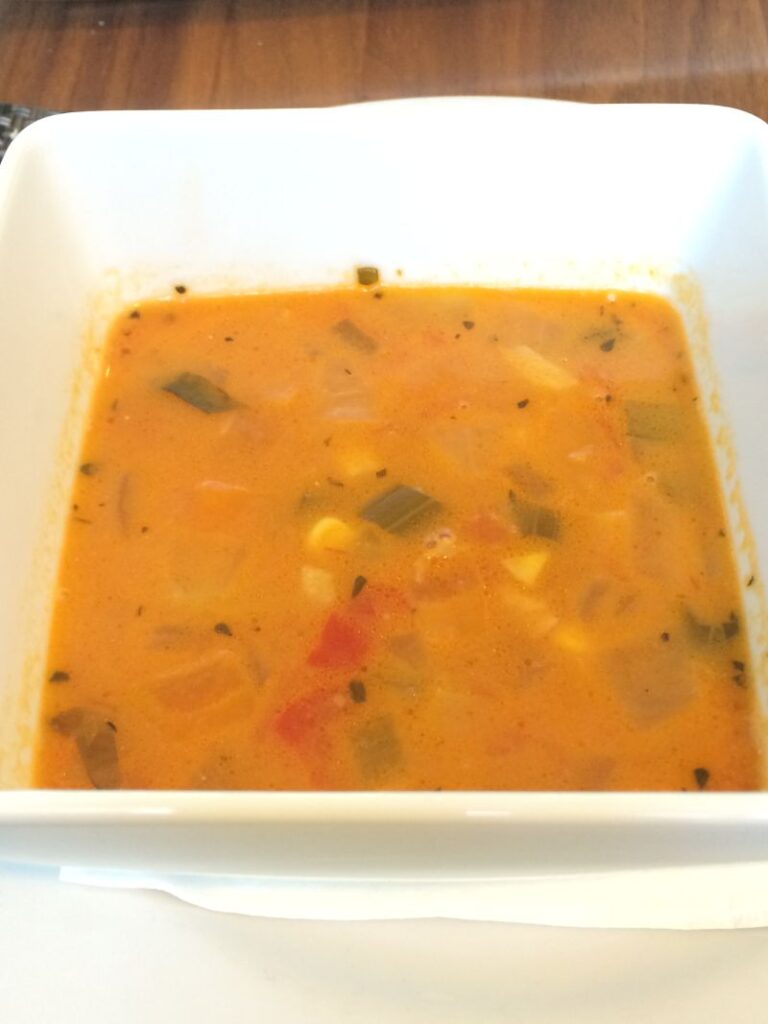 Now, having just returned from New England, I had "chowda" on the brain. I saw this offering on the menu and asked Chef Eric if it would be ok to try his version. I'm sure glad we did. It exceeded both our expections ten-fold. It was chalk full of seafood – ground conch, rock shrimp and local catch (in this case the Corvino was used) along with sofrito (A colorful blend of red, green, orange, and yellow bell peppers, tomatoes, green onions, tomatillos, and garlic), veggies, potatoes, saffron and rum.
One other item that caught my eye, which wasn't on the lunch menu, but was featured as a starter on the dinner menu was the local burrata, tomato jam (with caramelized red onion), fig balsamic & lemon oil. Had to have it. So happy Chef Eric was able to accommodate. Yay! It was terrific. A must-try for sure.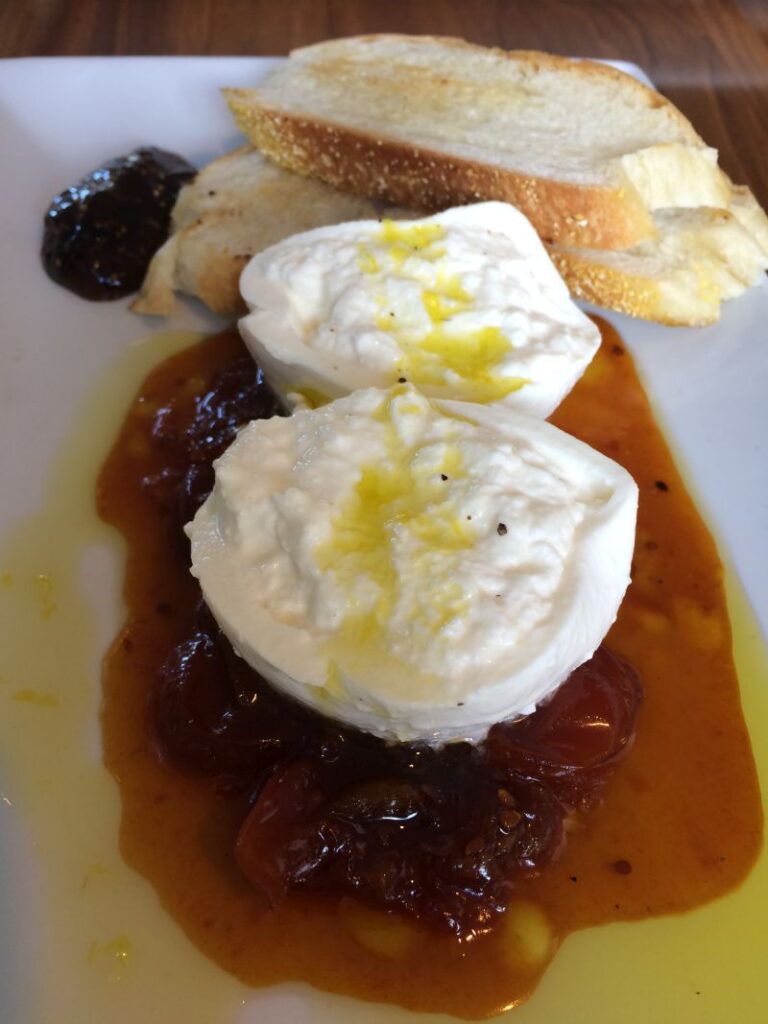 And speaking of dinner menu: highlights from the new dinner menu include the Ale Braised Clams with pork belly, garlic and fennel (pictured above); Florida Pompano with sautéed fingerling potatoes, grilled asparagus, wilted greens and lemongrass herb butter; Farro Risotto with day boat scallops, gulf shrimp, English peas, summer squash, baby spinach and pancetta; and Lake Meadows Chicken with haricot verts, goat cheese polenta and her jus.
We concluded our tasting with the Black Forest Cheesecake, which you can have for either lunch or dinner (who knows, maybe you can even have for breakfast if you ask Chef Eric nicely enough) lol. This little masterpiece is made in house and has a delicious oreo crust and bourbon cherries. It was rather addicting.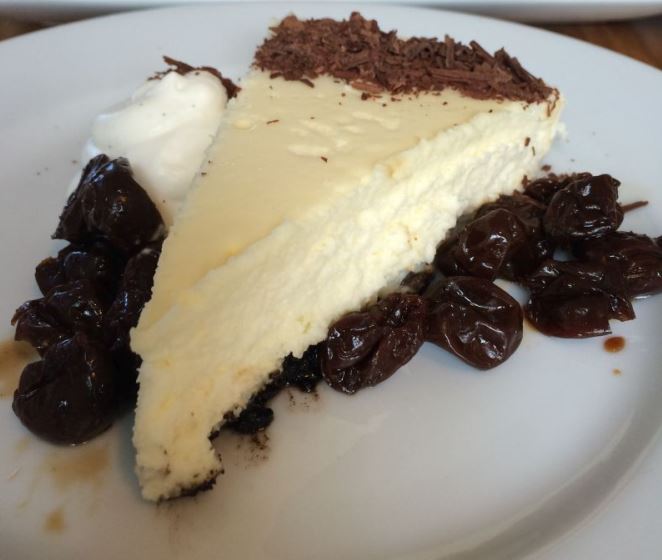 I want to thank Chef Eric for really extending himself and providing my guest and I with a wonderfully personalized tasting experience. One that we will remember for a long time and new memories we look forward to creating there in the future.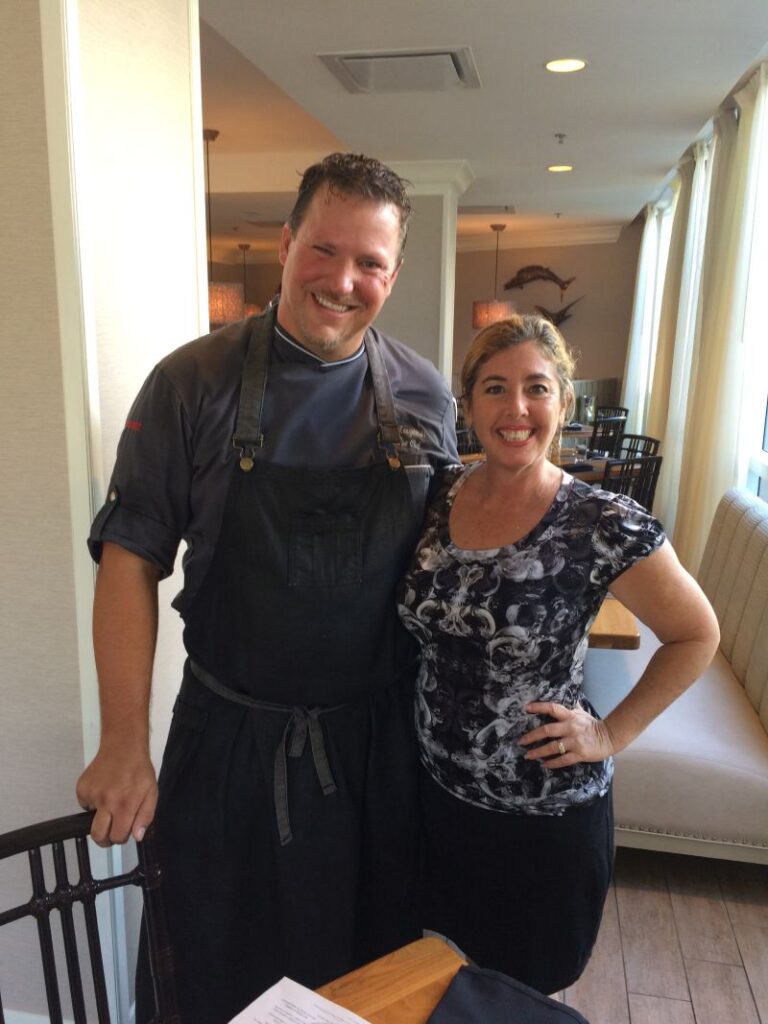 Chef Eric recently rolled out brand new breakfast, lunch, dinner and happy hour menus. If you haven't been to McCoy's or if it's been a while, I highly suggest you head on over and give them a try. I know there are so many choices to go, but trust me on this one, it's a great find.
McCoy's is located 1200 N. Ocean Blvd. in Pompano Beach, just south of the 14th Street Causeway inside the Marriott, right on the beach. For more info, you can visit their website or call (954) 782-0100.
Until we eat again…
I send you delicious wishes, xo
Denise