Hello Foodie Friends,
As a second generation native South Floridian, born and raised in Miami, I have seen a huge transformation in Miami, and in particular, Miami Beach. When we were young, I fondly remember riding on the long stretch of road that connected the main land to the beach; this was an indication that we were getting close to Great Grandmother's.My Great Grandparents (Bessie & Frank) were direct descendants from Russia, a cute couple, each standing about 5′ tall. I don't remember Frank too much as he died before Bessie, but my Great Grandma lived until the ripe ol' age of 106. (She received two letters from the President of the time congratulating her on making it to a 100 years!) Back in that time, Collins Ave/Ocean Drive was lined with condos occupied by the senior community. You would find many of them just hanging out in rocking chairs on the front porches. That was until the developers stepped in and the gentrification process officially took off. Today, the landscape is one of youth and vibrancy. The hip, chic place with plenty of nightlife to keep you busy until the wee hours.
I received an email inviting me come taste A Fish Called Avalon, Located in the iconic Avalon Hotel on Ocean Drive, the setting offers an authentic, sophisticated South Beach experience. Many locals tend to have an impression that dining out in South Beach is for tourists, but I'm here to dispel that belief right here and now, at least when it comes to A Fish Called Avalon.  Now in it's 30th year, this marks quite a milestone in the restaurant world. Fun fact: this time-tested landmark had been the back drop for the 1983 film, Scarface.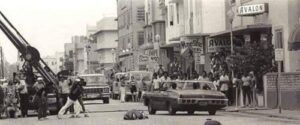 TIME-HONORED SEAFOOD TRADITION IN MIAMI BEACH
A Fish Called Avalon is a legend in South Beach. For nearly 30 years, they have been serving up the freshest seafood and delivering an exceptional dining experience to all who partake. The superb cuisine, relaxed Ocean Drive setting, and impeccable service have been delighting diners for nearly three decades.
Garnering attention for its superb seafood cuisine, impeccable hospitality and intimate setting, the restaurant is a favorite with locals and visitors alike.
Chef Kal & A Fish Called Avalon offer a seafood-dominated menu with tropical influences using the very best local and seasonal ingredients delivered daily.  Each item shines with a variety of unique presentation and flavors.
Chef prepared a wonderful selection of tastings for my Product Development Manager, Annette and I to taste. We sat on the lovely terrace and it was a beautiful night. Annette and I enjoyed every morsel. Our taste buds were literally (well ok, figuratively) jumping up and down in joy! While I really liked everything that was placed in front of us, I thought the Bang Bang Shrimp were very unique here and were a definite stand out for me. The Macadamia Nut crusted snapper was another nice surprise for me. I am a huge fan of octopus when cooked right and Chef did an outstanding job with this as well. The presentation on the paella was top notch and packed full of fruits from the sea.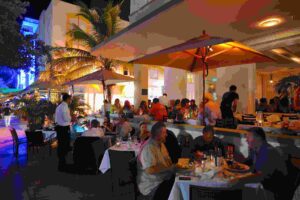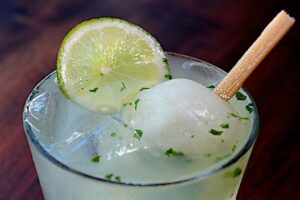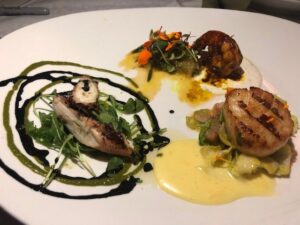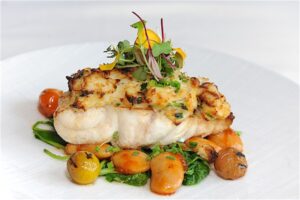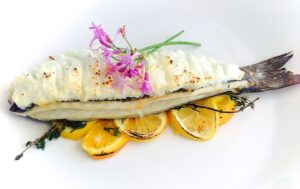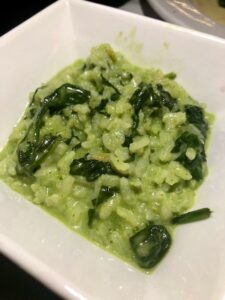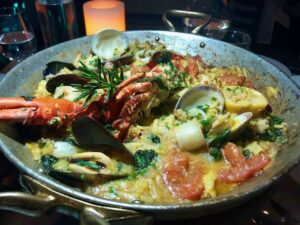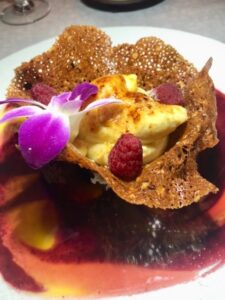 Tempting appetizers like the Bang Bang Shrimp and Orzo Seafood Paella for a main course are perfect for a romantic date night to evoke Mediterranean memories. The menu also offers prime and dry-aged steaks, organic chicken, and vegetarian-friendly options each with a perfect complement from the extensive award-winning wine list. Delectable desserts end the evening on a sweet note.
A Fish Called Avalon Accolades
Top 10 Best Restaurants and Best Outdoor Dining Winner in South Florida by OpenTable reviewers.
Ranked 30 of 787 Restaurants in Miami Beach TripAdvisor
A Fish Called Avalon is perfect for romantic dinners, a family affair, or a night out on the town. I can't wait to go back and hope that I have inspired you to want to check it out as well. Pro tip: Diners can park in the parking garage conveniently located at the corner of 7th and Collins.
For more info on the restaurant, please click here to visit their website:
Until we eat again…
I send you delicious wishes, xo
Denise
Hello Foodie Friends,
I'm very excited to share with you my excursion down to South Beach a few weeks ago to attend my very first Slow Food Miami event, where over 300 ravenous foodies joined an elite group of South Florida's top chefs for the recent 6th Annual Slow Food Miami "Snail of Approval" Tasting Party.
What is Slow Food Miami you ask? Slow Food Miami supports our local community from the ground up – from the Edible School & Community Gardens that are planted to encourage the enjoyment of foods that are local, seasonal and sustainably grown; to the local growers and artisan food makers they support for their use of sustainable methods. Planting a fresher future for our children.
All proceeds from events such as The Slow Food Miami "Snail of Approval" along with donor contributions support local school and community gardens and points South Floridians and visitors to food that is good, clean and fair by identifying and honoring producers, purveyors and artisans who contribute to food and beverage quality, authenticity and sustainability. In its inaugural year (2010), nominations were solicited among Miami-Dade county farmers. Now nominations come from the general public and all nominations are vetted by the Slow Food Miami Snail of Approval Committee and donor contributions support local school and community gardens.
They are a non-profit, 100% volunteer organization. Their local members are passionate about good food, supporting local growers and celebrating Miami's diversity. By acting locally, we are helping to build a world where the food we eat is good for us, good for farmers and workers, and good for the planet. Slow Food Miami is the local chapter of Slow Food USA and the International Slow Food Association.

Celebrity Chef/Owner of Malibu Farm and author of Malibu Farm Cookbook: Recipes from the California Coast, Helene Henderson hosted this year's Slow Food Miami's "Snail of Approval" Tasting Party. Regarded as Miami's "Freshest Night Out", the 6th Annual celebration was held Friday, March 24, 2017, at the Eden Roc Miami Beach Resort. This year, the unforgettable evening under the stars was made possible thanks to a partnership with Eden Roc, The Miami Scout Guide, Just Ask Boo, Vero Water, JetSet Sounds, FOH, J Wakefield Brewery, Menu Men, Inc., and wines sponsored by Twenty-One Wine & Spirits. The tasting party united dozens of the city's top chefs, and local growers and producers for a night of tasting and honoring Miami's food scene.
The soirée took place at the spectacular newly renovated Eden Roc Miami Beach Resort with ambient tunes by Michael Casola from JetSet Sounds. The first 100 tickets sold were priced at $75. After that, general admission tickets went to $85 per person with sales ending at noon on March 23. Tickets at the door were $100 per person. All event proceeds benefitted the Slow Food Miami's Edible Garden Program. VIP Garden Sponsor tickets were available for $750 and included a garden box for a school, free entry to Freshest Night Out with early bird admission at 6:30PM and a signed copy of Helene Henderson's Malibu Farm Cookbook: Recipes from the California Coast.
The Eden Roc's fusion of fun and luxury was the perfect setting for this festive and sophisticated event where the "who's who" in the South Florida culinary scene mingled about the lovely ocean front property. Guests indulged in tastes from Miami's best farm-to-table, including a mix of current 2016-2017 "Snail of Approval" honorees and past "Snail of Approval" winners. This year's chefs and food artisans included:
Helene Henderson (Malibu Farm)
Adrienne Grenier (3030 Ocean)
Paula DaSilva (Artisan Beach House)
Sean Brasel (Meat Market)
Jessica Weiss Levinson (Serendipity Creamery)
Frederic Joulin (Semilla)
Zak Stern (Zak the Baker)
Blair Wilson (Social Club @ The Surfcomber Hotel) * "2017 People's Choice" Award Winner
Brian Nasajon (Beaker & Gray)
Corey Bousquet and Evan Boomer (The Brick) – *2017 "Judges Choice" Winner
Andres Barrientos and James Bowers (Miami Smokers)
Allen Susser (Books & Books, Coral Gables)
Ray and Shannon Allen (Grown)
Carolina Quijano (exquisito chocolates)
Buster Brown (Counter Culture Kombucha)
Giorgio Rapicavoli (Glass and Vine)
Maria Laura Aleman (Artichoke Foods)
Della Heiman (della test kitchen)
Rene Reyes and John Gallo (Pinch Kitchen)
Isabel and Susana Garcia (Cacao Art Chocolates)
Matthew Kenney (Plant Food & Wine)
Julie Frans (Essensia Restaurant & Lounge)
Muriel Olivares and Tiffany Noe (Little River Cooperative)
Freddy and Danielle Kaufman (Proper Sausage)
Gabe Bernal (Seasons Farm Fresh)
Aaron Dreilinger (Chef David's Catering)
Chuck Lyons (Verde Community Gardens)
Paul Massard and Chris Nolte (Per'La Specialty Roasters)
Chris French (French Farms)
Carlos Cararas (MIA Beer Company)
Kevin Rusk- Titanic Brewery
Johnathan Wakefield (J Wakefield Brewing)
Ben Conniff (Lukes Lobster)
Cristina Ivory (Angry Booch)
Nick Paton (Kelvin Slushies)
The coveted "People's Choice" Award, judged and selected by popular vote was awarded to Chef Blair Wilson from Social Club at The Surfcomber Hotel for his amazing sweet and savory pecan-smoked St. Louis ribs with sesame-sorghum barbecue sauce, toasted sesame seeds, and pickled local veggies, while the "Chef's Choice" Award for the "Best Bite of the Night", judged by Slow Food Miami's Chef Host Committee, went to Restaurateur Corey Bousquet and Chef Chris Huff of The Brick for the ultimate comfort food of shrimp 'n' grits made with Key West pink shrimp and War Eager Mill grits.. This year the event also featured a live auction including a weekend at Eden Roc Miami Beach Resort and including dinner for two at Malibu Farm, among other surprises. Guests had the opportunity to purchase school garden grants at the event.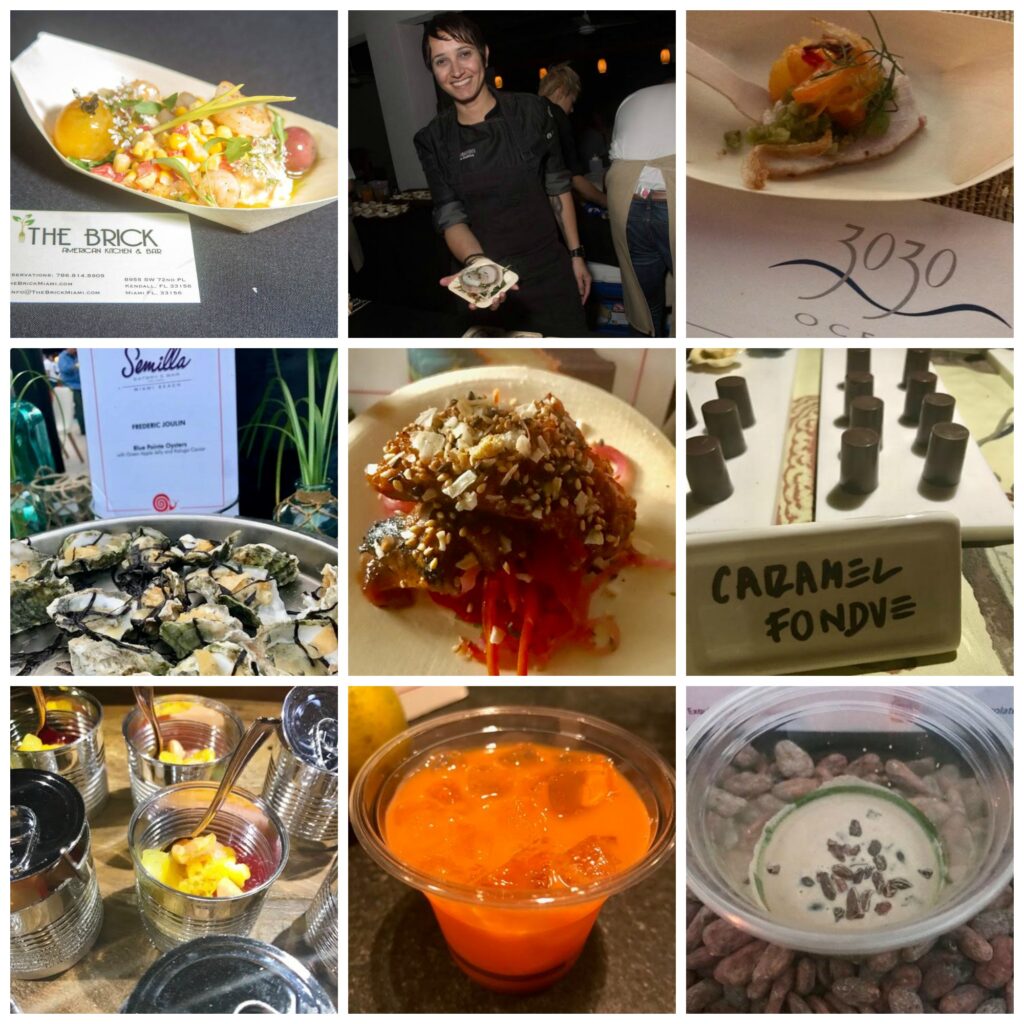 Find the "Snail of Approval" list on the Slow Food Miami website, as well as on the upcoming mobile app. The Eden Roc Miami Beach Resort is located at 4525 Collins Avenue, Miami Beach, FL 33140. Discounted valet tickets were available for $20.
Follow #SnailMIA and #SFMFreshestNightOut on Twitter and Facebook for additional 2016-2017 participating honorees and the latest updates.
About Slow Food Miami
Slow Food Miami is a local 100% volunteer non-profit organization dedicated to "planting a fresher future for our children." It's the local chapter of Slow Food USA, a national non-profit dedicated to supporting good, clean and fair food for all that supports our local communities from the ground up – from the Edible School & Community Gardens that encourage the enjoyment of local, seasonal and sustainably grown food, to the local growers and artisan food makers who use sustainable methods.
Slow Food Miami supports its Edible School & Community Garden Program through culinary educational events and fundraising, and aims to raise awareness for good, clean and fair food as a cornerstone of pleasure, culture and community. For more information, visitwww.slowfoodmiami.org.
About Malibu Farm
"Fresh, organic, local" is the motto at Malibu Farm, the soon to open Miami Beach outpost located at the Eden Roc of the hugely popular California farm to table restaurant and magnet for A-listers. Owner, cookbook author and farmer Helene Henderson will bring her signature style of local, sustainable, fresh-off-the-farm fare along with an extensive wine and cocktail menu. With spectacular ocean views, Malibu Farm is set to premier Spring 2017.
About Eden Roc Miami Beach Resort
With an oceanfront location in the heart of Miami's Mid-Beach and just minutes from Lincoln Road, Ocean Drive and the Wynwood arts district, Eden Roc Miami Beach Resort offers travelers a beachfront retreat synonymous with contemporary Miami luxury. Following a multi-million-dollar renovation that revitalized and re-launched the Eden Roc, this property boasts 418 spacious guest rooms and suites, three stunning pools, 22,000 square feet of spa and fitness facility, the world's largest Nobu Restaurant & Bar, and will soon be home to the farm-to-fork restaurant, Malibu Farm in Spring 2017. Inspired by the beauty and splendor of the ocean below, Eden Roc rooms and suites offer savvy travelers unique in-room dining offerings and spectacular ocean views, while light and airy furnishings set the perfect seaside scene. For more information and reservations, please call (305) 531-0000 or visit www.edenrocmiami.com.
Until we eat again…
I send you delicious wishes, xo
Denise
Hello Foodie Friends, it was just last month that I was invited to visit a little hidden gem South of Fifth in Miami Beach called Santorini by Georgios and I am already dreaming of my next visit back!  It was a gorgeous day that my friend Laura and I visited and the only thing better than the weather was the hospitality, food and ambience.  The spacious, indoor/outdoor restaurant tucked ay inside the Hilton Bentley was entirely redone with outdoor, poolside and beachside service available.
Santorini by Georgios restaurant presents authentic, fresh Greek and Mediterranean cuisine that is locally sourced and fresh seafood is caught daily. Executive Chef, Owner and Creator Georgios Vogiatzis offers a menu of recognizable, yet creative dishes for breakfast, lunch, dinner and weekend brunch in a lively, upscale-casual pool and beachside atmosphere complimented by friendly and professional service.
Santorini by Georgios prides itself on defining what true quality food is with their fresh cuisine, in addition to exceeding every one of their customers' expectations. Whether it's a girls' afternoon luncheon (which is what Laura & I came for), an after work happy hour get together, or a romantic dinner for two, Santorini by Georgios will make sure the challenge to delight their clients is met.
To complement each dish, Georgios has created a refreshing selection of cocktails with in-house made purees and infusions. The beverage program includes full beer and wine lists, as well as large exotic fruit cocktails sold in unique hollowed-out pieces of fruit, such as pineapples and watermelons. (We tried the Pineapple but we had our eye on the Watermelon which I'm sure we'll try the next time we're there). The "Giant Bowl" menu also consists of beautifully crafted cocktails in bowls large enough to share – perfect for taking that "I'm on vacation" Instagram photo.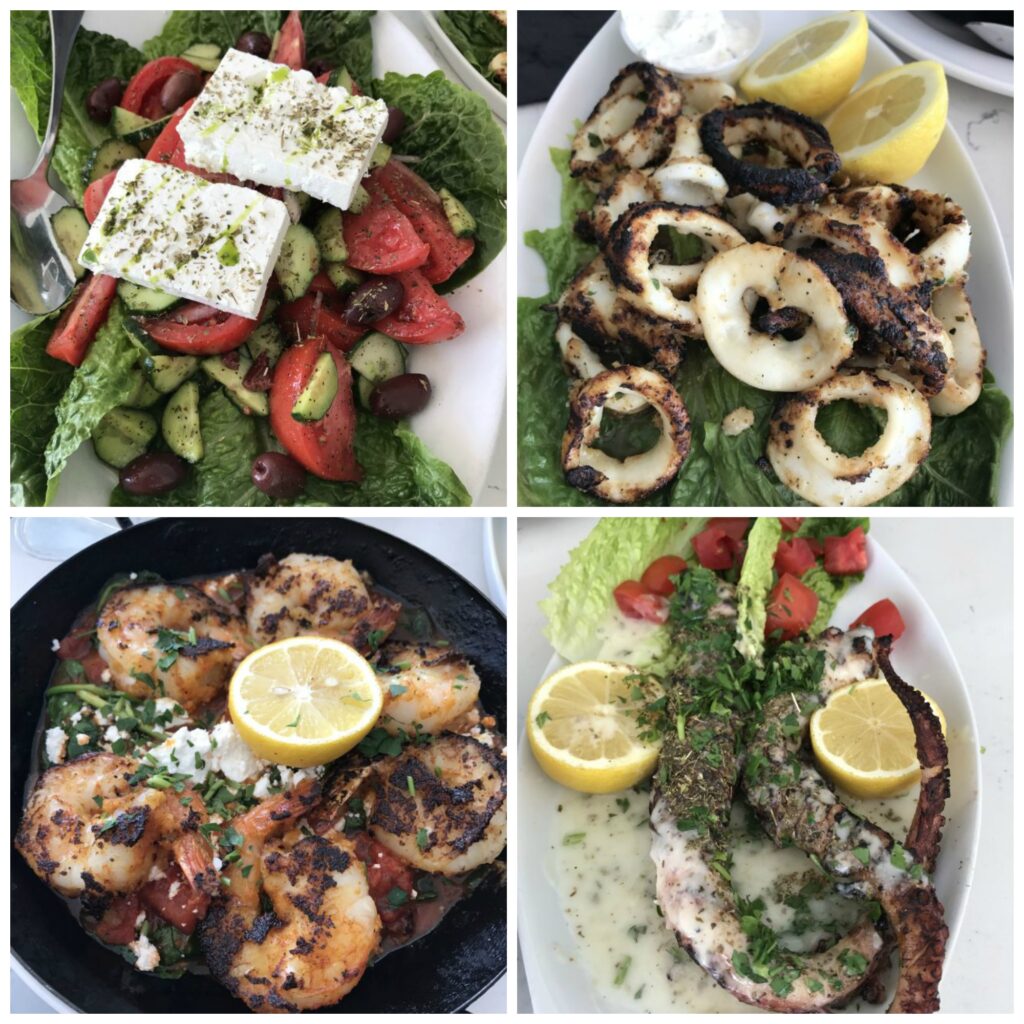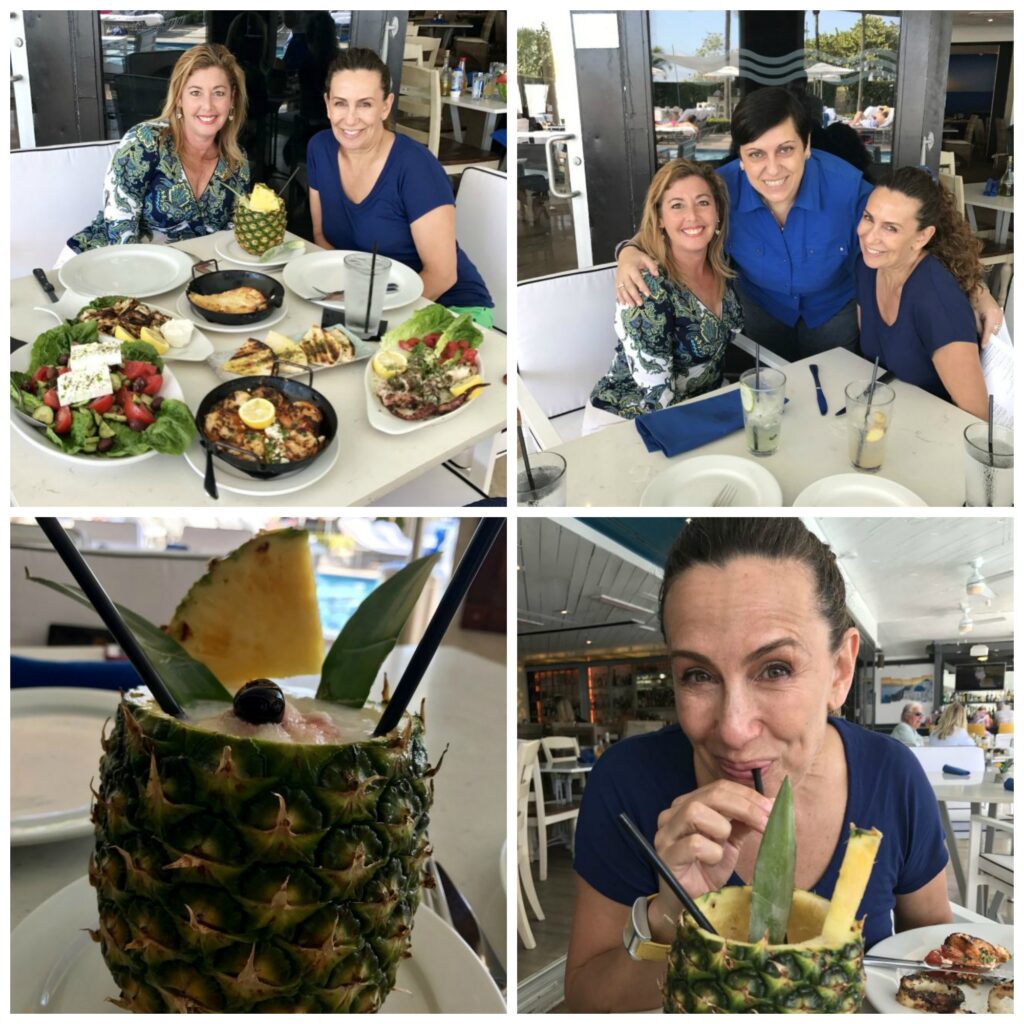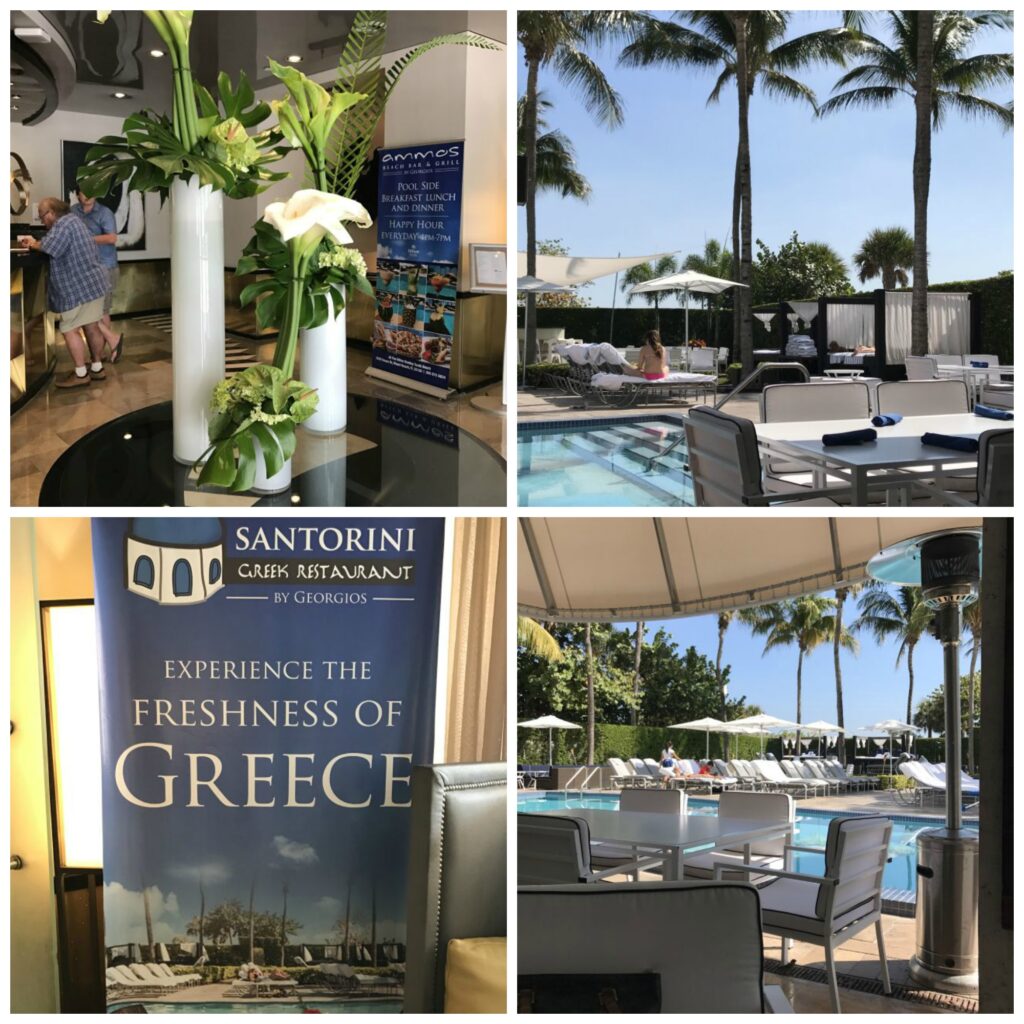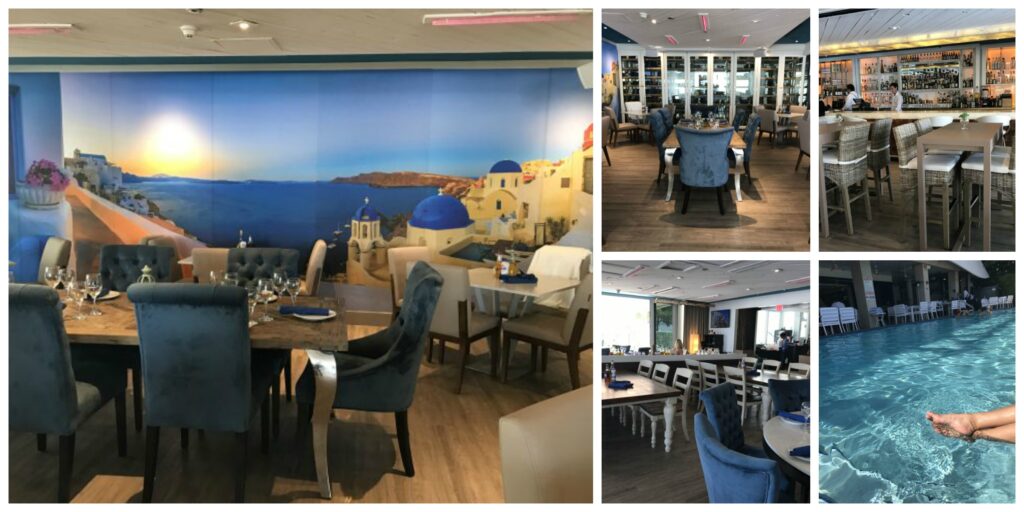 Located in Miami Beach's South of Fifth Avenue, or "SoFi" as locals call it – the enclave South of Fifth Street – is a vibrant destination and the ideal place for millionaires to live in Miami Beach.
-Valet parking available
-Take-out service is available
–Happy Hour seven days a week
-Weekend brunch with omelette and waffle stations
-Weddings and private event reservations
Well there you have it. We savored every bite we ate and every sip we drank. We truly felt we were transported to the Mediterranean and are very much looking to going back again soon.
They are located at 101B Ocean Drive, Miami Beach, Florida 33139, inside the Hilton Bentley Miami/South Beach.
Phone: (305) 672-6635
Website: www.SantoriniByGeorgios.com
Email: info@santorinibygeorgios.com
Hours of Operation: 7 days a week; 7 a.m. – 1 a.m.
Until we eat again…
I send you delicious wishes, xo
Denise