Hello Foodie Friends,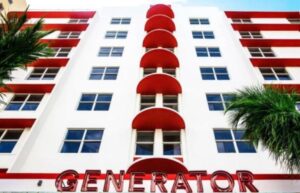 Today's post is a two-for, featuring both a wonderful new hostel/boutique hotel and restaurant we were introduced to right in the heart of South Beach. Founded in 2011, Generator, a London-based brand known for their trendy design-forward European Hostels that feel more like boutique hotels, has just opened its first US location in Miami Beach this past August on famed Collins Ave, just one block from the beach. Generator, remodelled from a 1940's condo building, offers 300 beds in 105 rooms. One of the unique things about this hostel is that in addition to the traditional shared rooms (which start at $20 per bed per night), is the addition of private rooms that start at just $95/night. Generator is not the hostel you might have stayed at while travelling around Europe (probably in your early twenties). They have pulled out all the stops to create a sense of community, incorporating such amenities as an inviting pool, 2 on-site restaurants, beautifully designed shared and private rooms and several really unique common spaces for guests to interact with one another or just take in the serene environment that's been created for the solo traveler to enjoy on their own – not to mention the awesome location, right in the heart of South Beach. Several activities are being offered at Generator including yoga, mixology demonstrations, movies, a pool table, DJs and more planned.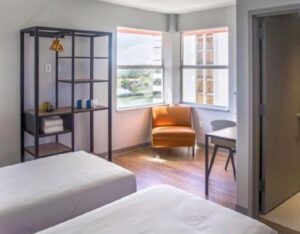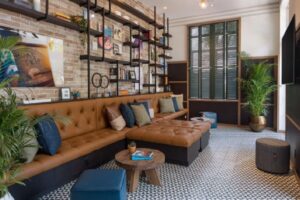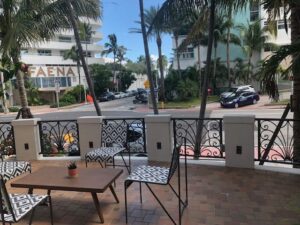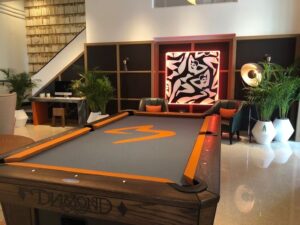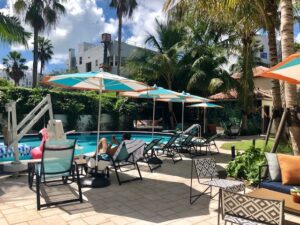 I was invited by Desirey, the Event Sales Manager and my lovely host for the afternoon who arranged a tour of the hostel/hotel and a lovely lunch for us at Driftway, one of the two restaurants found on the property. As we made our way past the pool heading towards Driftway, I couldn't help but notice this amazing mural painted on the side of the building. It had been painted by South African artist Chris Aurett. The food & beverage operations are being overseen by Gui Jaroschy, whose impressive resume includes opening the Broken Shaker in Miami Beach as well as several other locations in Chicago, Los Angeles and New York; managing the Anderson in Miami's Upper Eastside; and consulting on cocktail menus for Ricochet Lounge, Drunken Dragon and British Airways.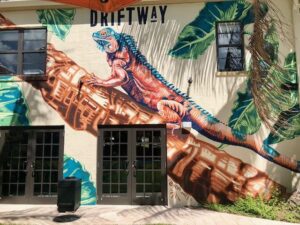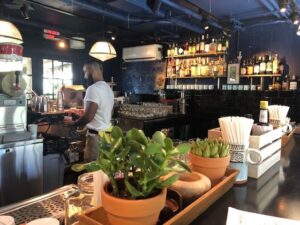 Alex, our Driftway guy let me sample all four of their frozen drinks; the Suze and Coke, OMFG Margarita, Bird of Paradise and the Friesling. I enjoyed them all, but my favorite was the Bird of Paradise which was made with Beefeater Dry Gin, Chinola Passionfruit Liqueur, Martini Bitter and J Wray Rum, allspice and cubeb pepper.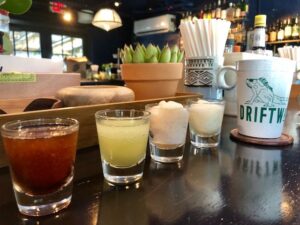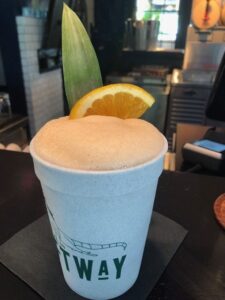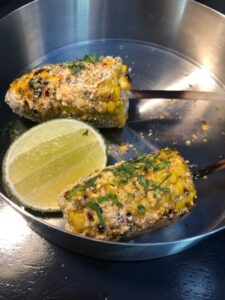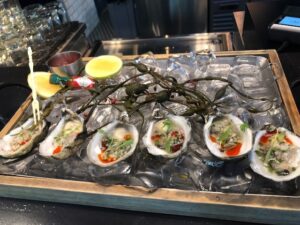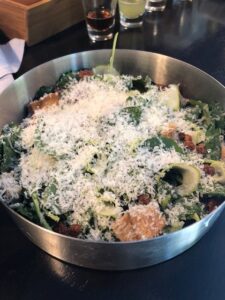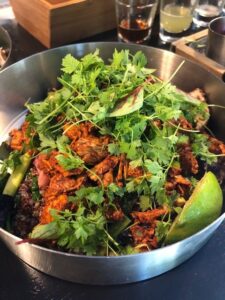 The food and frozen drinks were amazing, as was the ambience and the company. I am looking forward to planning my next Staycation right there at my new favorite place on South Beach.
If you are planning a trip to Miami Beach and are looking for things to do in the area, you might want to consider booking a Savor Our City tour. Private tours are offered for a minimum of 2 guests and groups of up to 50 people. Choose from South Beach, Wynwood, Little Havana, Miami Springs, Doral and Brickell. For more info on tours, contact Savor Our City.
Generator Miami is located at 3120 Collins Ave. Miami Beach 786 496 5730
Until we eat (and drink) again…
I send you delicious wishes, xo
Denise
Hello Foodie Friends,
Today's feature takes us back down to Miami, to the uber artsy & trendy Wynwood district specifically for a tasting at RUST Wynwood. Founded by Uruguayan owners Juan Ignacio Fraschini and Julio Wolman, RUST Wynwood is located at 2621 NW 2nd Ave., inside the neighborhood gathering hotspot, Wynwood Block. Executive chef Diego Medina serves globally inspired, sharable dishes and pairs them with a unique wine menu that showcases an exceptional list of emerging brands. RUST's menu features innovative interpretations on traditional cuisine, many of the items are meant for sharing.
My husband and I ventured there to try their Sunday brunch. To get things started we each ordered a cocktail; I ordered the passion fruit sangria and hubby ordered the peach sangria. Lately I seem to be on a passion fruit kick and this one did not disappoint. They (I couldn't resist having a second one) went down waaaaaaay too smooth. Didn't realize the potency until later when I got home and had to take a mid day nap, lol!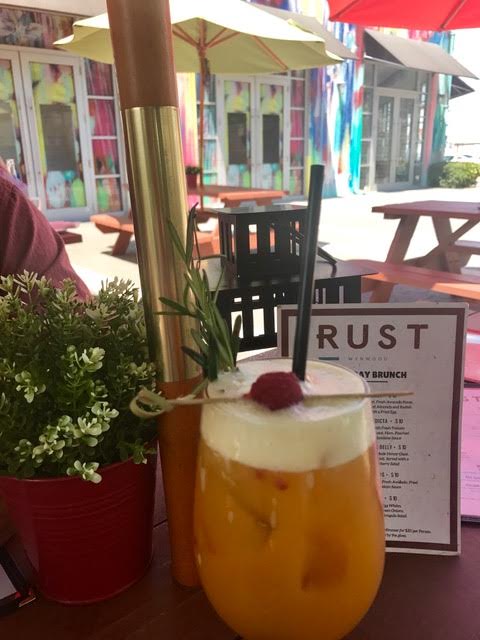 Julio, one of the aforementioned owners, was sitting at the table beside us and came over to say hello and share with us some info about himself, the restaurant and made some suggestions on what items to try. One of his suggestions was the Provoleta Benedicta which was an eggs benedict with a Uruguayan twist. Quite unique and very tasty!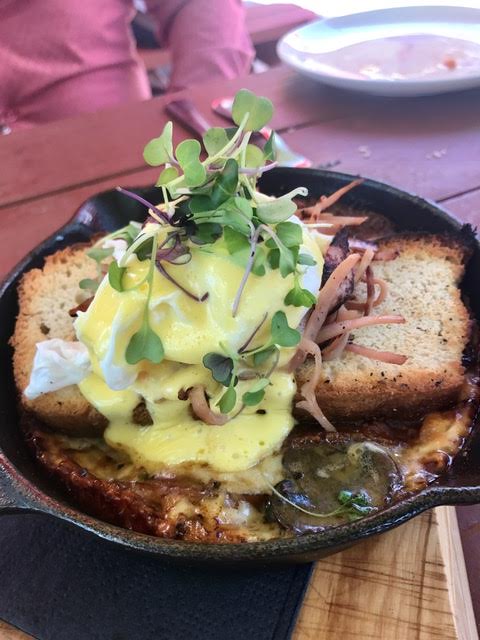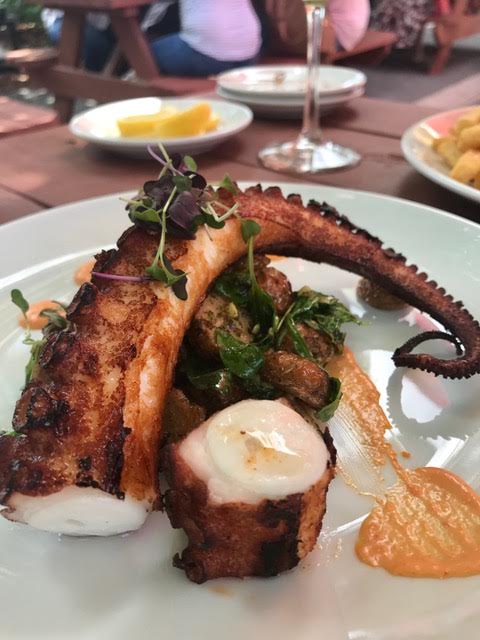 Whenever I see octopus on the menu I am inclined to order it. That's a given, just like truffle…you can be assured that if there's a truffle dish on the menu, I will order that too. The char on this octopus looked perfect and the dish was presented beautifully.  Octopus is one of those dishes that you have to be so precise with when it comes to cooking. It can be the most amazing bite ever when prepared right. But when over cooked, it becomes tough and "rubbery". I had high hopes for this one but unfortunately it was a bit over cooked and fell into the rubbery zone for me.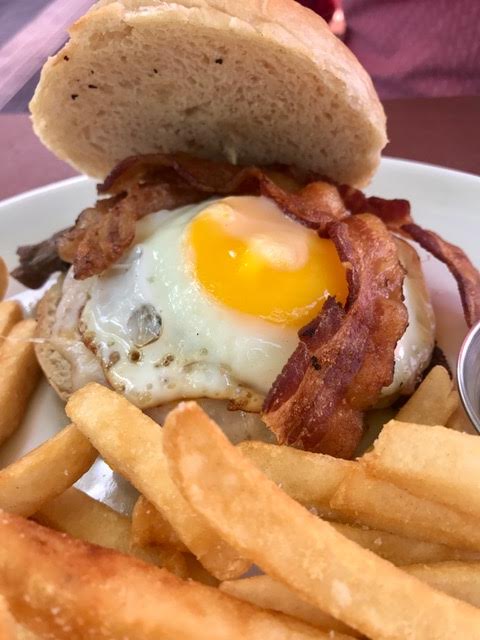 Julio had also recommended the Chivito Uriguayo which he claimed was one of the most famous sandwiches known all around the world. It consisted of beef tenderloin, ham, mozzarella cheese, bacon, green olives, roasted bell pepper, boiled eggs, alioli, french fries. Well I have to say that this sandwich did live up to the high expectations that had been set after hearing Julio rave about it!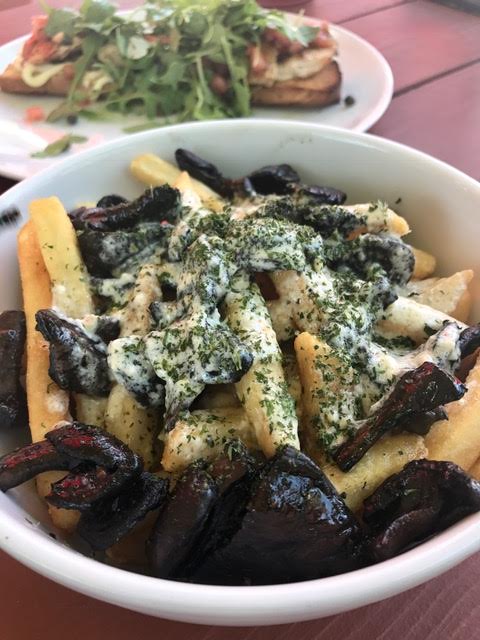 I'll be honest here. I must have been feeling the sangrias pretty good by this time because when it came time to ordering the mushroom fries, I must not have read the description and had something a bit different in my mind when this plate arrived at our table. For some reason I thought they were going to be like portabella mushrooms that were treated as fries and not actual fries being served in this dish. The truffled gorgonzola sauce was delicious but something about those mushrooms were very unfamiliar to me and a taste that just didn't resonate with me, I'm afraid.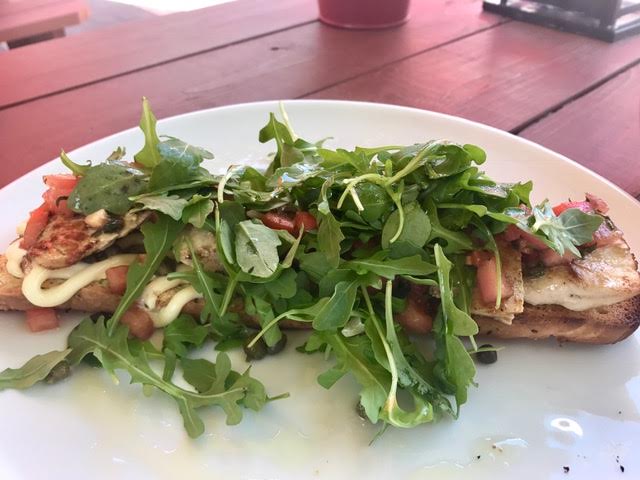 This was one of my favorite dishes (this and the Provoleta Benedicta). Tartines are basically oversized bruschettas or open faced sandwiches and the toppings are endless. This one, the mahi mahi was nicely seasoned and pan seared to perfection. It came with capers, aioli, sweet tomatoes, arugula and tossed with a complimenting lemon dressing.
RUST: A hidden gem with 120 seats in an ever-expanding area full of street art and fashion; RUST pays its creative tribute with its rustic mix of worn metals, wood, cork and brick textures that adorn the restaurant.
RUST is located at 2621 NW 2nd Ave., inside Wynwood Block open: Mon – Wed  11AM-12AM; Thu – Fri 11AM-2AM; Sat 10AM-2AM & Sun 10AM-12AM
For more info on RUST, visit their website or call (305) 576 6811.
Until we eat again…
  I send you delicious wishes,xo
Denise