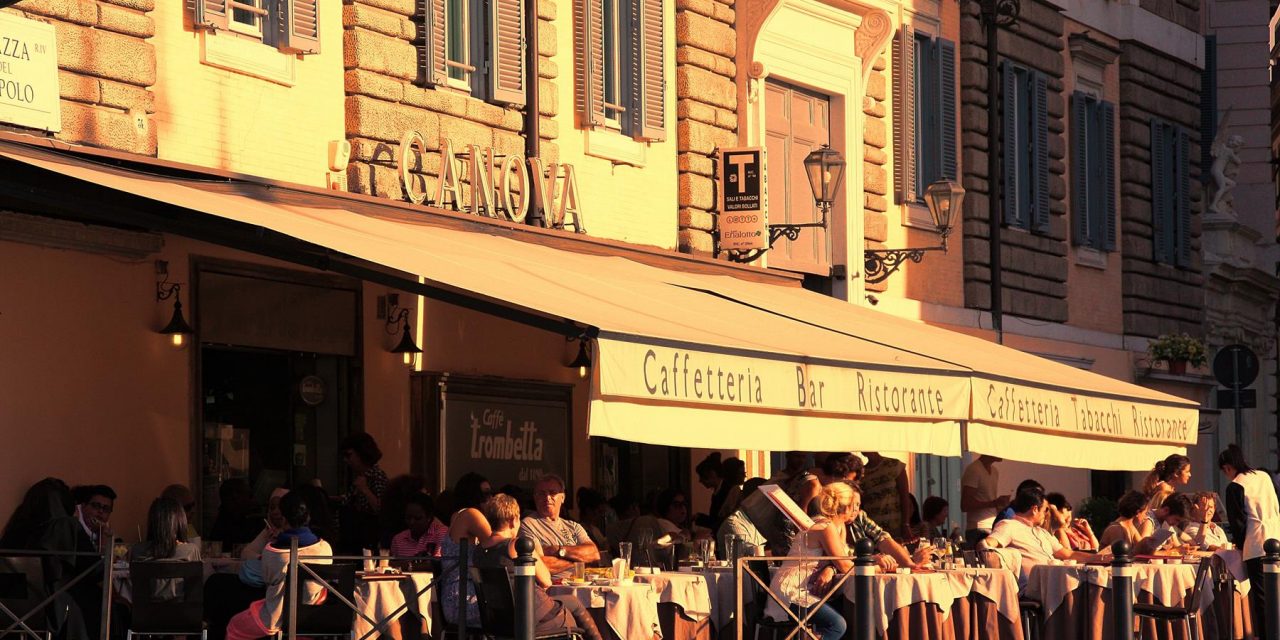 GROUPS ARE INTEGRATING CULINARY EXPERIENCES INTO THEIR TRAVEL PLANS
Sure, the Roman Colosseum is astounding, but is it a better religious experience than assaulting your taste buds with fiery Nashville hot chicken? And certainly, the Eiffel Tower is breathtaking, but is a journey to Paris more enriching than biting into slow-cooked Texas barbecue?
The answer to those questions depends on what kind of traveler you are.
For as long as wanderlust has existed, travelers have largely chosen their destinations for traditional reasons (IE: visiting the Roman Colosseum and Eiffel Tower). In recent years though, culinary travel, which was once a niche market, has significantly increased in popularity.
Erik Wolf, executive director of the World Food Travel Association, says in the 2019 WFTA State of the Food Travel Industry Report, consumers are more obsessed than ever with quality food and drink products and experiences. And because of this, food and beverage now make a profound impact on the experience that most travelers have today. Citing its 2016 Food Travel Monitor survey, the WFTA says 93 percent of respondents participated in a unique food or beverage activity while traveling in the previous two years, a considerable increase over past studies. That same survey found 80 percent of leisure travelers had been motivated to visit a particular destination because of a culinary activity or attraction.
"People are more aware of food than ever before," said Matthew Stone, hospitality and tourism professor at California State University, Chico. "From the Food Network and the Travel Channel, people are so familiar with the food part of travel.
"Food is a way to connect with the culture," Stone added. "In this time where we want to live like a local and travel like a local, food gets us connected to locals. I don't need to visit the Willis Tower every time I go to Chicago, but I can go back to my favorite pizza place or find a new café. When I go back to Paris, I've seen the Mona Lisa and I don't have to see it again. But I will go back to restaurants that I've been to before. Some attractions are static, but food isn't."
Another reason culinary travel seems to have spiked in recent years is its appeal to modern travelers from a social and social media standpoint.
"Everyone can enjoy food and go to a restaurant together," said Stone, who is also the lead research advisor for the WFTA. "It's one thing you can do while traveling that is social. Museums aren't necessarily social, neither is the opera or symphony. You are together in the same place but you don't get to interact the same way we do over food.
"Culinary is a really cool way to not only connect with the locals, but to connect the people of your group together," Stone added. "Culinary gives you shared experiences. Cooking classes, festivals, specialized tours. Younger generations are going to more food fests and wine fests. When they attend these fests, even for a short period of time, they feel like they are in on the local culture."
"All travelers eat and drink," said Jane Connelly, project manager for the WFTA. "They can return home with memories of chain hamburgers and chain coffee or they can leave with memories, photos and video of unique and memorable food and drink experiences."
When asked the primary reasons behind the burgeoning culinary movement, Connelly lists social media as one of the most prominent examples. With Facebook reporting 2.4 billion monthly active users (88 percent of which are mobile users) and Instagram having 1 billion monthly active users, there is a hefty number of people snapping and perusing photos. This inspires food-savvy travelers to up their eating game when they are on vacation.
With so many social media lovers arranging restaurant and café reservations while traveling, destinations and tour operators are embracing the trend. Ninety percent of experts polled by the WFTA agreed that because of the importance of food and drink to a region's sociocultural and environmental framework, food tourism should play a greater role, namely to educate visitors while they are being fed or entertained.
"Some of things we are seeing is more specific food tours," Stone said. "It might be taking a food and wine tour of France or you can go to California or Belgium and have experiences no one else is having but you. Groups are adding biking food tours or connecting art and food onto a tour. We are also seeing more focus on production, like olive oil and cheese (tours), going beyond simple wine tours. Even regular attractions are doing more specific things. Sierra Nevada now offers a sustainability tour and a beer lovers tour.
Tour operators' emphasis on culinary tourism has proven beneficial to themselves, destinations and the travelers alike. Which suggests the culinary tour market will only continue to grow.
"Overall, culinary travelers are spending more," Stone said. "With culinary travel, you're more likely to go to a sporting event or see performing arts. If (operators) can identify culinary travelers, they can identify travelers who will spend more money."
"Culinary tourism is a win-win-win type of industry," Connelly added. "If done correctly, all players involved will enjoy the benefits of culinary tourism. For food-loving travelers, they get to carry with them unforgettable memories and experiences for the rest of their lives. For tour
operators, they get to support local business and help preserve a destination's culinary culture. And for the small business involved, they get an increase of clients and visitors who value the storytelling and people behind the small businesses."
Hello Foodie Friends,
Earlier this year, just in time for SuperBowl LIV longtime LA-headquartered taco bar PinkTaco (on INSTA #pinktaco) debuted their newest location and officially brought the VIP party to Miami. The party began with an exceptional South Beach-style opening at 1200 Ocean Drive, Miami Beach, FL 33139. Celebrities were everywhere and cheered as Snoop Dog arrived, and he was, of course, greeted by a raucous Miami Beach welcome.

Prior to Snoop's arrival guests were served Pink City's epically delicious tacos all made from scratch with local farm-fresh ingredients. Inside the opening's main visual feature, a Patron tequila ice sculpture, shaped as if it was an architectural detail taken directly from one of the beautiful Art Deco hotels nearby. World-famous Ocean Drive is the heart of Miami Beach's historic art deco district and filled with restored Art Deco hotels. Some guests drank Patron's famous tequila as the sculptural ice melted drip by drip or slowly filled their cups. The mixed drinks included Something Pink made from Patron Estate with fresh prickly
pear puree, a perfect cooling adult beverage and accompaniment to expertly seasoned and cooked tacos.
The bar has front row tables outside to see and be seen on Ocean Drive. You can't miss their famous pink neon sign at the entrance on the corner of Ocean Drive and 12 th street. And parked on the corner is the PinkTaco food truck which is for hire to cater your party or event. The pink hued walls inside thrum with vibrant mural wall art and don't forget to look up at the ceiling. The pink neon theme, oh so South Beach, is carried through the bar's interior walls and actual pink neon signage. When you're seated at the bar look up to admire the Chicano-style artwork, reminiscent of Day of the Dead celebrated each year in Mexico on November 1 st including art in tribute to Mexico's famous 1920s painter, Frida Kahlo.
1.21.20 Blogpost Pink City Taco VIP opening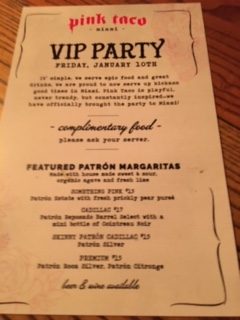 Some of the more interesting and deeply rich and tasty bites included Queso Bean Dip, the Pink Taco with achiote chicken, black beans, avocado, arbol salsa, cotija cheese and habanero picked onions on fresh corn tortillas. The "pink" in the name Pink Taco is from the pickled red onions, which add a zesty bite to the taco.
We also sampled Carne Asada and Al Pastor tacos. This is the real deal just like SoCal Mexican food. Pink Taco Miami serves lunch, dinner, drinks, dessert and brunch daily. Tuesday is Taco Tuesday and every day you can enjoy happy hour margaritas,
beer, sangria and an array from tasty morsels their menu from 3 p.m. to 7 p.m.
Hello Foodie Friends,
I had the opportunity to sail on Royal Caribbean's newly refurbished Oasis of the Seas over the Christmas/Hanukkah holidays. Wow!!! What a ship! It was a 7 night Eastern Caribbean cruise sailing from Miami calling on Labadee (their private island off Haiti), San Juan and St. Thomas. There were three days at sea so it was a very leisurely itinerary which meant lots of time to just chill on deck and enjoy the plethora of amenities and activities on board. Some of my highlights: our cabin. We had a lovely balcony cabin and the room was quite spacious. "Central Park" on deck 8 was quite spectacular. I  was impressed with the amount of trees and foliage found on this deck that opened up to the sky. This deck is where several of the Specialty Dining restaurants could be found as well as the top floor of the "floating" bar that traveled up and down between decks 5 and 8. The Boardwalk was a lot of fun as well with a Carousel and game booths and a few other specialty restaurants including Johnny Rockets and a candy store. The Aqua Theater is also located on this deck at the end of the Board Walk in the back of the ship. The show they do is terrific!!! The soundtrack, amazing! It's a free show and one of the best I have seen, on land or at sea. I would suggest making a reservation early on and sometime towards the beginning or middle of the cruise as opposed to the end as sometimes the weather sailing back into Miami may get a little rough and they might have to move some reservations around if rough weather is expected.
We also enjoyed the ventriloquist, Ronn Lucas . He was both hysterical and amazing. The way he threw his voice was mind-boggling. We also enjoyed one of the comedians who is from Miami. His name is Nery Saenz. Not only was he funny as all heck, but clever tool. He knows he has a name that's not easy to remember, but what is easy to remember is "What Was That Guy's Name?" So he bought that domain and that's literally how I just looked him up for this post.
The Bionic Bar was really quite the spectacle. Drinks were made literally by robots. Check it out.IMG_5301÷
 Other highlights include the Spotlight Lounge. We found ourselves here on a few nights enjoying some sing-a-long games akin to name that tune. Was a lot of fun. I also went on the slides (both wet and dry). Didn't get around to trying the surf rider, maybe next time…
We mostly ate at the Windjammer Cafe since there was such a variety and no waiting. We did eat in the dining room a couple times and we ate at the Hibachi restaurant which turned out to be a bit of a disappointment for us. Not because the food wasn't good, but because the large party they had scheduled to seat with us,,, with never showed up, so it was just the two of us and not much of a "show".
For excursions, we just kinda did our own thing. Total beach day at Labadee. In San Juan, we walked around Old San Juan, visited some local shops, headed over to El Morro Fort and decided to get henna tattoos on our way back to the ship. In St. Thomas, the weather was kind of iffy, so we were fortunate to have gone on our own to Coki Beach to get a little snorkeling in before the rain. We heard the planned water shore excursions were cancelled.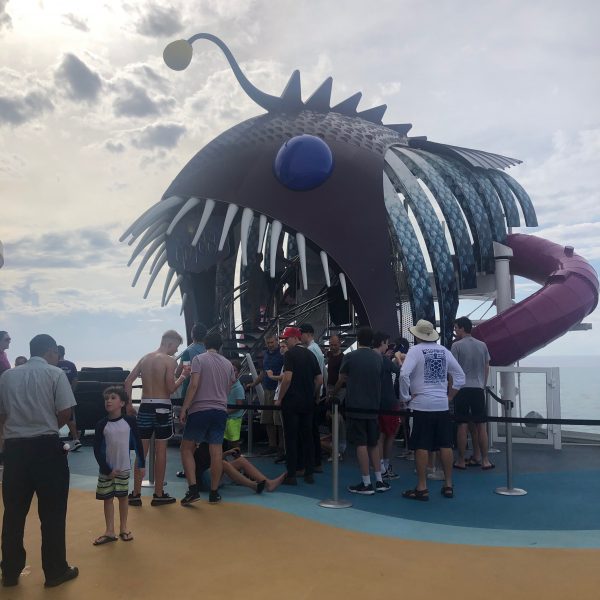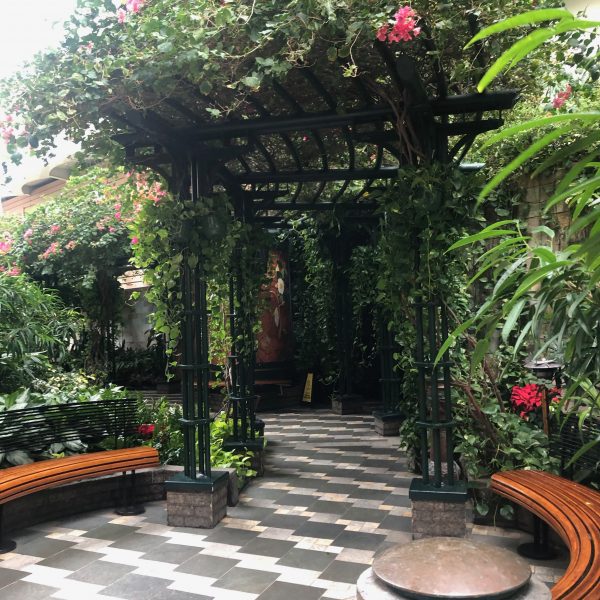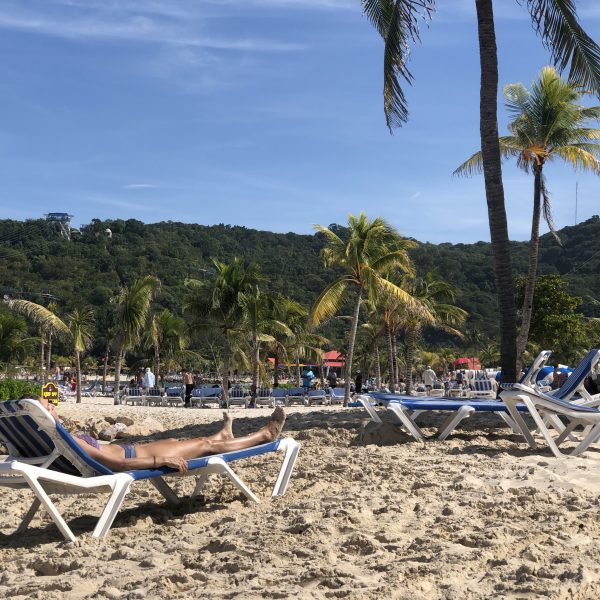 Back on the ship, I got a little lucky in the casino at the craps table. I'm not much of a gambler but sure had fun making a bunch of people a bunch of money with a lucky 20-30 minute roll. Beginner's luck?!?
All in all, my friend and I had a wonderful cruise. I'm looking forward to my next adventure coming up in February; Destination: New Orleans for Mardi Gras. Stay tuned…
Until we eat (and drink) again…
I wish you Delicious Wishes, xo
Denise