Hello Foodie Friends,
Twenty Twenty Grille, located in Royal Palm Place in the heart of downtown Boca Raton, FL, has a menu that goes far beyond contemporary American cuisine. It represents a Culinary Fusion of International classics and modern food art.
World-Famous, Internationally Acclaimed Chef Ron Weisheit uses Organic Farm-raised produce, line-caught seafood, South Florida seasonal produce and sustainable grass fed meats to artfully transform his dishes into delicious masterpieces of modern day art cuisine.
Chef Ron has been in the culinary field for over 25 years. He was a top graduate of San Francisco Culinary Academy and was awarded 3 gold medals at te Culinary Olympics in Germany. He has recently been nominated for a James Beard award.
Rhonda Weisheit, Ron's wife and business partner graduated at the top of her class in Portland at the Maine Culinary School and was the Executive pastry chef for a number of years. Together, they've developed menu items that span from international classics to more extraordinary and adventurous.
The unique concept of Twenty Twenty Grille is that this dynamic duo are not only satisfying their guests with Food Art, but also educating them on the origins of their dishes and how they were inspired. It is an exceptional blend of tasting and learning experience.
"It has always been a dream to open our own fine dining restaurant in South Florida and share our passion for healthy and creative cuisine", says Rhonda. Both Ron and Rhonda are talented and creative chefs and very passionate about what they do. Every dish they offer has its own unique melody and together it creates a marvelous symphony of taste.
Before fulfilling their dream of opening up a fine dining establishment here in sunny South Florida, Ron and Rhonda also owned and operated Pralines Bakeshop and Catering for 8 years in downtown Newburyport, MA. It was awarded the Best of Boston Award and was also featured in the Food Network's program "Cupcake Wars".
Ron and Rhonda are known throughout the community for having amazing customer service as well as preparing all of the menu items from scratch. To dine at Twenty Twenty Grille is to experience sheer excellence in culinary art and hospitality. Guests are invited to enjoy the finest and most unique modern cuisine under the romantic stars at this boutique garden restaurant.
Twenty Twenty Grille is also a stop on Savor Our City's tours from time to time and we couldn't be happier to introduce our guests to this wonderful little gem. I recently stopped in for a bite to eat after attending a fundraising event which was taking place nearby in the plaza. I must preface that this is the type of place to come enjoy a leisurely meal. It is an experience and if you are in a rush, you might want to think about coming another time to really appreciate it to its fullest.
My evening began with an Amuse Busche of sticky Asian pork belly with elephant garlic. This little bite is supposed to whet your appetite and leave you wanting more and that is exactly what it did! My server Thomas recommended a glass of their Peter Yealands Sauvignon Blanc ($11) from New Zealand for the pairing, which was spot on.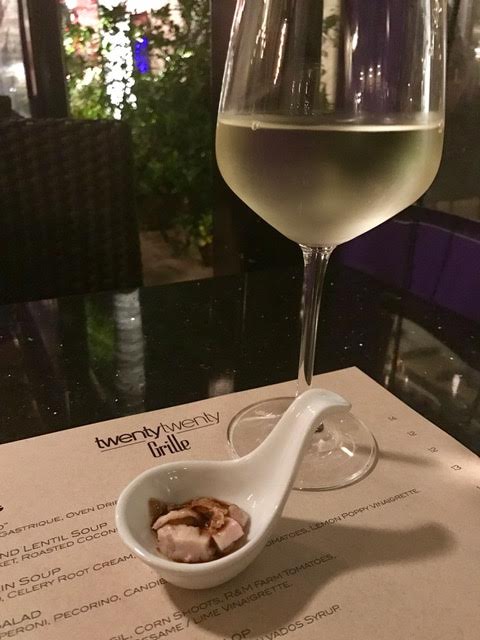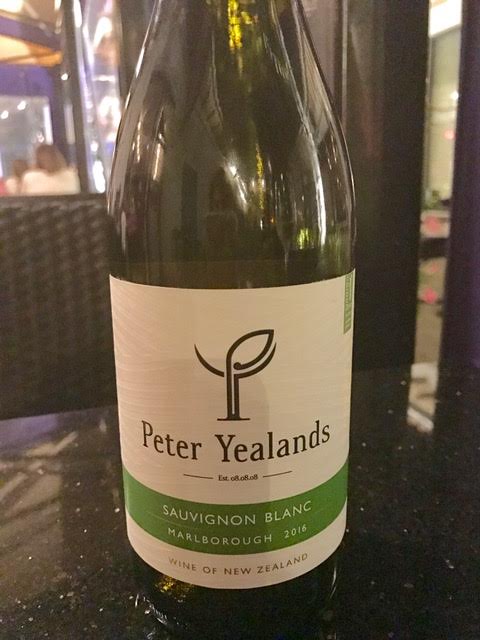 Next up was the micro greens salad ($14) which comprised of six different microgreens from a local farm in Boynton Beach, along with fresh mozzarella, grape tomatoes and a house made sesame lime vinaigrette.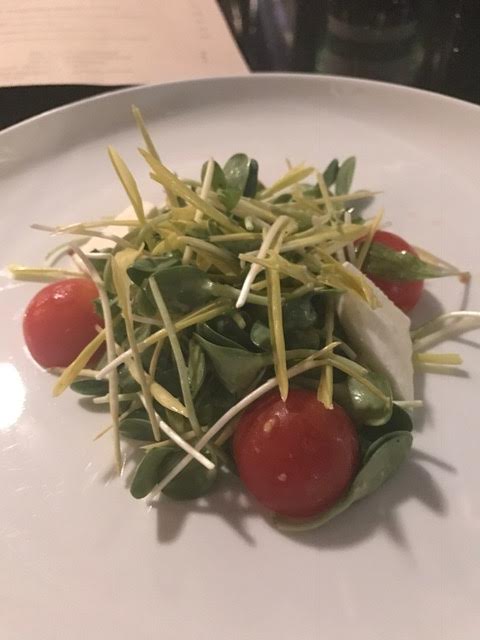 Twenty Twenty Grille is famous for their unique made in house butters which change nightly. On this particular evening, I was presented a chocolate dipped cherry butter served with fresh warm bread.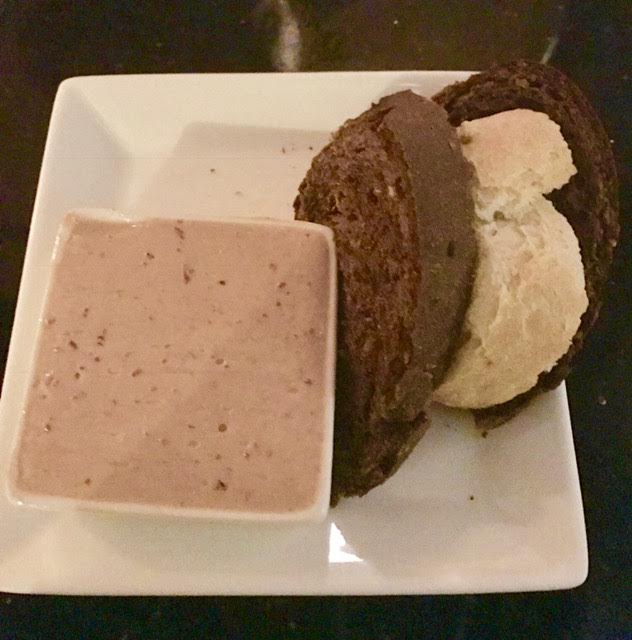 I had been craving foie gras and when I saw it on the menu, I just had to splurge. A beautiful plate of pan-roasted foie gras wrapped in prosciutto was set atop Fuji apples and nestled between lemon basil and Concord grape sauces; the pairing for this course was an Antigua CA muscat dessert wine ($25). Divine. Truly an exceptional dish. The combination of flavors dance on your taste buds. The saltiness of the prosciutto plays nicely with the richness of the foie gras and the sauces and the sweetness of the wine tied it all together. The portions are not meant to be large, so you will want to savor each bite.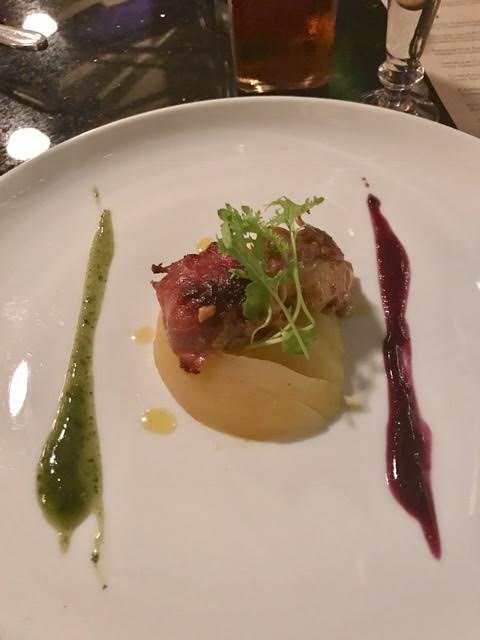 Intermezzo – Chef Ron likes to invite his patrons to try and guess what ingredients are used in his nightly palate cleansing sorbet. On this particular night, I was both pleased and disappointed that I only got one of the four ingredients right. I guessed: ginger, green tea, garlic and turmeric. The actual ingredients were: kale, pear, turmeric and star fruit. Well, it was great tasting and fun to test my palate. Maybe I'll get more on my next visit.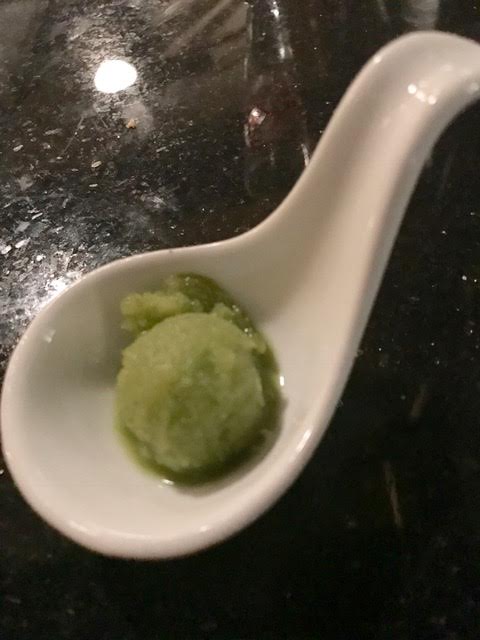 Under the "others" section, I decided to try the Rosemary Gnocchi – there were nine of them in the dish for $8. This could have been featured as a main dish. They were so delicious; I am pretty sure these are the best tasting gnocchi I have ever had! (And I have had some pretty good ones in my day)…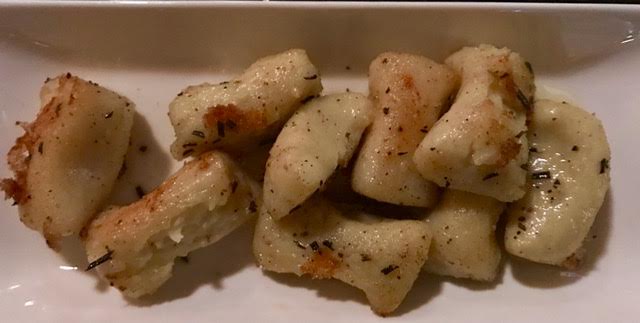 The sweet ending: I decided to try the guava skicky pudding cake ($10) which came with a Grand Marnier caramel sauce, fresh whipped cream and berries. It was a perfectly balanced dish in taste and textures and a great way to end the tasting.
In case you were wondering about the meaning of the name of the restaurant…Twenty Twenty represents the number of seats at the restaurant; 20 inside and 20 outside.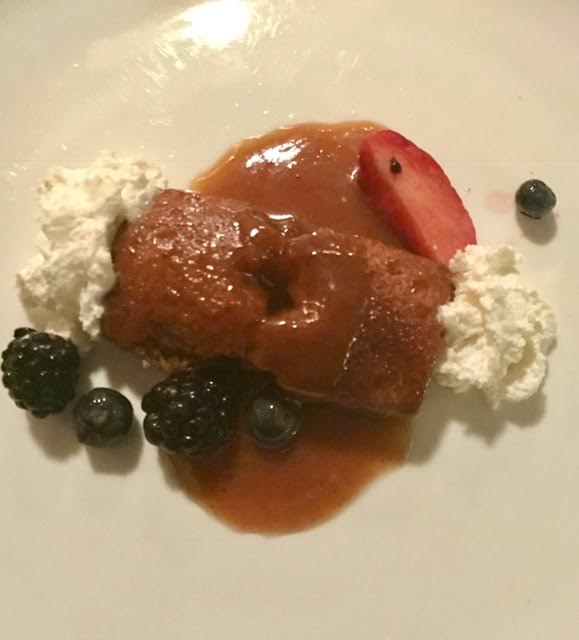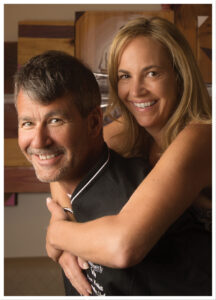 Twenty Twenty Grille is open every evening from 5 – 10pm. Reservations are suggested.
Call (561) 990-7969 or visit their website.
Until we eat again…
I send you delicious wishes, xo
Denise
-phile:  
a suffix, denoting fondness for a specified thing; one that loves, admires, or is attracted to 

a specified thing.

Hello Foodie Friends,

Today I am here to share with you my latest Boca Food Find and that is

GourmetPhile

. As the definition above connotes, I am a GourmetPhile, a lover and admirer with a deep fondness  & passion for food, particularly of the gourmet variety and GourmetPhile, the newest gourmet specialty market to open in Royal Palm Place in Downtown Boca, which satisfies my foodie cravings in every way.

I have been waiting for this store to open for a very long time and was thrilled to be asked to work with them to assemble some of the area's social media influencers and Concierge for some special tasting events.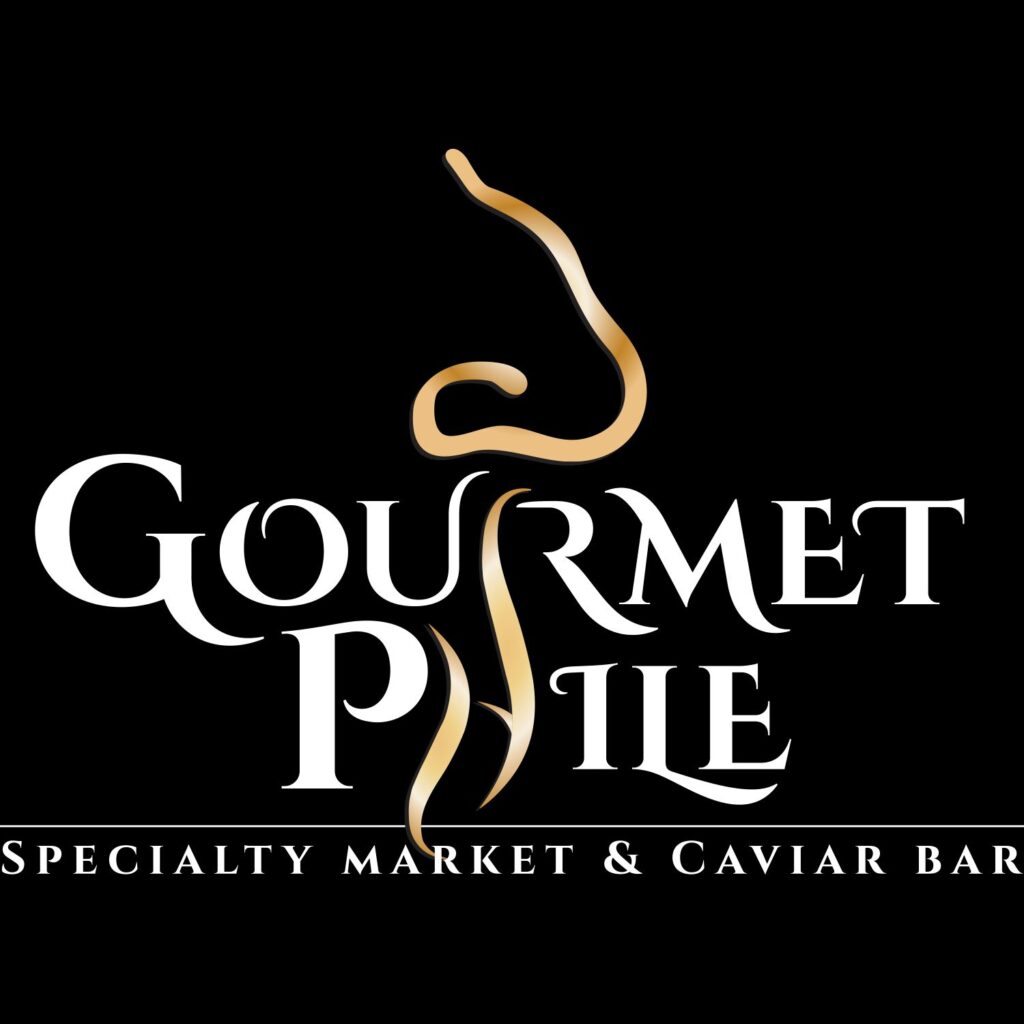 Their Story  GourmetPhile is the love child of Blair and Zhanna Leavell. Zhanna was formerly a university professor of mathematics in St Petersburg, Russia, and Blair owned a software consulting firm. It must have been love at first sight for the two, who were introduced by one of Blair's employees, as they were married just a few months after meeting.  Zhanna, having difficulty finding work in her own field teaching mathematics here in the US, worked as a distributor of gourmet food items across Florida. Zhanna and Blair ended up becoming quite involved with gourmet food, attending fancy food shows around the country, etc. and decided they wanted to do something fun and entrepreneurial together that reflected their expanding interest in fine food. A little over a year ago they formed GourmetPhile and broke ground on this beautifully appointed new store.
Their Vision  to be a one stop shop for everything amazingly delicious from all over the world that you can't find at Publix, Whole Foods, Cheese Course etc. To also be a gathering place of informal elegance for foodies, chefs and connoisseurs. It is their mission to offer the best of the best, at a surprisingly affordable price point, without compromising on quality.
Their Store  The Chocolate Room – It hits you right in the face when you walk in. You may find yourself salivating from the powerful luxuriant richness of the smells alone. Their chocolate room has a separate temperature and humidity regime, and their suppliers ship in refrigerated containers by air. The result is a fresher product that preserves the delicate terroir of the finest chocolates in the world.
Their filled chocolates wear their colors like tropical birds, with exotic flavors like guava/tamarind, pineapple/fennel/caramel and cardamom/rose. Their single origin bars have won the golden bean award many times.  GourmetPhile is the only store in Boca that takes such care with chocolate.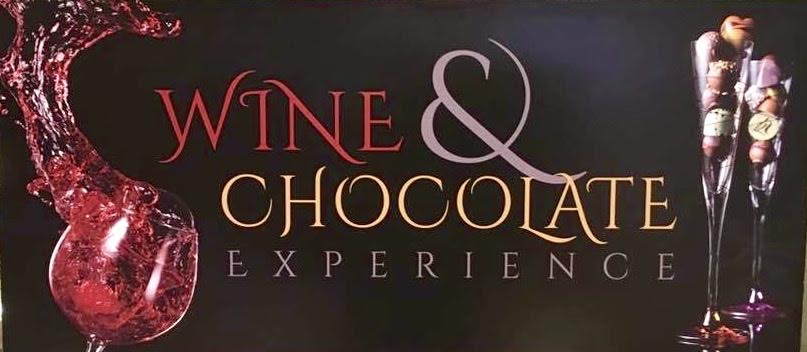 The Wine Cellar – Also a separate temperature regime. GourmetPhile's thoughtfully constructed cellar allows easy label viewing of 250 expertly curated wines you can't find anywhere else in town. Highly skilled sommeliers with deep connections in the old world and the new have found some great mid range values in wineries located very close to grand cru vineyards, for example.
The Cheese Case – state of the art new display case with over 70 award winning cheeses from around the world. These are fabulous cheeses selected by a master cheese monger, with exotic wraps like spruce cambrium and grape leaves soaked in pear brandy. Come and try them – they are generous with their tastings!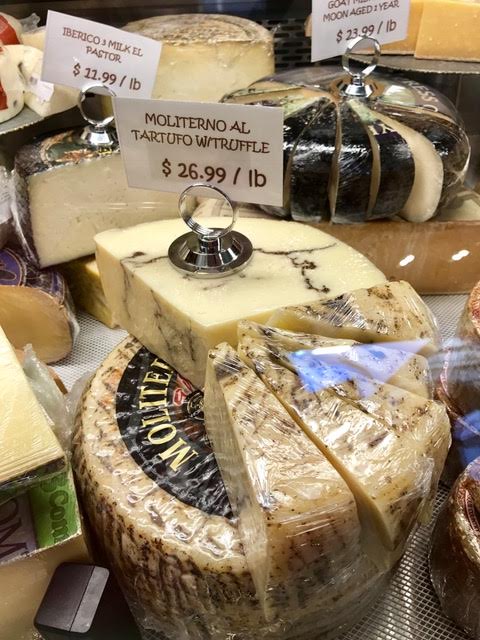 The Caviar Case – Caviar has a special place in the couple's hearts. Zhanna's father was a fisherman (he passed away 5 years ago), so she grew up with the best black caviar by the bowlful as a child. Part of the impetus for their store is a celebration of these memories. Disappointed with the quality of most of the caviar that can be obtained in the American market, Zhanna was impressed with Petrossian, particularly due to the fact that it is never frozen, and for the superb flavor and mouth feel evocative of her childhood. Petrossian, the preeminent caviar by which others are measured – literally. They developed the grading methodology for taste, mouth feel, egg size, color, fat content and brine that is used throughout the industry today.
The caviar tasting that was arranged for a select group of Concierge, was conducted by JoAnn Economou, who covers the entire state of FL for Petrossian. The Petrossian family began importing caviar from Russia to Paris during the roaring 1920's, when caviar became a popular extravaganza. Since the inception of the company, (over 95 years) Petrossian has developed a reputation for quality within the industry and are the largest importer of caviar in the U.S., selling 50 tons of it per year. Each container is labeled with the date, best used by info and detailed codes on the sourced sturgeon.
So what actually is caviar? Caviar is the salted roe (eggs) of sturgeon. Sturgeon are part of an ancient group of large fish with 27 varieties, many of which can be found in the Caspian Sea. Over fishing and pollution of the Caspian Sea has driven sturgeon to near extinction. The most notable sturgeons are Beluga, Ossetra and Sevruga. Wild caviar is no longer available and illegal to be sold in the U.S. since 205. Today, all caviar sold in the US. is farm raised, with many new varieties available in the market today. Caviar is sourced from Israel, Bulgaria China, Italy, Florida, California, North Carolina and the list continues to grow.
Caviar Knowledge: 30g is more than one ounce (28g). All caviar is offered in grams. The lid is crimped to ensure no air has entered from the time of packing it in New York until it reaches the guest.
Malossol means "little salt" in Russian. Other companies add salt to their caviar to give them a plumper look, but JoAnn explained it doesn't improve the quality, it just makes them saltier. Petrossian does not over salt their caviar.
Proper serving utensils for caviar: Mother of Pearl, Horn or Gold. No silver pieces should be used, as it imparts a metal taste on the caviar and changes the flavor.
Accoutrements such as eggs, onions, creme fraiche which are traditionally served with caviar. Purists tend to enjoy the caviar without all these extras.
Blini is the small thin pancake used to hold the caviar atop. Toast points are also used.
Very cold vodka, as well as French Champagne is the most appropriate beverages to serve with caviar. White wine, Chardonnay or Sauvignon Blanc are also acceptable. To clear the palate, many people drink tea without the sugar.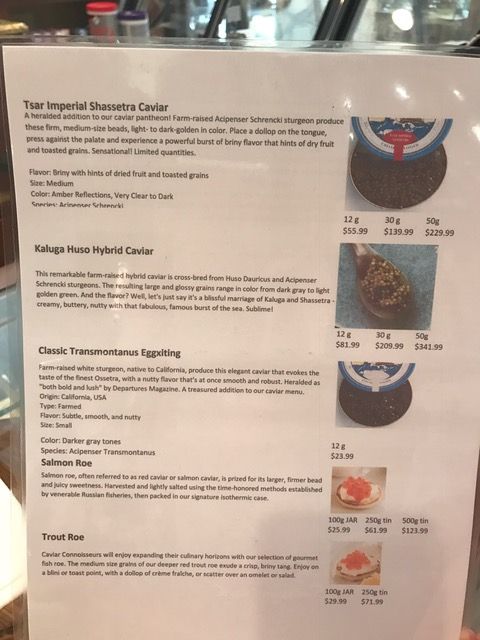 The Charcuterie Case – the finest European sausages and hams, rich pates and Scottish and Norwegian salmon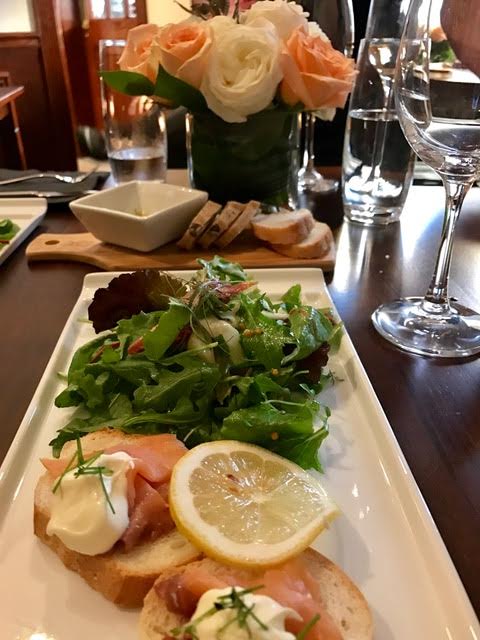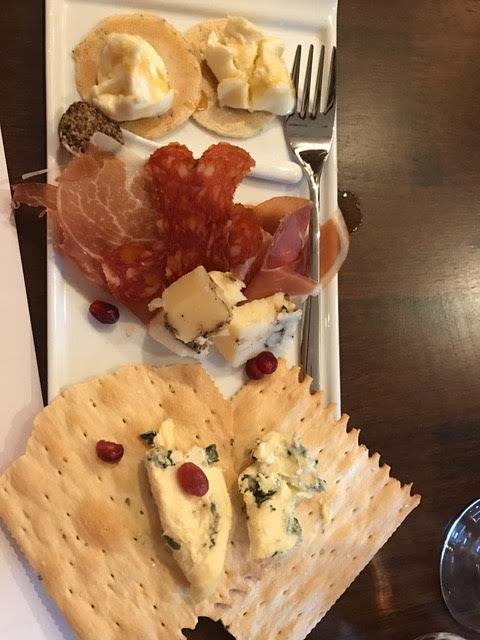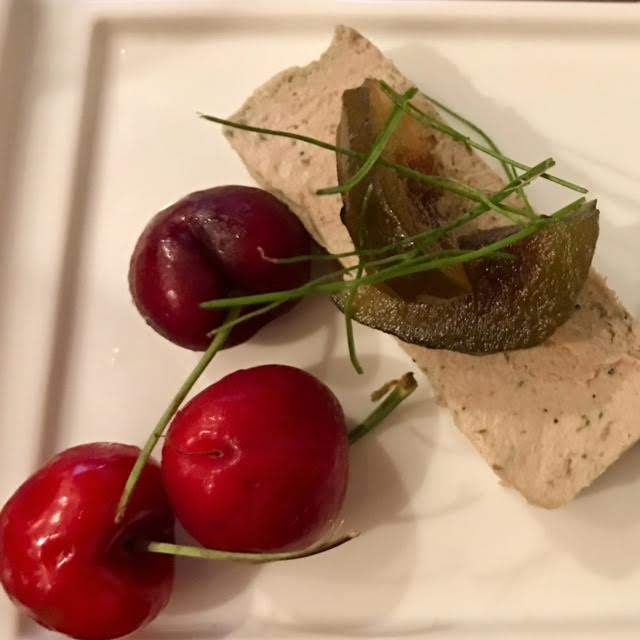 The Frozen Section – delightful Jeni's ice cream and various frozen ready to eat gourmet desserts.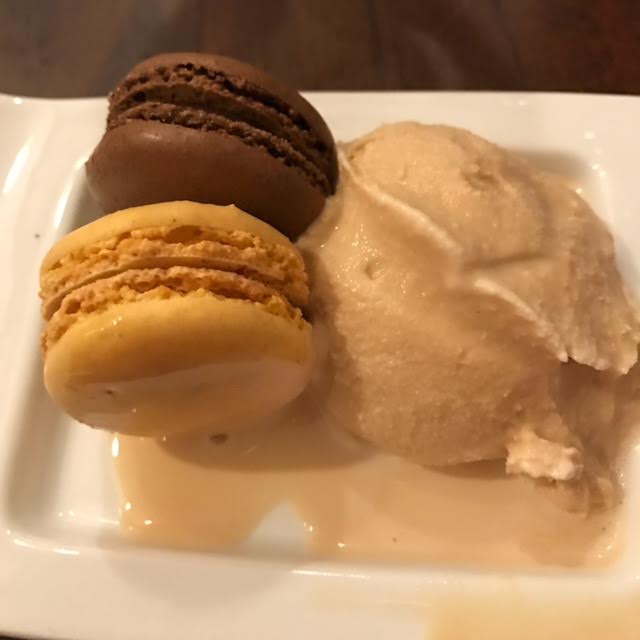 Tea and Coffee – in keeping with our pursuit of the best of the best, GourmetPhile offers two products with a very rich history. Kusmi tea was originally the tea of the Russian Tsars. After the revolution, it moved to Paris to escape the Bolshevics. It was an instant success and has enjoyed a storied history at the top of the gourmet tea market ever since.  Lavazza, established in Turin, Italy in 1895, has been owned by the family of the same name for four generations. They are the quintessential Italian espresso.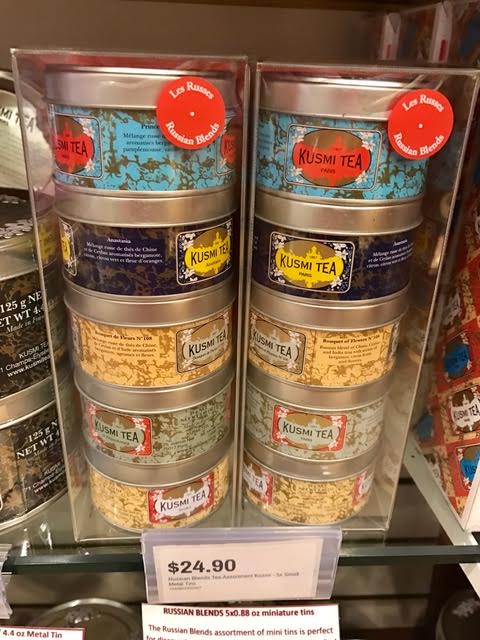 The Rest – aged balsamics, olive oils, mustards, marmalades, honeys, spreads, chutneys, wine and cheese accoutrements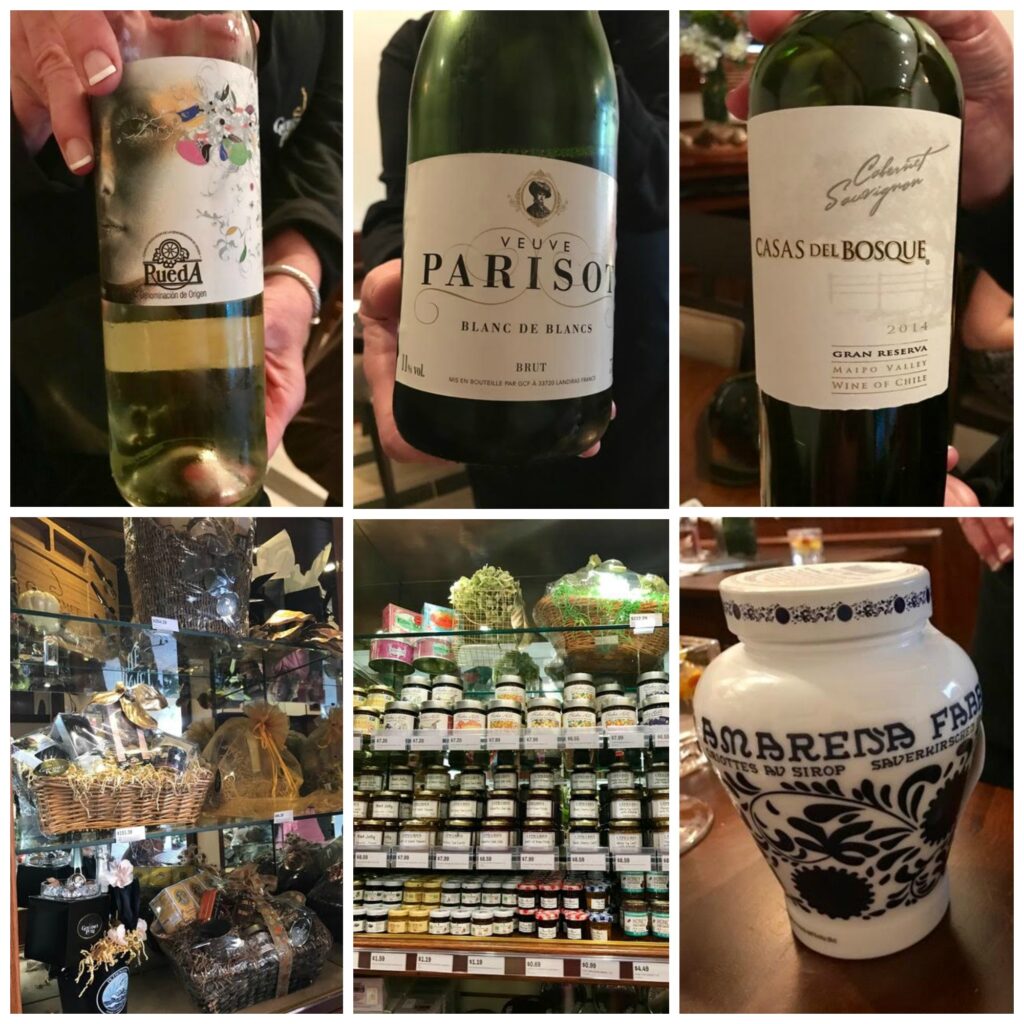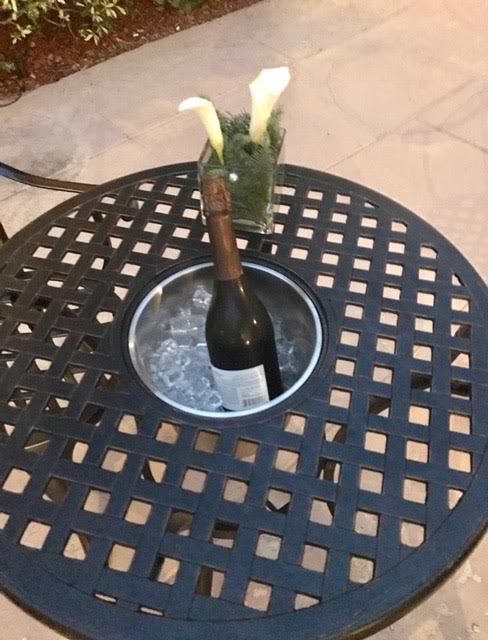 Services:
small plate menu – choose from cheese, charcuterie or caviar small plates, order a glass of wine from the daily pours, or just buy a bottle from their wine cellar and enjoy it right there with no corkage fee
food pairing tastings with highly regarded sommeliers and fine wines, champagnes, beers, cheese, charcuterie and other specialty gourmet foods
gorgeous gift baskets – have one created from anything in the store, with floral accents!
delivery within Boca Raton area with company delivery van
Hours of Operation: Tues – Sun 11am – 9pm
Located in Royal Palm Place, 501 SE Mizner Blvd. in Downtown Boca  (561) 757-6208
www.GourmetPhile.com  Instagram & Twitter: @GourmetPhile
Until we eat again…
   I send you delicious wishes, xo
Denise
We had 17 people attend our inaugural "Savor Downtown Boca" tour, the first in a series of three taking place the third Wednesday of the month through January. Check out what Shaina Wizov from Take A Bite Out Of Boca had to say about the Nov 19th tour.
The next tour is coming up on Wed, Dec. 17th and takes place from 5:30 – 9pm and will make stops at La Stella's, Spadini's, Boca Skewers, Souvlaki Fast, Jazziz and Le Macaron. As a nod to the Jewish Holiday (it will be the second night of Hanukkah), a special latke tasting will be provided at Jazziz, one traditional and one eclectic one will be presented by Jazziz' Chef.
The final tour in the series will take place on Wed, Jan 21st, also from 5:30 – 9:00pm, this time heading back to Royal Palm Place to pick up a few of the restaurants we weren't able to get on the first tour, such as Estia Greek Taverna, Casimir Bistro, Piattini before strolling down SE 1st Ave for stops at 4th Generation Market, The Olive Tree and True.
More details can be found by clicking here.