Hello Foodie Friends,
Today's post features one of my favorite fast casual foods: tacos!  I received an invitation to dine at Bodega Taqueria y Tequila in Ft. Lauderdale a few weeks ago and I'm happy to share my experience with you today.
Since opening its doors to their original location in South Beach, just steps away from the famed Lincoln Road Mall on 16th Street in 2015, Bodega Taqueria y Tequila, founded by Menin Hospitality's Keith Menin and Jared Galbut and led by Culinary Director Bernie Matz, has been offering traditional Mexican favorites as well as unconventional and innovative interpretations, Bodega specializes in tacos and tortas, homemade sodas and authentic beverages in a dynamic, eclectic "puebla" inspired setting.
"We've always loved Fort Lauderdale and have been waiting for the right moment and location to open a Bodega Taqueria y Tequila there since we opened our first flagship location in South Beach in 2015," said Keith Menin, Co-Founder & Principal of Menin Hospitality. "When we saw that they were developing and re-envisioning the riverfront, the new towers, and the Wharf, we found an iconic historic corner that just felt like Bodega. We couldn't be more excited to welcome guests to Bodega Taqueria y Tequila, Fort Lauderdale." 
Bodega Taqueria y Tequila has been revered as one of the hottest Mexican restaurants in America. GQ Magazine has named Bodega "the most popular restaurant in the entire state of Florida for late-night eats";  InStyle Magazine said it's one of "4 hot spots worth visiting on your next trip to Miami"; HuffPost called it the "hottest Mexican restaurants in America"; and Elite Daily boasted it as one of "Miami's hottest nightspots." A favorite among celebrities, fans include Michael B. Jordan, Niall Horan, Brody Jenner, Diplo, Jamie Foxx, Gabrielle Union, Travis Scott, Nina Agdal, and Joe Jonas, to name a few.
Inside the taqueria, a door leads guests to Bodega's late-night speakeasy – the perfect spot for happy hour, daytime fun, and late-night debauchery – that features an extensive cocktail menu and live music by local bands and DJs. Signature cocktails include the Pico Picante (Herradura Silver, Ilegal Mezcal, Cucumber, Cilantro, Jalapeno, Lime, Orange Bitters); La Diablita (Don Julio Blanco, Apricot, Blackberries, Ginger, Fresh Lime); and Mezcal Old Fashioned (Casamigos Mezcal, Ancho Reyes, Old Fashioned Syrup). Additionally, every Monday, Bodega is activating 'Margarita Monday' specials, where guests can enjoy a curated $5 margarita menu from 6 PM-close. Happy Hour is Monday – Friday from 6 PM – 8 PM, and offers $2 Classic Tacos, $3 Chips & Salsa, $4 Chips & Guac, $4 Bottled Beers, $5 Frozen Margaritas, and $7 Bottled Cocktails.
Open daily from 11:30 AM – 12 AM, Bodega Taqueria y Tequila, Fort Lauderdale mirrors the flagship South Beach location, doubling as a fast-casual taco joint and a late-night speakeasy-style lounge. The front half of the venue is a taqueria featuring an authentic Mexican street food menu created by culinary director and Chef Bernie Matz. Signature menu items consist of Loaded Carne Asada Nachos (Grilled Rib Eye Steak, Chili Queso, Cotija, Red Onion, Tomato, Cilantro, Chili Crema, Sliced Jalapeno); Late-Night Burrito (Guajillo Braised Short Rib, Roasted Pork, Roasted Chicken, Mexican Rice, Black Bean Refrito, Oaxaca Cheese, Potato Sticks, Salsa Rosada); and Steak Chimichurri Tacos  (Grilled Rib Eye Steak, Purple Cabbage, Tomato, Potato Sticks, Radish, Cilantro, Chimichurri Aioli). Guests order from a full-sized, retrofitted vintage airstream trailer turned into a taco truck and then dine in the garage chic seating of picnic tables, neon bar stools, and graffiti walls. In addition to the regular menu, a weekend brunch menu is available.
Bodega Taqueria y Tequila in Fort Lauderdale is located at 21 W. Las Olas Blvd, Fort Lauderdale, FL and can also be experienced in South Beach and in American Airlines Arena.  For more information, please visit BodegaTaqueria.com and follow on Instagram @BodegaTaqueria.
*Hours of operation are in accordance with mandated COVID-19 regulations and are subject to change. 
Until we eat again…
I send you delicious wishes, xo
Denise
Hello Foodie Friends,
Today's post is a two-for, featuring both a wonderful new hostel/boutique hotel and restaurant we were introduced to right in the heart of South Beach. Founded in 2011, Generator, a London-based brand known for their trendy design-forward European Hostels that feel more like boutique hotels, has just opened its first US location in Miami Beach this past August on famed Collins Ave, just one block from the beach. Generator, remodelled from a 1940's condo building, offers 300 beds in 105 rooms. One of the unique things about this hostel is that in addition to the traditional shared rooms (which start at $20 per bed per night), is the addition of private rooms that start at just $95/night. Generator is not the hostel you might have stayed at while travelling around Europe (probably in your early twenties). They have pulled out all the stops to create a sense of community, incorporating such amenities as an inviting pool, 2 on-site restaurants, beautifully designed shared and private rooms and several really unique common spaces for guests to interact with one another or just take in the serene environment that's been created for the solo traveler to enjoy on their own – not to mention the awesome location, right in the heart of South Beach. Several activities are being offered at Generator including yoga, mixology demonstrations, movies, a pool table, DJs and more planned.
I was invited by Desirey, the Event Sales Manager and my lovely host for the afternoon who arranged a tour of the hostel/hotel and a lovely lunch for us at Driftway, one of the two restaurants found on the property. As we made our way past the pool heading towards Driftway, I couldn't help but notice this amazing mural painted on the side of the building. It had been painted by South African artist Chris Aurett. The food & beverage operations are being overseen by Gui Jaroschy, whose impressive resume includes opening the Broken Shaker in Miami Beach as well as several other locations in Chicago, Los Angeles and New York; managing the Anderson in Miami's Upper Eastside; and consulting on cocktail menus for Ricochet Lounge, Drunken Dragon and British Airways.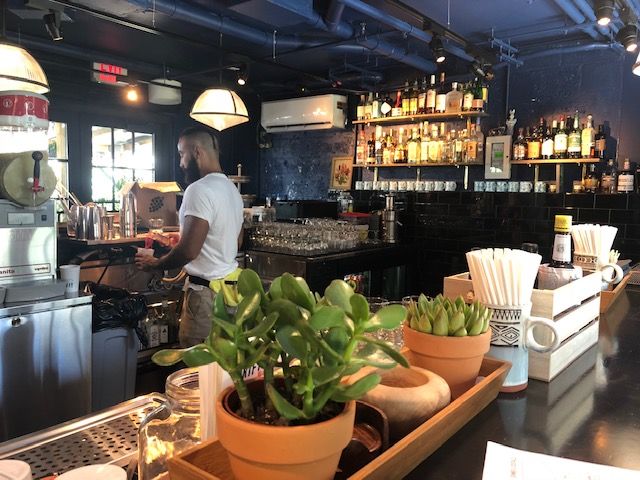 Alex, our Driftway guy let me sample all four of their frozen drinks; the Suze and Coke, OMFG Margarita, Bird of Paradise and the Friesling. I enjoyed them all, but my favorite was the Bird of Paradise which was made with Beefeater Dry Gin, Chinola Passionfruit Liqueur, Martini Bitter and J Wray Rum, allspice and cubeb pepper.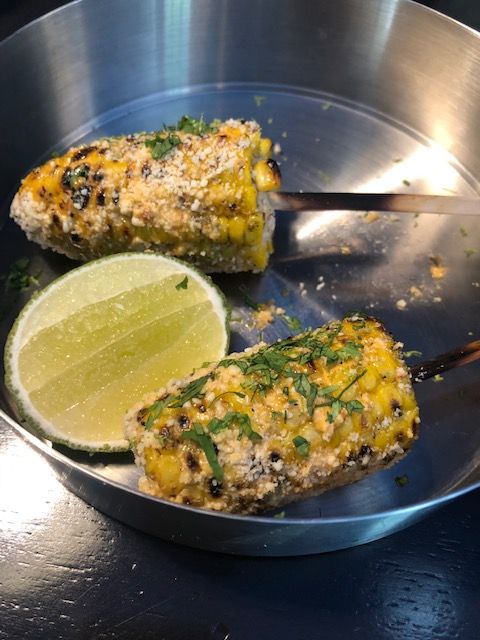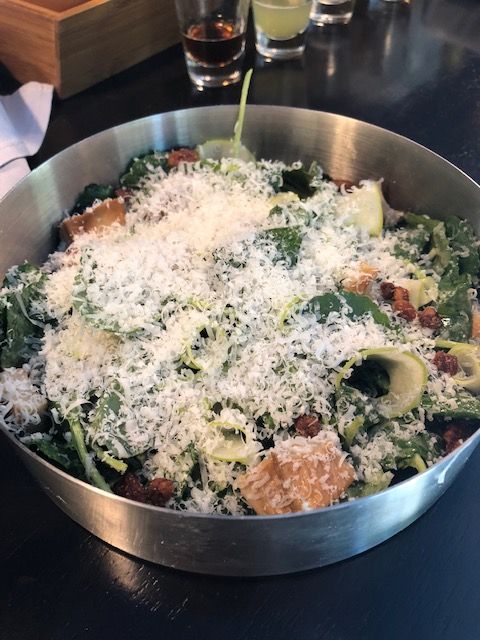 The food and frozen drinks were amazing, as was the ambience and the company. I am looking forward to planning my next Staycation right there at my new favorite place on South Beach.
If you are planning a trip to Miami Beach and are looking for things to do in the area, you might want to consider booking a Savor Our City tour. Private tours are offered for a minimum of 2 guests and groups of up to 50 people. Choose from South Beach, Wynwood, Little Havana, Miami Springs, Doral and Brickell. For more info on tours, contact Savor Our City.
Generator Miami is located at 3120 Collins Ave. Miami Beach 786 496 5730
Until we eat (and drink) again…
I send you delicious wishes, xo
Denise