Hello Foodie Friends,
I'm super excited to share with you my latest restaurant discovery which couldn't have come at a better time, as I have embarked on a path towards achieving a healthier lifestyle. It's called CoreLife…
Why is it so hard to eat nutritious food that feeds your body and your soul every day? The evidence supporting the power of eating well continues to grow, yet unhealthy, processed foods continue to dominate our food experiences.
It is CoreLife Eatery's mission to change that. They are determined to make the food that we eat a true energy source! They believe that the food we eat determines how we feel, how we look, and most importantly, how we perform. Whether you're an elite athlete, a weekend warrior, or you just want to feel great every day, what you eat is everything. The old saying "you are what you eat" is right on!
Focused on healthy active lifestyles, all ingredients used in CoreLife's recipes are GMO-free, antibiotic-free, and contain no high fructose corn syrup or artificial colors or flavors. The menu offers endless combinations of hearty bowls featuring greens, grains or CoreLife's signature, slow-cooked bone broth.
Led by CEO Larry Wilson, the CoreLife Eatery executive team brings individual successes and skill sets to help the restaurant grow to meet the needs of more communities lacking convenient access to healthy and affordable eating alternatives. CoreLife Eatery plans to expand to 300 locations, including both corporate and franchise restaurants, nationwide over the next five years. CoreLife's first eatery was opened in Syracuse, NY in May of 2015. With the very first locations in Florida launched this summer in Boca Raton and Royal Palm Beach by brothers Drew and Brad DeGrazia, CoreLife is one of the nation's most rapidly expanding fast casual franchises, according to Forbes.
CoreLife Eatery brings together scratch cooking with flavorful source ingredients and a fast, casual service line for a healthy and affordable eating alternative. The brand offers a wide variety of fresh ingredients that are transformed into custom-created greens, grains and broth-based dishes. All foods are free of trans fats, artificial colors, sweeteners, other artificial additives and GMO's. The chicken and steak used are sustainably raised and never given antibiotics or hormones, and the bone broth is slow simmered all day for maximum taste and nutrition. Creating a menu that tastes great because it's healthy is the secret to CoreLife Eatery's success.
CoreLife Eatery strives to promote active lifestyle activities by offering and participating in a number of health-related events in the community.  CoreLife Eatery staff are proactively sharing their food concepts as well as wellness ideals through talks at local organizations and participation in community events.
OUR FOOD VALUES
We've created CoreLife Eatery to bring clean, healthy and great tasting foods to everyone every day. We feature hearty bowls that are complete meals in themselves featuring greens, grains and bone broths. All of our ingredients are free of GMO's, trans fats, artificial colors, sweeteners and other artificial additives. Our chicken and steak are sustainably raised, and never ever given antibiotics or hormones. We buy local when and where we can, in fact, check out our "local" wall to see what's in season around us. We also believe that hiring local team members to prepare our food, and paying them well, is much better than having it come "ready to eat" from a manufacturing plant across the country.
DIETARY GUIDE & MEAL OPTIONS
CoreLife Eatery's whole, clean foods are perfect for guests who are following specific diets or living certain lifestyles such as Keto, Paleo and Vegetarian and Vegan. You can find useful dietary guides and meal options on their website offering tips on eating healthy both at the restaurant and at home. They even have a 21-day challenge you might want to check out.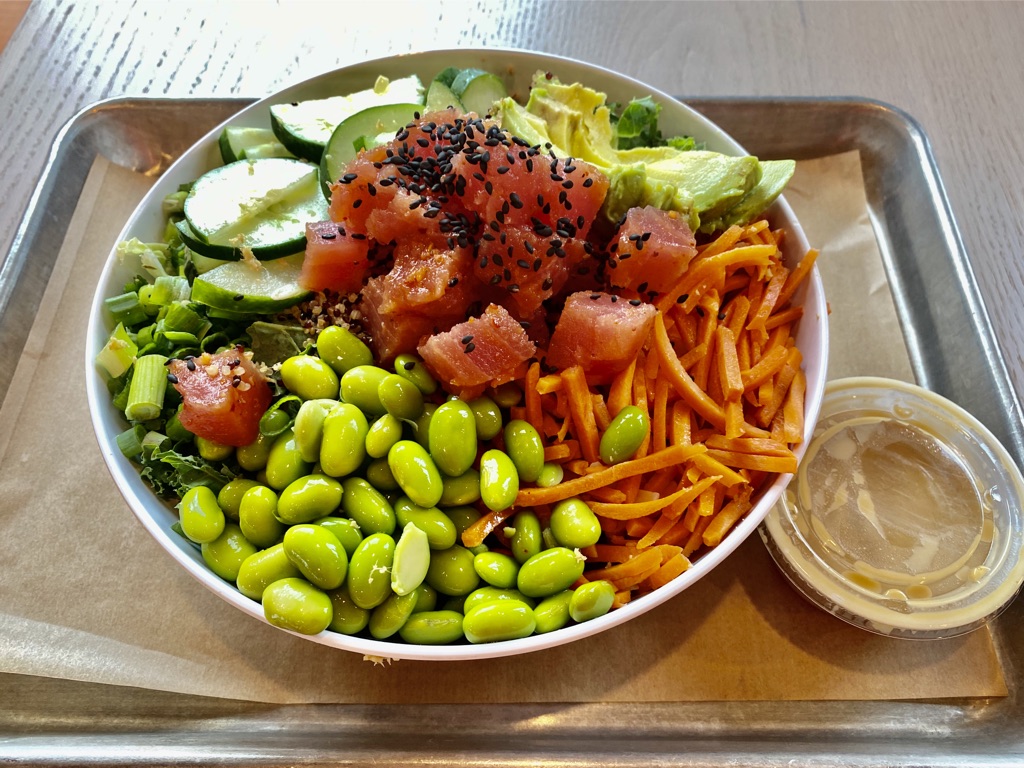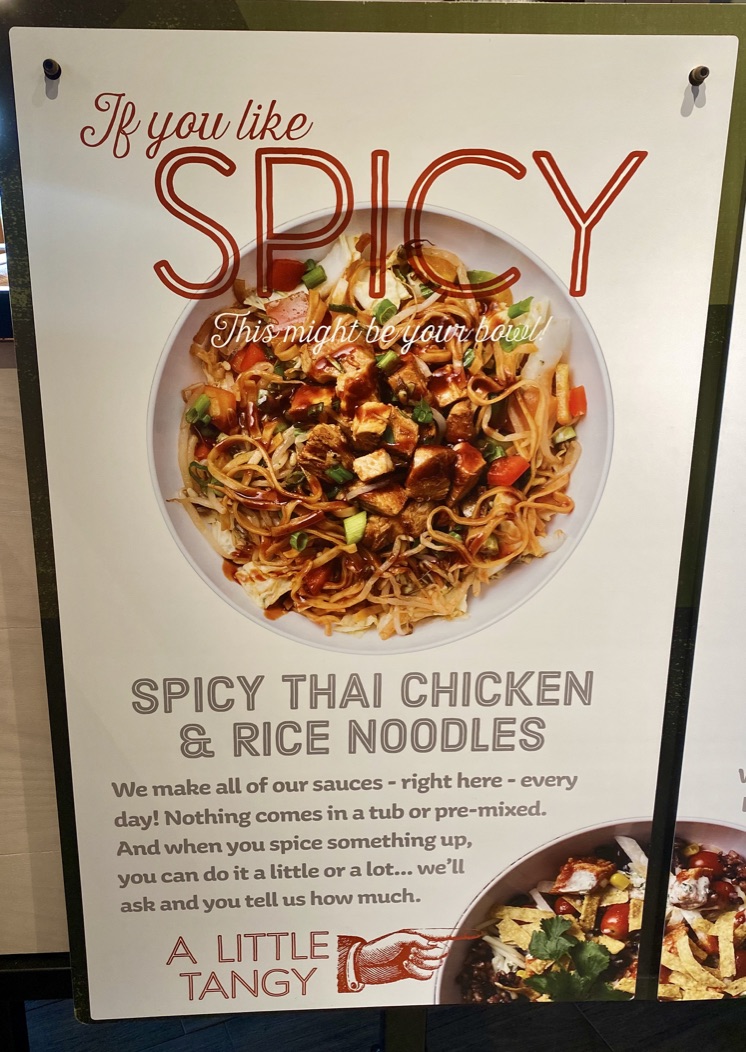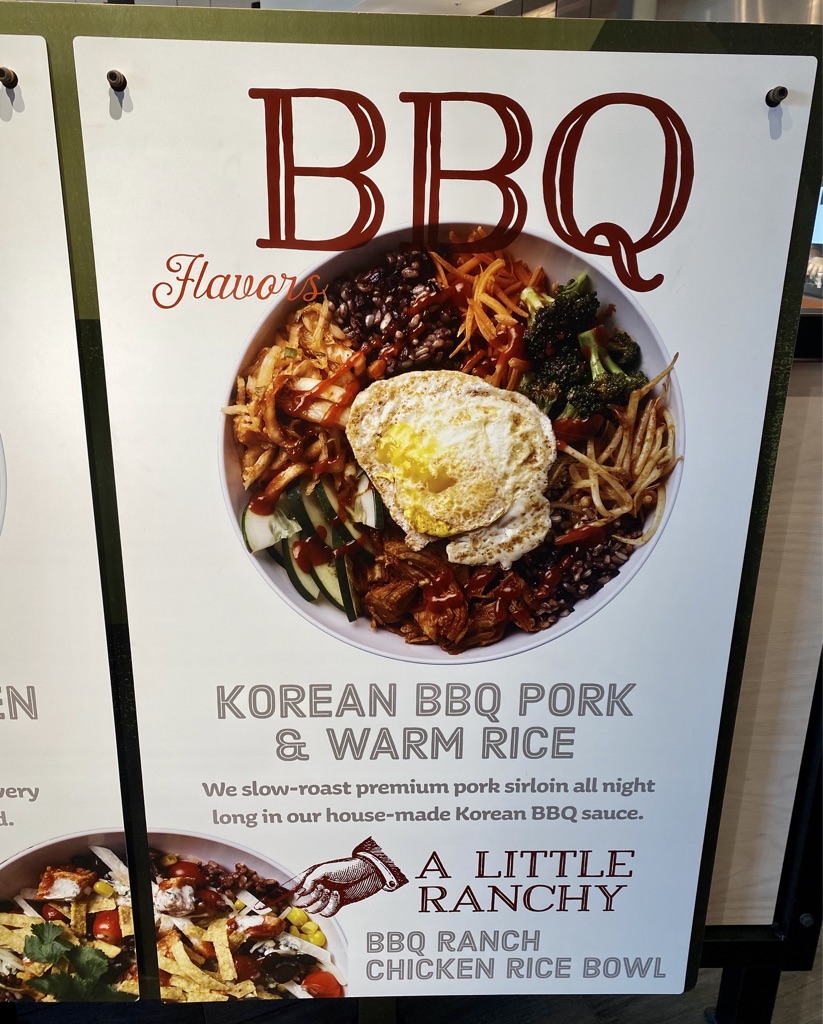 You can order online for pick up or delivery. Catering is also available. For more info, you can visit their website.
Until we eat again…
I send you delicious wishes, xo
Denise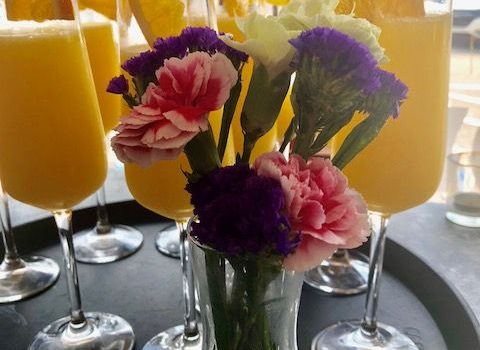 Hello Foodie Friends,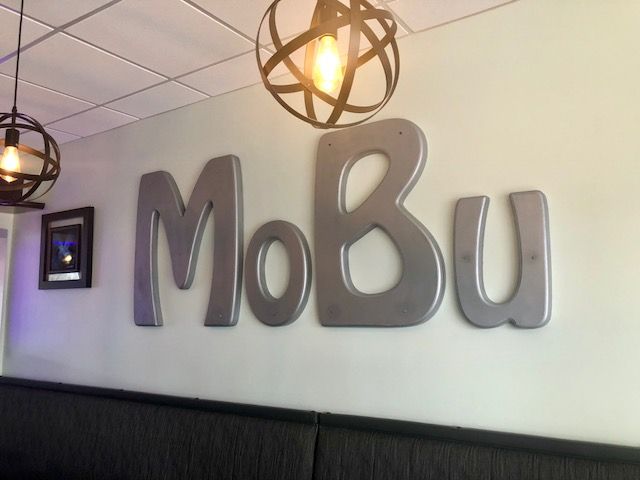 Head Chef and co-owner Monique Buchbinder (the name MoBu is derived from the first two letters of her first and last name), earned her degree from the French Culinary Institute in Manhattan prior to working as a chef at Per Se (the sixth highlest Michelin rated restaurant) and at the famed Nobu in Miami (yes, you might say there might have been a tad bit of influence behind her restaurant's chosen name) before deciding to become a private chef taking on catering jobs and hosting dinner parties in Manhattan, Naples and Miami. She began cooking for a gentleman named Bruce who moved to South Florida from New York. When Chef Monique expressed her interest in opening her own restaurant one day to Bruce, he realized her talent in the kitchen was too good to keep all to himself and decided to help back her. Bruce's daughter, Brooke, MoBu's General Manager and Marketing Director, handles the front of house and community events, while Chef Monique makes magic in the kitchen. In addition to making dishes that are filled with flavor, Chef Monique makes dishes that are sensitive to healthy diets and food allergies, including nut-free and gluten-conscious (gc) items in addition to vegan, organic, vegetarian diets. Seasonally inspired, beautifully plated, and sourced from some of the world's most vibrant cultures, Mobu's dishes leave guests filled with a revitalized love for cuisine and community.
Sourcing foodie favorites from Asian, French, and Caribbean cultures, MoBu Fusion Cafe in Boca Raton is where folks come to enjoy international cuisine in an elegant local atmosphere. Using fresh ingredients as her brushes and plates as her palettes, Chef Monique only works with the best food suppliers so you can expect to always enjoy the most delicious and freshest ingredients. From beautifully presented appetizers and main dishes, to tantalizing desserts, you will be in food heaven.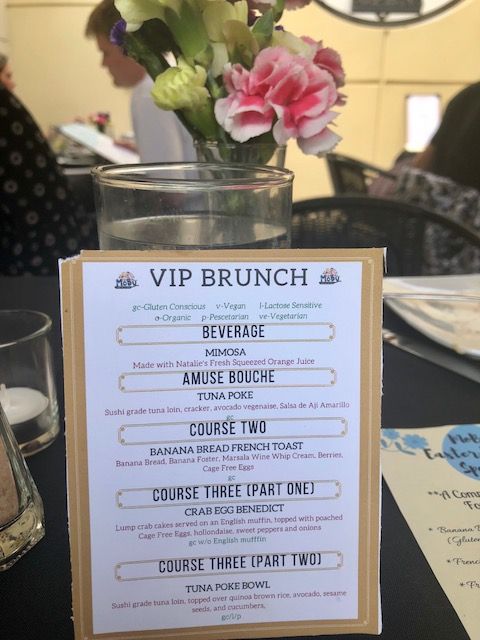 Relax and unwind in their beautiful patio dining area, where you will be surrounded by nature & water. This is where our group of bloggers gathered for a brunch tasting. Every dish that was brought out had a flare to it and each was exceptional. We started out with an Amuse Bouche of Tuna Poke (gc) artfully plated on a black slate. Next was the Banana Bread French Toast, which was my personal favorite. On top of this most wonderful gluten-conscious French toast (which I still can't get over had little to no gluten) was bananas foster, Marsala wine, whipped cream and berries. I believe I am drooling as I am writing this now. lol! Our next course was a Crab Egg Benedict which featured lovely lump crab cakes topped with poached cage-free eggs and a delicious hollandaise sauce. The final tasting of the day was the Tuna Poke Bowl which was made with sushi grade tuna loin, on top of quinoa, brown rice, avocado, sesame seeds and cucumbers.
In addition to their wonderfully yummy brunch menu, they have a simple yet well thought out dinner menu as well with wonderful selections from land to sea. MoBu's first 5 course Chef's Table dinner is scheduled for this Friday evening, April 20th. For details, click here.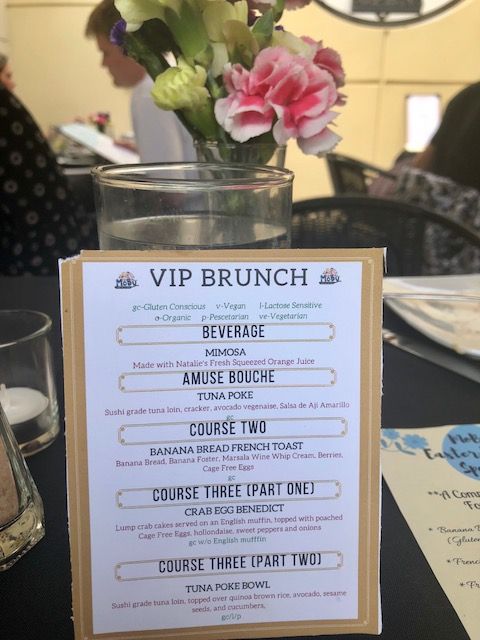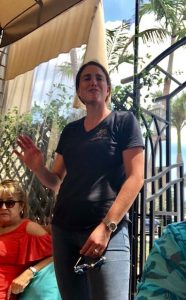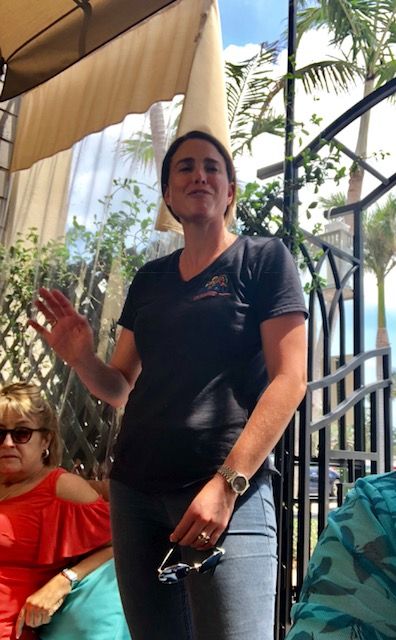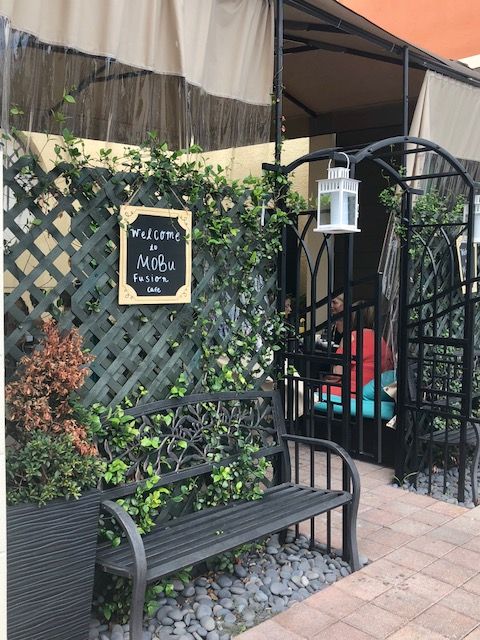 MoBu Fusion Cafe is located at 1159 South Federal Highway in Boca Raton.  Delivery is available through Delivery Dudes. Catering is also available.
Hours of Operation: Tue, Wed, Thu: 5-9pm;  Fri: 5-9:30pm; Sat: 11am-3pm & 5 – 9:30pm; Sun: 11am -3pm & 5 – 9pm
Brunch is served on Saturdays & Sundays from 11am – 3pm
Until we eat again…
I send you delicious wishes, xo
Denise