Hello Foodie Friends,
I am excited to share with you part one of a two-part series on my experience at the Marriott on Singer Island. I had been invited by the property's PR firm for quite some time now to come experience a meal at their signature restaurant, 3800 Ocean and I finally was able to make that happen. Let me tell you, it is well worth the 45-minute drive it took us from South East Boca. Speaking for myself and I'm guessing that many of you might fall into this category as well, when it comes to deciding on where to dine, hotel restaurants may not be on the forefront of your mind with the multitude of choices that abound. Well, I'm here to set the record straight and possibly get you to rethink this notion forever more. 3800 Ocean at the Marriott Singer Island is as good as it gets and shouldn't just be enjoyed by visiting guests, but by us local foodies as well.
The Marriott Singer Island has several dining experiences available:
3800 Ocean: Ocean views share the spotlight with South Florida's abundant harvest at the resort's signature restaurant. The 3800 Ocean menu reflects a "collective kitchen" inspired by the cultural backgrounds of each of its chefs – from New England and Long Island to Mexico and Jamaica – who bring their own personal influences to a rich bounty of local seafood and produce. Complementing the menu is an extensive wine list. Elegant interiors and an expansive covered patio give guests a choice of dining environments. Open for breakfast, lunch and dinner.
Kitchen Table: This one-of-a-kind experience, for groups of no more than five, takes diners with adventurous palates into the 3800 Ocean kitchen for a five-course menu created on the spot by the executive chef. The dinner typically spans three hours and is priced at $69 per person, with cocktail and wine pairings on request. Available Thursday through Saturday evenings; reservations required a minimum 24 hours in advance.
3800 Ocean Lounge: An inviting gathering spot for guests and locals, the lounge serves a casual lunch menu daily, exotic cocktails and bar fare every evening, and happy hour Monday through Friday.
Reef Tiki Bar: A casual menu of Pacific Rim cuisine is offered on the beach, complemented by cocktails handmade with fresh juices. The resort's signature Coconut Island Breeze is served here in a fresh cracked coconut and is a popular choice at the bar's Bubbles on the Beach happy hour. Open for lunch and happy hour daily.
Lagoon Cantina: Fresh-made margaritas, Mexican specialties and grilled fare are the draw at this poolside, Caribbean-style cantina. Open for lunch to resort guests and spa members/guests only.
Ocean Breeze Café: Starbucks drinks, pastries, salads and wraps are served to guests seeking a quick bite on the go.
In case you're not familiar with Singer Island, it's a peninsula (barrier island) on the Atlantic coast of Palm Beach County, Florida, in the South Florida metropolitan area. Most of it is in the city of Riviera Beach, but the town of Palm Beach Shores occupies its southern tip. The Marriott Singer Island Beach Resort & Spa is Palm Beach County's only all-suite beachfront hotel, with the Atlantic Ocean on one side and the Intracoastal Waterway on the other, it offers a wealth of opportunities for adventures on land and sea.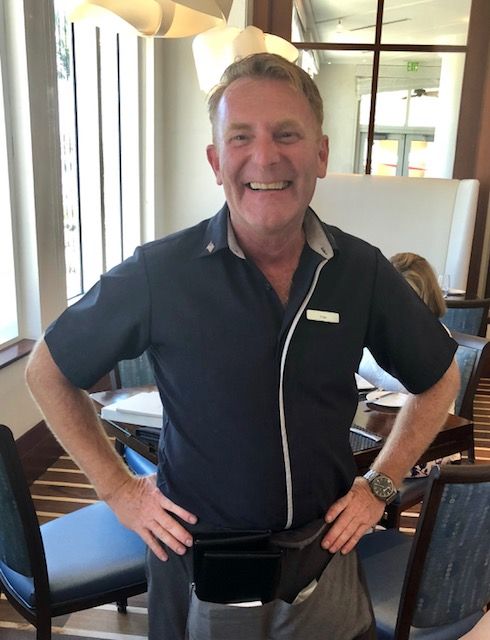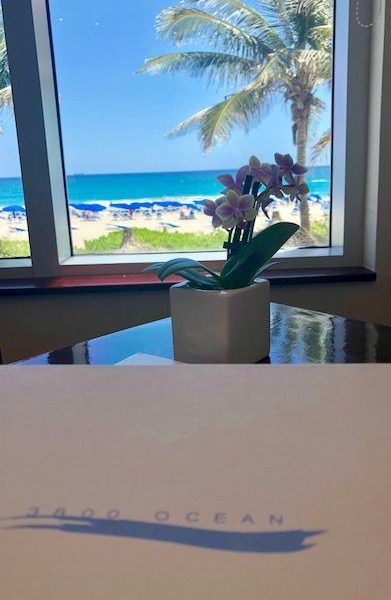 3800 Ocean has a VERY extensive & impressive wine list along with a whole lot of hand crafted cocktails and bourbons to choose from. For starters, we tried the seafood ceviche and the tostones rellenos. Both were superb dishes. I could have stopped right there (along with the glass of New Zealand Sauv Blanc) and had been a happy camper, but wait…there's more…
Even though I was already quite stuffed, I just had to make room for what has to be one of the most creative desserts I have ever had. The S'mores pot de creme. Take a look at this beauty! House Made Marshmallow, Graham Shortbread, Chocolate Pot De Crème, Biscoff Malto (OMG, Yum!!!)
After lunch, we were given a tour of the property which we really appreciated. The grounds are gorgeous and although non hotel guests are invited to dine at 3800 Ocean, you must be staying at the property in order to access these other areas:
Later this summer I will be coming back to stay overnight in order to fully immerse myself into all the amenities that this lovely beachfront property has to offer. Stay tuned for part two of this feature highlighting this hot staycation destination.
Until we eat again…
I send you delicious wishes, xo
Denise
Hello Foodie Friends,
I am here to dispel the myth that hotel restaurants are sub par to stand alone restaurants or really just somewhere tourists go to out of sheer convenience. Many of these restaurants fly under the local foodie radar, and I will be the first to admit, that that was the case with me. But thanks to a recent invite to sample the new menu at Bistro Ten Zero One, under the direction of Executive Chef Christian Quiñones, I have a new respect for hotel restaurants…especially this one. Before our tasting journey began, we had the opportunity to walk the grounds with the Director of Food & Beverage, Jimmy Alexiou. The outdoor space was very zen-like and they were in the process of expanding their garden. The herbs grown there are used to accent their cocktails and dishes.
Our first course was a tasting of the Bistro's most popular appetizers served with a glass of La Marca Prosecco:
PULLED PORK TACOS / pineapple-papaya compote, spicy mayo
BEEF SLIDERS / bourbon glaze, pancetta, bibb lettuce
AHI TUNA POKE / avocado, edamame, soy truffle dressing
—
LOCAL ORGANIC HEIRLOOM TOMATO SALAD / feta, garden mint, basil powder, red sorrel, white balsamic vinaigrette
The tomatoes were from Farmhouse Tomatoes in Loxahatchee and the red sorrel came from their garden.
_
PAN SEARED SCALLOPS / green pea-asparagus risotto with a homemade basil oil.
 The wines were a perfect complement to the dishes.
—
   CHOCOLATE MOLTEN CAKE / vanilla bean ice cream with candied walnuts, fresh seasonal berries with red sorrel
Bistro Ten Zero One is located inside the Marriott West Palm Beach, 1001 Okeechobee Blvd.  
bistro1001.com
In addition, here's some more information on what's happening at Bistro:
Oktoberfest at Bistro Ten Zero One
Bistro will host an Oktoberfest party in its back outside area on Wednesday, Oct. 19 from 6:30 – 9:30 p.m. Guests will enjoy a Bavarian-themed menu, along with Oktoberfest-themed beers from six local breweries. Cost is $35 per person, if purchased in advance, or $40 per person, if purchased at the door. Tax and gratuity are additional. Visit bistro1001.com to see the full menu and to RSVP.
Live Music Fridays
Bistro Ten Zero One will now offer live music in the bar and lounge area every Friday evening from 5-7 p.m.Raid the CellarDine at Bistro Ten Zero One on Friday evenings from 5-10 p.m. and enjoy 50% off select bottles of wine.
Daily Happy Hour
Get happy every day of the week at Bistro Ten Zero One with the restaurant's new happy hour. Available seven days a week from 4-7 p.m., guests will enjoy $7 appetizer specials and drink specials ranging from $3 to $6.
Bistro 10.0.1 Xpress Lunch
Refuel midday with Bistro 10.0.1's Xpress Lunch and get in and out in less than an hour.  Guests will select an item from Bistro's special lunch menu – all of which are priced at $12 and include a choice of soup, salad or house fries. This Xpress Lunch menu is available Monday through Friday from 11 a.m. until 2 p.m. Highlights include the Bistro Burger made with Manchego cheese, caramelized onion and truffle aioli; a Garden Fresh Panini with grilled vegetables, goat cheese and sun-dried pesto; a Fish BLT (fresh off the hook) with avocado, bacon, lettuce and tomato on sourdough bread; and more. See the menu.
Fresh, local ingredients creatively prepared and presented. I will definitely be back and I hope you have become inspired to check them out as well.
Until we eat again…
I send you delicious wishes, xo
Denise