Hello Foodie Friends,
Well I finally made it to Cooper's Hawk Winery & Restaurant at the newly opened location inside the Galleria Mall in Ft. Lauderdale. Have you been to one yet?
Founded in 2005 by CEO Tim McEnery, Cooper's Hawk Winery & Restaurants is built upon the passionate belief that food and wine hold the power to forge lasting connections.
At Cooper's Hawk, they understand that great wines begin in the vineyard. Their winemaker and his team travel the globe looking for the very best grapes and when they are particularly impressed – whether it be in Chile, France, California or Washington – they work with the wine grower to begin crafting their one-of-a-kind wine. Their winemaker nurtures each wine according to its individual needs to craft the best wine possible. It's this philosophy that has led to hundreds of national and international awards for their collection.
Cooper's Hawk has created a modern, casual dining experience with warm hospitality in an inviting upscale setting. Their culinary team has designed a contemporary American menu infused with flavors from around the world. Each dish is made fresh in their scratch kitchen, incorporating peak-of-season ingredients, and listed with a bin number to guide you to your selection's perfect wine match.
NAPA-STYLE TASTING ROOM & ARTISANAL MARKET
Cooper's Hawk's Tasting Rooms embrace the rich experience of Napa, providing guests the opportunity to explore and expand their palates and enrich their wine journey. High end decanters, wine accessories, and gifts, along with their very own gourmet food line, allow guests to live the Cooper's Hawk lifestyle at home.
Last May, one of our staff attended Cooper's Hawk's Grand Opening in Pembroke Pines. You can read about her visit
here
.
On this recent visit, my Marketing Director, Jennifer and myself had the pleasure of being treated to a lovely dining experience. We first stepped foot into their market/tasting room which offered a variety of items for every wine lover. I am told that guests are usually treated to a tasting of the wine of the month here in the retail store, but on this particular day and time of our arrival, we didn't notice any being offered.
As we were shown to our table we passed a tasting barrel that contained Cooper's Hawk's signature Bordeaux-style Blend. Guests are treated to a tasting of this special blend straight from the barrel, which is also bottled for wine club members.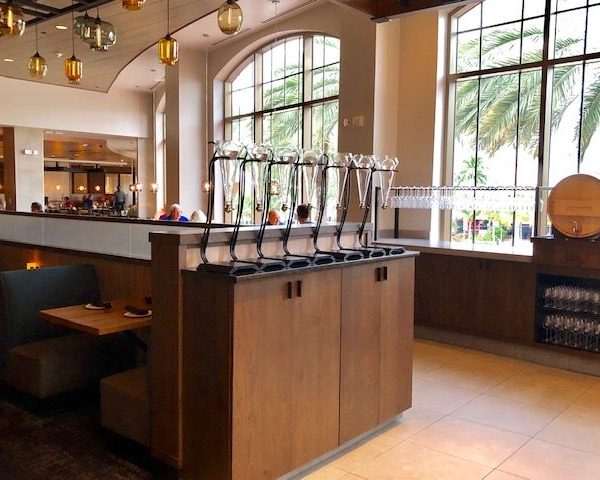 We started off with the Artisan Cheese Plate with the Master's flight, a monthly flight curated by CH's Master Sommelier, Emily Wines. Cooper's Hawk Lux Ice Wine · Viognier · Cabernet Sauvignon · Super Tuscan · (This was my second favorite item of the evening)
Meet Emily Wines, CH's Master Sommelier. (With a name like Wines, it seems as though a career in the wine business was inevitable). Emily's responsibilities include expanding and strengthening the Cooper's Hawk Wine Club community, and advancing team members' knowledge of wine. She serves as the liaison between the company and its individual restaurants, engaging with guests and the brand's 350,000+ Wine Club members to create unique experiences centered around wine and spirits. She spearheads initiatives designed to enrich the guest journey through education, immersive events, collaborative partnerships and curated lifestyle adventures.
Cooper's Hawk has a Wine Club which is designed exclusively for their Members who love to explore, share and pair new wines with wonderful food and memorable moments. Wine Club Members enjoy access to extraordinary events and partake in one-of-a-kind experiences in their own cities and around the world. Their Club is a community of friends & neighbors who have a thirst for a life well lived. Some of the benefits of joining their wine club:
Members receive monthly wines, insider tasting notes and delicious recipes not available to the general public.
Members get rewards with every dollar they spend and points towards dining rewards.
Members get access to awesome domestic and international trips to the greatest wine regions
Members get invited to spectacular evenings of food and wine featuring celebrity chefs, sommeliers and outstanding cooking demonstrations.
Members get gifts on their birthday, Cooper's Hawk's anniversary or just to say thanks.
Members get special member-only pricing on wine, select retail, catering and carryout.
Memberships start at just $19.99/mo. For more information on membership, as well as a whole lot of useful wine tips and other valuable info, please visit their website.
We enjoyed our visit to Cooper's Hawk at the Galleria location very much. The staff were very friendly and extremely knowledgeable and the service, food and ambiance were all delightful. I am looking forward to my next visit back.
Until we eat again…
   I send you delicious wishes, xo
Denise
Hello Foodie Friends,
My birthday happened to fall on a Friday this year, the weekend of Passover and Easter and to get things kicked off, I decided to accept an invitation to dine at The Winemakers Table in Delray Beach. I had been hearing wonderful things about this place but just hadn't been able to get there. That is until I met Tom and Michelle Ferraro, the brother and sister team who co-own this little treasure. I met Tom and Michelle purely by coincidence one evening while they happened to be on one of my weekly culinary tours in Royal Palm Place invited by their Merrill Lynch Financial Advisor.
The Winemakers Table opened 8 months ago and let me tell you, if you didn't know any better, you'd think your gps took you to the wrong place. It was dark when we arrived and we both questioned whether we were in the right place as we pulled in to what appeared to be an industrial area with nothing but warehouse bays in front of us. (Side note: it's actually a Corporate Center, albeit pretty remote) The Ferraro's, who previously owned Ferraro's on Glades, which they sold, were looking for a small place that would be out of the hustle & bustle of Atlantic Avenue where patrons would not worry about parking. The converting of this "warehouse" space into a cozy living/dining room enabled them to see this vision through. They wanted to create an atmosphere where guests could enjoy their meal, relax & not feel rushed that their table must be turned over.
 Tom welcomed us at our table shortly after we were seated and after asking us if we had any food allergies or dietary restrictions to which we replied no, he proceeded to tell us he had a lovely four course pairing that was being prepared for us and would be out shortly. I couldn't wait! First up was a pear and endive salad with Gorgonzola and hints of vanilla in the vinaigrette that paired excellently with the Prosecco that was served with it. The dressing was sooooo good that I wanted to just pick up my bowl and lick every last drop. (of course, I resisted, hehe).
The next course was pear & pasta purses with a red creamy sauce made from San Marzano tomatoes and paired with a Chardonnay. Fresh hot & yummy garlic bread was also presented during this course. The pursers were packed with flavor and cooked just to our liking, although I'm not 100% convinced that the Chardonnay was the right pairing (at least for me, but also full disclosure, I'm not a huge Chardonnay fan).
Sesame seared yellow fin tuna with rock shrimp, (fruit de mare) cucs & house made lemon vinaigrette paired quite exceptionally with a Burgundy (not pictured, sorry,) was our third course.
Our final tasting of the evening was Banana Foster Pot de Creme, Chocolate lava cake and Coconut cake paired with a 1960 Chateau port wine ($1250/bottle).  While all three desserts were outstanding, the chocolate lava cake with the port was the best, in my opinion.

They have a private room that can seat up to 30 ppl!!!
The Winemakers Table is open Tues – Sat 5 – 11pm, however they are available 7 days a week for private events.
They are located at 2875 S Congress Ave, Delray Beach, FL 33445
Until we eat again…
   I send you delicious wishes, xo
Denise