Hello Foodie Friends,
Today I introduce to you Rafina Greek Taverna, the winning recipient of the Open Table 2015 Diner's Choice Award. This sleek and stylish modern Greek & Mediterranean restaurant strives to serve the highest quality & freshest ingredients at reasonable prices.
Born out of their love of fine wines, craft cocktails and delicious food, the owners of Rafina have created what is fast becoming the premiere location for fine dining in South Central Boca Raton. Rafina's success can be attributed in part to finding the right, high-quality ingredients and their dedication to serving only the finest and freshest foods. They have also taken great care in assembling a team of great chefs, a master mixologist, and experienced kitchen & dining staff.
I had the opportunity to dine at Rafina's recently and am excited to share with you my experience. It was a Sunday just before 7pm and the place was nearly full, an impressive sight, especially being in the middle of summer. We were greeted at the hostess stand and shown immediately to our table. Soon after, our server Kristen came over and introduced herself and asked if we'd like to get started with some drinks. I chose a house Greek white wine and my companion chose the Orange Moscow Mule.
Soon followed a plate of warm crispy pita served with a red pepper & feta spread. It was delicious!! This scrumptious appetizer is compliments of the house in lieu of the standard bread basket. Good call. I scanned the menu and of course to my delight, I spotted octopus. Yes, please. My companion ordered the Mediterranean mussels. The octopus was grilled and although the description on the menu read charbroiled and marinated in olive oil it was actually served with a red wine vinaigrette and topped with dill. The dish had layers of flavors and certainly pleased the palate. Although I'm not much of a mussels fan, I did try the broth and thought it also was very flavorful. My companion cleaned his bowl, so I'll take that as a sign that he enjoyed his dish as well.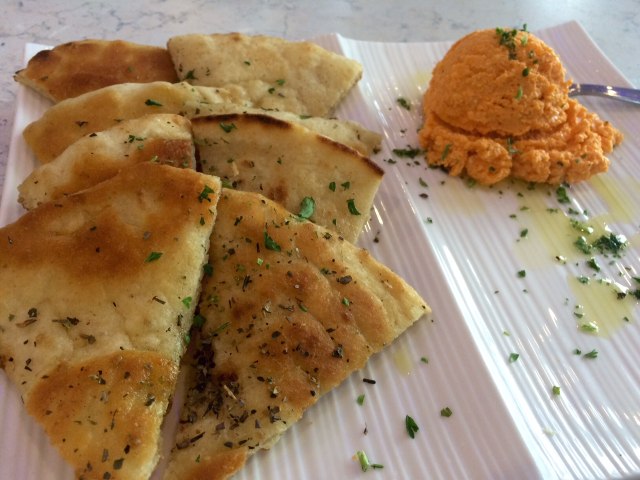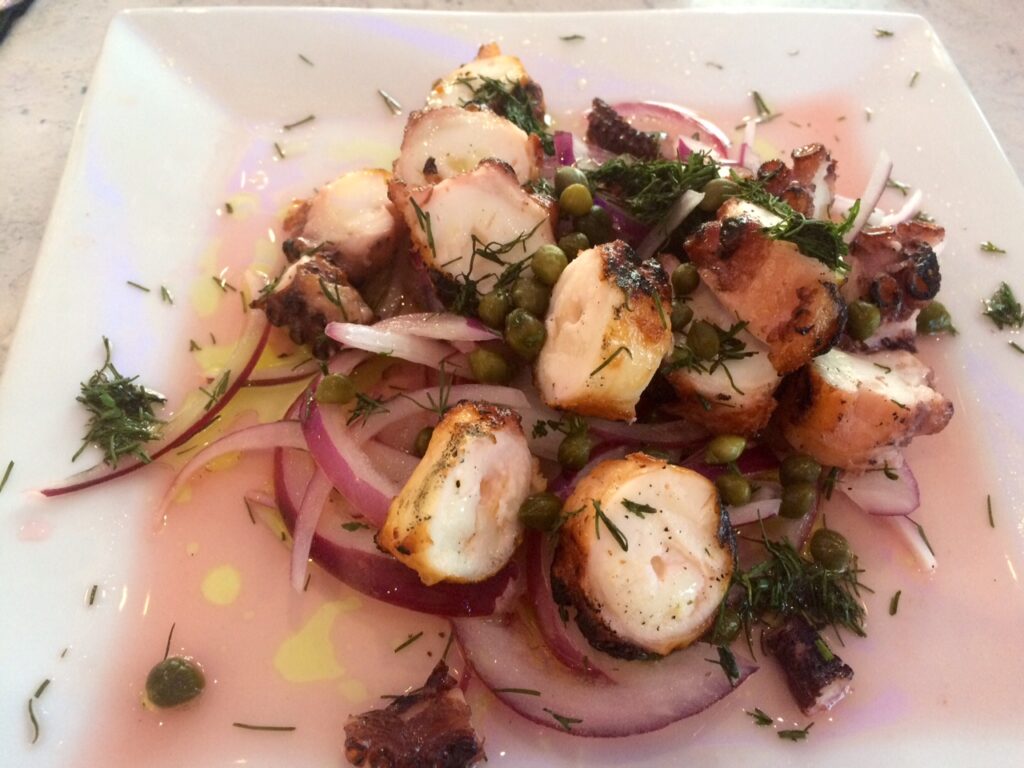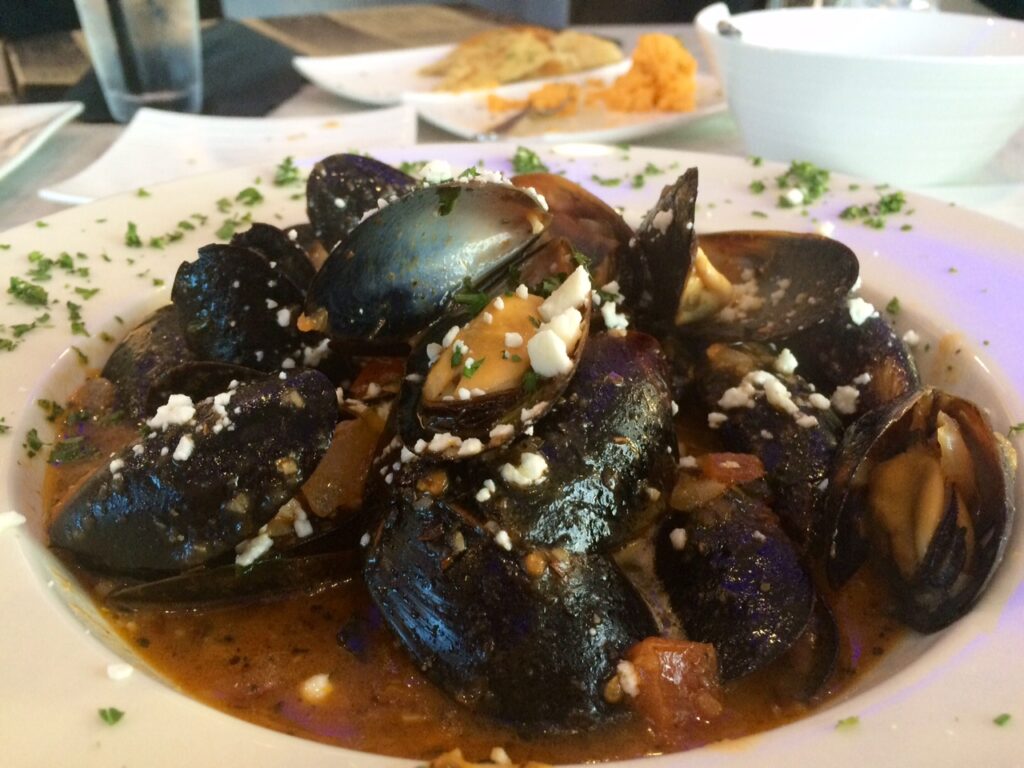 For our entrees, I selected the Moussaka which came with a side Greek salad. The salad was bright and beautiful and had so much to offer. The seasoning was spot on as was the dressing. I really enjoyed it.  The Moussaka had layers​ of eggplant & potatoes and was topped with ground beef & béchamel sauce. The aromatics of cinnamon could could be detected as the dish was set down in front of me. By this time, I was already beginning to get full but was able to get a few yummy bites in before calling it quits. My companion ordered one of the specials of the night: the fresh Florida Black Grouper. It was baked & sautéed in an extra virgin olive oil / lemon caper glaze and served a top a bed of sautéed spinach and a side of rice pilaf.  The entree came with a Greek soup called avgolemono, which was basically chicken and rice soup. It was very lemony, which is a good thing if you like lemon, a little overwhelming if not.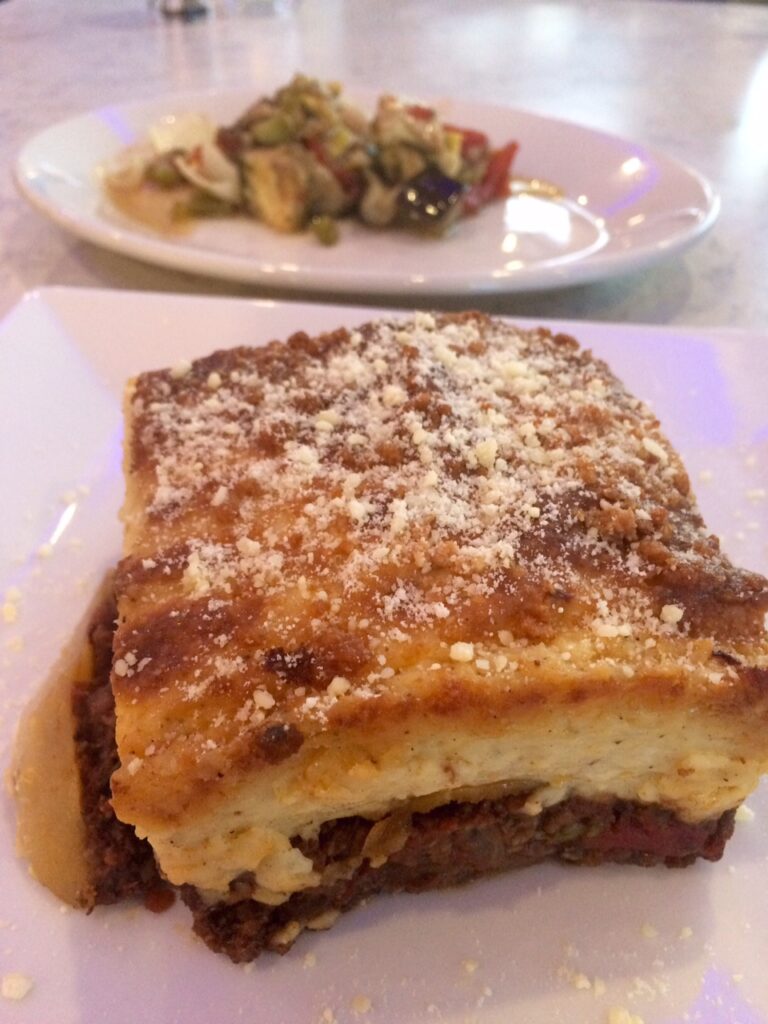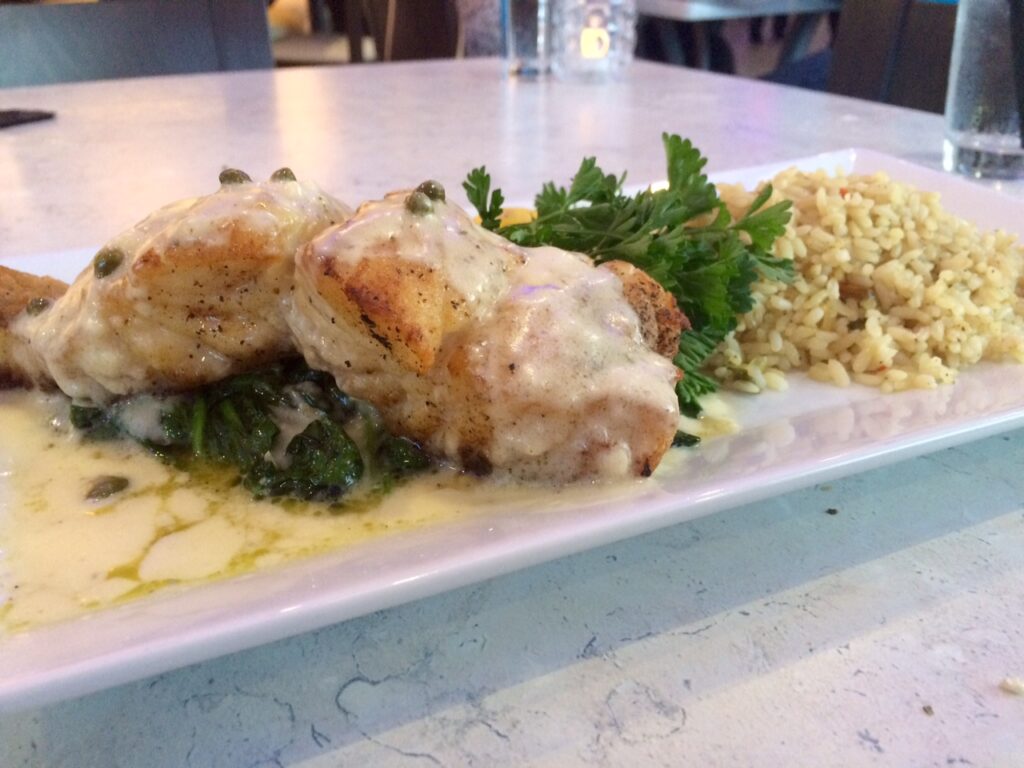 The General Manager, Evan, ensured we were enjoying our meal and insisted that we at least take home some of their baklava to nibble on later. How thoughtful, right?!? Well, as our night came drawing to a close, we definitely agreed that we'd be back and hopefully you will want to join us. We have a Foodie Event planned there on Monday, August 24th at 6:30 pm. For more info on that, please click here.
Rafina is open 7 days with lunch served from 11am – 3pm followed by happy hour​ from 3-6pm offering a nice assortment of appetizers and small plates from $4 – $7 and cocktails priced from $4-$7 as well.
Located in Boca Raton at the Wharf  (the corner of SW 18th & Powerline Rd) 6877 SW 18th St. (561) 409-3673.
You can check out their menu by clicking here.
Until we eat again…
I send you delicious wishes, xo
Denise