Hello Foodie Friends,
We are pleased to report that award-winning restaurateurs Burt Rapoport and Dennis Max have come together once again to resurrect the once-celebrated, Prezzo. A fixture in the 90s in Boca Raton, Aventura and South Miami, Prezzo brings back fond memories for area residents who remember the restaurant serving rustic Italian cuisine with a cool vibe. The first location was opened in Boca Raton in 1989. Fans will be happy to know that their signature roasted garlic and focaccia bread sticks are back. Joining the dynamic duo for this revival is James Beard Award-winning chef, Mark Militello, who leads the kitchen as executive chef.
The garlic, breadsticks and other memorable favorites such as the wood-oven apple tart, fusilli & chicken pasta and the wood-fired pizzas all made a comeback on the new menu along a selection of Italian-inspired and health-conscious entrees.
The centerpiece of the 4,300-square-foot restaurant are the sights and smells wafting from the wood-burning oven known for producing crispy, thin-crust pizzas and amazing chicken wings among other signature dishes. Did you know that Prezzo introduced the first wood-fired pizza oven to South Florida when it opened its first location in Boca Raton in 1989!?
I was invited to a tasting with along with other media/bloggers. I started off with a most delicious glass of baby Amarone. I savored every last drop. The food kept flowing: from the signature roasted garlic and yummy crusty bread (served complimentary to all dining guests), Prosciutto de Parma pizza, chicken wings with caramelized onions, arancini, beet salad, salmon and their famous wood-fired apple tart served with cinnamon gelato.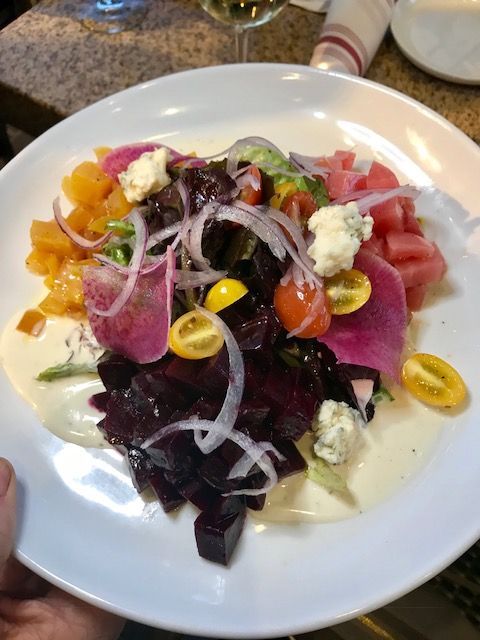 Seating consists of 120 inside and 50 seats on the patio. Prezzo also features a spacious indoor/outdoor bar area, complete with a creative cocktail menu and expansive wine list curated by Bar Manager and Master Mixologist, Arturo Sighinolfi. The cozy 20-seat bar will surely become a local hotspot for happy hour.
Open for lunch Mon – Fri 11:30am – 2pm and dinner Sun – Thurs 4:30pm – 9pm; Fri & Sat 4:30pm – 10pm
Park Place Plaza | 5560 N. Military Trail. Boca Raton, FL 33496 561-314-6840  www.prezzoboca.com
Follow Prezzo's and share your memories using #OnlyAtPrezzo @PrezzoBoca
Until we eat again…
I send you delicious wishes, xo
Denise
Hello Foodie Friends,
It's been some time since my last post. It's that time of the year again when we get so crazy busy with all the wonderful food and wine events to cover on top of all the extra visitors who come into town and book us for our culinary tours and experiences. We have been working hard on creating a brand new website which will soon be launched and we have been growing our company both geographically as well as team members, but more on that in the next newsletter.
Today, it's all about our visit to Coastal Restaurant located inside the Atlantic Hotel on Ft. Lauderdale Beach. I was invited to experience the brunch there by the PR firm representing the restaurant, which is located in the previous Beauty and the Feast spot, for those of you who remember that one.
I love brunches, particularly buffets (as opposed to a la carte) and especially ones that have as great a variety as Coastal. What I REALLY liked about Coastal's brunch was that in addition to the marvelous options on the buffet, they have a menu of select a la carte plates every Sunday with a couple staple items that appear each Sunday such as bananas foster french toast and chicken & waffles and other specialty items such as eggs benedict, tacos and pancakes that change each Sunday. On this day, they were serving a crab cake benedict, pulled pork taco and chocolate chip pancakes. Lucky for me, they make these a la carte items in really cute small portions so you can try one of each (like I did) without feeling (too) guilty. LOL!
The pricing is extremely reasonable for just $39.95 per adult and $19.95 for children 12 & under. You can add bottomless Bloody Marys, Mimosas, & Bellinis for just $18.98 or $5/glass. What's more, they offer 3 hour complimentary valet parking! How great is that?!? They have live music too. The buffet is available from 11am – 3pm. Definitely worth checking out!
Well, there you have it. Not only does Coastal have a great view of the ocean, but the decor is clean and inviting, the staff is friendly and attentive and the food is excellent. What more can you ask for? If you're looking for somewhere to go this Valentine's Day, they have some pretty awesome couples packages available, including a Gourmet Picnic Dinner on the Beach, Oceanfront Dinner at Coastal, and Three Spa Atlantic Packages, starting at Only $120. Valid Feb 11th – 18th, no overnight stay required.
For more info, contact eatcoastal.com.
Coastal is located inside The Atlantic Hotel & Spa, 601 N Fort Lauderdale Beach Blvd, Fort Lauderdale, FL 33304  (954) 567-8070.
Until we eat again…
I send you delicious wishes, xo
Denise