Hello Foodie Friends,
I was recently invited to dine at Tanzy's, located inside the iPic Theaters in Mizner Park, to check out their new weekend brunch offerings. I've enjoyed a meal or two at Tanzy's before but this was my first time experiencing their brunch. It was a Saturday (and who doesn't like the idea of a leisurely Saturday brunch catching up with good friends?!?) and I was totally stoked to be able to bring my girlfriend who I hadn't seen in a super long time to join me for this brunch tasting. With so many wonderful dining choices available in Mizner Park, you might forget that Tanzy is there unless of course, you are going inside the iPic Theaters to catch a movie. While Tanzy is a great dining option for your pre or post-movie experience, I am here to set the record straight that Tanzy should be on the top of your list for a wonderful meal to be enjoyed whether your plans include a movie or not. Case in point: the epic weekend brunch, happy hour bar bites, lunch and of course, dinner.
Tanzy's artisanal Italian cuisine focuses on garden-fresh modern Italian flavors in an elegant, yet relaxed social environment where friends, family and colleagues can gather to enjoy good conversation, good food & creative cocktails. Tanzy's new menu features fresh new classics alongside time-tested favorites by award-winning Chef and Chief Operating Officer of iPic Entertainment. Diners will delight in inspiring flavors where seasonal ingredients are the star in every dish, artfully prepared by melding contemporary techniques with classic Italian influences; the resulting flavor profiles are modern and unique. Master Bartender and Advanced Sommelier Adam Seger crafts an unparalleled beverage program with local beers, an expertly curated wine list and stunning farm-to-glass handcrafted cocktails.
We started off with a Bloody Mary and a Peach Bellini. Then our server Julia surprised us with this beauty. An Italian Ice Mimosa made with liquid nitrogen. Check out the baby spoon that came with it, so cute! Can you say "Wow" factor?!?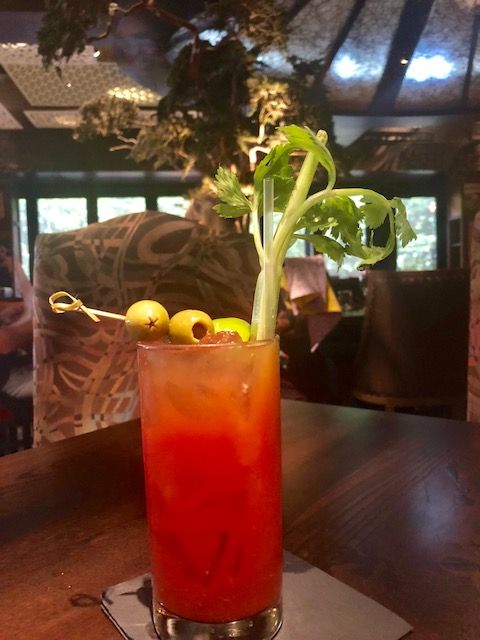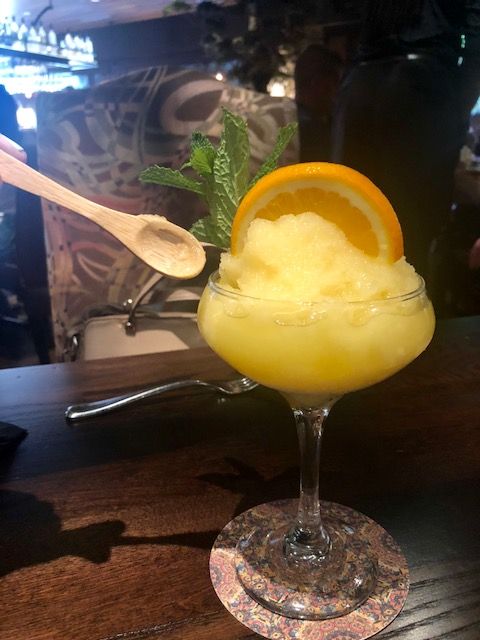 So we were off to a good start. Julia explained the menu to us and it was difficult I must say to choose because so many items caught my eye. The bread basket contained an assortment of baked items which offered a good variety, so we chose that. OMG, without exaggeration, my friend and I ate one bite of the banana nut muffin and our eyes truly bugged out. It was without a doubt the best banana nut muffin we both had ever eaten. Man, I am salivating just a little right now as I recall how scrumptious it was, lol!
Another really really fantastic item was the candied bacon. It had a slight amount of heat and the perfect amount of sweetness. Loved it! I have to give Tanzy kudos for this because try as I have, I cannot seem to perfect the art of making candied bacon.
The infamously decadent French Toast, pictured below on the left, lived up to its title.  It was made from thick sliced brioche bread stuffed with whipped mascarpone and assorted fresh berries. It reminded me a little of the one they make at Tucker Dukes which I just adore, but better, in my humble opinion. We ordered the eggs benedict, which came with our choice of crispy prosciutto, spinach or smoked salmon. We chose the salmon. The rich velvety Hollandaise sauce covered the English muffin halves like a warm comforting blankie. Yum!
Next up was the burrata & San Daniele prosciutto which came with a compressed melon, arugula and adorned with beautiful fennel flowers. It was almost too pretty to eat (almost, haha)! The spinach-ricotta gnudi was calling out to us from an early glance at the menu, so we heeded the call and gave in. Oh my, this was so worth having to do extra laps and burpees the next day!
Well, we didn't quite make it to the dessert tower, but there's always the next time.
I encourage you to check out their new lunch and dinner menus on their website and make your plans to visit there at your earliest chance. You won't be disappointed, I can pretty much say this with 100% confidence.
Below is a sample of some of the new menu items which include fresh pastas, mains and antipasti to share:
Beet Agnolotti mascarpone-potato filling, poppy seed, black winter truffle, parmesan ($28)
Spinach-Ricotta Gnudi roasted mushrooms, basil pesto, gorgonzola cream, grana padano ($24)
Yellowtail Crudo passionfruit splash, crispy shallot, radish, micro cilantro, grapefruit, herb oil ($16)
Steamed Mussels shallots, garlic, pernod cream sauce, tarragon, grilled focaccia ($16)
Black Grouper Puttanesca San Marzano puttanesca sauce, basil, Kalamata olives, capers, orzo, sautéed spinach ($25)
Crab Stuffed Whole Lobster crab-lobster stuffing, seasonal vegetables, lemon-garlic butter (MKT)
Truffled Polenta parmesan cream, chives, truffle oil ($8)
Pair Chef Yard's new dishes with inspired beverages by celebrated mixologist Adam Seger. New additions include:
Famous Mojitos Italiano – mint, Italian herbs from our herb garden, exotic citrus in a range of flavors, as single servings or punch bowls to share ($8-80)
Spiked Italian Ice think boozy liquid nitrogen gelato in limon, passion-ginger, strawberry-mojito, blood orange-pomegranate, chocolate-espresso-maldon ($15) and spirit-free ($10)
The Kiss vodka-spiked lemon berry Arnold Palmer ($12 glass/36 bottle/65 punch bowl)
Gin Gin Mule New Amsterdam gin, homemade ginger beer, apple salsa ($12); luxe with Bombay Sapphire ($15)
Spice and Ice ancho-infused tequila, mango, ginger, habanero, 7-spice ($15)
And of course, no trip to Tanzy would be complete without elegantly crafted desserts by Executive Pastry Chef James Rosselle. Try these sweet new show-stopping cakes:
Raspberry Infiniti Cake raspberry red velvet cake, raspberry buttercream, farmers market raspberries, raspberry sauce, whipped cream ($12)
Concord Cake chocolate mousse, chocolate meringue, chocolate cake, chocolate ganache, chocolate sauce, whipped cream ($12)
Warm Olive Oil Cake apricot glaze, blood orange cream, vanilla scented citrus segments, honeycomb ($12)
Enjoy Tanzy's new menu Mon. – Thurs. 11:30 a.m. – 10 p.m.; Friday 11:30 a.m. – 11 p.m.; Sat. 11 a.m. – 11 p.m.; Sun. 11 a.m. – 10 p.m.; Sat./Sun. Brunch 11 a.m. – 3 p.m.
Tanzy Boca Mizner Park: 301 Plaza Real, Boca Raton, FL. (561) 922-6699
 Until we eat (and drink) again…
I send you delicious wishes, xo
Denise
Dear Foodie Friends,
For those of you who have been around Boca Raton for the past 10 years, you might say that there has been quite the revolving door when it comes to the dining scene. Take the south west corner of Federal Highway & SE Mizner Blvd. in Downtown Boca for instance. How many of you remember Oceans 11, Saba Sushi, Ovenella and the short-lived The Little Chalet? Who remembers anything before? Let me know by commenting at the bottom of the post. I took you back as far as I could recall, since first coming to the area and immersing myself into the food scene here in Boca.
The Little Chalet was a beautiful special-occasion venue that is wildly popular in Brazil, but for whatever reason, just didn't catch on here in the company's first US location. It's a shame; they spent a small fortune I'm sure creating a lovely romantic ambiance. But, beautiful decor alone doesn't pay the bills so the owners decided early on to cut their loss and close and re-open with an entirely new hip & trendy concept.
Created by Ricky Marcellini, owner of The Little Chalet who explained that after noting a change in the area's demographics, they saw an opportunity to introduce South Floridians to a breezy, Brazilian nightlife-inspired restaurant and lounge for everyday dining. To facilitate a more communal and casual quality guest experience, he opened the space to an airier interior, expanding seating and adding a second bar to the outdoor patio.
"We have watched East Boca grow and change over the years, and we wanted to evolve our restaurant to match the tastes and lifestyles in the area, which is why we closed our doors as The Little Chalet and have reopened as The Locale," explains Ricky. "Our culinary team is as skilled as ever, and we are excited to offer a more robust and unique beverage program to complement the quality dishes that come out of our kitchen."
The hip and trendy The Locale Cocina & Bar presents guests with a Latin-inspired menu (South American influences including Brazil & Equador) and I would say Italian as well and is fast becoming the gathering spot in Downtown Boca for local friends and business associates.  I'm sure it also helps to offer Happy Hour every day from 4 – 7pm and again from 9pm til closing. What's more, is that guests can enjoy happy hour anywhere in the restaurant, not just the bar Sun – Thur (and at the bar only on Fri & Sat nights). There's a reduced price food menu and all drinks are 1/2 off.
I was invited by The Locale's PR firm to attend a media dine. They hosted a lovely event which several of my blogger friends attended, however, I was unable to attend at the time due to a lingering cold. I was thrilled to be invited back to experience the restaurant once I was well. On this dine, we started out a couple of their popular cocktails; I chose the Lychee Martini and my husband chose the Caipirinha, Brazil's National cocktail. Lychees are my newest exotic fruit obsession, by the way.
. 
The Locale's Chef Joshua Miranda and team take pride in creatively melding exotic flavors with familiar applications in order to deploy flavorful creations to be shared. Locale's Manager Carlos took the liberty of sending out a variety of dishes for us to try: a trio of appetizers consisting of pork & beef meatballs, mushroom crostini (called tostada on the menu) and tuna tartare were presented first. They were all delicious, but the star for me was the tuna tartare. The su vide preparation of the egg yolk was something that a true die hard foodie like myself would appreciate.
Carlos next sent out the Locale pizza which had fresh mozzarella, prosciutto, arugula and shaved Parmesan. Tip: took home leftovers and heated the pizza up and cracked a fresh egg on top to make a delicious breakfast pizza!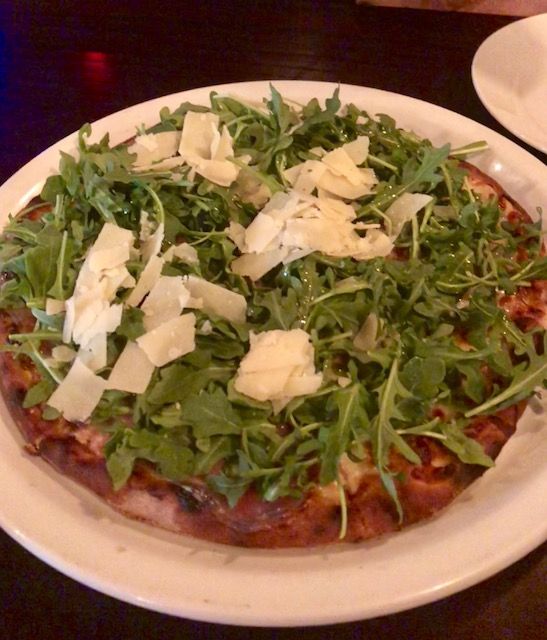 The Picarina steak had a beautiful sear on it and was seasoned and cooked perfectly and served with yuca fries.
There was a generous portion of shrimp in the Fettucini Alfredo dish. Also made a nice shrimp scampi crostini the next day with these leftovers!
The Locale boasts Boca's only Mixology Bar. (I see a Savor Our City Mixology Class taking place there in the future)– The Locale provides libation seekers with two bars and ample seating. Inside, chocolate bitters, candied ginger and acai liqueur are at the ready behind the bar, shaken up into one-of-a-kind drinks that are as eye-catching as they are delicious. Moscow Mule drinkers can choose from four iterations of the copper-mugged classic, including a daily rotating option, in addition to cocktails like the Brazilian Rum Runner  Fig Old Fashioned, Lychee Martini and Jalapeño Aquafaba. At the newly-expanded patio, The Locale's outdoor bar is happy to shake up something on the more traditional side in addition to pouring South Florida's coldest brew at an impressive 28°F from their special imported below-freezing brewery tap. With over 35 beers from 6 countries, the perfect sip is always within reach.
Other signature dishes on the menu that look really interesting which I will have to go back for are: Beef Empanada with shredded short ribs and tomato jam; Croqueta fried dough filled with ham and cheese; and Shrimp Ajillo garlic shrimp served with white rice and broccoli bring a taste of South America to the table. Vegetarians and carnivores alike will swoon over The Locale's meat-free Portobello Burger with tamarind glaze, manchego, crispy kale, aioli on a brioche bun; and flavorful signature entrées abound, with highlights including Short Rib over manchego polenta; Faroe Island Salmon with wild rice, asparagus, yogurt crema; and Bucatini with yellow chili sauce, onions and tomatoes and choice of sautéed filet or chicken.
The Locale's Happy Hour is served every day from 4-7p.m. and 9p.m.-close, where guests can enjoy even more brews, beats and bespoke cocktails from anywhere in the restaurant.
The Locale is located at 499 S Federal Hwy, Boca Raton, FL 33432, They are open for dinner Sun. – Thurs. 4 – 11p.m.; Fri. & Sat. 4p.m. – 1 a.m. and brunch on Sundays fro 10:30am – 2pm. For more information or to make a reservation, call (561) 325-8000 or visit www.localeboca.com.
Until we eat (and drink) again…
I send you delicious wishes, xo
Denise