Hello Foodie Friends,
As a second generation native South Floridian, born and raised in Miami, I have seen a huge transformation in Miami, and in particular, Miami Beach. When we were young, I fondly remember riding on the long stretch of road that connected the main land to the beach; this was an indication that we were getting close to Great Grandmother's.My Great Grandparents (Bessie & Frank) were direct descendants from Russia, a cute couple, each standing about 5′ tall. I don't remember Frank too much as he died before Bessie, but my Great Grandma lived until the ripe ol' age of 106. (She received two letters from the President of the time congratulating her on making it to a 100 years!) Back in that time, Collins Ave/Ocean Drive was lined with condos occupied by the senior community. You would find many of them just hanging out in rocking chairs on the front porches. That was until the developers stepped in and the gentrification process officially took off. Today, the landscape is one of youth and vibrancy. The hip, chic place with plenty of nightlife to keep you busy until the wee hours.
I received an email inviting me come taste A Fish Called Avalon, Located in the iconic Avalon Hotel on Ocean Drive, the setting offers an authentic, sophisticated South Beach experience. Many locals tend to have an impression that dining out in South Beach is for tourists, but I'm here to dispel that belief right here and now, at least when it comes to A Fish Called Avalon.  Now in it's 30th year, this marks quite a milestone in the restaurant world. Fun fact: this time-tested landmark had been the back drop for the 1983 film, Scarface.
TIME-HONORED SEAFOOD TRADITION IN MIAMI BEACH
A Fish Called Avalon is a legend in South Beach. For nearly 30 years, they have been serving up the freshest seafood and delivering an exceptional dining experience to all who partake. The superb cuisine, relaxed Ocean Drive setting, and impeccable service have been delighting diners for nearly three decades.
Garnering attention for its superb seafood cuisine, impeccable hospitality and intimate setting, the restaurant is a favorite with locals and visitors alike.
Chef Kal & A Fish Called Avalon offer a seafood-dominated menu with tropical influences using the very best local and seasonal ingredients delivered daily.  Each item shines with a variety of unique presentation and flavors.
Chef prepared a wonderful selection of tastings for my Product Development Manager, Annette and I to taste. We sat on the lovely terrace and it was a beautiful night. Annette and I enjoyed every morsel. Our taste buds were literally (well ok, figuratively) jumping up and down in joy! While I really liked everything that was placed in front of us, I thought the Bang Bang Shrimp were very unique here and were a definite stand out for me. The Macadamia Nut crusted snapper was another nice surprise for me. I am a huge fan of octopus when cooked right and Chef did an outstanding job with this as well. The presentation on the paella was top notch and packed full of fruits from the sea.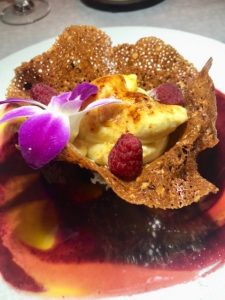 Tempting appetizers like the Bang Bang Shrimp and Orzo Seafood Paella for a main course are perfect for a romantic date night to evoke Mediterranean memories. The menu also offers prime and dry-aged steaks, organic chicken, and vegetarian-friendly options each with a perfect complement from the extensive award-winning wine list. Delectable desserts end the evening on a sweet note.
A Fish Called Avalon Accolades
Top 10 Best Restaurants and Best Outdoor Dining Winner in South Florida by OpenTable reviewers.
Ranked 30 of 787 Restaurants in Miami Beach TripAdvisor
A Fish Called Avalon is perfect for romantic dinners, a family affair, or a night out on the town. I can't wait to go back and hope that I have inspired you to want to check it out as well. Pro tip: Diners can park in the parking garage conveniently located at the corner of 7th and Collins.
For more info on the restaurant, please click here to visit their website:
Until we eat again…
I send you delicious wishes, xo
Denise
Italian specialty market to begin construction this summer
BOCA RATON, FL, January 16, 2019 — Simon, a global leader in premier shopping, dining, entertainment and mixed-use destinations, announced that Joseph's Classic Market will join Town Center at Boca Raton, opening in spring 2020. Joseph's Classic Market will span 14,700 square feet situated on the former Piñon Grill and Blue Martini locations.
"Town Center at Boca Raton continues its dynamic transformation with the addition of Joseph's Classic Market," said Sal Saldaña, Town Center at Boca Raton's general manager. "With its gourmet goods and high visibility location, we are certain that it will become an instant favorite for our shoppers."
Founded in 2005 by Joseph Acierno, Joseph's Classic Market was established to bring anyone who loves food an exceptional specialty market experience. Taking his heartfelt passion established in New York to the coast of Florida, Joseph's Classic Market is known for its fresh and finest ingredients, as well as exceptional customer service. With more than 30 years of experience, Joseph's creation is "Where great meals begin".
"Once we outgrew our current location, an expansive and newly-designed concept at Town Center at Boca Raton was the clear next step," said owner Joseph Acierno. "As a 4th generation locally-owned and operated business, we look forward to continuing to serve a delicious alternative to dining out with our chef-prepared meals and fresh goods, bringing our home to yours."
Joseph's Classic Market's Town Center at Boca Raton location will offer superior meats and seafood, fresh produce, a hot bar and a cold bar, a scratch-made bakery, a New York pizzeria, chef-prepared entrees and side dishes, gourmet catering, and an Italian deli. The new space will also feature outdoor patio seating, so guests can dine al fresco.
The specialty market joins a lively line up of new food options at Town Center at Boca Raton including True Food Kitchen and La Boulangerie Boul'Mich, which is slated to open this fall.
About Town Center at Boca Raton
Town Center at Boca Raton is Palm Beach County's premier luxury shopping destination and houses an impressive lineup of department stores that is unparalleled in the entire country, including Neiman Marcus, Saks Fifth Avenue, Nordstrom, Macy's and Bloomingdale's. The property also features 220 prestigious and nationally recognized stores, including Ann Taylor, Kate Spade New York, Tesla, Apple, Cartier, CH Carolina Herrera, Coach, Gucci, INTERMIX, Louis Vuitton, Michael Kors, Stuart Weitzman, Tiffany & Co., Tommy Bahama, Tory Burch, Versace and Williams-Sonoma, attracting shoppers from across the globe.  Town Center at Boca Raton also offers an array of dining choices in the Cafés at Boca, as well as True Food Kitchen, The Capital Grille, Grand Luxe Café and more. Town Center at Boca Raton, owned by Simon, is located at 6000 Glades Road. For more information, please call Town Center at Boca Raton (561) 368-6001 or follow us at www.facebook.com/TownCtrAtBoca and twitter.com/TownCtrAtBoca.
About Simon
Simon is a global leader in the ownership of premier shopping, dining, entertainment and mixed-use destinations and an S&P 100 company (Simon Property Group, NYSE: SPG). Our properties across North America, Europe and Asia provide community gathering places for millions of people every day and generate billions in annual sales. For more information, visit simon.com.