Hello Foodie Friends,
On occasion we do gourmet product reviews and today's post is on Wissotzky's Exotic Chai Teas. I was sent a variety box to try out which is what I did over the last couple of months. While I enjoyed them all, the Pumpkin Spiced Chai proved to be my favorite. Here's a little more about the teas. Please share with us what your favorite is and whether you tried it hot, cold with milk or other non dairy substitute.
WISSOTZKY'S EXOTIC CHAI TEAS QUENCH CONSUMERS' THIRST FOR INDULGENT HOT AND ICED BEVERAGES
New Varieties Bring Intriguing, Spicy Warmth to Cold Winter Days And Delicious Refreshment in Spring & Summer
Four intoxicating varieties are perfect to start off your day, for an afternoon pick me up or an after dinner treat.  Simply brew and serve with milk and sweetener as desired or serve them over ice for a flavorful iced beverage.
Salted Caramel Chai: a sweet and savory beverage redolent of warm cinnamon, ginger root, cloves, sea salt, and cardamom.
Ginger and Turmeric: the earthy flavor of turmeric (known for its health benefits) blended with ginger root, cinnamon, cloves, and cardamom.
Spiced Nana Mint: robust, flat-leaf Mediterranean mint complemented by cinnamon, ginger root, cloves, cardamom, and pepper.
Pumpkin Spiced Chai: a toasty balance of cinnamon and ginger with pumpkin pieces, cloves, cardamom, black pepper, and chili. Bayonne, NJ, JUNE 19, 2019– With today's exploding fascination with international cuisines, American palates are increasingly eager to experience bolder, spicier flavors. That's why more and more consumers are indulging in chai tea – a blend of aromatic herbs, spices and black tea that can be enjoyed, as Indian custom dictates, sweetened with milk or iced for a uniquely refreshing experience.
Wissotzky Tea Company is satisfying our mass demand for chai – and need for convenience – with its new Artisan Spiced Tea collection. Each blend artfully pairs hand-selected premium black tea leaves with market spices, herbs, and other natural ingredients.  Each carefully crafted blend is packed in a delicate pyramid tea bag that allows for the perfect release of aroma and flavor.
How to Make The Perfect Iced Tea
Hot-Brewed:
Bring 8 cups water to a simmer; remove from the heat and add 6 tea bags. … Let steep about 4 minutes, until it's the strength you like. Remove the tea bags. Let cool, then transfer to a pitcher, cover and refrigerate.
Cold-Brewed:
Combine 8 cups cold water and 10 tea bags in a pitcher. Cover and refrigerate 15 to 36 hours, until it's the strength you like. Remove the tea bags.
Serve in Tall Glass with Lemon wedge or a few berries for an extra kick of flavor.
Like all Wissotzky products, the Artisan Spiced Tea collection is OU kosher and non-GMO. It is available in packs of 6 per case (MSRP $4.99 per 16-serving box).
Wissotzky, Family owned and operated since 1849. Wissotzky travels the world's tea gardens and exotic spice markets to deliver exceptional blends for tea lovers everywhere.
Its products are distributed by KAYCO (www.kayco.com), the leading purveyor of kosher foods in the U.S.
Wissotzky Tea is an international, family-owned tea company based in Israel with offices in London and the United States. It is the leading tea distributor in Israel. Founded in 1849 in Moscow, Russia, it became the largest tea firm in the Russian Empire.
Until we drink again…
I send you delicious wishes, xo
Denise
Hello Foodie Friends,
Wanted to share my recent visit to NYC…
I stayed at the Club Quarters Hotel in Midtown Manhattan . View from the 27th floor, Happy Hour every day at 5pm, Dinner at the hotel's steak house, Davino's
On my next day, I took Sidewalk Tours' Lower East Side Food Tour visiting the ethnic side of town. Highlights of tour:  the potato knish at Yonah Schimmel K'Nishery was the best potato knish I ever had. Even Larry David loves him som Yonah Schimmel…
   Russ & Daughter's, celebrating 105 years in business. The place was packed. We couldn't even get in,
but our  tour guide went in and came back with a sample of their raspberry ruggalach
 (to be honest, the ruggalach at
Saquella Cafe
 in Royal Palm Place in Downtown Boca is better)…
                                      _______________________________________________________________
Katz's Deli, the best pastrami I have ever had.
This is also the location of 'Where Harry Met Sally' was filmed.
                                        ———————————————————————————————-
 Quick stop at Economy Candy Store, for a little nostalgia.
This shop has candy from many generations back. Roman Risotto Balls from Trapizzino
                                            ________________________________________________________
The Pickle Guys – a store fully dedicated to pickles
and everything pickled. Unique
                                     ___________________________________________________________
  Chelsea Market, a foodie's haven and one that should definitely not be missed on a visit to NYC.( unfortunately I only got a couple pics)
Walking the Highline, the above ground pedestrian walkway that goes for several blocks that used to be a working rail way….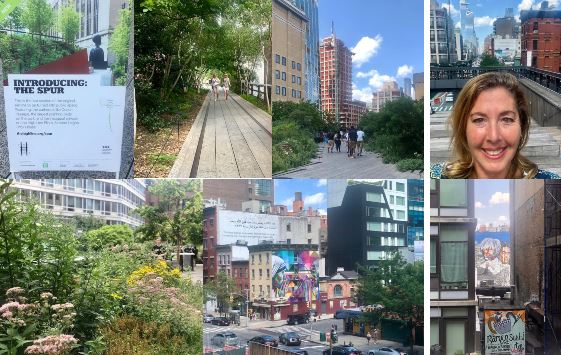 Mercado Little Spain
 – I exited the Highline at 
10th St.
 and stumbled upon this awesome
           market Mercado Little Spain. It was particularly exciting as I have an upcoming trip to Spain.
Pictured is an ice cream drizzled with Olive Oil and a sprinkle of sea salt. Yum!
                                             ________________________________________________________
The Vessel at The Hudson Yard;          A visit to Koreatown at Barn Joo 35         Eataly – This was the venue selected                      & 911 Memorial                               sampling their Bulgogi Hotstone Bowl        by our client ADP for a personal tour &                                                                                                                                                tasting of the market followed by a private                                                                                                                                             hands-on pasta making class
Iconic NYC Spots Times Square,                                      Rubirosa Ristorante in Little Italy.                        
Radio City Music Hall, Broadway                                  The pizza is half arugula and half vodka sauce.
                                                                                 This vodka sauce pizza was the best tasting pizza I ever had!
                                               Grand Central Station and Market 
On my walk to Central Park. (clocked in 19,500 steps on this day). Walked along famed 5th Avenue passing the high end stores of Sak's, Tiffany's & then St. Patrick's Cathedral
Central Park
Until we eat again…
   I send you delicious wishes, xo
Denise