On Saturday, July 13th in Sanborn Square Park, downtown Boca Raton, our very own Marti Soroka with her two beautiful daughters in tow, was one of a handpicked panel of judges to decide who will be the "Best Grill Master".
Twelve local chefs sweated it out both outside and, on the grill, to create and present a grilling masterpiece to the prestige table of Grill Master Judges in this Burger Battle Competition. But these chefs were not only competing to be the "Best Grill Master", they were also competing for the "People's Choice Award." Guests were indulged with unique burger creations and flavors, while jamming to live entertainment, enjoying craft beers, summer wines, and seasonal spirits.
Battle Contenders represented South Florida Cities from Jupiter to Fort Lauderdale, featuring grilling sensations from;
Boca Raton – M.E.A.T. Eatery & Taproom, Cheffrey Eats Food Truck, Burton's Grill & Bar, TooJay's Gourmet Deli, Crazy Uncle Mike's
Deerfield Beach – Tucker Duke's Lunchbox and their Boca location, Legends Tavern and Grille and their Lighthouse Point and Sunrise locations
Delray Beach – Bru's Room Sports Grill and their 8 other locations
Fort Lauderdale – Funky Buddha Brewery
Jupiter – Double Roads Tavern
Lake Worth – CWS Bar + Kitchen
West Palm Beach – La Perrada del Gordo and their location in Boca Raton
BOCA BURGER BATTLE WINNERS
JUDGE'S PICK for "Best Grill Master" went to:
· 1st Place: M.E.A.T. Eatery and Taproom in Boca Raton and Islamorada
· 2nd Place: La Perrada Del Gordo in Boca and West Palm Beach
· 3rd Place: C.W.S. Bar and Kitchen in Lake Worth
PEOPLE'S CHOICE AWARD for "Best Battle Burger" went to:
· Cheffrey Eats
Congratulations to all of the Boca Burger Battle Winners!
The Boca Burger Battle, A Grilling Affair!™ is not affiliated with any other Burger Battle in Florida. Other Affair productions include the Boca Raton Wine & Food Festival, A Culinary Affair! (taking place November 9th, 2019), Florida Wing & Dessert Battle, A Blazing Affair! and coming next year in February 2020 is the Taco Battle!
A Portion of the proceeds from the Boca Burger Battle benefit PROPEL, People Reaching Out to Provide Education and Leadership, a 501c3 Non-Profit Organization located in Boca Raton. PROPEL's mission is to promote education, character and leadership through mentorship, apprenticeship and life skills training for "at risk" youth.
*Battle Contenders also have other locations in Bird Road, Boynton Beach, Coconut Creek, Coral Springs, Pembroke Pines, Royal Palm Beach, Sunrise, Islamorada, Vero Beach, Stuart, Naples, Palm Beach Gardens, Wellington, Dania Beach, and Hallandale Beach
Hello my Dear Foodie Friends,
Today's post is about an amazing tropical oasis located in the Grandview Heights Historic Neighborhood of West Palm Beach. It's called the Grandview Gardens Bed & Breakfast and is owned and operated by Peter Emmerich and Rick Rose. (They also own and operate Palm Beach Vacation Rentals). Rick is a third generation Floridian born and raised in the Palm Beach area and is the official historian and tour guide for the Worth Avenue Association. I had the pleasure of meeting Rick a few years back while taking his tour.
Nestled in a tropical garden on Howard Park across from the West Palm Beach Armory Art Center, this historic 1925 property has been carefully restored to reflect the original Spanish Mediterranean architecture inspired by many famous architects in South Florida over the last century.
It's conveniently located within walking distance of Grandview Public Market as well as other great dining and entertainment destinations such as Rosemary Square (formerly known as City Place).
There are 5 luxurious and spacious suites (each approximately 400 sq. ft.) at the B & B and all are accessible with a private entrance and French doors opening to private terraces overlooking the swimming pool. Each guest suite is individually decorated to reflect the style of the Spanish Mediterranean house and features a king size bed or two queen beds, a desk, a walk-in closet and a sitting area with sofa and arm chair. All rooms feature: En suite bathroom with bath/shower combination, Air conditioning and ceiling fans, Cable TV and Radio, Direct dial telephone, High speed internet access, including wireless, Tea and fresh coffee making facilities, complimentary bottle of water, Refrigerator and Hairdryer. In addition to the B & B Suites, guests can also choose from 5 superbly renovated historic vacation rentals which are located adjacent to the Bed and Breakfast. These 2 and 3 bedroom vacation homes are ideal for families looking for spacious, fully furnished rentals with self catering kitchens.
I got to stay in the Royal Poinciana Suite. From the moment I arrived, I knew I was in for the royal treatment as I stepped through the doors and was warmly greeted by name and told they were expecting me.  I was shown around the lovely home and told about  breakfast in the morning before being escorted to my suite. The room was very well appointed with the finest of amenities listed above as well as nice bathrobes which came in handy. The service was definitely top notch. On my second day, I decided to take a dip in the very inviting pool and before I knew it, a float  "mysteriously" appeared beckoning me to hop on followed by a glass of ice water that one of the staff brought for me to enjoy when I got out of the pool. Talking about attentiveness- I left the room to attend a brief meeting at The Breakers in the morning and returned back to the room within one hour to find that the room had already been tended to. Wow, now that's service!
Breakfast is of course included at the Grandview Gardens B & B and I took advantage of it on both days. A nice assortment of fruits, yogurts and granola as well as eggs, bacon and toast along with choice of coffee, tea and juice were offered. Everything was delicious.
Bikes are available for guests to use during their stay, although I didn't take advantage of it this time. I just might have to do that on my next visit back. I did venture off to Darbster's for dinner on one of the nights I stayed. I've been to this place once before and remembered how unique it was and was looking forward to going back. It also has a tropical oasis vibe found in a most unusual location directly under a billboard under I-95. It's a Vegan restaurant, and although I do not lead a Vegan lifestyle, I am always down for good food and good creative food is what they specialize in at Darbster's. I absolutely adore their Palm Cakes. Other dishes I got to try were the "Tuna" Club served on flax bread, butter lettuce, tuna (pulled almond), dill mayo, eggplant bacon, avocado, tomato—served with a side house salad. I swear I couldn't tell I wasn't eating real tuna. It tasted so yummy! The flax bread was definitely a new taste/texture for me. Bread is a weakness of mine and since I began doing the Keto Diet a couple weeks ago, I am mindful of staying away from bread, so this flax bread was a cool alternative. I also got to sample the Barley Risotto which was made with barley, oyster mushrooms, shitake mushrooms, butter, garlic, cashew goat cheese, Arugula, cherry tomatoes, cashew Parmesan cheese. This dish was very tasty as well.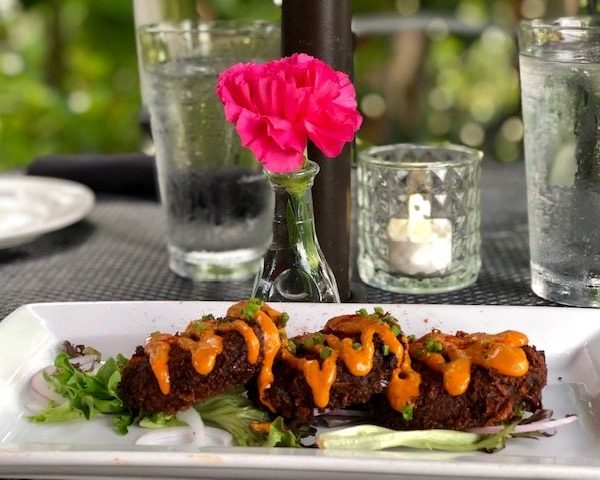 Contest: How would you like to win an autographed copy of Rick Rose's Palm Beach The Essential Guide To America's Legendary Resort Town? One lucky winner will be selected on Friday, August 30th. All you have to do for your chance to win is TAG @RickRoseWPB #GrandviewGardensBandB and @SavorOurCity #Staycation (Instagram) and tell us who you would bring with you on your Staycation at the Grandview Gardens B & B in West Palm Beach, FL and WHERE you are coming from. Good Luck!!!
To wrap this all up, I loved my little Staycation in West Palm Beach and would highly recommend you visit each of the places I mentioned here in my post. Just click on the links below for more info.
Grandview Gardens Bed & Breakfast
Until we eat again…
I send you delicious wishes, xo