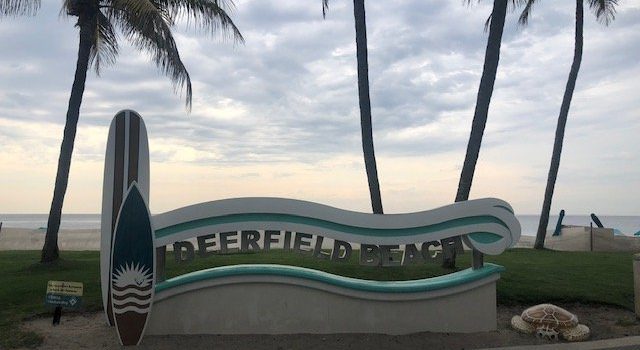 Hello Foodie Friends,
It's that time of the year again…you know, the one when kids are off from school, the days get longer and hotter, tourists go home cutting our commute times in half (SoFla) and local businesses start extending the best offers. Ah…Summer in South Florida!!!
Yours truly kicked off summer with my two new team members, Marti my personal assistant and Jennifer my marketing & branding specialist. Time for some company bonding and what better place to host a little staycation retreat than at the Wyndham Deerfield Beach Resort, who happens to be a new partner of Savor Our City's. (More on that later…)
After checking into the room, I met the girls at The Patio Bar & Grill for some happy hour drinks and lite bites. Lucky for us, when we checked in, we were given some complimentary drink coupons and once we used those up, drinks were still half-off making the already great wine at $6 a glass even tastier at $3 (SCORE!!!) 
Started off with a lovely glass of Sauvignon Blanc and peel & eat shrimp and the tuna tartar (ahi tuna, spicy mayo, BBQ teriyaki glaze, cucumbers, avocado, wonton, wakame slaw) ooooh so yummy! Here's a closer look at it…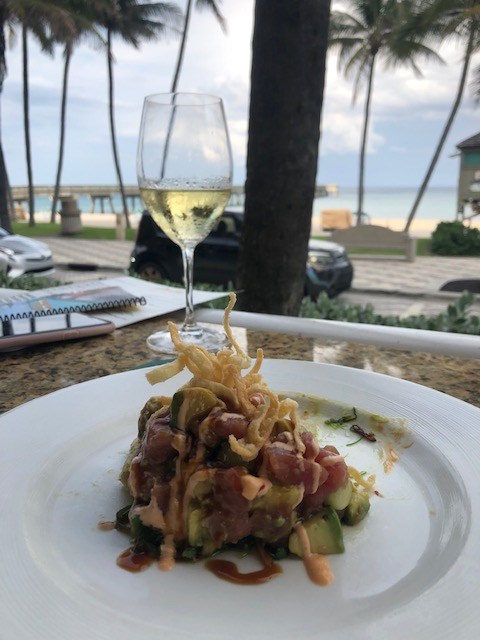 We continued to enjoy ourselves for 3 solid hours at which point we decided to take a stroll up the street to a place called Barracuda which Jennifer used to visit frequently and wanted us to check out. We had just enough room in our bellies to try another cocktail and a sample platter of assorted tapas. Our server was friendly and was happy to engage in conversation with us. I would definitely go back.
Get Your Eat On…
Patio Bar and Grill, a popular casual restaurant facing the beach and the ocean, features traditional American cuisine and has an extensive & impressive list of tropical drinks. Burger Craze restaurant features a nice bar, burgers, wings, and hot dogs. If you're in the mood for more upscale Italian cuisine, then Café Med restaurant, under the helm of Chef Lilo Teodosi, has got you covered. To round out the night, or on a nice hot summer afternoon, have an authentic Italian gelato at the very popular Vaniglia E Cioccolato Gelateria where there's something for everyone. Wanna sample them all? Well guess what?!?  You can do that on "A Taste of Wyndham Deerfield Beach" – a new food tour that started up about a month ago.  It is open to the public and tickets must be purchased in advance. It is offered every Thursday evening from 5:30pm – 8:30pm (unless otherwise stated) for $65pp. The price includes a full meal with food & alcohol tastings at all four activations within the Wyndham Deerfield Beach Resort with a local Savor Our City guide, a goodie bag with special offers from area businesses and from the restaurants sampled, a stroll along the International Fishing Pier, and gratuities.
Besides boasting three distinctive restaurants on its premises with entirely different menus and different cuisines and a gelateria, other amenities include a hot tub, a spa and an outdoor pool and bar, as well as a 24/7 fitness center and a business center.
Let me tell you about the room. I was given a room with floor to ceiling windows and man did I have a spectacular view. The room was very pleasant, modern and had an ocean like vibe. The Resort underwent a complete renovation in 2011. Not sure if you know this or not but the Wyndham Deerfield Beach Resort is independently (privately) owned. It was built by the Chase Family who have owned and operated it since its opening day.
Every room at the Wyndham Deerfield Beach Resort has floor-to-ceiling windows (either ocean view or city view), Wi-Fi and flat-screen TVs, as well as minifridges and coffeemakers. Suites have additional bedrooms and separate living areas as well. Some feature ocean views. Room service is available.
The Resort is a full-service hotel with 172 rooms, a ballroom, and meeting space, totaling about 4,500 square feet which can accommodate weddings up to 180 people and meetings up to 250 people.
The next morning was quite magical, awakening to this…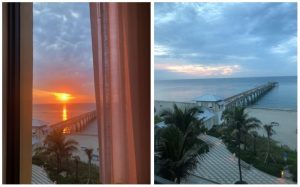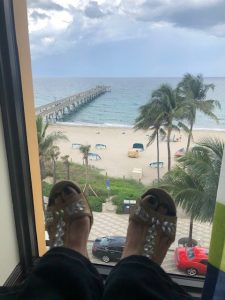 This beach front property is centrally located, halfway between Fort Lauderdale and West Palm Beach and are approximately 20 or 30 miles away from both airports.
Its location is just one aspect that sets the resort apart. The Resort is located directly across from a very quaint, pristine, safe, clean beach – one of the nicest ones in south Florida. There's a village-like atmosphere here; the height of the buildings is limited to 55 feet, so there are no tall buildings, skyscrapers, etc.  It looks like old Florida and reminds folks just how things used to be, yet with modern and clean buildings. There are shops, restaurants, entertainment, sporting activities, all within walking distance.
The Wyndham Deerfield Beach Resort is especially proud of its reviews, as they should be. They have received excellent reviews and are very proud to have been the number one hotel on Trip Advisor in Deerfield Beach for five consecutive years.
In 2016, they were voted Wyndham Property of the Year – the number one Wyndham hotel in the system. They also received the Best of Wyndham Award for their reviews, not just on Trip Advisor but compiled from data originating from a combination of all the reviews from all different sites.
To book a stay at The Wyndham Deerfield Beach Resort, click on this link to be taken to their website.
To book your Taste of Wyndham Deerfield Beach Food Tour, please visit Savor Our City's website.
Their address is: 2096 NE 2nd St, Deerfield Beach, FL 33441 and Phone: (954) 428-2850
Until we eat (and drink) again…
I send you delicious wishes, xo
Denise
Wine holds a significant role in many cultures around the world for its ability to bring people together and share in the experience. Over the years Savor Our City has partnered with Wine For Humanity (WFH), that provides private in-home Wine Sampling Events providing hosts and their guests, an afternoon or evening of fun and education on how to better appreciate fine wine. More importantly wines that are purchased from WFH raise funds for local charities that assist families who are struggling to make rent and utility payments.  In addition to learning, enjoying, sharing the experience and doing something good for your community, in a recently published book by Gordon Shepherd, a Yale neuroscientist, Neuroenology: How the Brain Creates the Taste of Wine, he argues argues that wine tasting actually stimulates your brain more than allegedly highfalutin activities like listening to music or even tackling a complicated math problem.  Additionally he points out that tasting wine "engages more of our brain than any other human behavior."
So if you are ready to engage your brain, taste some fabulous wines, and of course raise funds for your favorite charity, Contact Savor Our City to learn more about our Wine Tastings.
On Monday June 3rd, 2019, Savor Our City attended the Chianti Classico Experience in Miami at the Miami Culinary Institute sponsored by IEEM – International Event and Exhibition Management, LLC.  IEEM specializes in delivering high quality wine events and has become one of the most well-regarded Italian wine event organizers in the world.
With over 50 people in attendance, Jeff Porter lead a tasting on the diversity of the unique terroir of Chianti Classico.   To explore the terroir of the Chianti Classico, you need to understand the complete natural environment in which a particular wine is produced, including factors such as the soil, topography, and climate, and today we learned just that. As we were guided through 8 different wineries of the Chianti Classico, we learned that the terroir is a shield of clayey schists (marl), with layers of scaly clay, alberese and fine limestone sandstone.  The dark brown soil in this case tends to not be deep, with structures ranging from clayey-sand to stony with average clay content.  These different types of clay, sandstone, and soil all make up the type of grape that the region and wineries produce, each with its own unique and distinct taste.  The wineries presented included La Sala, Principe Corsini-Villa Le Corti, Lamole De Lamole, Carobbio, Conti Capponi – Villa Calcinaia, Bibbiano, Castello de Albola and Tolaini.  As we tasted each wine of Chianti Classico, winery principals explained the background of each vineyard, the complexity of the grapes, soil type, vine density and altitude in which the grapes were grown, providing more depth to the tasting experience.  Following the tasting attendees enjoyed a light lunch at Tuyo, located on the eighth floor of the Miami Culinary Institute providing a panoramic view of the city.  The lunch included ceviche crostini, pulled beef and grits, orzo salad and of course additional tastings of the wines presented and an opportunity to speak with their respective principal.  While a few wines caught the attention of Savor Our City to include the Carobbio and Conti Capponi – Villa Calcinaia, each wine had a taste for everyone to enjoy. There is nothing better than tasting wine, having a delightful lunch with panoramic views and meeting new people.  Chianti Classico well done!