Written by – Ashley Taylor
They say to find unknown treasures, you have to leave the beaten path. In Boca Raton, areas like Mizner Park and Royal Palm Place are downtrodden with first-time visitors to our sea-kissed town. Yet, it's a little spot just south of city central where you can find a foodie experience truly delectable and adventurous in Saiko-i Sushi Lounge & Hibachi.
Saiko-i (pronounced sigh-koi-ee) Sushi Lounge & Hibachi is the creation of husband and wife team, Jason Zheng & Tina Wang. A 7,000 sq.ft. – formerly home to the local favorite nightclub, Gatsby's – offers guests a selection of dining experiences. For casual affairs and networking events, sit in the outdoor courtyard or spacious bar. To be entertained, 11 hibachi tables wait to amuse, as well as an open exhibition sushi bar. But if an intimate dinner for two is on the menu, a romantic row of private booths amongst hand-selected artworks can accommodate.
I had the honor of experiencing Saiko-i with a number of other bloggers, writers, and foodies for the restaurant's media night. While familiar with the Zheng & Wang's first Boca restaurant, Yakitori Sake House, I wasn't aware of Saiko-i. I pulled into an unassuming shopping center on Military and SW 18th St. – shared with an Outback Steakhouse nonetheless – questioning whether or not I was in the right place. Yet, as soon as I walked in the doors, I was swept into another locale altogether.
Upon entering, I paid quick homage to a 10-foot tall Buddha before being whisked to my table. A rich color template and delicate tapestries with fine detail adorn the interior of the entire restaurant. No detail was left to chance.
The night began with Saiko-i's signature cocktail, the lychee martini. Made with fresh lychee juice, it was a martini perfect for those looking for a crisp drink with just a hint of sweetness. Also offered were Japanese beers and whiskeys alongside the usual American counterparts.
First order of the night delivered the salmon carpaccio. I smelled this dish before I even saw it, something I can't ever recall saying about a raw carpaccio. The truffle oil and fried garlic scents made my stomach rumble with anticipation. Saiko-i attains fresh sushi-grade fish daily, hailing from both Florida local fisheries and Japan alike. I make no exaggeration when I say the carpaccio melted on my tongue.
Next was the roasted duck wrap, a mix of tender duck and savory spices wrapped in a lightly-fried, crisp Singapore flatbread – perfectly offset by a mango sauce and balsamic glaze.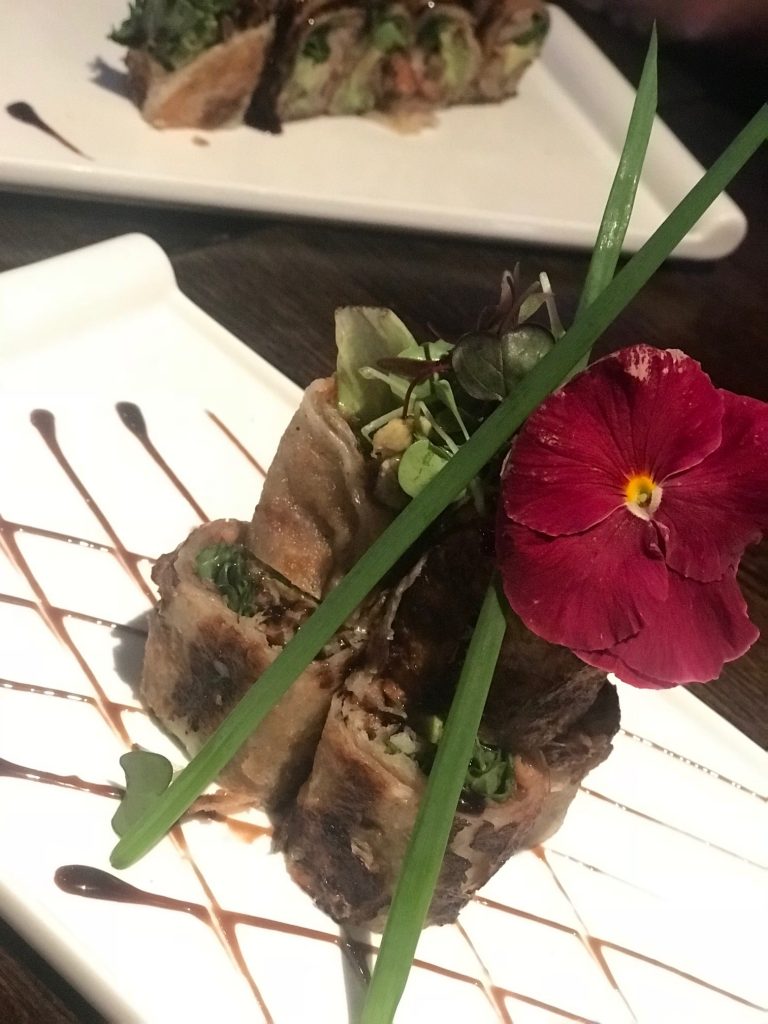 By the end of the duck, I had sipped through my lychee martini and mixed it up with a selection of Japanese whiskeys, settling on the Suntory 10 year and Hibiki 12 year. Rounds of appetizers kept appearing. Dumpling-ilke Spicy Tuna Gyoza, a crunchy UFO Roll and the refreshing fresh fish medley that is the Sexy Lady Roll.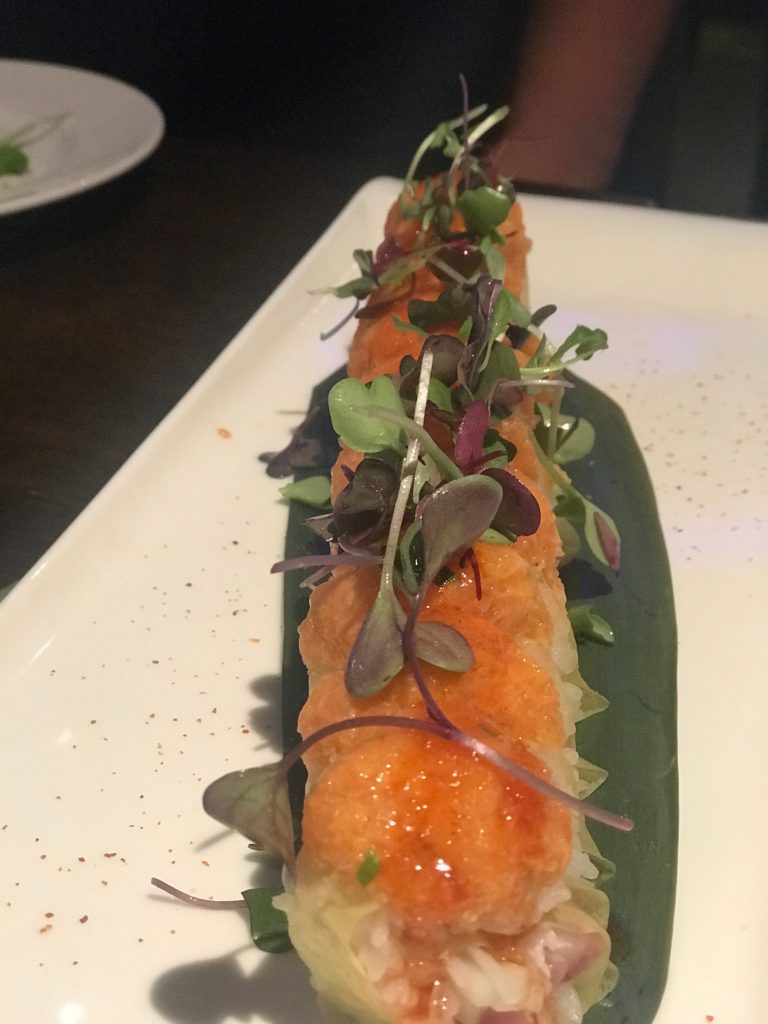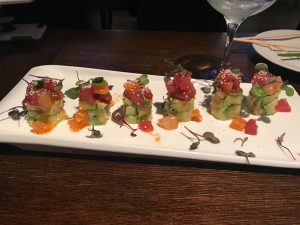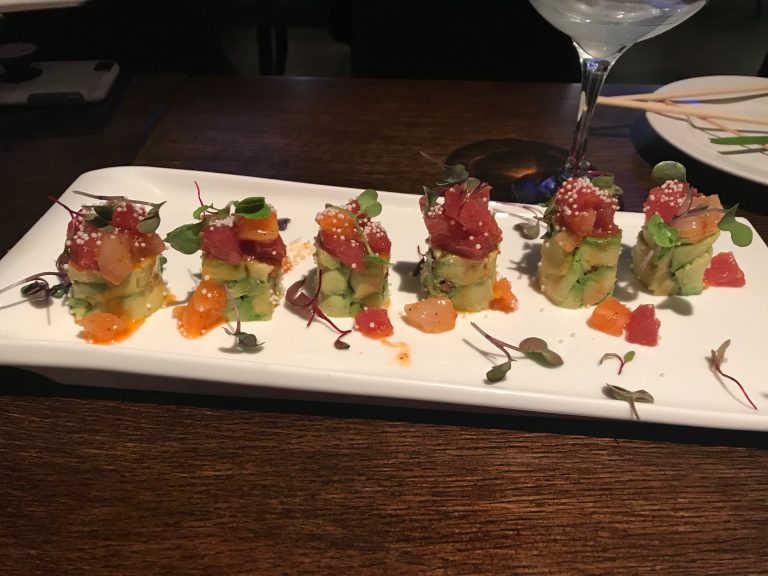 Being a fan of curries, I had to try Saiko-i's red curry with scallops for my main dish. I asked for a bit more kick and the chefs behind the scenes got it just right. The portion was easily enough for two and I was glad to have lunch for the next day.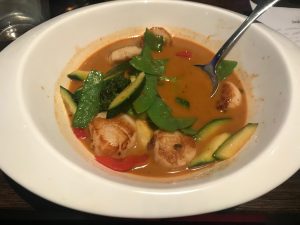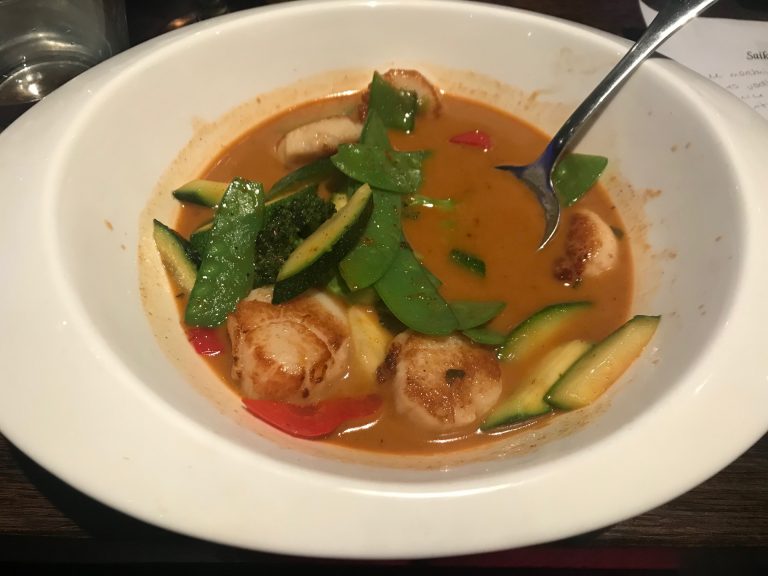 Despite being stuffed with the night's appetizing creations, the team at Saiko-i wasn't done with us yet. They had one more surprise. We had a birthday in the group and before we knew it a panda bear came to our table with a plate full of mochi – the perfect ending to an enchanting evening.
Saiko-i Sushi Lounge & Hibachi
5970 SW 18th Street, Suite E4
Boca Raton, FL 33433
www.saikoiboca.com
Reservations: 561-393-5888
Social Media:
Facebook.com/Saikoi
Instagram – @saikoiboca #saikoiboca
Written by Dawn Bryan
Recently, Savor Our City was invited to attend the opening of the new Cooper's Hawk Winery & Bar in Pembroke Pines, FL, a fantastic place to visit for any occasion. What a unique concept. Not only are their signature wine pairings reason enough to visit, but their culinary selections, all made in their scratch kitchen, are delivered to perfection to compliment one's wine pairing.  Each recommendation is made by their highly trained Chef and house staff along with a professionally trained management team.
Truly a unique culinary and wine tasting experience.
The Cooper's Hawk concept includes four different components: an upscale casual dining restaurant, full-service bar, private barrel-aging room, and Napa-style tasting room with a great adjoining retail store. All under one roof.
Upon arrival, we were directed to the large Napa-tasting room which was quite impressive. For a set fee or with the wine membership they offer, you can sample their latest reserved and private label wine selections. The tasting room is a great way to learn about the wines and you actually feel like you are in a true winery tasting room.
Then came the real fun part…sampling all of Cooper Hawk's favorites on the menu which included 9 courses, each selected with wine pairings all recommended by their head Sommelier, Emily Wines…She is amazing!
Whether you're an avid wine enthusiast or a novice, Cooper Hawk's has make it easy for their quests to select the perfect pairings; each food item is offered with a wine pairing suggestion labeled on the menu by bin number, as suggested by the winemaker.
My personal culinary favorites were the Candied Bacon & Artisan Cheeses, delicious award-winning Asian Pork Belly Tostadas, Fresh Pan Roasted Barramundi with Thai Lemongrass Sauce and my favorite of all….Short Rib Risotto with White Truffle Oil…OMG!!!  Just to die for… And then of course to top it all off, the Cooper Hawk's Chocolate Cake.
Their menu is extensive, so more reasons to go back time after time to experience it all. They also offer a Life Balance menu as well as a Gluten Free menu.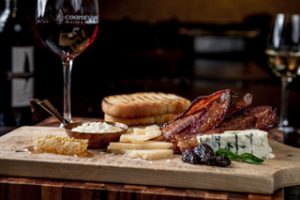 At the end of this memorable dining experience, along with making new friends over sensational food and wine pairings, I had left feeling VERY content and probably a few pounds heavier as well… It was so worth it.
I highly recommend Cooper's Hawk Restaurant & Bar Pembroke Pines any time and for any occasion.
Cooper's Hawk Pembroke Pines
10310 Pines Boulevard
Pembroke Pines, Fl 33026
954-582-9463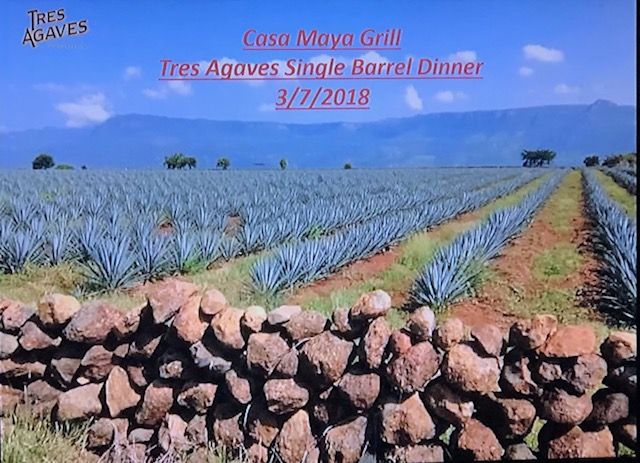 Hello Foodie Friends,
Sorry it's been a while since I've posted anything new; goes with the territory I suppose of running a growing business. While attending The Junior League of Boca Raton's annual Flavor's event in February, I met Emilio Jr of Casa Maya in Deerfield Beach (whose slider was probably one of the best bites I experienced that night) and we got to talking about this Tequila Club dinner that he had coming up which I had not known was a monthly thing they had going on. (Did you?) Anyways, he invited me to be his guest at this one and boy did this exceed any expectations that I may have come in with. They had the event set up in this back area of the restaurant (which is great to know if you're looking for a venue to do private events).
The tequila came from the Trequero Family parent company of Tres Agaves. A very knowledgeable representative from the company delivered a very informative presentation while guests enjoyed the pairings prepared by the kitchen.
Below are some highlights from the slideshow:
* Tequila, Mexico's national spirit, is distilled from the blue agave plant
* There are approximately 200 different varieties of agave that dot the Mexican landscape
* Tequila can only be called "tequila" if it comes from Jalisco (& the 3 cities found within) -the spirit of origin, similar
* At Tres Agaves all Agaves are estate grown
* Tres Agaves uses a proprietary yeast that has been cultivated from the same fields in which the agaves are grown
* A combination of stainless steel and concrete fermentation tanks are used
* Done only in shallow tanks that allow for much more robust yeast activity during fermentation
* Agave plants take 7 yrs on average to be ready for harvest. They harvest 8.5 yrs (late harvest) for sweeter yield
* Tequila categories: Joven "Young", Blanco/Silver/Plata (unaged and clear in color), Reposado "rested" aged from 2 – 12 months, Añejo "aged", aged 12 months to 3 years, Extra Añejo – aged a minimum of 3 years in barrels
* One plant can weigh 80-100lbs produce 10-15 bottles
* The distillery process – First phase of turning wheat & corn into sweet liquid is essentially a "distillers beer"
Our tastings tonite were served in a progression of aging from Blanco, Reposado, Añejo
Mango Basil Margarita
Jicama tostada topped w/octopus ceviche paired with Blanco Tres Agaves tequila
Tres Agaves Blanco is a pure expression of the distiller's craft at the highest level; capturing the favors of slowly-cooked, fully-mature agave. Compared with other Blancos, it has remarkable depth and smoothness.
Mexican deviled eggs Paired with Reposado
Tres Agave Reposado is a cuvée blend; the Master Distiller uses only American white oak bourbon barrels and ages between 6-9 months to get the desired flavor – rich agave with a subtle smoke.
Duck taco on handmade baked corn tortilla with molé & poblano sopé (sauce) – spicy, fruity paired with Añejo
Tres Agaves Anejo is aged in fine oak barrels for eighteen months, imparting a deep natural color and robust, full flavor. Retains its essential agave flavors while embracing the oak influences.
Emilio Sr's mole is made with 78 ingredients. He travels to Mexico every 6 weeks to get the ingredients
Casa Maya's Single barrel tequila paired with 75% Ecuadorian chocolate
The tequila was awesome and so were the pairings. If you've never been to a tequila dinner, well here's your chance. Visit Casa Maya in person or on the web and sign up to be on their mailing list and you will be notified when the next one is. It's a great value and a ton o' fun!
Casa Maya Grill 301 SE 15th Ter, Deerfield Beach, Florida 33441 (954) 570-6101
They are open Mon – Fri 11:30am – 10pm; Sat – Sun 12pm – 10pm
Until we eat (and drink) again…
I send you delicious wishes, xo
Denise