Hello Foodie Friends,
Summer's here and we all know what that means…time to get the grill ignited! But maybe it's just too darn hot to stand before the open flames or you just don't feel like cooking. Not to worry BRIO Tuscan Grille has got your back. BRIO's South Florida locations have launched a three-course "Art of Grilling" summer menu available from June 1st – June 30th, Sunday – Thursday at 4pm, for just $26.95, including a choice of salad, grilled entrée with Chef- inspired toppings and a Dolchino dessert.  In addition, BRIO is concurrently running Facebook & Instagram contests (now through June 30th).
"The Thrill Of The Grille" contest on Facebook: BRIO fans who post their favorite grilling recipe or dish will be entered in a chance to win a chef-inspired "Gather & Grille Dinner Party for 8" at their favorite BRIO location.  To enter, guests must visit the official BRIO Facebook page: www.facebook.com/brioitalian.
In addition, BRIO will is hosting an INSTA-GRILLE GIVEAWAY contest on Instagram.  To enter, guests will share their favorite photo of a dish they have prepared and grilled: www.instagram.com/briotuscangrille.  The winner will receive a box of premium cut filets and strip steaks along with a new grill.
So I was very excited to receive an invite to check out the three-course "Art of Grilling" menu at the Boca BRIO so that I could share this wonderful deal with you all. Shortly after being shown to our table, the GM Sheri Williams came by to say hello. Sheri was fairly new to this location but not to BRIO and she certainly had a warmth and demeanor about her that made you feel like you were talking with an old friend. She was excited to share with us this wine that she recently discovered and was certain that we would enjoy it, so of course we accepted, who am I to turn down a sample of wine?!?  I mean I didn't want to appear to be rude or anything… lol 😉 The wine was called Dreaming Tree Everyday White Blend. It was very crisp with a predominate taste of green apples on the palate. It was light and fruity and very pleasant. We enjoyed that with the basket of crisps that were brought to the table. I don't know what it is about these things, but they are addicting.
For our first course, we had a choice of salads: BRIO Chopped Salad, with chopped greens, tomatoes, black olives, red onion, cucumber, Feta and red wine vinaigrette; Caesar Salad with Brioche croutons, or Bistecca Insalata, a lettuce wedge with Gorgonzola, bacon, tomatoes and creamy Parmesan dressing.  I decided that I was interested in trying out the BRIO Chopped Salad, but instead of the red wine vinaigrette, I asked our server if it would be ok to substitute it for the creamy Parmesan dressing. I also had my eyes on the Brioche croutons that were offered on the Caesar Salad. Our server said no problem and I thanked her for accommodating my requests. My companion chose the lettuce wedge, and enjoyed it just as is!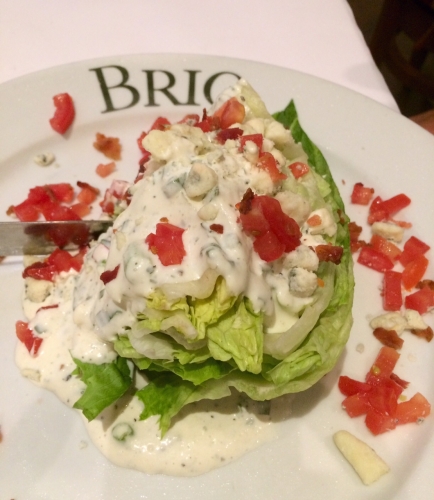 We had several mouthwatering main course selections to choose from including: Artichoke & Boursin Crusted Pork Chop with roasted vegetables and mashed potatoes, which pairs beautifully with Sketchbook Pinot Noir; Grilled Beef Medallions and Black Pepper Shrimp with roasted vegetables and mashed potatoes, recommend to pair with the exquisite Sketchbook Cabernet Sauvignon; or Crab & Shrimp Crusted Salmon with roasted vegetables, farro, quinoa and lemon vinaigrette, which is an excellent choice to pair with Paul Dolan Sauvignon Blanc.
I selected the Artichoke & Boursin Crusted Pork Chop. The artichoke & boursin crust was okay, in my opinion, but it didn't quite hold up to my expectations. The star was definitely the grilled pork chop. It was a beautiful piece of meat, with lovely char marks and seasoned and cooked to perfection. My companion had the Grilled Beef Medallions and Black Pepper Shrimp. The beef was seasoned and cooked to perfection and the sauce complimented the dish very nicely. Both entrées had lovely seasonal veggies and the portions were generous.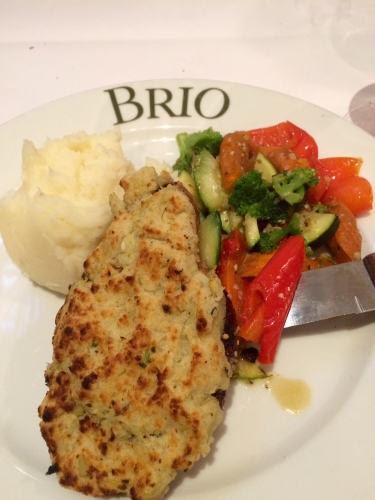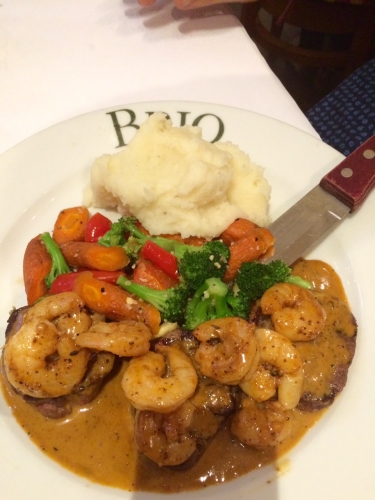 For a sweet end to this scrumptious three-course meal, guests can choose one of three Dolchinos (petite favorites): Caramel Mascarpone Cheesecake, featuring anglaise sauce and vanilla whipped cream; Crème Brulee, with vanilla bean and caramelized sugar; or a seasonal selection, offering the finest and freshest ingredients of the season.  We chose the Caramel Mascarpone Cheesecake and the Crème Brulee. Both were FANTASTIC!!!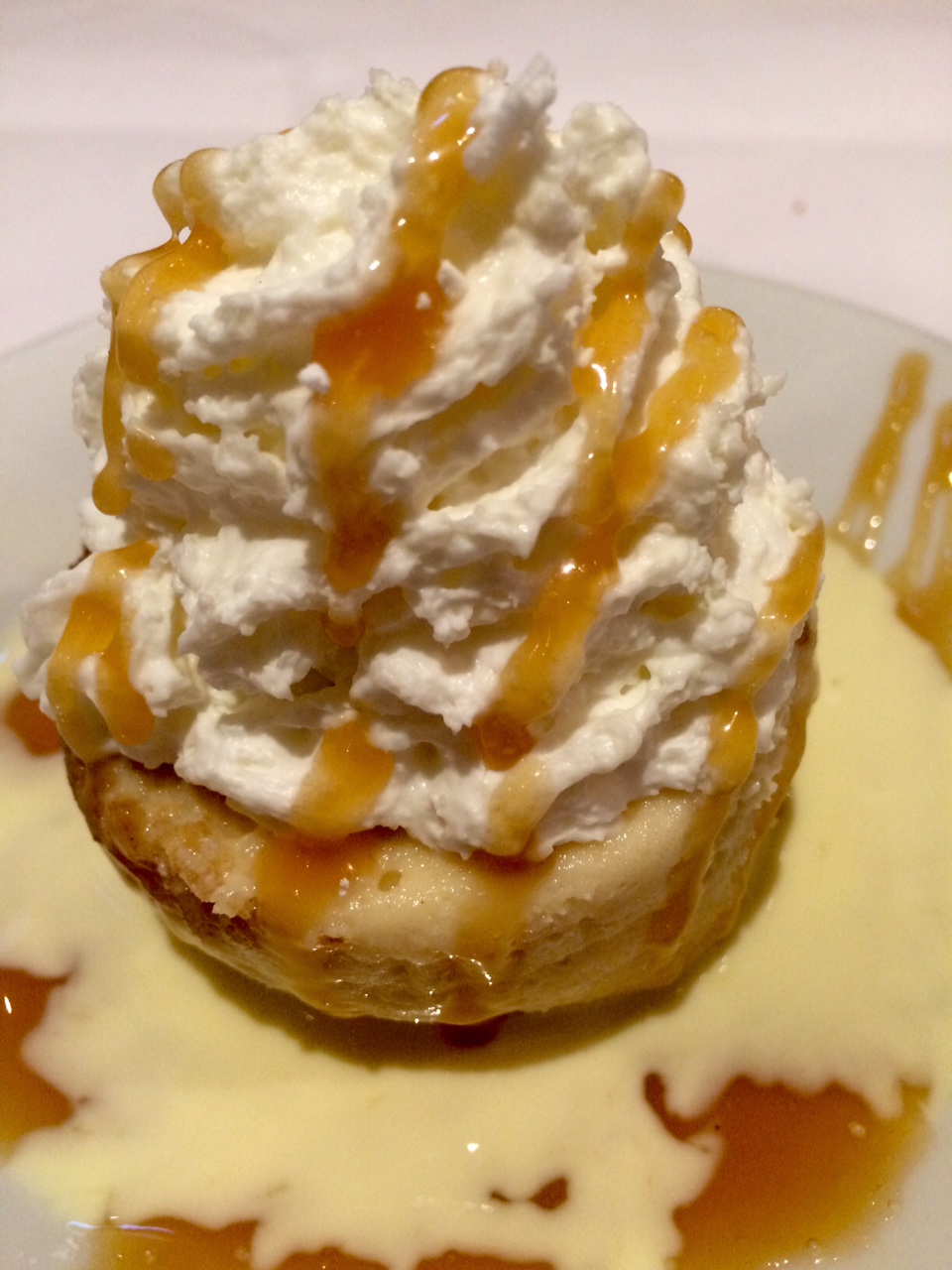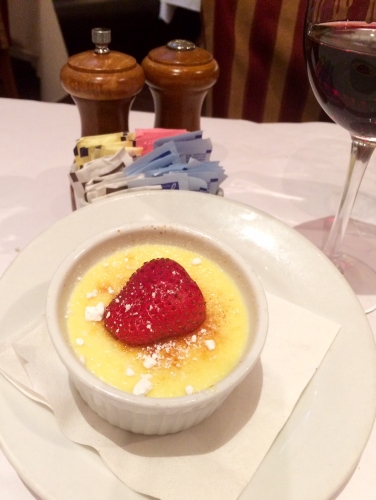 I was thrilled when Chef Brian came over to our table to say hi and pose for a picture with me. The menu was well thought out and really highlighted what the summer grilling season has to offer, with the freshest of ingredients. Kudos to BRIO for bringing this great value to us here in Florida.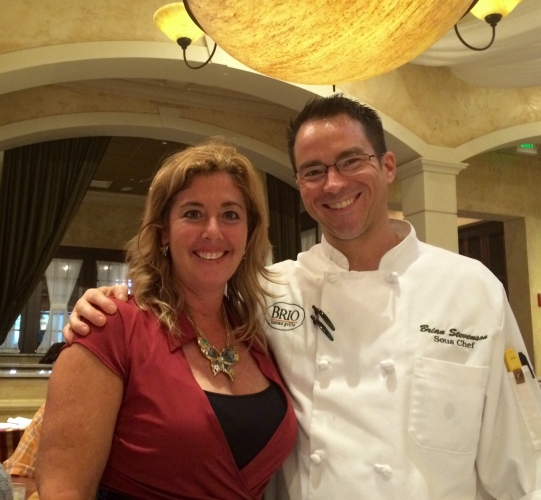 Following the meal, GM Sheri offered to take me around to show me their private dining spaces. The Chef's Table seats 22 guests; The Gallery can hold up to 55 and has A/V capabilities and the Atrium can hold up to 30 guests, also with A/V capabilities. Two out of the three rooms were currently being utilized on this night.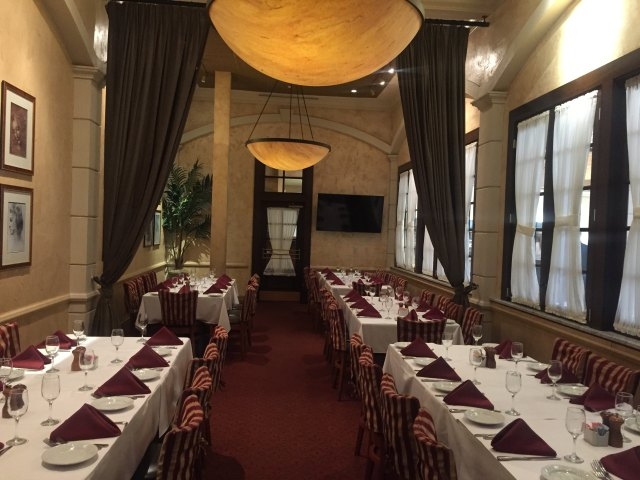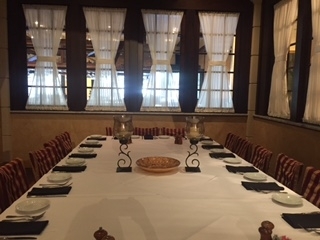 Also at www.BrioItalian.com/theartofgrilling  from June 1–30, guests will have the opportunity to bring some of BRIO's grilling mastery into their own kitchen with various recipes, including a red wine reduction with Sketchbook Pinot Noir – great for topping or marinating steak.
"We take great pride in our grilling expertise, preparing the highest quality beef, pork and seafood is an art form. When combined with freshest ingredients we create timeless, chef-inspired Tuscan cuisine" said Alison Peters, Executive Culinary Director of BRIO Tuscan Grille.
BRIO locations in South Florida are at The Falls in Miami, The Village at Gulfstream Park in Hallandale Beach, The Shops at Pembroke Gardens in Pembroke Pines, Westfield Broward Mall in Plantation, The Shops at Boca Center in Boca Raton, CityPlace in West Palm Beach, and The Gardens Mall in Palm Beach Gardens.
Reservations at BRIO can be made online by visiting www.BrioItalian.com. For a list of locations, please visit www.BrioItalian.com.
Until we eat again…
I send you delicious wishes, xo
Denise