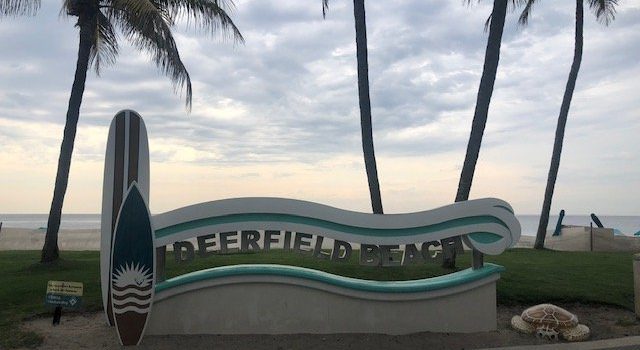 Hello Foodie Friends,
It's that time of the year again…you know, the one when kids are off from school, the days get longer and hotter, tourists go home cutting our commute times in half (SoFla) and local businesses start extending the best offers. Ah…Summer in South Florida!!!
Yours truly kicked off summer with my two new team members, Marti my personal assistant and Jennifer my marketing & branding specialist. Time for some company bonding and what better place to host a little staycation retreat than at the Wyndham Deerfield Beach Resort, who happens to be a new partner of Savor Our City's. (More on that later…)
After checking into the room, I met the girls at The Patio Bar & Grill for some happy hour drinks and lite bites. Lucky for us, when we checked in, we were given some complimentary drink coupons and once we used those up, drinks were still half-off making the already great wine at $6 a glass even tastier at $3 (SCORE!!!) 
Started off with a lovely glass of Sauvignon Blanc and peel & eat shrimp and the tuna tartar (ahi tuna, spicy mayo, BBQ teriyaki glaze, cucumbers, avocado, wonton, wakame slaw) ooooh so yummy! Here's a closer look at it…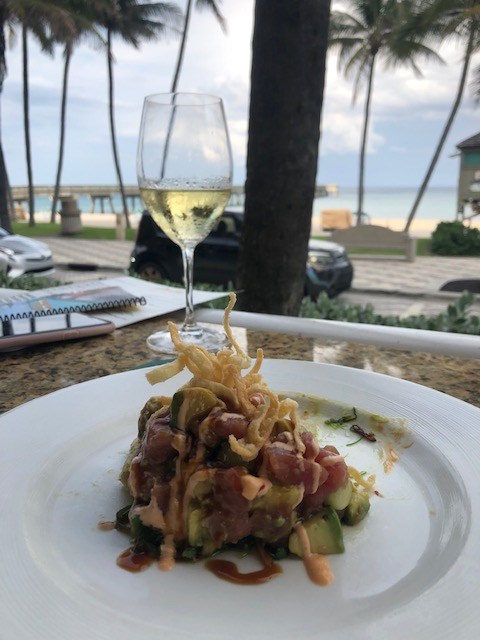 We continued to enjoy ourselves for 3 solid hours at which point we decided to take a stroll up the street to a place called Barracuda which Jennifer used to visit frequently and wanted us to check out. We had just enough room in our bellies to try another cocktail and a sample platter of assorted tapas. Our server was friendly and was happy to engage in conversation with us. I would definitely go back.
Get Your Eat On…
Patio Bar and Grill, a popular casual restaurant facing the beach and the ocean, features traditional American cuisine and has an extensive & impressive list of tropical drinks. Burger Craze restaurant features a nice bar, burgers, wings, and hot dogs. If you're in the mood for more upscale Italian cuisine, then Café Med restaurant, under the helm of Chef Lilo Teodosi, has got you covered. To round out the night, or on a nice hot summer afternoon, have an authentic Italian gelato at the very popular Vaniglia E Cioccolato Gelateria where there's something for everyone. Wanna sample them all? Well guess what?!?  You can do that on "A Taste of Wyndham Deerfield Beach" – a new food tour that started up about a month ago.  It is open to the public and tickets must be purchased in advance. It is offered every Thursday evening from 5:30pm – 8:30pm (unless otherwise stated) for $65pp. The price includes a full meal with food & alcohol tastings at all four activations within the Wyndham Deerfield Beach Resort with a local Savor Our City guide, a goodie bag with special offers from area businesses and from the restaurants sampled, a stroll along the International Fishing Pier, and gratuities.
Besides boasting three distinctive restaurants on its premises with entirely different menus and different cuisines and a gelateria, other amenities include a hot tub, a spa and an outdoor pool and bar, as well as a 24/7 fitness center and a business center.
Let me tell you about the room. I was given a room with floor to ceiling windows and man did I have a spectacular view. The room was very pleasant, modern and had an ocean like vibe. The Resort underwent a complete renovation in 2011. Not sure if you know this or not but the Wyndham Deerfield Beach Resort is independently (privately) owned. It was built by the Chase Family who have owned and operated it since its opening day.
Every room at the Wyndham Deerfield Beach Resort has floor-to-ceiling windows (either ocean view or city view), Wi-Fi and flat-screen TVs, as well as minifridges and coffeemakers. Suites have additional bedrooms and separate living areas as well. Some feature ocean views. Room service is available.
The Resort is a full-service hotel with 172 rooms, a ballroom, and meeting space, totaling about 4,500 square feet which can accommodate weddings up to 180 people and meetings up to 250 people.
The next morning was quite magical, awakening to this…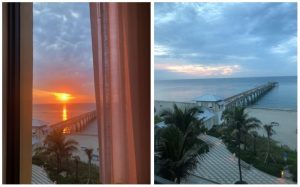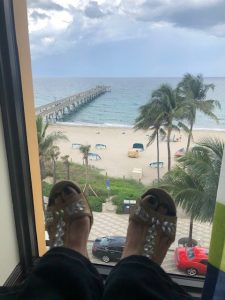 This beach front property is centrally located, halfway between Fort Lauderdale and West Palm Beach and are approximately 20 or 30 miles away from both airports.
Its location is just one aspect that sets the resort apart. The Resort is located directly across from a very quaint, pristine, safe, clean beach – one of the nicest ones in south Florida. There's a village-like atmosphere here; the height of the buildings is limited to 55 feet, so there are no tall buildings, skyscrapers, etc.  It looks like old Florida and reminds folks just how things used to be, yet with modern and clean buildings. There are shops, restaurants, entertainment, sporting activities, all within walking distance.
The Wyndham Deerfield Beach Resort is especially proud of its reviews, as they should be. They have received excellent reviews and are very proud to have been the number one hotel on Trip Advisor in Deerfield Beach for five consecutive years.
In 2016, they were voted Wyndham Property of the Year – the number one Wyndham hotel in the system. They also received the Best of Wyndham Award for their reviews, not just on Trip Advisor but compiled from data originating from a combination of all the reviews from all different sites.
To book a stay at The Wyndham Deerfield Beach Resort, click on this link to be taken to their website.
To book your Taste of Wyndham Deerfield Beach Food Tour, please visit Savor Our City's website.
Their address is: 2096 NE 2nd St, Deerfield Beach, FL 33441 and Phone: (954) 428-2850
Until we eat (and drink) again…
I send you delicious wishes, xo
Denise
Hello Foodie Friends,
Today's post is a two-for, featuring both a wonderful new hostel/boutique hotel and restaurant we were introduced to right in the heart of South Beach. Founded in 2011, Generator, a London-based brand known for their trendy design-forward European Hostels that feel more like boutique hotels, has just opened its first US location in Miami Beach this past August on famed Collins Ave, just one block from the beach. Generator, remodelled from a 1940's condo building, offers 300 beds in 105 rooms. One of the unique things about this hostel is that in addition to the traditional shared rooms (which start at $20 per bed per night), is the addition of private rooms that start at just $95/night. Generator is not the hostel you might have stayed at while travelling around Europe (probably in your early twenties). They have pulled out all the stops to create a sense of community, incorporating such amenities as an inviting pool, 2 on-site restaurants, beautifully designed shared and private rooms and several really unique common spaces for guests to interact with one another or just take in the serene environment that's been created for the solo traveler to enjoy on their own – not to mention the awesome location, right in the heart of South Beach. Several activities are being offered at Generator including yoga, mixology demonstrations, movies, a pool table, DJs and more planned.
I was invited by Desirey, the Event Sales Manager and my lovely host for the afternoon who arranged a tour of the hostel/hotel and a lovely lunch for us at Driftway, one of the two restaurants found on the property. As we made our way past the pool heading towards Driftway, I couldn't help but notice this amazing mural painted on the side of the building. It had been painted by South African artist Chris Aurett. The food & beverage operations are being overseen by Gui Jaroschy, whose impressive resume includes opening the Broken Shaker in Miami Beach as well as several other locations in Chicago, Los Angeles and New York; managing the Anderson in Miami's Upper Eastside; and consulting on cocktail menus for Ricochet Lounge, Drunken Dragon and British Airways.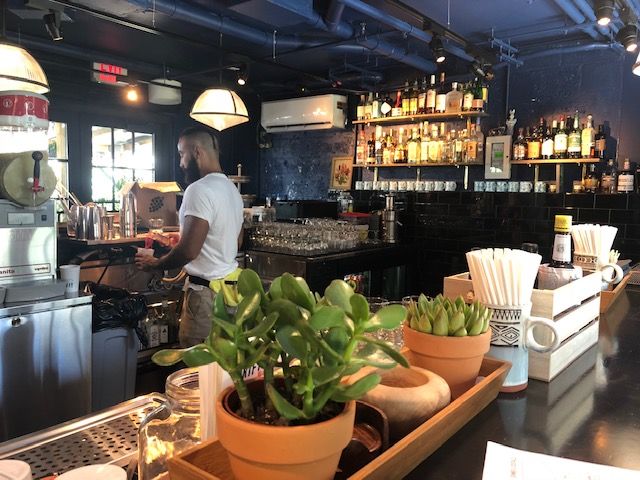 Alex, our Driftway guy let me sample all four of their frozen drinks; the Suze and Coke, OMFG Margarita, Bird of Paradise and the Friesling. I enjoyed them all, but my favorite was the Bird of Paradise which was made with Beefeater Dry Gin, Chinola Passionfruit Liqueur, Martini Bitter and J Wray Rum, allspice and cubeb pepper.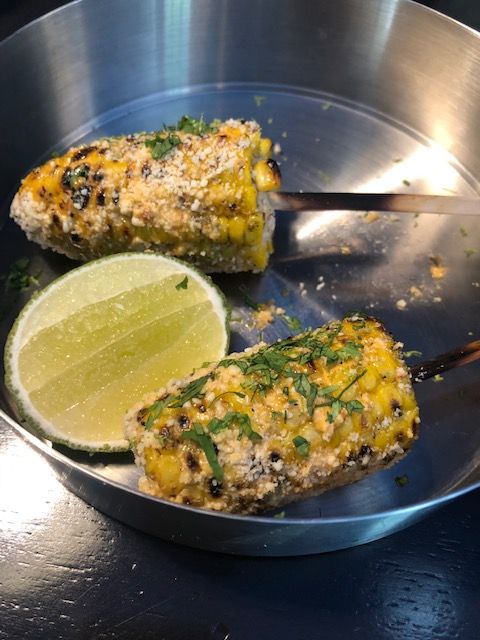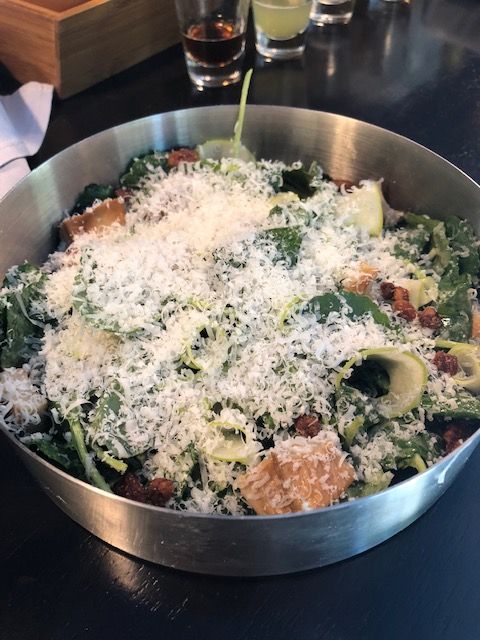 The food and frozen drinks were amazing, as was the ambience and the company. I am looking forward to planning my next Staycation right there at my new favorite place on South Beach.
If you are planning a trip to Miami Beach and are looking for things to do in the area, you might want to consider booking a Savor Our City tour. Private tours are offered for a minimum of 2 guests and groups of up to 50 people. Choose from South Beach, Wynwood, Little Havana, Miami Springs, Doral and Brickell. For more info on tours, contact Savor Our City.
Generator Miami is located at 3120 Collins Ave. Miami Beach 786 496 5730
Until we eat (and drink) again…
I send you delicious wishes, xo
Denise
Hello Foodie Friends,
I am excited to share with you part one of a two-part series on my experience at the Marriott on Singer Island. I had been invited by the property's PR firm for quite some time now to come experience a meal at their signature restaurant, 3800 Ocean and I finally was able to make that happen. Let me tell you, it is well worth the 45-minute drive it took us from South East Boca. Speaking for myself and I'm guessing that many of you might fall into this category as well, when it comes to deciding on where to dine, hotel restaurants may not be on the forefront of your mind with the multitude of choices that abound. Well, I'm here to set the record straight and possibly get you to rethink this notion forever more. 3800 Ocean at the Marriott Singer Island is as good as it gets and shouldn't just be enjoyed by visiting guests, but by us local foodies as well.
The Marriott Singer Island has several dining experiences available:
3800 Ocean: Ocean views share the spotlight with South Florida's abundant harvest at the resort's signature restaurant. The 3800 Ocean menu reflects a "collective kitchen" inspired by the cultural backgrounds of each of its chefs – from New England and Long Island to Mexico and Jamaica – who bring their own personal influences to a rich bounty of local seafood and produce. Complementing the menu is an extensive wine list. Elegant interiors and an expansive covered patio give guests a choice of dining environments. Open for breakfast, lunch and dinner.
Kitchen Table: This one-of-a-kind experience, for groups of no more than five, takes diners with adventurous palates into the 3800 Ocean kitchen for a five-course menu created on the spot by the executive chef. The dinner typically spans three hours and is priced at $69 per person, with cocktail and wine pairings on request. Available Thursday through Saturday evenings; reservations required a minimum 24 hours in advance.
3800 Ocean Lounge: An inviting gathering spot for guests and locals, the lounge serves a casual lunch menu daily, exotic cocktails and bar fare every evening, and happy hour Monday through Friday.
Reef Tiki Bar: A casual menu of Pacific Rim cuisine is offered on the beach, complemented by cocktails handmade with fresh juices. The resort's signature Coconut Island Breeze is served here in a fresh cracked coconut and is a popular choice at the bar's Bubbles on the Beach happy hour. Open for lunch and happy hour daily.
Lagoon Cantina: Fresh-made margaritas, Mexican specialties and grilled fare are the draw at this poolside, Caribbean-style cantina. Open for lunch to resort guests and spa members/guests only.
Ocean Breeze Café: Starbucks drinks, pastries, salads and wraps are served to guests seeking a quick bite on the go.
In case you're not familiar with Singer Island, it's a peninsula (barrier island) on the Atlantic coast of Palm Beach County, Florida, in the South Florida metropolitan area. Most of it is in the city of Riviera Beach, but the town of Palm Beach Shores occupies its southern tip. The Marriott Singer Island Beach Resort & Spa is Palm Beach County's only all-suite beachfront hotel, with the Atlantic Ocean on one side and the Intracoastal Waterway on the other, it offers a wealth of opportunities for adventures on land and sea.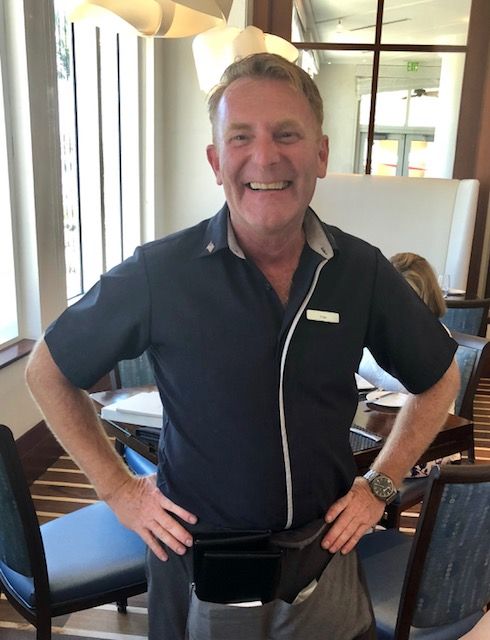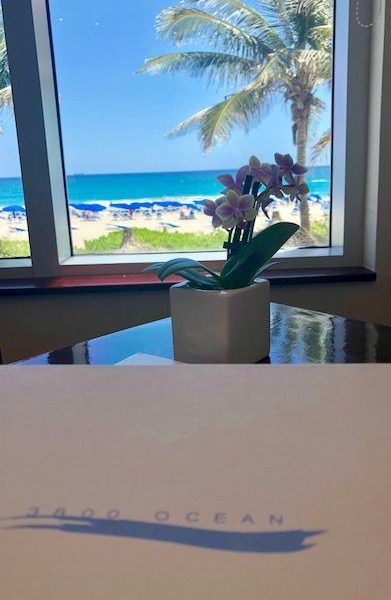 3800 Ocean has a VERY extensive & impressive wine list along with a whole lot of hand crafted cocktails and bourbons to choose from. For starters, we tried the seafood ceviche and the tostones rellenos. Both were superb dishes. I could have stopped right there (along with the glass of New Zealand Sauv Blanc) and had been a happy camper, but wait…there's more…
Even though I was already quite stuffed, I just had to make room for what has to be one of the most creative desserts I have ever had. The S'mores pot de creme. Take a look at this beauty! House Made Marshmallow, Graham Shortbread, Chocolate Pot De Crème, Biscoff Malto (OMG, Yum!!!)
After lunch, we were given a tour of the property which we really appreciated. The grounds are gorgeous and although non hotel guests are invited to dine at 3800 Ocean, you must be staying at the property in order to access these other areas:
Later this summer I will be coming back to stay overnight in order to fully immerse myself into all the amenities that this lovely beachfront property has to offer. Stay tuned for part two of this feature highlighting this hot staycation destination.
Until we eat again…
I send you delicious wishes, xo
Denise