Hello Foodie Friends,
I was recently invited to dine at Tanzy's, located inside the iPic Theaters in Mizner Park, to check out their new weekend brunch offerings. I've enjoyed a meal or two at Tanzy's before but this was my first time experiencing their brunch. It was a Saturday (and who doesn't like the idea of a leisurely Saturday brunch catching up with good friends?!?) and I was totally stoked to be able to bring my girlfriend who I hadn't seen in a super long time to join me for this brunch tasting. With so many wonderful dining choices available in Mizner Park, you might forget that Tanzy is there unless of course, you are going inside the iPic Theaters to catch a movie. While Tanzy is a great dining option for your pre or post-movie experience, I am here to set the record straight that Tanzy should be on the top of your list for a wonderful meal to be enjoyed whether your plans include a movie or not. Case in point: the epic weekend brunch, happy hour bar bites, lunch and of course, dinner.
Tanzy's artisanal Italian cuisine focuses on garden-fresh modern Italian flavors in an elegant, yet relaxed social environment where friends, family and colleagues can gather to enjoy good conversation, good food & creative cocktails. Tanzy's new menu features fresh new classics alongside time-tested favorites by award-winning Chef and Chief Operating Officer of iPic Entertainment. Diners will delight in inspiring flavors where seasonal ingredients are the star in every dish, artfully prepared by melding contemporary techniques with classic Italian influences; the resulting flavor profiles are modern and unique. Master Bartender and Advanced Sommelier Adam Seger crafts an unparalleled beverage program with local beers, an expertly curated wine list and stunning farm-to-glass handcrafted cocktails.
We started off with a Bloody Mary and a Peach Bellini. Then our server Julia surprised us with this beauty. An Italian Ice Mimosa made with liquid nitrogen. Check out the baby spoon that came with it, so cute! Can you say "Wow" factor?!?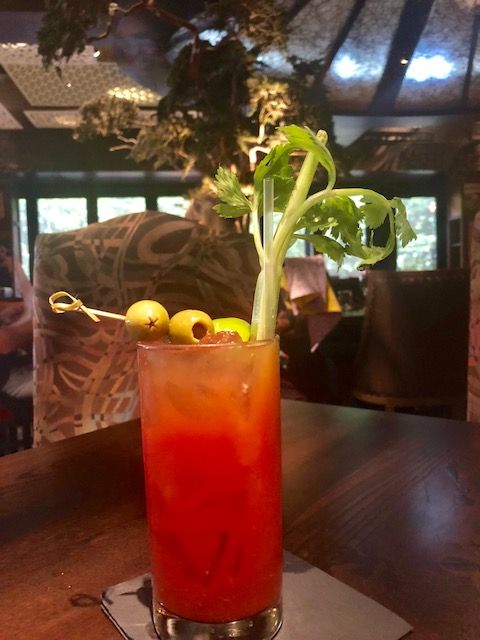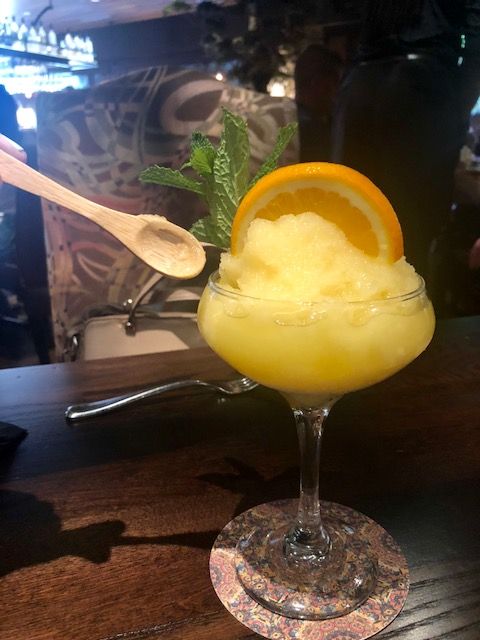 So we were off to a good start. Julia explained the menu to us and it was difficult I must say to choose because so many items caught my eye. The bread basket contained an assortment of baked items which offered a good variety, so we chose that. OMG, without exaggeration, my friend and I ate one bite of the banana nut muffin and our eyes truly bugged out. It was without a doubt the best banana nut muffin we both had ever eaten. Man, I am salivating just a little right now as I recall how scrumptious it was, lol!
Another really really fantastic item was the candied bacon. It had a slight amount of heat and the perfect amount of sweetness. Loved it! I have to give Tanzy kudos for this because try as I have, I cannot seem to perfect the art of making candied bacon.
The infamously decadent French Toast, pictured below on the left, lived up to its title.  It was made from thick sliced brioche bread stuffed with whipped mascarpone and assorted fresh berries. It reminded me a little of the one they make at Tucker Dukes which I just adore, but better, in my humble opinion. We ordered the eggs benedict, which came with our choice of crispy prosciutto, spinach or smoked salmon. We chose the salmon. The rich velvety Hollandaise sauce covered the English muffin halves like a warm comforting blankie. Yum!
Next up was the burrata & San Daniele prosciutto which came with a compressed melon, arugula and adorned with beautiful fennel flowers. It was almost too pretty to eat (almost, haha)! The spinach-ricotta gnudi was calling out to us from an early glance at the menu, so we heeded the call and gave in. Oh my, this was so worth having to do extra laps and burpees the next day!
Well, we didn't quite make it to the dessert tower, but there's always the next time.
I encourage you to check out their new lunch and dinner menus on their website and make your plans to visit there at your earliest chance. You won't be disappointed, I can pretty much say this with 100% confidence.
Below is a sample of some of the new menu items which include fresh pastas, mains and antipasti to share:
Beet Agnolotti mascarpone-potato filling, poppy seed, black winter truffle, parmesan ($28)
Spinach-Ricotta Gnudi roasted mushrooms, basil pesto, gorgonzola cream, grana padano ($24)
Yellowtail Crudo passionfruit splash, crispy shallot, radish, micro cilantro, grapefruit, herb oil ($16)
Steamed Mussels shallots, garlic, pernod cream sauce, tarragon, grilled focaccia ($16)
Black Grouper Puttanesca San Marzano puttanesca sauce, basil, Kalamata olives, capers, orzo, sautéed spinach ($25)
Crab Stuffed Whole Lobster crab-lobster stuffing, seasonal vegetables, lemon-garlic butter (MKT)
Truffled Polenta parmesan cream, chives, truffle oil ($8)
Pair Chef Yard's new dishes with inspired beverages by celebrated mixologist Adam Seger. New additions include:
Famous Mojitos Italiano – mint, Italian herbs from our herb garden, exotic citrus in a range of flavors, as single servings or punch bowls to share ($8-80)
Spiked Italian Ice think boozy liquid nitrogen gelato in limon, passion-ginger, strawberry-mojito, blood orange-pomegranate, chocolate-espresso-maldon ($15) and spirit-free ($10)
The Kiss vodka-spiked lemon berry Arnold Palmer ($12 glass/36 bottle/65 punch bowl)
Gin Gin Mule New Amsterdam gin, homemade ginger beer, apple salsa ($12); luxe with Bombay Sapphire ($15)
Spice and Ice ancho-infused tequila, mango, ginger, habanero, 7-spice ($15)
And of course, no trip to Tanzy would be complete without elegantly crafted desserts by Executive Pastry Chef James Rosselle. Try these sweet new show-stopping cakes:
Raspberry Infiniti Cake raspberry red velvet cake, raspberry buttercream, farmers market raspberries, raspberry sauce, whipped cream ($12)
Concord Cake chocolate mousse, chocolate meringue, chocolate cake, chocolate ganache, chocolate sauce, whipped cream ($12)
Warm Olive Oil Cake apricot glaze, blood orange cream, vanilla scented citrus segments, honeycomb ($12)
Enjoy Tanzy's new menu Mon. – Thurs. 11:30 a.m. – 10 p.m.; Friday 11:30 a.m. – 11 p.m.; Sat. 11 a.m. – 11 p.m.; Sun. 11 a.m. – 10 p.m.; Sat./Sun. Brunch 11 a.m. – 3 p.m.
Tanzy Boca Mizner Park: 301 Plaza Real, Boca Raton, FL. (561) 922-6699
 Until we eat (and drink) again…
I send you delicious wishes, xo
Denise
Written by Dawn Bryan
Recently, Savor Our City was invited to attend the opening of the new Cooper's Hawk Winery & Bar in Pembroke Pines, FL, a fantastic place to visit for any occasion. What a unique concept. Not only are their signature wine pairings reason enough to visit, but their culinary selections, all made in their scratch kitchen, are delivered to perfection to compliment one's wine pairing.  Each recommendation is made by their highly trained Chef and house staff along with a professionally trained management team.
Truly a unique culinary and wine tasting experience.
The Cooper's Hawk concept includes four different components: an upscale casual dining restaurant, full-service bar, private barrel-aging room, and Napa-style tasting room with a great adjoining retail store. All under one roof.
Upon arrival, we were directed to the large Napa-tasting room which was quite impressive. For a set fee or with the wine membership they offer, you can sample their latest reserved and private label wine selections. The tasting room is a great way to learn about the wines and you actually feel like you are in a true winery tasting room.
Then came the real fun part…sampling all of Cooper Hawk's favorites on the menu which included 9 courses, each selected with wine pairings all recommended by their head Sommelier, Emily Wines…She is amazing!
Whether you're an avid wine enthusiast or a novice, Cooper Hawk's has make it easy for their quests to select the perfect pairings; each food item is offered with a wine pairing suggestion labeled on the menu by bin number, as suggested by the winemaker.
My personal culinary favorites were the Candied Bacon & Artisan Cheeses, delicious award-winning Asian Pork Belly Tostadas, Fresh Pan Roasted Barramundi with Thai Lemongrass Sauce and my favorite of all….Short Rib Risotto with White Truffle Oil…OMG!!!  Just to die for… And then of course to top it all off, the Cooper Hawk's Chocolate Cake.
Their menu is extensive, so more reasons to go back time after time to experience it all. They also offer a Life Balance menu as well as a Gluten Free menu.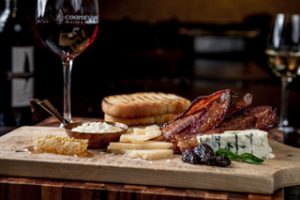 At the end of this memorable dining experience, along with making new friends over sensational food and wine pairings, I had left feeling VERY content and probably a few pounds heavier as well… It was so worth it.
I highly recommend Cooper's Hawk Restaurant & Bar Pembroke Pines any time and for any occasion.
Cooper's Hawk Pembroke Pines
10310 Pines Boulevard
Pembroke Pines, Fl 33026
954-582-9463
Hello Foodie Friends,
Today's post is courtesy of one of Savor Our City's contributors, Patrice Huber @ForkAndCork
Dessert and Bubbles Party
04/25/18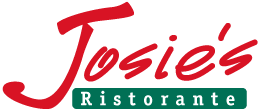 Josie's Ristorante, located in Boynton Beach, is family owned and operated, and known for their traditional Italian cuisine.  Tonight I had the pleasure of attending a Dessert and Bubbles Party.
We were welcomed by Chef Mark Militello, a James Beard Award-Winning chef and Sebastiano Setticasi, co-owner and chef de cuisine.  This event was all about Ashley Roehrig, Josie's pastry chef, who is a graduate of The Culinary Institute of America.  Tonight she was showcasing several of her delicious dessert creations.
Chef Ashley first teased us with trays of individual bites created from her tasty desserts.
This included Key Lime Pie, Chocolate Peanut Butter Pie, Coconut Pie, 16 Layer Chocolate Cake and Tiramisu.   After we sampled these, she presented some of the full sized desserts, as they are served to customers.  We started with the aroma of fresh from the oven Banana Fosters Bread Pudding.  Truly a wonderful combination with the fluffy whipped cream oozing over the warm bread pudding with candied pecans and creamy bananas foster, which was perfectly adorned with chocolate.  (Chocolate should be a required decorative addition to every dessert.)
Our next dessert delight was the Key Lime Pie.  It was a sweet representation of the creamy key lime custard then topped with fresh raspberries and blueberries nestled in whipped cream.  My mouth was happy to enjoy one of the most famous South Florida desserts.
Then we were presented the Chocolate Peanut Butter Pie.  It was rich and creamy and the perfect blend of sweet and savory.  The Tiramisu was light and melt in your mouth, and yes with a special chocolate spoon.  The Italian Wedding Cake was amazing.
I saved the best for last, if you are a chocolate lover that is.  It was the 16 Layer Chocolate Cake.  Sixteen sweet layers of chocolate cake alternated with chocolate frosting goodness.  It made my chocolate inner child smile.
Josie's Ristorante is located in the Riverwalk Plaza at the southeast corner of Woolbright Road and Federal Highway.  They have been serving homemade Italian fare in Boynton Beach for 26 years, making this a destination dining location.
Happy Hour
2-6PM Monday-Friday & 4-6 Saturday & Sunday plus 9-close at the bar
Late Night Bar Happy Hour 9 pm to close
                                 Half Price Drink Specials and $6 specialty drinks
New "Small Plate Menu" at bar & on the patio   from 3-6 pm and after 9 pm
Location
1602 South Federal Hwy
Boynton Beach, FL 33435
(561) 364-9601

Follow them on Facebook @JosiesBoynton and Instagram @JosiesRistorante