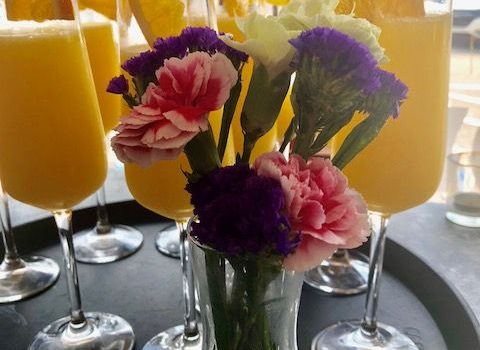 Hello Foodie Friends,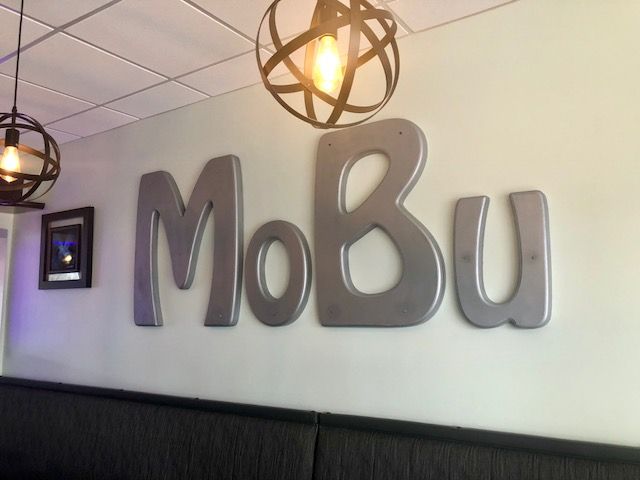 Head Chef and co-owner Monique Buchbinder (the name MoBu is derived from the first two letters of her first and last name), earned her degree from the French Culinary Institute in Manhattan prior to working as a chef at Per Se (the sixth highlest Michelin rated restaurant) and at the famed Nobu in Miami (yes, you might say there might have been a tad bit of influence behind her restaurant's chosen name) before deciding to become a private chef taking on catering jobs and hosting dinner parties in Manhattan, Naples and Miami. She began cooking for a gentleman named Bruce who moved to South Florida from New York. When Chef Monique expressed her interest in opening her own restaurant one day to Bruce, he realized her talent in the kitchen was too good to keep all to himself and decided to help back her. Bruce's daughter, Brooke, MoBu's General Manager and Marketing Director, handles the front of house and community events, while Chef Monique makes magic in the kitchen. In addition to making dishes that are filled with flavor, Chef Monique makes dishes that are sensitive to healthy diets and food allergies, including nut-free and gluten-conscious (gc) items in addition to vegan, organic, vegetarian diets. Seasonally inspired, beautifully plated, and sourced from some of the world's most vibrant cultures, Mobu's dishes leave guests filled with a revitalized love for cuisine and community.
Sourcing foodie favorites from Asian, French, and Caribbean cultures, MoBu Fusion Cafe in Boca Raton is where folks come to enjoy international cuisine in an elegant local atmosphere. Using fresh ingredients as her brushes and plates as her palettes, Chef Monique only works with the best food suppliers so you can expect to always enjoy the most delicious and freshest ingredients. From beautifully presented appetizers and main dishes, to tantalizing desserts, you will be in food heaven.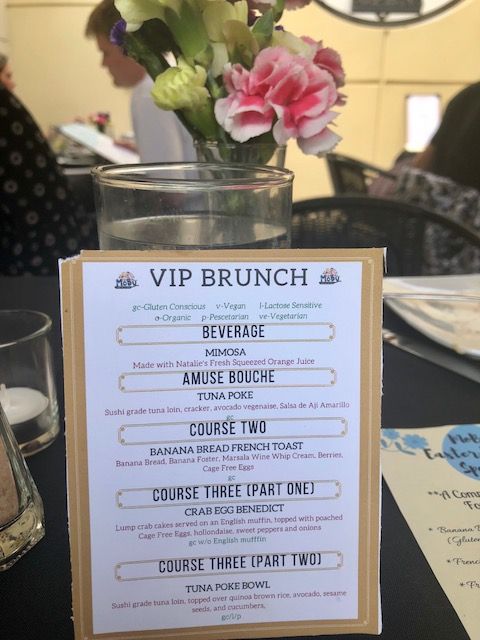 Relax and unwind in their beautiful patio dining area, where you will be surrounded by nature & water. This is where our group of bloggers gathered for a brunch tasting. Every dish that was brought out had a flare to it and each was exceptional. We started out with an Amuse Bouche of Tuna Poke (gc) artfully plated on a black slate. Next was the Banana Bread French Toast, which was my personal favorite. On top of this most wonderful gluten-conscious French toast (which I still can't get over had little to no gluten) was bananas foster, Marsala wine, whipped cream and berries. I believe I am drooling as I am writing this now. lol! Our next course was a Crab Egg Benedict which featured lovely lump crab cakes topped with poached cage-free eggs and a delicious hollandaise sauce. The final tasting of the day was the Tuna Poke Bowl which was made with sushi grade tuna loin, on top of quinoa, brown rice, avocado, sesame seeds and cucumbers.
In addition to their wonderfully yummy brunch menu, they have a simple yet well thought out dinner menu as well with wonderful selections from land to sea. MoBu's first 5 course Chef's Table dinner is scheduled for this Friday evening, April 20th. For details, click here.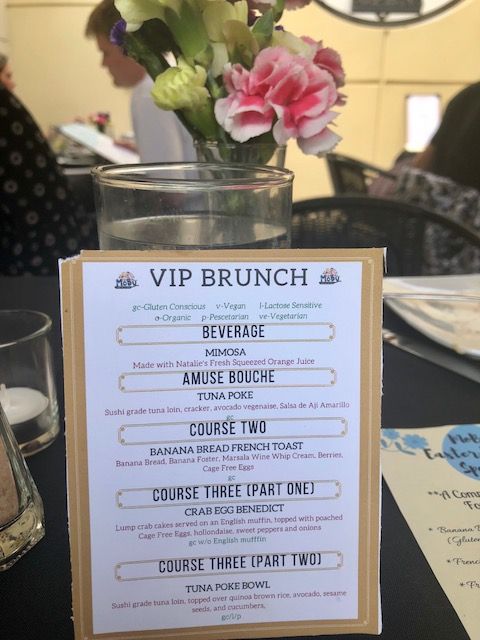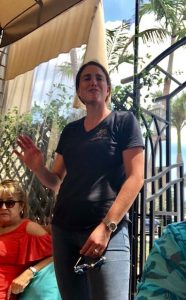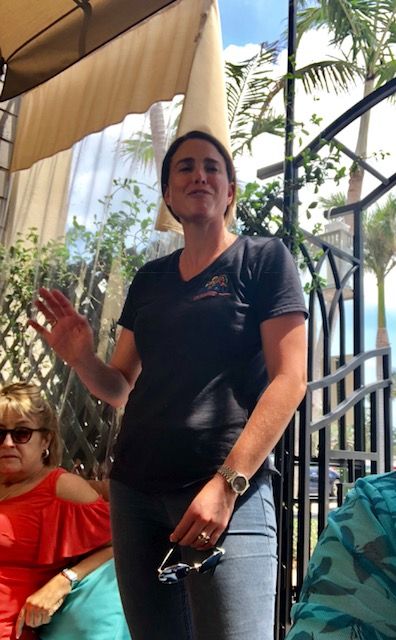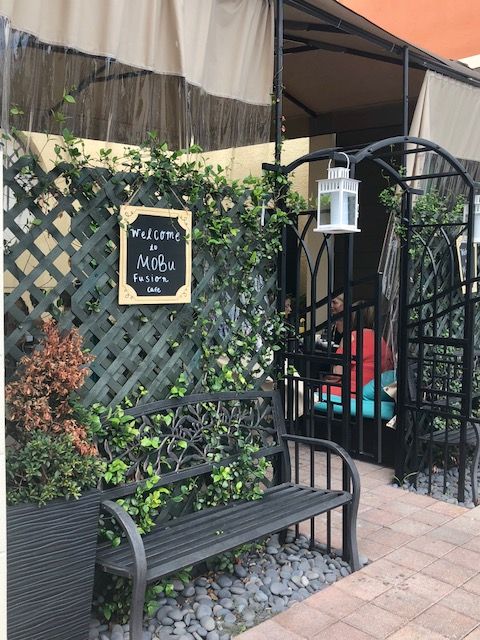 MoBu Fusion Cafe is located at 1159 South Federal Highway in Boca Raton.  Delivery is available through Delivery Dudes. Catering is also available.
Hours of Operation: Tue, Wed, Thu: 5-9pm;  Fri: 5-9:30pm; Sat: 11am-3pm & 5 – 9:30pm; Sun: 11am -3pm & 5 – 9pm
Brunch is served on Saturdays & Sundays from 11am – 3pm
Until we eat again…
I send you delicious wishes, xo
Denise
By Chloe Sommers and Ashley Taylor
The city of Lake Worth has a winning card up its sleeve when it comes to competing for your dinner spending dollars- a tapas bar for comfort food and board games named .
Located at 510 Lucerne Avenue, their style has a modern farmhouse flair of which TV house-flipper Joanna Gaines would be proud. 3 of Hearts offers tapas-style shareable plates and an entire wall of board games to enjoy. Specializing in elevated comfort food, they also have specialty cocktails. It's the perfect choice for an evening out with friends as the menu is full of items which are served in 3's.
The number three is special to the family-run operation. Simply called the 'boss', Robyn explained that three represents her, her sister, and the memory of her little sister. She passed away before the restaurant became a reality, but encouraged Robyn to go after her dream in the first place. "This opened the idea of the three theme, to keep my sister involved."
At our visit to the restaurant, we started with the Wine Fashioned and White Herb Sangria. The Wine Fashioned was a fruity take on the classic Old Fashioned. The blend of red and port wines was delicious and didn't compromise the smoky notes characteristic of the classic drink. Popular in the summer, their signature honey sage sangria was refreshing with plenty of supple fruit on the bottom.
As for the food, they have a jam-packed selection. Homemade by Chef John, they even offer the recipe to make our personal favorite, the strawberry basil jam. The Chef is also Robyn's nephew. When it comes to working with so many of her family members supporting her Robyn said, "it's great to have so many people you trust to put their heads together to think through an idea or problem." It works like a family unit because they compliment each other, yet aren't afraid to disagree. "We talk through things," she added, "there's no threat to challenge each other since there's unconditional love there."
Another signature trend on the menu is their fun flips from savory to sweet. On the savory side, we loved the oven dried tomato and the drunken mushroom duxelle jams. Served with perfectly crisped crostini, it was a beautifully plated gourmet spread. Don't feel like sharing? Meat ragu, chicken 3 ways, or a good-old burger and a pickle are also on the menu.
Catch their weekly trivia night on Tuesday's from 7:30-9:30. We suggest coming in early to grab a prime table outside and ordering their grilled cheese fingers (you'll thank us later).
Hours: T-F 3pm-10pm, Sat 2pm-11pm, Sun 11am-4pm (brunch)
Karyn Turk, Palm Beach Insider, Eye on South Florida
Hello Foodie Friends,
On Friday the 23rd of February, the heralded kickoff event knowns as the DuPont Registry Live Hanger Party for the 2018 Concours d'Elegance got underway.  The Live Hanger Party did not disappoint with continuing to be one of the country's marquee lifestyle events as it was back in Boca Raton for its thirteenth anniversary edition.
With a cool evening February breeze, the began with a great start at the Boca Raton Airport's Atlantic Aviation Hanger, guests were scattered amongst the display of several Learjets, vintage and exotic automobiles and some of South Florida's best food and wine providers.  Sponsored by the Rick Case Automotive Group and benefiting the Boys and Girls Club of Broward County, over twenty of South Florida's finest restaurants, chefs and fine spirits and establishments made appearances this year included Gourmet Phile, Abe & Louie's, Casa D'Angelo, Louie Bossi's, La Ferme, Oceans 234, NY Prime, Café Med, Tanzy, Mermaid Vodka and other premier vendors.
Guests were allowed to enjoy an evening under the stars all the while enjoying live entertainment accompanied with an array of great food, fine wines and spirits.  If you were unable to attend this year, be sure to make plans to attend in 2019 to savor unlimited samplings from the area's finest restaurants, enjoy a craft beverage, fine wine and while admiring the array of planes and automobiles.
Until we eat (and drink) again…
I send you delicious wishes, xo
Denise