Hello Foodie Friends,
Like Superman, everyone of us has our own kryptonite, and in my world, mine is bread! I grew up eating sandwiches for lunch and  as my palate matured over the years, I began experimenting in the kitchen coming up with clever new concoctions. I would start of with something basic like a grilled cheese sandwich and then making a few simple tweaks (from upgrading the bread, spreading butter or mayo on the outside of the bread before cooking in the pan, to utilizing a caramelized onion jam)  I was able to elevate that classic sammy into a gourmet masterpiece. Yes, sandwiches are my jam! So when I received an invite to come check out Press Gourmet Sandwiches in Boca, it was a no brainer. The motto at Press Gourmet is every sandwich, every salad, every side is handmade to order with only the freshest, natural, best ingredients. Each sandwich is handcrafted to order. All of their meats are slow roasted to perfection. Chicken is marinated and cooked to order and all sauces and toppings are prepared daily. They consider themselves to be a five-star gourmet experience in a fast casual setting – eat in or take out.
The back story:  It all started at Johnson & Wales University when Rand and Chris met. They noticed from their name tags and they were both commuting from Delray Beach to Miami. So they started to carpool; those rides together to Miami were where their friendship really started. After only a few weeks of carpooling Chris and Rand decided to move into Chris's apartment near Johnson & Wales University.
In only a few short months they had become best friends living together in Miami. During culinary school Rand and Chris excelled to the top of their class, becoming the go-to guys to get things done.
Every Tuesday, the food trucks would set up on the campus at JWU and serve to all of the students. Chris and Rand became immediately attached to the food trucks, asking all of the owners questions every time they came out. In their heart they knew someday they would open up a food truck of their own.
Soon after, Rand was asked to work as a sous chef for a husband of one of his professors. He was a private chef to the rich and famous in Miami. It only took one year before the clients asked Rand to be the head chef, at the age of 22. One of the first things that he did was to make Chris his sous chef. This was a time in their lives that they would never forget. Chris and Rand were living half the year in Miami and the other half in New York City while cooking for the rich and famous.
While in New York, Rand and Chris were living on their client's yacht. Rand really enjoyed living on the yachs, he said, "because it was like a huge house right on the water, that swayed back and forth with the current, just rocking you to sleep". One year Chris actually rode the boat up for 4 days to New York City, through the rough seas, while still cooking all of the food for the crew. Let's just say he probably won't be taking a boat across the country anytime soon!
After three years of being private chefs Rand and Chris caught the entrepreneurial bug. They received so much praise for the food, from some of the most important people in the country. They knew they wanted to bring their food to the masses, but they didn't quite know how to start a business. So Chris and Rand left their jobs as private chefs to head to Chris' family's company, Uncle Giuseppe's, a chain of Italian supermarkets. While at Uncle Giuseppe's, Rand and Chris were taught the importance of food costs, business smarts, and the ability to scale larger while remaining consistent with the food throughout different locations.
So they headed back to Florida to start their own business. The location of the first restaurant caused arguments, as they just weren't sure where to put it. That was when they thought back to when they were in culinary school and the food trucks would come every Tuesday. Rand and Chris thought very hard about what their next move would be. They decided to start a food truck as a proof of concept and to find the best locations for the eventual restaurants to come. They called it Miami Press Gourmet Sandwiches Food Truck. The concept quickly took off, as the Miami Press Food Truck became one of the top trucks in South Florida. It was a dream for Chris and Rand to be able to serve their great food to the masses. They knew that if they used good fresh and local ingredients and prepared the food to order that they would always have people wanting to eat their food.
While the truck was taking off, Rand got the opportunity to go on Food Network and compete in a reality competition cooking show. The show is called Food Truck Face Off, the show is a mix between The Great American Food Truck Race and Chopped. Rand brought one of he and Chris's signature dishes, the Mac'n Cheese Ball. He won the competition, bringing the spotlight to the Mac n' Cheese Balls and the already well-known Miami Press Food Truck. The lines became even longer as their food truck became more and more popular by the day.
As the success out grew the food truck, Chris and Rand finally knew it was time to open up a Press Gourmet Sandwiches Restaurant. Press Gourmet Sandwiches, or PGS for short, is a fast casual sandwich restaurant serving pressed sandwiches. All of the sandwiches are made to order from scratch and pressed on ciabatta bread until crispy on top and soft in the middle. It's made with all fresh and local ingredients.
Press Gourmet Sandwiches has two locations, one in Ft. Lauderdale and one in Boca Raton. They are open Mon – Sat 7am – 8pm, closed Sundays. For more info, check out their website.
Until we eat again…
I send you delicious wishes, xo
Denise
Hello Foodie Friends,
Today's post features one of my favorite fast casual foods: tacos!  I received an invitation to dine at Bodega Taqueria y Tequila in Ft. Lauderdale a few weeks ago and I'm happy to share my experience with you today.
Since opening its doors to their original location in South Beach, just steps away from the famed Lincoln Road Mall on 16th Street in 2015, Bodega Taqueria y Tequila, founded by Menin Hospitality's Keith Menin and Jared Galbut and led by Culinary Director Bernie Matz, has been offering traditional Mexican favorites as well as unconventional and innovative interpretations, Bodega specializes in tacos and tortas, homemade sodas and authentic beverages in a dynamic, eclectic "puebla" inspired setting.
"We've always loved Fort Lauderdale and have been waiting for the right moment and location to open a Bodega Taqueria y Tequila there since we opened our first flagship location in South Beach in 2015," said Keith Menin, Co-Founder & Principal of Menin Hospitality. "When we saw that they were developing and re-envisioning the riverfront, the new towers, and the Wharf, we found an iconic historic corner that just felt like Bodega. We couldn't be more excited to welcome guests to Bodega Taqueria y Tequila, Fort Lauderdale." 
Bodega Taqueria y Tequila has been revered as one of the hottest Mexican restaurants in America. GQ Magazine has named Bodega "the most popular restaurant in the entire state of Florida for late-night eats";  InStyle Magazine said it's one of "4 hot spots worth visiting on your next trip to Miami"; HuffPost called it the "hottest Mexican restaurants in America"; and Elite Daily boasted it as one of "Miami's hottest nightspots." A favorite among celebrities, fans include Michael B. Jordan, Niall Horan, Brody Jenner, Diplo, Jamie Foxx, Gabrielle Union, Travis Scott, Nina Agdal, and Joe Jonas, to name a few.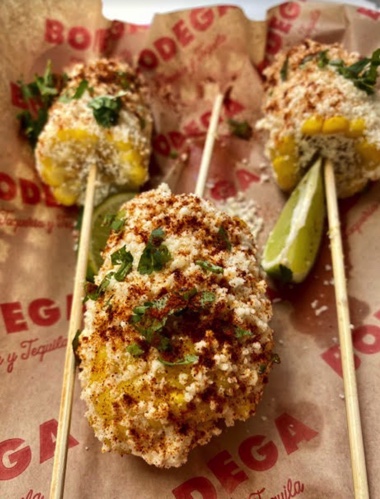 Inside the taqueria, a door leads guests to Bodega's late-night speakeasy – the perfect spot for happy hour, daytime fun, and late-night debauchery – that features an extensive cocktail menu and live music by local bands and DJs. Signature cocktails include the Pico Picante (Herradura Silver, Ilegal Mezcal, Cucumber, Cilantro, Jalapeno, Lime, Orange Bitters); La Diablita (Don Julio Blanco, Apricot, Blackberries, Ginger, Fresh Lime); and Mezcal Old Fashioned (Casamigos Mezcal, Ancho Reyes, Old Fashioned Syrup). Additionally, every Monday, Bodega is activating 'Margarita Monday' specials, where guests can enjoy a curated $5 margarita menu from 6 PM-close. Happy Hour is Monday – Friday from 6 PM – 8 PM, and offers $2 Classic Tacos, $3 Chips & Salsa, $4 Chips & Guac, $4 Bottled Beers, $5 Frozen Margaritas, and $7 Bottled Cocktails.
Open daily from 11:30 AM – 12 AM, Bodega Taqueria y Tequila, Fort Lauderdale mirrors the flagship South Beach location, doubling as a fast-casual taco joint and a late-night speakeasy-style lounge. The front half of the venue is a taqueria featuring an authentic Mexican street food menu created by culinary director and Chef Bernie Matz. Signature menu items consist of Loaded Carne Asada Nachos (Grilled Rib Eye Steak, Chili Queso, Cotija, Red Onion, Tomato, Cilantro, Chili Crema, Sliced Jalapeno); Late-Night Burrito (Guajillo Braised Short Rib, Roasted Pork, Roasted Chicken, Mexican Rice, Black Bean Refrito, Oaxaca Cheese, Potato Sticks, Salsa Rosada); and Steak Chimichurri Tacos  (Grilled Rib Eye Steak, Purple Cabbage, Tomato, Potato Sticks, Radish, Cilantro, Chimichurri Aioli). Guests order from a full-sized, retrofitted vintage airstream trailer turned into a taco truck and then dine in the garage chic seating of picnic tables, neon bar stools, and graffiti walls. In addition to the regular menu, a weekend brunch menu is available.
Bodega Taqueria y Tequila in Fort Lauderdale is located at 21 W. Las Olas Blvd, Fort Lauderdale, FL and can also be experienced in South Beach and in American Airlines Arena.  For more information, please visit BodegaTaqueria.com and follow on Instagram @BodegaTaqueria.
*Hours of operation are in accordance with mandated COVID-19 regulations and are subject to change. 
Until we eat again…
I send you delicious wishes, xo
Denise
Hello Foodie Friends,
Think about the food just in your state. It probably differs from one spot to another, based on who settled where and when, what they grew, where they originally came from, and what resources they had. History, people, preferences, and culture all play into regional food, and that's what makes exploring it so interesting and diverse. And with road trips on the rise, digging into the food scene wherever you're going, or wherever you live, can be a rewarding and delicious reward.
If you want to learn more about food, wherever you go, there are a couple of steps you can take. For starters, you can always contact your favorite food gurus here at Savor Our City.  Additional resources are local eats apps or local bloggers, who may also have a presence on social media sites such as Instagram. Many food magazines also have good regional recommendations. Want more tips? This graphic offers some ideas to get you traveling, eating, and enjoying what food has to offer.
Don't Miss These Mouthwatering Regional Cuisines
Infographic by Say Insurance 
Let us know if you found this info useful and if you have any additional tips that you turn to find great places to eat when you are traveling out of your home town.
Until we eat again…
I send you delicious wishes, xo
Denise