Hello Foodie Friends,
I'm super excited to introduce you to Avalon, a beachy, coastal inspired steakhouse influenced by Montauk flair and Nantucket panache presenting approachable elegance and attentive hospitality that officially opened on Tuesday, February 23rd on Delray Beach's famed Atlantic Avenue.
Conceptualized by New York's veteran hospitality operators Host Restaurants, the 30-year visionaries behind award-winning dining institutions including Scarpetta, Campagnola, American Cut, Bill's Townhouse, and many others, Avalon showcases the best in land and sea from all coasts with modern dishes taking star at the dinner plate inside an atmosphere designed to radiate approachable, unstuffy elegance.   
Affectionately named Avalon, after the legendary island in the Arthurian legend, a place of haven and purity fabled for its restorative healing powers, Avalon is intent on providing guests a new comfort-minded steakhouse experience designed to evoke an air of modern tranquility and escapism through the art of delivering upon a great quality night out.
"At Avalon, we want you to linger longer, enjoy your time here and not feel pressured to rush your meal. Dinner was made to savor; life is too short to not enjoy a great quality steak," explains Host Restaurants President and Founder Curt Huegel.
Avalon brings a robust, sustainably-sourced premium selection of prime, organic, grass fed, hormone, steroid, and antibiotic free offerings, including steaks, beef, poultry, and seafood to South Florida's dining scene, anchored by an esteemed 250 bottle wine list for wine lovers of all regions, showcasing sought after labels from unique wineries around the world. Guests who prefer spirit-centric pairings to their meal will also delight in Avalon's creatively conceived cocktails presenting inventive twists on classic libations.
Avalon's beachy yet stylish interiors were also designed with intention. Bright, naturally lit and intimate, pristine and nautically-inspired, the atmosphere and palette is soft, soothing and designed to evoke the feeling of relishing in a tranquil and relaxing, stylish day at sea. Elegant neutrals and oceanic blues are topped off by the addition of picturesque coastal greens. The expansive indoor/outdoor bar was designed for laid-back and non-formal easy eating, keeping parties of one and two in mind. There are two traditional dining levels – al fresco street dining for guests who prefer sight-seeing passerbys and second floor dining for a more intimate, social dining experience. All dining areas at Avalon will be implementing the strictest of COVID-19 protocols and are mindful of personal space and superior comfort.
Avalon has created accessible price points that won't compromise quality and will honor that premise by always staying innovative and fresh with weekly rotating specials and a unique haven where friends, coworkers and associates can gather routinely to relax and enjoy this exciting new happy hour destination.  
Signature dishes at Avalon encompass modern steakhouse classics cooked to preferred temperatures such as Filet Mignon, 28-Day Dry-Aged Prime Ribeye, 36 oz. Tomahawk for 2 , to sustainably-sourced seafood specialties including Whole Roasted Fish of the Day, 32 oz Aged Bone In "Tuna Ribeye", Scallop Carpaccio with Huckleberry Agro Dolce, Spiced Cashew, Citrus Segments Basil Oil, Marigold, Angry Lobster with Fermented House Sriracha, Ginger, Pullman Toast, to light entrees for those health minded or vegetarian such as Roasted Cauliflower with Tahini, Herb Vinaigrette, Goat Cheese, Basil as well as inventive comfort dishes including Kimchi Fried Rice.            
I was invited to Avalon to preview a few select items. Every one of the staff I encountered from the Maitre D to the GM, the Partners and my server was extremely welcoming and gracious. To start off, I had the most tender, succulent octopus I can remember having,..ever. Antonello, one of the Partners brought over a lovely bottle of Sauv Blanc from New Zealand for me to enjoy with the octopus. The pairing made my tastebuds dance and put me in my happy place!
Next out was their Caesar Salad with soft boiled egg on top. This unique presentation was not only gorgeous, but thoughtfully orchestrated. My server Jerry gave me the back story filling me in that their Caesar dressing is the very same one that was created by Caesar Milano from Tijuana, Mexico, who came up with this recipe during Prohibition times. Seriously guys, this dressing is the bomb!
The BLT appetizer caught me eye and I'm sure you can see why!  The "B" or bacon is represented by pork belly which was seasoned beautifully and cooked to perfection. Arugula comprised the "L" and the "T" was represented by tomato jam. It was a fun interpretation and a tasty whimsical dish indeed.
I was offered a lovely Cab to enjoy with my BLT and Steak entree.
Avalon takes great pride in the quality of the food they serve and I for one was excited to see both wet aged and dry aged steaks on the menu. Do you know what the difference is? Here's a little fun fact for you: Dry–aged beef is hung in the air to dehydrate at a temperature just above freezing for weeks, or up to months. … Wet aging is a newer technique where beef is vacuum-sealed and refrigerated so that natural enzymes can tenderize the meat. Wet aging takes just a few days, so it's cheaper than dry aging. So which is better? Well that is a personal preference and I'll let you make that decision yourself, but this little extra info might be useful: The more common aging method used today is wet–aging, a process in which meat is vacuum-sealed in plastic and allowed to age for 4-10 days, or sometimes longer. Similar to dry-aging, the process allows enzymes in the trapped juices to break down collagen between muscle fibers, increasing tenderness. Dry aging a steak makes it more tender and flavorful. … Eat a steak that's been properly dry–aged and there's really no competition: It has a richer, beefier flavor, a more tender, more buttery texture, and a minerally, slightly funky scent. Dry–aged beef puts all other steaks to shame. I chose this incredible 20 ounce dry aged ribeye with a side of truffle Parmesan fries and let me tell you, this steak just melted in my mouth. There really is a noticeable difference when you have a steak of this quality. Bravo Avalon, bravo!
Finally, for dessert, I was presented with an attractive plate consisting of a duo of decadence: cheesecake and chocolate mouse cake. I truly loved both of them and cannot play favorites here, so don't ask me to! LOL.
Meet the Partners:
Curt Huegel, Creator/Founder
Host Restaurants (Avalon Steak & Seafood and other concepts)
Curt Huegel is a 30-year veteran American restaurateur recognized for award-winning destination restaurant brands such as Scarpetta, Campagnola and American Cut. Huegel, a New Jersey native hailing from Manhattan, has done business with the country's most respected standalone landlords, casino and hotel developers in premier establishments around the country which include Fontainebleau in Miami to The Cosmopolitan of Las Vegas.
Huegel's first venue, The Mill opened in 1992, on Manhattan's Upper East Side. Over the next several years, Huegel expanded his hospitality portfolio, developing key concepts such as Rebar in New York City and Miami, Dakota Bar and Grill and Local, also in Manhattan. In 2008, Huegel founded LDV Hospitality, establishing renowned restaurant brands Scarpetta and American Cut, Luga Caffe, Dolce Italian. Under his leadership, LDV expanded globally and partnered with celebrity chefs like Alain Allegretti, Scott Conant and Marc Forgione.
In late 2013, Huegel sold LDV and started Host restaurants, bringing together concepts including Bill's Townhouse, Campagnola, Printers Alley, Lucy's and Galli. Host's portfolio ranges from eateries with a storied New York City history and classic Italian cuisine, to mid-market galleys, wine bars, Italian Cafes and steakhouses to new concepts, such as Printers alley, which brings a Nashville- themed country music bar to Times Square. With each venture, Huegel keeps his customers top of mind, always striving to exceed his guests' and the industry's expectations. Host Restaurants average venue square footage ranges from 1600 square feet to 1200 square feet, with their newest brand, Avalon, an elegant yet approachable steakhouse concept with a Hamptonite flair expected to launch in Delray Beach's famed Atlantic Avenue, January 2021.
Antonello Paganuzzi
Director of Operations, Avalon Steak & Seafood
Antonello Paganuzzi is formerly the Director of Operations for LDV Hospitality for over 10 years. Paganuzzi holds over 25 years of experience under his belt, working for Le Cirque and the Maccioni family for over 14 years, bringing a keen insight into the hospitality industry and a high standard of service, acquired over the years from leadership positions as some of the most impressive fine dining establishments in New York, Las Vegas, Miami & London.
Avalon is now open for dinner and happy hour 7 days a week from 5pm with brunch to come at a future date. For more information, visit www.avalondelray.com.       
They are  located at 110 East Atlantic Avenue, Delray Beach, FL 33444  (561) 593-2500  
Until we eat (and drink) again…
   I send you delicious wishes, xo
Denise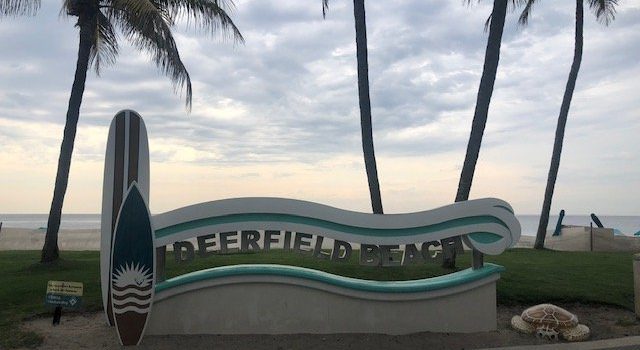 Hello Foodie Friends,
It's that time of the year again…you know, the one when kids are off from school, the days get longer and hotter, tourists go home cutting our commute times in half (SoFla) and local businesses start extending the best offers. Ah…Summer in South Florida!!!
Yours truly kicked off summer with my two new team members, Marti my personal assistant and Jennifer my marketing & branding specialist. Time for some company bonding and what better place to host a little staycation retreat than at the Wyndham Deerfield Beach Resort, who happens to be a new partner of Savor Our City's. (More on that later…)
After checking into the room, I met the girls at The Patio Bar & Grill for some happy hour drinks and lite bites. Lucky for us, when we checked in, we were given some complimentary drink coupons and once we used those up, drinks were still half-off making the already great wine at $6 a glass even tastier at $3 (SCORE!!!) 
Started off with a lovely glass of Sauvignon Blanc and peel & eat shrimp and the tuna tartar (ahi tuna, spicy mayo, BBQ teriyaki glaze, cucumbers, avocado, wonton, wakame slaw) ooooh so yummy! Here's a closer look at it…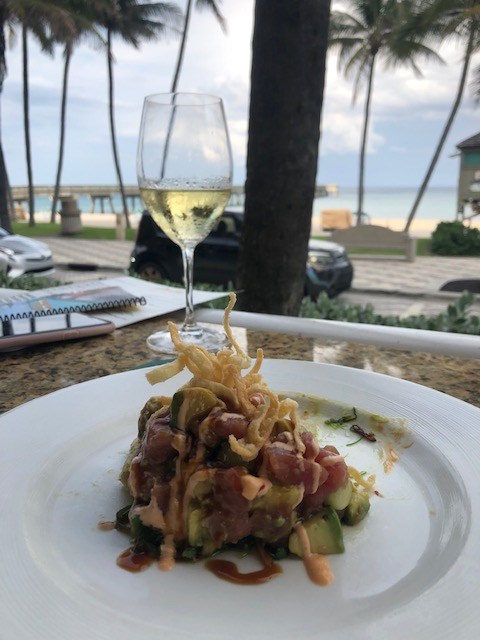 We continued to enjoy ourselves for 3 solid hours at which point we decided to take a stroll up the street to a place called Barracuda which Jennifer used to visit frequently and wanted us to check out. We had just enough room in our bellies to try another cocktail and a sample platter of assorted tapas. Our server was friendly and was happy to engage in conversation with us. I would definitely go back.
Get Your Eat On…
Patio Bar and Grill, a popular casual restaurant facing the beach and the ocean, features traditional American cuisine and has an extensive & impressive list of tropical drinks. Burger Craze restaurant features a nice bar, burgers, wings, and hot dogs. If you're in the mood for more upscale Italian cuisine, then Café Med restaurant, under the helm of Chef Lilo Teodosi, has got you covered. To round out the night, or on a nice hot summer afternoon, have an authentic Italian gelato at the very popular Vaniglia E Cioccolato Gelateria where there's something for everyone. Wanna sample them all? Well guess what?!?  You can do that on "A Taste of Wyndham Deerfield Beach" – a new food tour that started up about a month ago.  It is open to the public and tickets must be purchased in advance. It is offered every Thursday evening from 5:30pm – 8:30pm (unless otherwise stated) for $65pp. The price includes a full meal with food & alcohol tastings at all four activations within the Wyndham Deerfield Beach Resort with a local Savor Our City guide, a goodie bag with special offers from area businesses and from the restaurants sampled, a stroll along the International Fishing Pier, and gratuities.
Besides boasting three distinctive restaurants on its premises with entirely different menus and different cuisines and a gelateria, other amenities include a hot tub, a spa and an outdoor pool and bar, as well as a 24/7 fitness center and a business center.
Let me tell you about the room. I was given a room with floor to ceiling windows and man did I have a spectacular view. The room was very pleasant, modern and had an ocean like vibe. The Resort underwent a complete renovation in 2011. Not sure if you know this or not but the Wyndham Deerfield Beach Resort is independently (privately) owned. It was built by the Chase Family who have owned and operated it since its opening day.
Every room at the Wyndham Deerfield Beach Resort has floor-to-ceiling windows (either ocean view or city view), Wi-Fi and flat-screen TVs, as well as minifridges and coffeemakers. Suites have additional bedrooms and separate living areas as well. Some feature ocean views. Room service is available.
The Resort is a full-service hotel with 172 rooms, a ballroom, and meeting space, totaling about 4,500 square feet which can accommodate weddings up to 180 people and meetings up to 250 people.
The next morning was quite magical, awakening to this…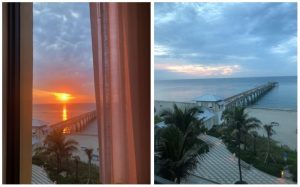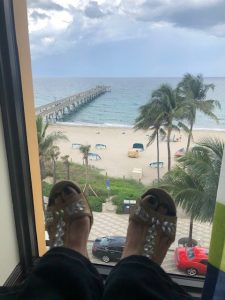 This beach front property is centrally located, halfway between Fort Lauderdale and West Palm Beach and are approximately 20 or 30 miles away from both airports.
Its location is just one aspect that sets the resort apart. The Resort is located directly across from a very quaint, pristine, safe, clean beach – one of the nicest ones in south Florida. There's a village-like atmosphere here; the height of the buildings is limited to 55 feet, so there are no tall buildings, skyscrapers, etc.  It looks like old Florida and reminds folks just how things used to be, yet with modern and clean buildings. There are shops, restaurants, entertainment, sporting activities, all within walking distance.
The Wyndham Deerfield Beach Resort is especially proud of its reviews, as they should be. They have received excellent reviews and are very proud to have been the number one hotel on Trip Advisor in Deerfield Beach for five consecutive years.
In 2016, they were voted Wyndham Property of the Year – the number one Wyndham hotel in the system. They also received the Best of Wyndham Award for their reviews, not just on Trip Advisor but compiled from data originating from a combination of all the reviews from all different sites.
To book a stay at The Wyndham Deerfield Beach Resort, click on this link to be taken to their website.
To book your Taste of Wyndham Deerfield Beach Food Tour, please visit Savor Our City's website.
Their address is: 2096 NE 2nd St, Deerfield Beach, FL 33441 and Phone: (954) 428-2850
Until we eat (and drink) again…
I send you delicious wishes, xo
Denise
Hello Foodie Friends,
My Assistant Marti & I were invited to The Balcony, a vibrant New Orleans-Inspired restaurant on Las Olas Blvd which opened approximately 8 months ago to check out their new menu which recently launched and now features even more dynamic dishes including some American favorites and tapas for sharing. To celebrate the launch of their new menu, The Balcony is offering a buy one entrée, get one 50% off special on Monday, March 25–Thursday, March 28 from 4–7 p.m.
Our server Myana (pronounced like Bryanna), was super nice and very knowledgeable about the menu items. The cocktail list was quite extensive and loaded with lots of interesting concoctions. Marti had the Sazerac which was made with Angel's Envy Bourbon, Pernod Absinthe, Peychaud's Bitters & Lemon ($15) I opted for the Pink Pearl which was made with Stoli Elit Vodka, Disaronno, Fresh Strawberries & Lime ($15). They were both excellent. Off to a great start. Then GM John and Chef Simon came over to welcome us and let us know that they would be sending out a variety of items for us to try and informed us if there was anything else we saw on the menu that we wanted to try, we were welcome. We were in for a treat for sure!
First out was the gumbo soup. This soup hit all the right notes and flavor profiles for me. It was a great surprise since I had never been one to fancy gumbo before. The warm crusty bread was a nice compliment as well. Great job, Chef! Next up was the Natchitoches Beef Pies (beef empanadas). Natchitoches is a city in Louisiana that is famous for making these little pillows of heaven. They were packed with flavor and I enjoyed the garlic dipping sauce it came with. The other sauce, we were given advance warning, was hot so I stuck to the garlic one. The crab cakes were not only adorable but very tasty. The perfect shareable dish. Chef sent out their signature salad, the Mardi Gras Peach & Berry. What a gorgeous salad; it just popped with color. Chef Simon explained to us that he pickles and poaches the peaches in the peak of season so that he is able to use them year round. We both really liked the freshness of each component of the salad. Our next tasting was the Baton Rouge Beef Sliders and the Shrimp Po Boy. The beef sliders were topped with housemade bacon jam, abita beer cheese, caramelized onion and pickled serrano (I actually didn't know there was a serrano pepper in there, so if you're a wimp like me in the spice/heat department, don't worry). This burger was THE BOMB!!! I am love with it for sure. The Shrimp Po Boy, on the other hand, lacked a little flavor for me and out of all the dishes we tried, was my least favorite. But not to worry, we got right back on track again with the Lobster Bisque made with cognac cream. It was heavenly and I would highly recommend this dish. It ranks up there as one of my favorite lobster bisques of all times. Marti had never tried fried green tomatoes before and I'm a fan when done right and boy did these deliver in the flavor department. They too, raised the bar on which all fried green tomatoes will forever be judged. OK, I'm sure by now you're wondering how in the world we could still fit anything into our bellies, right?!? Well, we couldn't resist at least trying a beignet. When you think of beignets, most undoubtedly the famous place in New Orleans, you know the one comes to mind. After popping one of these lovelies in my mouth, I just closed my eyes and within seconds, I began to feel as if I had been transported to New Orleans. These beignets were served with 3 unique dipping sauces; berry jam, spiced chocolate and orange marmalade.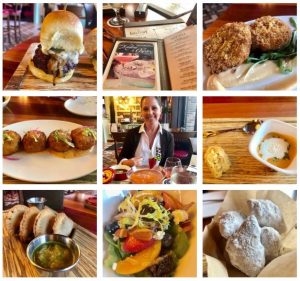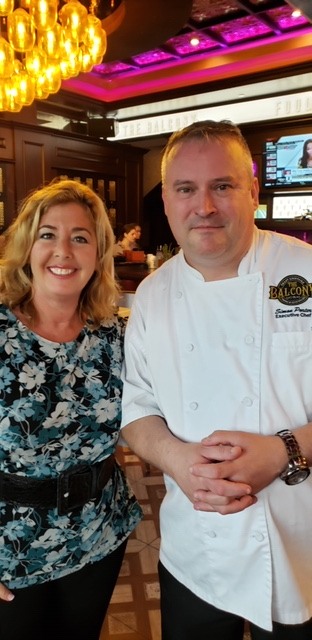 Besides the Lobster Bisque, other new menu items include Vegetable Dumplings, Braised Meatballs, Chicken Cobb Salad, Oyster Po'Boy and more.
"This new and diverse menu offers something for everyone!" said Kim Bokamper, former Miami Dolphins player and partner in PDKN Restaurant Group, which owns The Balcony. "Boasting the savory tastes of New Orleans along with American favorites, the menu merges a variety of appetizing flavors within many unique dishes."
Both the lunch and dinner menus offer the following new dishes:
Tapas: Vegetable Dumplings with sweet serrano chili sauce ($12), Coconut Crusted Shrimp with sweet mango serrano sauce ($15), and Braised Meatballs with house made tomato sauce ($13).
Soup: Lobster Bisque with cognac cream ($7 on lunch menu; $8 on dinner menu)
Salad: Chicken Cobb with avocado, Applewood smoked bacon, Point Reyes blue cheese, egg, heirloom tomato, romaine lettuce, and creamy Cajun dressing ($14 on lunch menu; $16 on dinner menu); Seared Ahi Tuna with heirloom tomato, cucumber, arugula, and lime dressing ($16 on lunch menu; $18 on dinner menu).
Hand Helds: Oyster Po'Boy with heirloom tomato, lettuce, Meyer lemon remoulade, and fries ($15 on lunch menu; $16 on dinner menu); The Burger with lettuce, tomato, onion and fries ($1 add cheese, $2 add Applewood smoked bacon) ($12 on lunch menu; $14 on dinner menu).
Sides: Mash 'n' Collards with Applewood smoked bacon, mashed potato, and collard greens ($7); Fries with moonshine ketchup ($5); Mashed Potatoes with cream and butter ($6); and Sautéed Brussels Sprouts with pecan maple glaze ($7).
The following new dishes are available only on the dinner menu:
Main Plates: Half Roast Chicken with red beans and rice ($19); Shrimp 'n' Grits with Carolina BBQ shrimp and cheese grits ($26); 8 oz. Filet Mignon with Mash 'n' Collards, crispy onions and Madeira sauce ($32); 14 oz. Prime New York Strip with sautéed mushrooms and fries ($38); Grilled Salmon with corto poached potatoes, sautéed Brussels sprouts, and Meyer lemon herb butter ($28); Grilled Ahi Tuna with glass noodles, stir fry vegetables, and sesame seeds ($36); and Pan Seared Chilean Sea Bass with corto poached potatoes and Sicilian ragout ($39).
Side: Glazed Sweet Potatoes with toasted pecans and marshmallow ($7).
————————————————————————————————————————————————————————–
Some noteworthy mentions: Sunday Jazz Brunch, "Sip, Tipple, Savor" Happy Hour (1/2 off drinks and bar bites, M-F 4-7pm), Tableside Crepes Suzette and Bananas Foster every day after 4pm.
Daily Specials:
Mon (all day) 50% off signature cocktails, Kids Eat Free
Tue (all day) $6 Burgers, $3 Beers: Corona/Light, Heineken/Light, $5 Dixie Vodka Cocktails
Wed HUMP DAY ALL DAY HAPPY HOUR 50% OFF DRINKS & BAR BITES, $5 HUMPSTER HURRICANES, 50% OFF BOTTLES OF WINE (bottles $100 & under), $9.99 SHRIMP PO'BOY & DRAFT BEER
Thu (7pm – close) Ladies Night: FREE Tito's Vodka Cocktails, FREE Bubbles – Live Music – DJ
Fri (2 – 5pm) Ditch Friday: $3 Abita Draft Beer, $4 House Wines, $5 Tito's Vodka Cocktails & Martinis, Happy Hour: ($4 – 7pm Half off Drinks & Bar Bites
There's actually more, so to get a complete list or for more information about The Balcony and its new menu, visit www.thebalconylasolas.com or call (754) 200-6344.
ABOUT THE BALCONY
The Balcony, a PDKN Restaurant Group concept, offers a New Orleans-inspired restaurant with a twist. Located on trendy Las Olas Boulevard in Fort Lauderdale, this two-story restaurant features the dynamic tastes of New Orleans, which blends French, Spanish, West African, Amerindian, German, Italian, Irish and Vietnamese ingredients. Guests enjoy New Orleans-style small plates, craft cocktails and live music. The Balcony is owned by former Miami Dolphins player Kim Bokamper and his three partners, who also own Bokamper's Sports Bar & Grill, with locations in Fort Lauderdale, Miramar, Plantation, Naples, and Estero. The Balcony is located at 1309 E. Las Olas Boulevard, Fort Lauderdale FL 33301. The restaurant is open Monday-Wednesday from 11:30 a.m. to 1 a.m.; Thursday-Saturday from 11:30 a.m. to 2 a.m. and Sunday from 10:30 a.m. to 12 a.m. For more information, visitwww.thebalconylasolas.com or call (754) 200-6344.
ABOUT PDKN RESTAURANT GROUP
PDKN Restaurant Group was founded by former Miami Dolphins player Kim Bokamper and his three partners, P.J. Kavanagh, Damon DeSantis and Noel Cullen, in 2008. Following Bokamper's successful sports and broadcasting career, he was approached by current partner Kavanagh about furthering his brand through a restaurant. The first Bokamper's Sports Bar & Grill was founded in 2008 in Plantation, Florida. Today, the group owns five Bokamper's restaurants locations in Florida: Fort Lauderdale, Plantation, Miramar, Naples, and Estero ― all dedicated to providing exceptional service, great food, and an unparalleled atmosphere for friends, families and sports fans of all ages. PDKN Restaurant Group also owns and operates The Balcony, a New Orleans-inspired restaurant on Fort Lauderdale's Las Olas Boulevard and Bo's Beach, featuring fresh seafood and stunning ocean views on Fort Lauderdale Beach.
Until we eat (and drink) again…
I send you delicious wishes, xo
Denise