Hello Foodie Friends,
My Assistant Marti & I were invited to The Balcony, a vibrant New Orleans-Inspired restaurant on Las Olas Blvd which opened approximately 8 months ago to check out their new menu which recently launched and now features even more dynamic dishes including some American favorites and tapas for sharing. To celebrate the launch of their new menu, The Balcony is offering a buy one entrée, get one 50% off special on Monday, March 25–Thursday, March 28 from 4–7 p.m.
Our server Myana (pronounced like Bryanna), was super nice and very knowledgeable about the menu items. The cocktail list was quite extensive and loaded with lots of interesting concoctions. Marti had the Sazerac which was made with Angel's Envy Bourbon, Pernod Absinthe, Peychaud's Bitters & Lemon ($15) I opted for the Pink Pearl which was made with Stoli Elit Vodka, Disaronno, Fresh Strawberries & Lime ($15). They were both excellent. Off to a great start. Then GM John and Chef Simon came over to welcome us and let us know that they would be sending out a variety of items for us to try and informed us if there was anything else we saw on the menu that we wanted to try, we were welcome. We were in for a treat for sure!
First out was the gumbo soup. This soup hit all the right notes and flavor profiles for me. It was a great surprise since I had never been one to fancy gumbo before. The warm crusty bread was a nice compliment as well. Great job, Chef! Next up was the Natchitoches Beef Pies (beef empanadas). Natchitoches is a city in Louisiana that is famous for making these little pillows of heaven. They were packed with flavor and I enjoyed the garlic dipping sauce it came with. The other sauce, we were given advance warning, was hot so I stuck to the garlic one. The crab cakes were not only adorable but very tasty. The perfect shareable dish. Chef sent out their signature salad, the Mardi Gras Peach & Berry. What a gorgeous salad; it just popped with color. Chef Simon explained to us that he pickles and poaches the peaches in the peak of season so that he is able to use them year round. We both really liked the freshness of each component of the salad. Our next tasting was the Baton Rouge Beef Sliders and the Shrimp Po Boy. The beef sliders were topped with housemade bacon jam, abita beer cheese, caramelized onion and pickled serrano (I actually didn't know there was a serrano pepper in there, so if you're a wimp like me in the spice/heat department, don't worry). This burger was THE BOMB!!! I am love with it for sure. The Shrimp Po Boy, on the other hand, lacked a little flavor for me and out of all the dishes we tried, was my least favorite. But not to worry, we got right back on track again with the Lobster Bisque made with cognac cream. It was heavenly and I would highly recommend this dish. It ranks up there as one of my favorite lobster bisques of all times. Marti had never tried fried green tomatoes before and I'm a fan when done right and boy did these deliver in the flavor department. They too, raised the bar on which all fried green tomatoes will forever be judged. OK, I'm sure by now you're wondering how in the world we could still fit anything into our bellies, right?!? Well, we couldn't resist at least trying a beignet. When you think of beignets, most undoubtedly the famous place in New Orleans, you know the one comes to mind. After popping one of these lovelies in my mouth, I just closed my eyes and within seconds, I began to feel as if I had been transported to New Orleans. These beignets were served with 3 unique dipping sauces; berry jam, spiced chocolate and orange marmalade.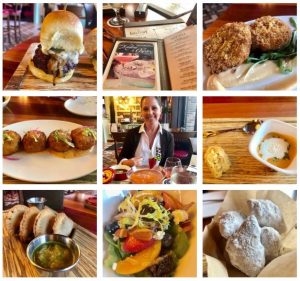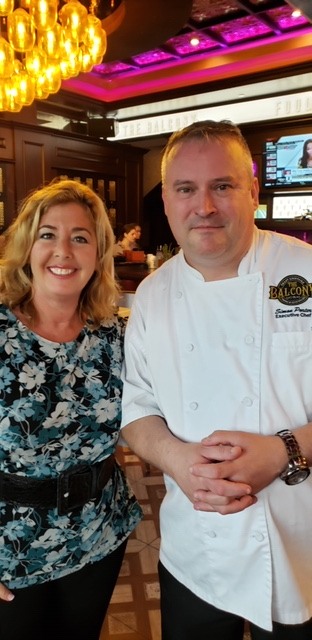 Besides the Lobster Bisque, other new menu items include Vegetable Dumplings, Braised Meatballs, Chicken Cobb Salad, Oyster Po'Boy and more.
"This new and diverse menu offers something for everyone!" said Kim Bokamper, former Miami Dolphins player and partner in PDKN Restaurant Group, which owns The Balcony. "Boasting the savory tastes of New Orleans along with American favorites, the menu merges a variety of appetizing flavors within many unique dishes."
Both the lunch and dinner menus offer the following new dishes:
Tapas: Vegetable Dumplings with sweet serrano chili sauce ($12), Coconut Crusted Shrimp with sweet mango serrano sauce ($15), and Braised Meatballs with house made tomato sauce ($13).
Soup: Lobster Bisque with cognac cream ($7 on lunch menu; $8 on dinner menu)
Salad: Chicken Cobb with avocado, Applewood smoked bacon, Point Reyes blue cheese, egg, heirloom tomato, romaine lettuce, and creamy Cajun dressing ($14 on lunch menu; $16 on dinner menu); Seared Ahi Tuna with heirloom tomato, cucumber, arugula, and lime dressing ($16 on lunch menu; $18 on dinner menu).
Hand Helds: Oyster Po'Boy with heirloom tomato, lettuce, Meyer lemon remoulade, and fries ($15 on lunch menu; $16 on dinner menu); The Burger with lettuce, tomato, onion and fries ($1 add cheese, $2 add Applewood smoked bacon) ($12 on lunch menu; $14 on dinner menu).
Sides: Mash 'n' Collards with Applewood smoked bacon, mashed potato, and collard greens ($7); Fries with moonshine ketchup ($5); Mashed Potatoes with cream and butter ($6); and Sautéed Brussels Sprouts with pecan maple glaze ($7).
The following new dishes are available only on the dinner menu:
Main Plates: Half Roast Chicken with red beans and rice ($19); Shrimp 'n' Grits with Carolina BBQ shrimp and cheese grits ($26); 8 oz. Filet Mignon with Mash 'n' Collards, crispy onions and Madeira sauce ($32); 14 oz. Prime New York Strip with sautéed mushrooms and fries ($38); Grilled Salmon with corto poached potatoes, sautéed Brussels sprouts, and Meyer lemon herb butter ($28); Grilled Ahi Tuna with glass noodles, stir fry vegetables, and sesame seeds ($36); and Pan Seared Chilean Sea Bass with corto poached potatoes and Sicilian ragout ($39).
Side: Glazed Sweet Potatoes with toasted pecans and marshmallow ($7).
————————————————————————————————————————————————————————–
Some noteworthy mentions: Sunday Jazz Brunch, "Sip, Tipple, Savor" Happy Hour (1/2 off drinks and bar bites, M-F 4-7pm), Tableside Crepes Suzette and Bananas Foster every day after 4pm.
Daily Specials:
Mon (all day) 50% off signature cocktails, Kids Eat Free
Tue (all day) $6 Burgers, $3 Beers: Corona/Light, Heineken/Light, $5 Dixie Vodka Cocktails
Wed HUMP DAY ALL DAY HAPPY HOUR 50% OFF DRINKS & BAR BITES, $5 HUMPSTER HURRICANES, 50% OFF BOTTLES OF WINE (bottles $100 & under), $9.99 SHRIMP PO'BOY & DRAFT BEER
Thu (7pm – close) Ladies Night: FREE Tito's Vodka Cocktails, FREE Bubbles – Live Music – DJ
Fri (2 – 5pm) Ditch Friday: $3 Abita Draft Beer, $4 House Wines, $5 Tito's Vodka Cocktails & Martinis, Happy Hour: ($4 – 7pm Half off Drinks & Bar Bites
There's actually more, so to get a complete list or for more information about The Balcony and its new menu, visit www.thebalconylasolas.com or call (754) 200-6344.
ABOUT THE BALCONY
The Balcony, a PDKN Restaurant Group concept, offers a New Orleans-inspired restaurant with a twist. Located on trendy Las Olas Boulevard in Fort Lauderdale, this two-story restaurant features the dynamic tastes of New Orleans, which blends French, Spanish, West African, Amerindian, German, Italian, Irish and Vietnamese ingredients. Guests enjoy New Orleans-style small plates, craft cocktails and live music. The Balcony is owned by former Miami Dolphins player Kim Bokamper and his three partners, who also own Bokamper's Sports Bar & Grill, with locations in Fort Lauderdale, Miramar, Plantation, Naples, and Estero. The Balcony is located at 1309 E. Las Olas Boulevard, Fort Lauderdale FL 33301. The restaurant is open Monday-Wednesday from 11:30 a.m. to 1 a.m.; Thursday-Saturday from 11:30 a.m. to 2 a.m. and Sunday from 10:30 a.m. to 12 a.m. For more information, visitwww.thebalconylasolas.com or call (754) 200-6344.
ABOUT PDKN RESTAURANT GROUP
PDKN Restaurant Group was founded by former Miami Dolphins player Kim Bokamper and his three partners, P.J. Kavanagh, Damon DeSantis and Noel Cullen, in 2008. Following Bokamper's successful sports and broadcasting career, he was approached by current partner Kavanagh about furthering his brand through a restaurant. The first Bokamper's Sports Bar & Grill was founded in 2008 in Plantation, Florida. Today, the group owns five Bokamper's restaurants locations in Florida: Fort Lauderdale, Plantation, Miramar, Naples, and Estero ― all dedicated to providing exceptional service, great food, and an unparalleled atmosphere for friends, families and sports fans of all ages. PDKN Restaurant Group also owns and operates The Balcony, a New Orleans-inspired restaurant on Fort Lauderdale's Las Olas Boulevard and Bo's Beach, featuring fresh seafood and stunning ocean views on Fort Lauderdale Beach.
Until we eat (and drink) again…
I send you delicious wishes, xo
Denise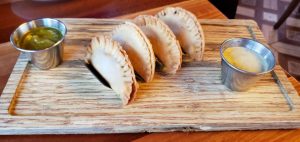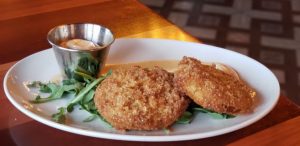 Dear Foodie Friends,
For those of you who have been around Boca Raton for the past 10 years, you might say that there has been quite the revolving door when it comes to the dining scene. Take the south west corner of Federal Highway & SE Mizner Blvd. in Downtown Boca for instance. How many of you remember Oceans 11, Saba Sushi, Ovenella and the short-lived The Little Chalet? Who remembers anything before? Let me know by commenting at the bottom of the post. I took you back as far as I could recall, since first coming to the area and immersing myself into the food scene here in Boca.
The Little Chalet was a beautiful special-occasion venue that is wildly popular in Brazil, but for whatever reason, just didn't catch on here in the company's first US location. It's a shame; they spent a small fortune I'm sure creating a lovely romantic ambiance. But, beautiful decor alone doesn't pay the bills so the owners decided early on to cut their loss and close and re-open with an entirely new hip & trendy concept.
Created by Ricky Marcellini, owner of The Little Chalet who explained that after noting a change in the area's demographics, they saw an opportunity to introduce South Floridians to a breezy, Brazilian nightlife-inspired restaurant and lounge for everyday dining. To facilitate a more communal and casual quality guest experience, he opened the space to an airier interior, expanding seating and adding a second bar to the outdoor patio.
"We have watched East Boca grow and change over the years, and we wanted to evolve our restaurant to match the tastes and lifestyles in the area, which is why we closed our doors as The Little Chalet and have reopened as The Locale," explains Ricky. "Our culinary team is as skilled as ever, and we are excited to offer a more robust and unique beverage program to complement the quality dishes that come out of our kitchen."
The hip and trendy The Locale Cocina & Bar presents guests with a Latin-inspired menu (South American influences including Brazil & Equador) and I would say Italian as well and is fast becoming the gathering spot in Downtown Boca for local friends and business associates.  I'm sure it also helps to offer Happy Hour every day from 4 – 7pm and again from 9pm til closing. What's more, is that guests can enjoy happy hour anywhere in the restaurant, not just the bar Sun – Thur (and at the bar only on Fri & Sat nights). There's a reduced price food menu and all drinks are 1/2 off.
I was invited by The Locale's PR firm to attend a media dine. They hosted a lovely event which several of my blogger friends attended, however, I was unable to attend at the time due to a lingering cold. I was thrilled to be invited back to experience the restaurant once I was well. On this dine, we started out a couple of their popular cocktails; I chose the Lychee Martini and my husband chose the Caipirinha, Brazil's National cocktail. Lychees are my newest exotic fruit obsession, by the way.
. 
The Locale's Chef Joshua Miranda and team take pride in creatively melding exotic flavors with familiar applications in order to deploy flavorful creations to be shared. Locale's Manager Carlos took the liberty of sending out a variety of dishes for us to try: a trio of appetizers consisting of pork & beef meatballs, mushroom crostini (called tostada on the menu) and tuna tartare were presented first. They were all delicious, but the star for me was the tuna tartare. The su vide preparation of the egg yolk was something that a true die hard foodie like myself would appreciate.
Carlos next sent out the Locale pizza which had fresh mozzarella, prosciutto, arugula and shaved Parmesan. Tip: took home leftovers and heated the pizza up and cracked a fresh egg on top to make a delicious breakfast pizza!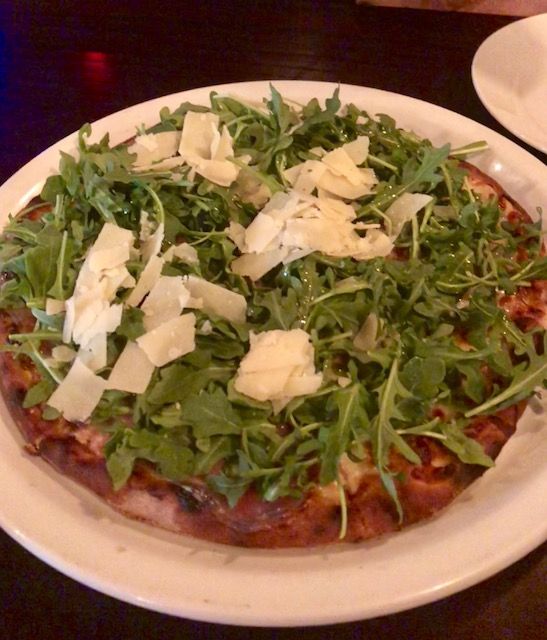 The Picarina steak had a beautiful sear on it and was seasoned and cooked perfectly and served with yuca fries.
There was a generous portion of shrimp in the Fettucini Alfredo dish. Also made a nice shrimp scampi crostini the next day with these leftovers!
The Locale boasts Boca's only Mixology Bar. (I see a Savor Our City Mixology Class taking place there in the future)– The Locale provides libation seekers with two bars and ample seating. Inside, chocolate bitters, candied ginger and acai liqueur are at the ready behind the bar, shaken up into one-of-a-kind drinks that are as eye-catching as they are delicious. Moscow Mule drinkers can choose from four iterations of the copper-mugged classic, including a daily rotating option, in addition to cocktails like the Brazilian Rum Runner  Fig Old Fashioned, Lychee Martini and Jalapeño Aquafaba. At the newly-expanded patio, The Locale's outdoor bar is happy to shake up something on the more traditional side in addition to pouring South Florida's coldest brew at an impressive 28°F from their special imported below-freezing brewery tap. With over 35 beers from 6 countries, the perfect sip is always within reach.
Other signature dishes on the menu that look really interesting which I will have to go back for are: Beef Empanada with shredded short ribs and tomato jam; Croqueta fried dough filled with ham and cheese; and Shrimp Ajillo garlic shrimp served with white rice and broccoli bring a taste of South America to the table. Vegetarians and carnivores alike will swoon over The Locale's meat-free Portobello Burger with tamarind glaze, manchego, crispy kale, aioli on a brioche bun; and flavorful signature entrées abound, with highlights including Short Rib over manchego polenta; Faroe Island Salmon with wild rice, asparagus, yogurt crema; and Bucatini with yellow chili sauce, onions and tomatoes and choice of sautéed filet or chicken.
The Locale's Happy Hour is served every day from 4-7p.m. and 9p.m.-close, where guests can enjoy even more brews, beats and bespoke cocktails from anywhere in the restaurant.
The Locale is located at 499 S Federal Hwy, Boca Raton, FL 33432, They are open for dinner Sun. – Thurs. 4 – 11p.m.; Fri. & Sat. 4p.m. – 1 a.m. and brunch on Sundays fro 10:30am – 2pm. For more information or to make a reservation, call (561) 325-8000 or visit www.localeboca.com.
Until we eat (and drink) again…
I send you delicious wishes, xo
Denise