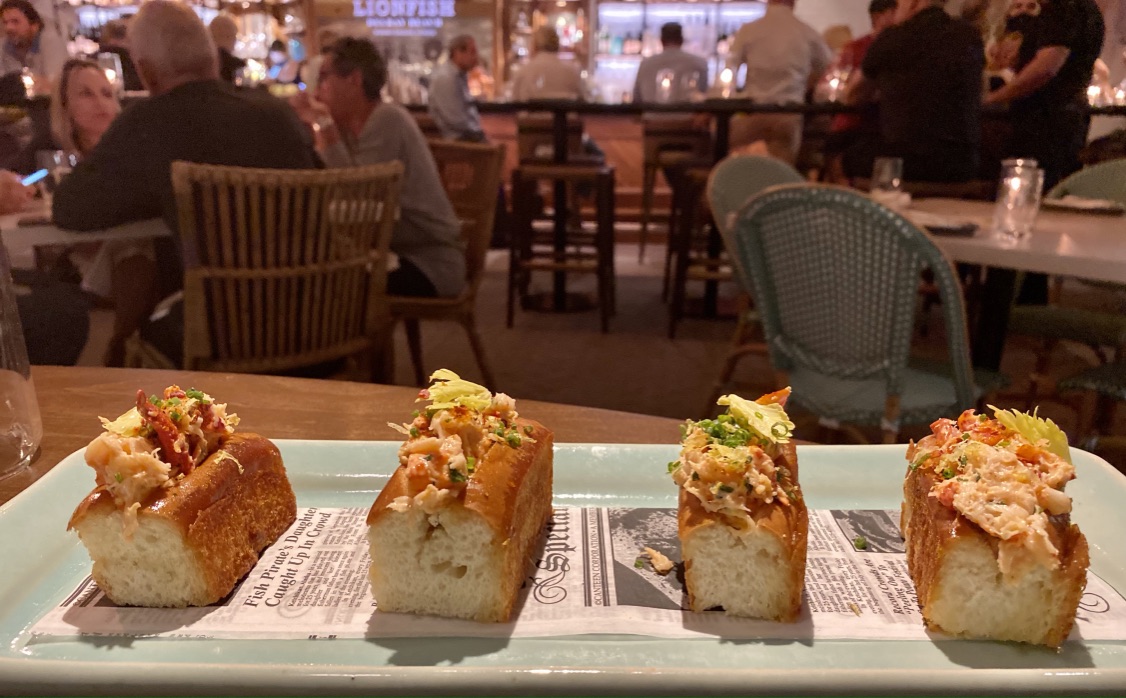 Hello Foodie Friends,
I get asked all the time for restaurant recommendations and often I am asked for the name of a good seafood restaurant. Of course this should come easy, being that we are located on the coast. But up until now, I really hadn't found one that just rolled off my tongue. But today, I am super excited to share with you my new favorite seafood restaurant which recently opened in Delray Beach, FL. It's called Lionfish.
Lionfish, the beloved San Diego hotspot boasting a fresh-catch menu meshed with seasonal ingredients, has opened the doors to its second location in the heart of downtown Delray Beach, Florida.
Situated along the famed Atlantic Avenue, Lionfish has been twice-recognized as a James Beard Foundation Smart Catch Leader, offering a sea-to-table approach with a mouthwatering menu served in the form of simplistic yet expertly-flavored coastal cuisine. The Delray Beach location is led by esteemed restaurant and entertainment specialists, Clique Hospitality.
Originally slated to open before the onset of the coronavirus pandemic, the new timeline has allowed Lionfish to deliver the best possible product to an eagerly-awaiting audience. In addition to a socially-conscious, locally-sourced menu, Lionfish is continuing to contribute to ocean conversation by serving its namesake dish in a variety of delicious appetizers and entrees. The rare, delectable white flaky fish is a species that is ravaging the ocean by devouring fellow sea life and damaging coral reefs.
"We are so thankful to call Delray Beach our new home, having recently established our second corporate headquarters here, and can't wait to show locals and tourists alike the coastal dining experience that is Lionfish," says Andy Masi, founder of Clique Hospitality. "Opening this fall has allowed us to launch with our full brand concept versus having to restrict menus and offerings during the pandemic."
Guests of Lionfish can expect a menu of wild-caught catches from the surrounding Atlantic Ocean coupled with grass-fed meats and fresh ingredients from local farmers, ranchers and regional purveyors inside a high-energy, sophisticated atmosphere. A full beverage menu of cutting-edge cocktails along with time-honored classics is served by a team of master mixologists. In addition, guests can sip from an all-encompassing wine list and a vast array of craft beers.
Executive Chef Jose "JoJo" Ruiz of Lionfish's San Diego location serves as Corporate Chef with locally-renowned Chef Johnny Demartini overseeing the kitchen as Executive Chef.
About Clique Hospitality
Clique Hospitality, founded by Andy Masi, is a collaboration of talented food and beverage professionals who have helped shape the dining and nightlife landscape along the West Coast for the past two decades. Masi has dedicated his life to making guests feel that a simple night out was more than just a memory, but also an experience. Clique is a boutique hospitality and marketing company with operations in Las Vegas, NV, San Diego, CA and Delray Beach, FL. Clique specializes in approachable dining that sets trends, rather than following them. In its partnerships with many of the country's most prestigious hospitality corporations, including MGM Resorts International, Cosmopolitan Las Vegas,Hotels, Montage Resorts, and Red Rock Resorts, Clique is transcending hospitality through service, quality, and trendsetting design.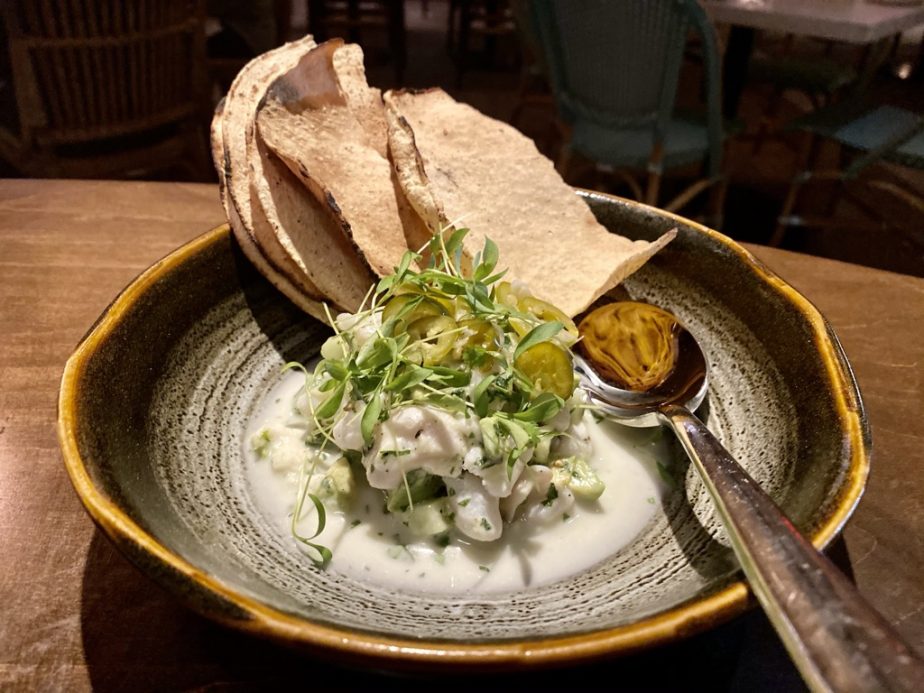 Had to try a dish with the namesake in it. We really enjoyed this ceviche. The secret to the deliciousness of this ceviche  we were told is the use of key lime in the curing process which gives it a little more tartness but balances out the sweetness of the coconut agave.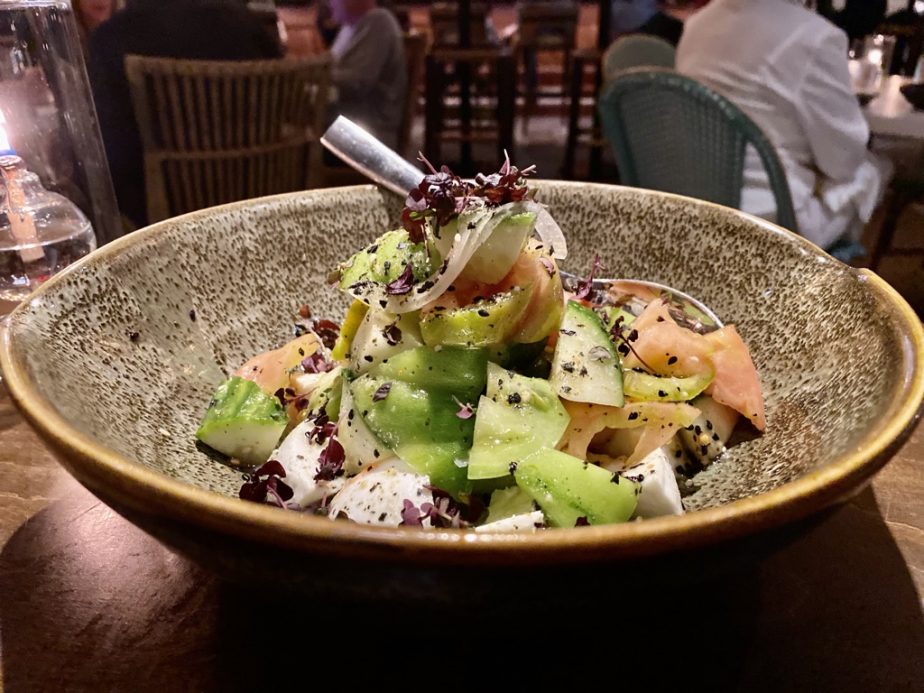 What a lovely combination of flavors. Clever spin on a traditional caprese salad. This Asian inspired version was very tasty.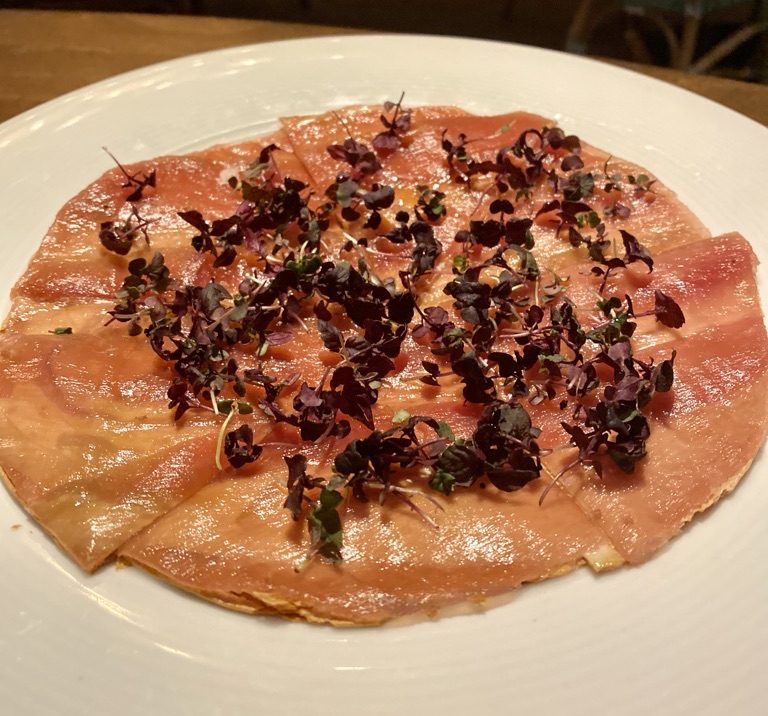 I like to think of myself as somewhat of a Sushi Pizza Connoisseur. I try this dish wherever I go when I see it on a menu. This one served at Lionfish is definitely one of the best. It's a close runner up to the one at Pubbelly. I really enjoyed the truffle mustard aioli and the micro shiso added a nice textural component.
Oh my! These mini lobster rolls are heavenly! The petite buns are made especially for Lionfish and are the perfect vessel for this scrumptious lobster salad. Delish! Great for sharing or enjoying as a meal on your own.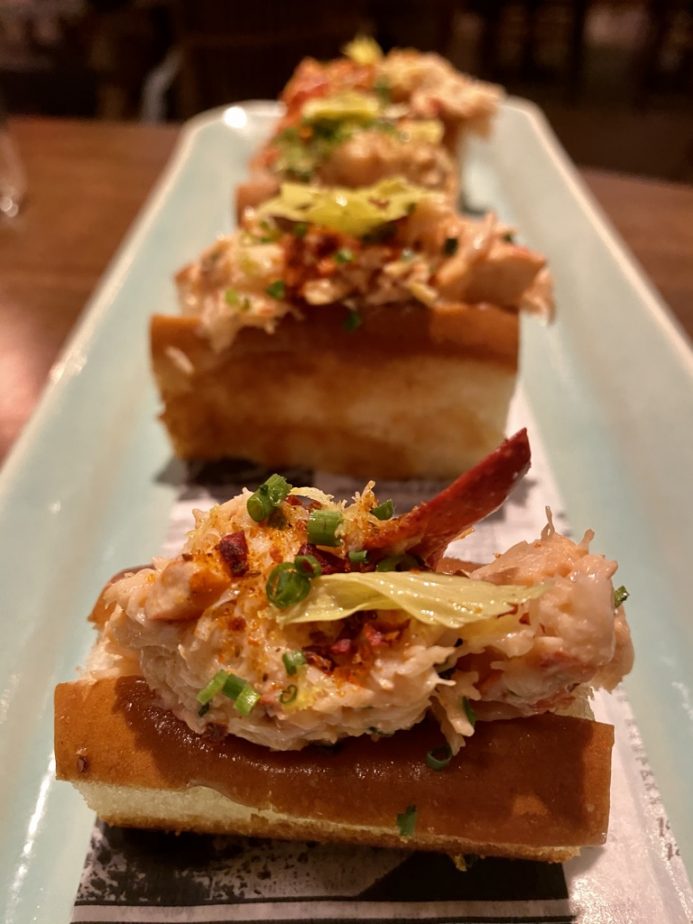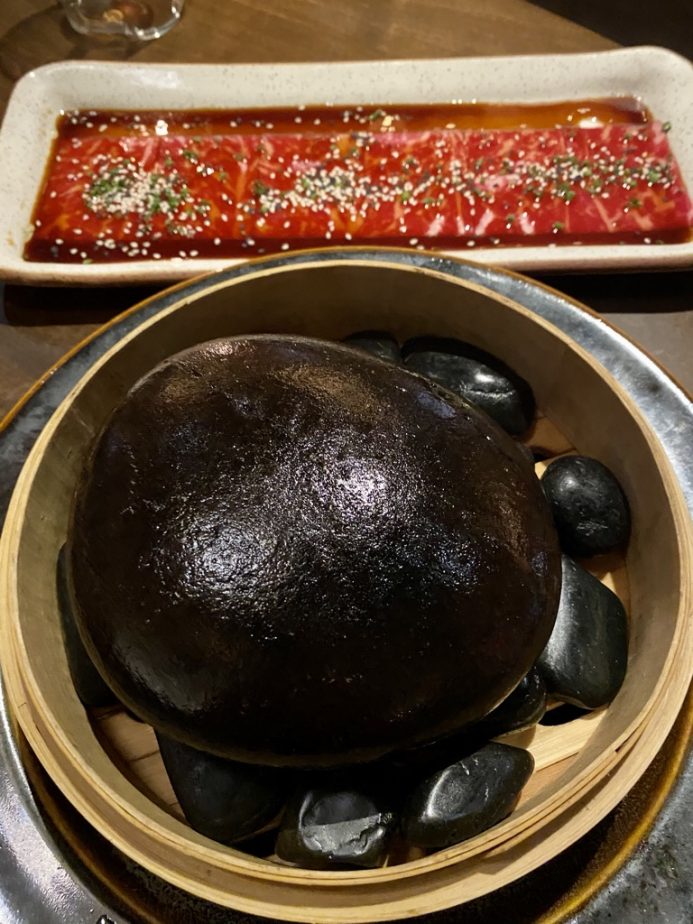 This was a fun interactive experience cooking your food over the hot rock. There are two Hot Rock options; the Wagyu Beef and the Giant King Oyster Mushrooms with Smoked Miso.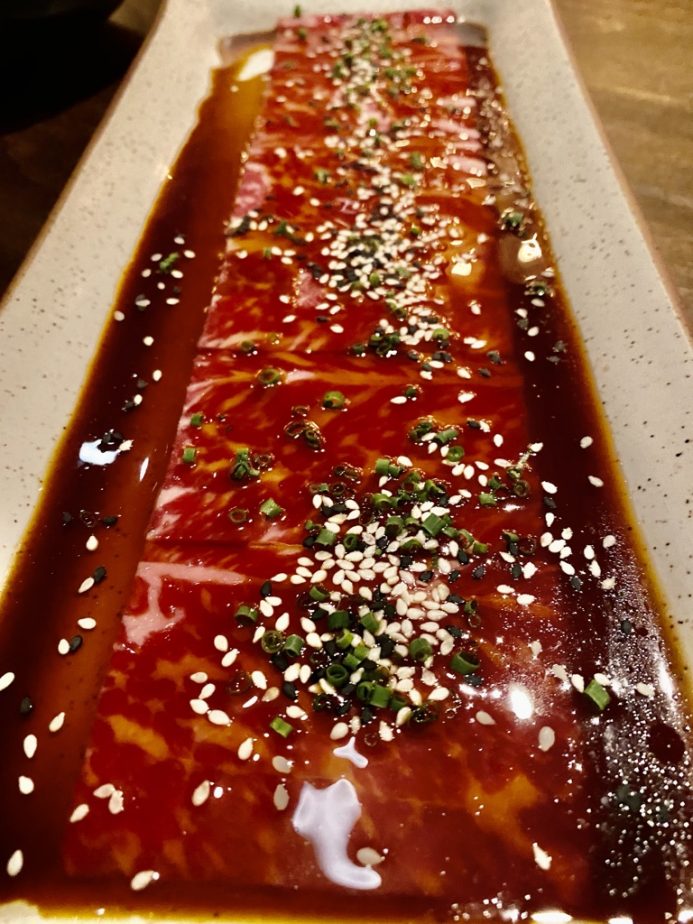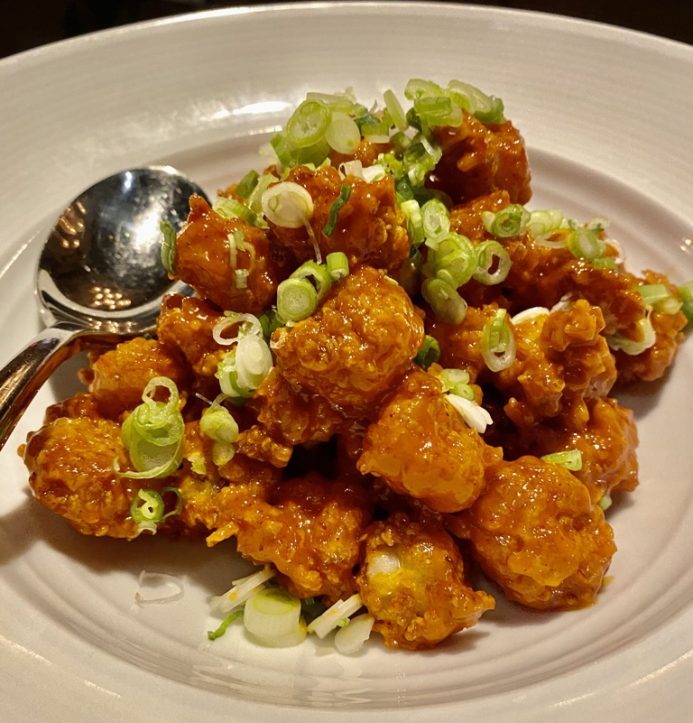 The aioli coated the hot rock shrimp, rather than being served as a dipping sauce. You could detect its essence but I believe a side of this sauce for dipping would go a long way. I'm sure they would bring one out if asked.
And now on to dessert….soooo many interesting selections…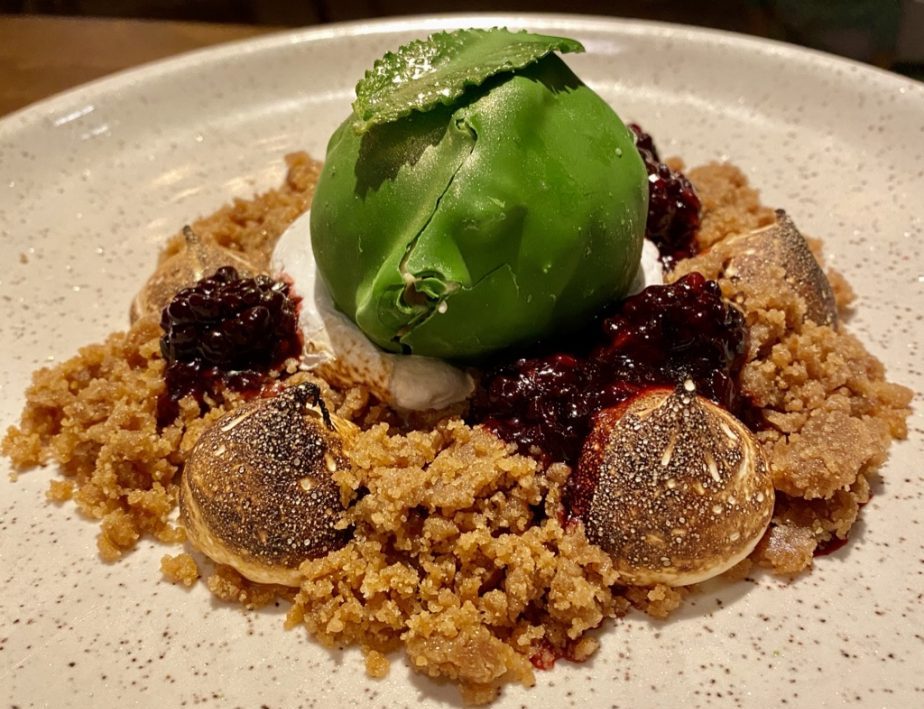 Oh my gosh. Words just fail to do this dessert justice. A deconstructed key lime pie. We savored every single bite!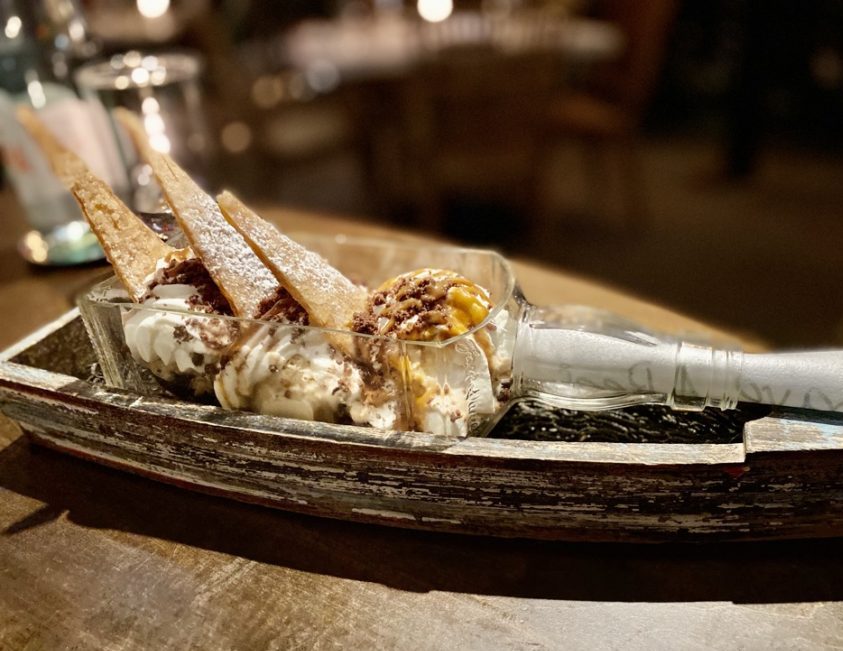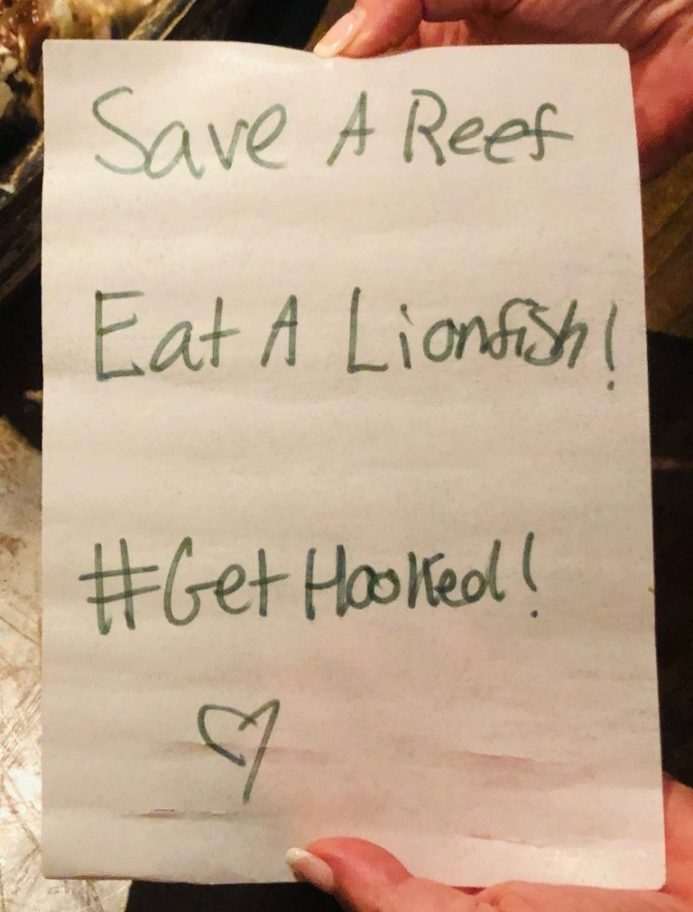 Just when you think you had the perfect dessert,, one that can't be topped, you take a bite out of this one. Wow! We loved the creativity of the presentation of this dessert and the sundae itself with all the little crumble bites was awesome! Our message in the bottle read, "Save A Reef, Eat A Lionfish! #GetHooked"
Well there you have it folks. This new seafood restaurant on the Ave gets two thumbs up and our stamp of approval. If you haven't been there yet…what are ya waiting for? Enjoy and tell Sean the Manager that your friend Denise from Savor Our City sent ya!
Lionfish is open daily starting at 4pm and serving Brunch on Saturdays & Sundays from 10am – 3pm, with dinner served until 11pm on Sats and 10pm on Suns. They are located at 307 E Atlantic Ave  Delray Beach.  561.639.8700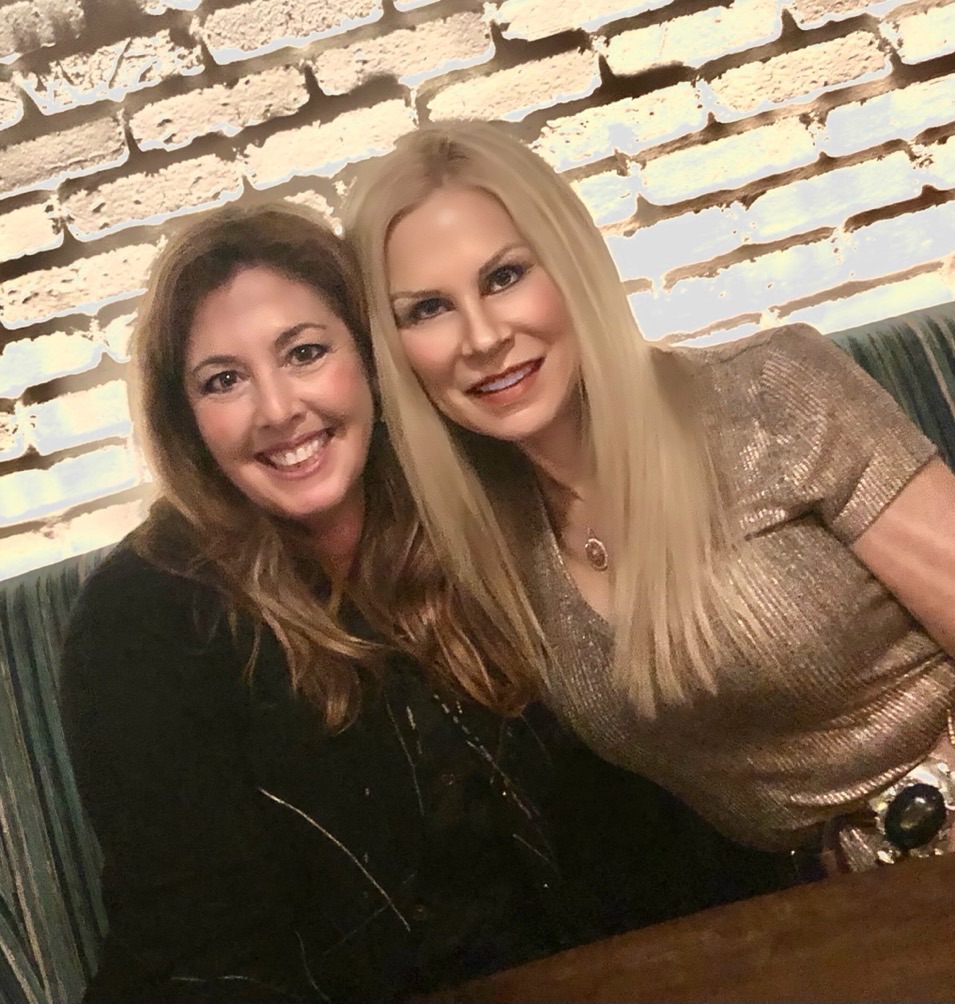 Until we eat again…
I send you delicious wishes, xo
Denise
Hello Foodie Friends,
As a second generation native South Floridian, born and raised in Miami, I have seen a huge transformation in Miami, and in particular, Miami Beach. When we were young, I fondly remember riding on the long stretch of road that connected the main land to the beach; this was an indication that we were getting close to Great Grandmother's.My Great Grandparents (Bessie & Frank) were direct descendants from Russia, a cute couple, each standing about 5′ tall. I don't remember Frank too much as he died before Bessie, but my Great Grandma lived until the ripe ol' age of 106. (She received two letters from the President of the time congratulating her on making it to a 100 years!) Back in that time, Collins Ave/Ocean Drive was lined with condos occupied by the senior community. You would find many of them just hanging out in rocking chairs on the front porches. That was until the developers stepped in and the gentrification process officially took off. Today, the landscape is one of youth and vibrancy. The hip, chic place with plenty of nightlife to keep you busy until the wee hours.
I received an email inviting me come taste A Fish Called Avalon, Located in the iconic Avalon Hotel on Ocean Drive, the setting offers an authentic, sophisticated South Beach experience. Many locals tend to have an impression that dining out in South Beach is for tourists, but I'm here to dispel that belief right here and now, at least when it comes to A Fish Called Avalon.  Now in it's 30th year, this marks quite a milestone in the restaurant world. Fun fact: this time-tested landmark had been the back drop for the 1983 film, Scarface.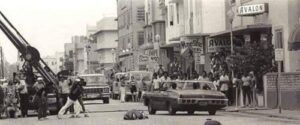 TIME-HONORED SEAFOOD TRADITION IN MIAMI BEACH
A Fish Called Avalon is a legend in South Beach. For nearly 30 years, they have been serving up the freshest seafood and delivering an exceptional dining experience to all who partake. The superb cuisine, relaxed Ocean Drive setting, and impeccable service have been delighting diners for nearly three decades.
Garnering attention for its superb seafood cuisine, impeccable hospitality and intimate setting, the restaurant is a favorite with locals and visitors alike.
Chef Kal & A Fish Called Avalon offer a seafood-dominated menu with tropical influences using the very best local and seasonal ingredients delivered daily.  Each item shines with a variety of unique presentation and flavors.
Chef prepared a wonderful selection of tastings for my Product Development Manager, Annette and I to taste. We sat on the lovely terrace and it was a beautiful night. Annette and I enjoyed every morsel. Our taste buds were literally (well ok, figuratively) jumping up and down in joy! While I really liked everything that was placed in front of us, I thought the Bang Bang Shrimp were very unique here and were a definite stand out for me. The Macadamia Nut crusted snapper was another nice surprise for me. I am a huge fan of octopus when cooked right and Chef did an outstanding job with this as well. The presentation on the paella was top notch and packed full of fruits from the sea.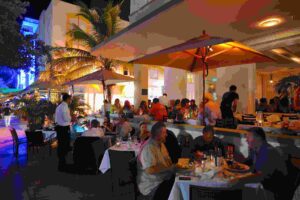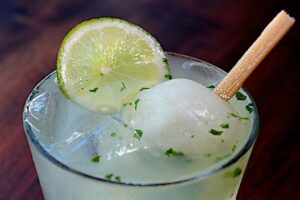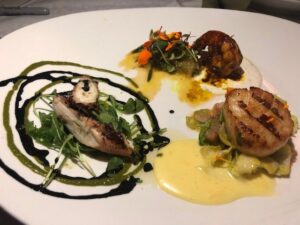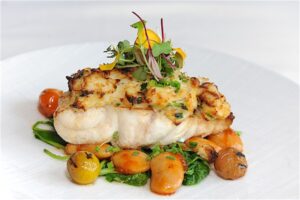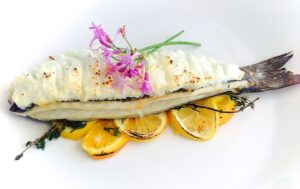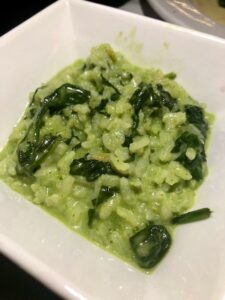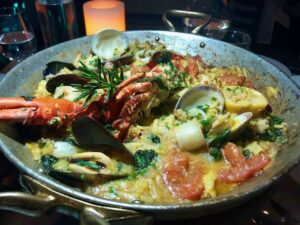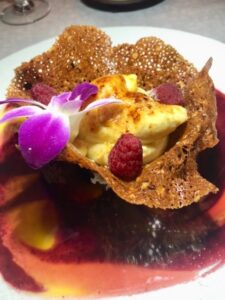 Tempting appetizers like the Bang Bang Shrimp and Orzo Seafood Paella for a main course are perfect for a romantic date night to evoke Mediterranean memories. The menu also offers prime and dry-aged steaks, organic chicken, and vegetarian-friendly options each with a perfect complement from the extensive award-winning wine list. Delectable desserts end the evening on a sweet note.
A Fish Called Avalon Accolades
Top 10 Best Restaurants and Best Outdoor Dining Winner in South Florida by OpenTable reviewers.
Ranked 30 of 787 Restaurants in Miami Beach TripAdvisor
A Fish Called Avalon is perfect for romantic dinners, a family affair, or a night out on the town. I can't wait to go back and hope that I have inspired you to want to check it out as well. Pro tip: Diners can park in the parking garage conveniently located at the corner of 7th and Collins.
For more info on the restaurant, please click here to visit their website:
Until we eat again…
I send you delicious wishes, xo
Denise