BRIO Tuscan Grille South Florida locations are being introduced  to a new  "Moderno" Take on Tuscan Dining! 
Dear Foodie Friends,
Have you been to a BRIO Tuscan Grille lately? If not, it's time to go back and check out all their new offerings. BRIO's lunch and dinner menus include grilled-to-order steaks, chops, seafood, made-to-order pastas, flatbreads, entrée salads and more…similar to what one would find in an authentic ristorante in Tuscany. The new menu evolves Tuscan-style dining with a variety of new items including small plates for sharing, two-course lunch plates and a renewed and innovative wine, spirits and craft beer menu. BRIO also offers an ample dessert menu, full wine list and cocktail book, special children's menu, family-style pans-to-go for off-site catered special events, and online ordering.
Fusing a creative, culinary-forward attitude with the best of the traditional Tuscan table, BRIO Tuscan Grille locations in South Florida have evolved to launch a new, modern menu of food and drinks. While the menu continues to feature many of BRIO's time-honored favorites, its ample new additions bring an imaginative twist to Tuscan classics, focusing on fresh, chef-inspired ingredients. Those watching their calories and gluten in take can rejoice as there are an abundant number of low-calorie and gluten-free items on the menu and guests can request customized entrées to ensure that their cuisine of choice perfectly suits their palate.
"By incorporating a creative, modern twist into many of our dishes, continuing to serve our classic favorites, and adding more opportunities for sharing, we are pleased to evolve the guest experience, while staying true to the essence of Tuscan dining," said BRIO Culinary Director & Chef Alison Peters.  "The new menu continues to embody our philosophy: 'to eat well, is to live well.'"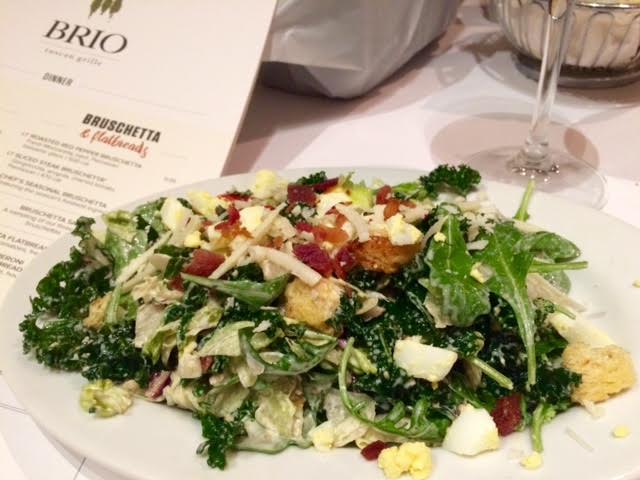 On a recent visit, I had the opportunity to bring my mom with me and we sampled some of the new menu items and some of their classics. One of the highlights of our evening came not served on a plate but the person serving the plates. His name is Kenny and he happens to be one of the VERY BEST SERVERS I have ever had the pleasure of being served by. Kenny had such a pleasant and patient demeanor and a great "can-do" attitude. We will definitely ask for him the next time we are in, and I suggest you do the same!
The Kale Caesar was terrific and consisted of mixed greens, marinated kale, pancetta, tomatoes, chopped egg, croutons, Caesar dressing & Parmesan.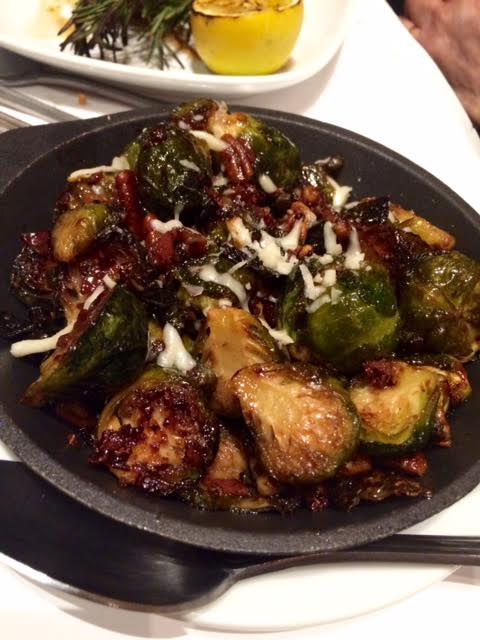 Maple Balsamic Brussels Sprouts: Roasted Brussels sprouts tossed with capers, a sticky balsamic-maple sauce, crisp bacon, and crunchy pecans, then finished with Reggiano cheese. Mark my words, you MUST order these! If you do not, I assure you that you will be missing out on some of the very best Brussels that have ever been created!
Here are some of BRIO's other new menu items:
Appetizers
Brûléed Parmesan Crème: Balsamic roasted grapes, grilled ciabatta
Burrata & Ciabatta: Creamy fresh Mozzarella, roasted tomato, extra virgin olive oil and grilled ciabatta
Bruschetta
Chef's Seasonal Bruschetta featuring the season's freshest ingredients
Seafood
Crab Crusted Salmon with roasted vegetables, farro, quinoa and lemon vinaigrette
Shrimp Risotto & Broiled Maine Lobster Tail with mushrooms, roasted red peppers, asparagus, basil and Parmesan
Jumbo Lump Crab Cakes with haricot vert, crispy fingerling potatoes, creamy horseradish and roasted peppers
Pan Roasted Tilapia served with orzo, farro, broccoli, asparagus, grape tomatoes, spinach, Feta, Pesto and lemon vinaigrette
From the Grille — New Grilled Entrees with Inspired Sides
Espresso Rubbed Ribeye(16 oz.), bone-in grilled to order and drizzled with extra virgin olive oil
Center-Cut Filet Mignon(6 oz. & 8 oz.), perfectly seasoned and grilled to order
Lamb Chops: New Zealand-raised
Seasonal Fresh Catch
Sides
Fingerling Potatoes BRIO: Crispy smashed fingerling potatoes with a little crushed red pepper and rosemary, drizzled with BRIO's signature creamy Parmesan dressing
SicilianCauliflower: Tossed with pepperoncini in a lemon garlic caper sauce, topped with bread crumbs and Parmesan, finished to a golden brown
Yukon Gold Mashed Potatoes: Silky Yukon gold mashed potatoes
Creamed Spinach & Kale: Spinach is tossed with garlic and cream, while the kale provides a surprise of flavor and texture.
White Bean & Escarole Ragout: A mix of vine ripened grape tomatoes, savory pancetta, roasted garlic, farro, orzo, and white beans
Haricot Vert & Roasted Peppers: Garden fresh haricot vert, pan seared, tossed with roasted red peppers, and seasoned to perfection
Roasted Tomato Basil Fettuccine: Fresh pasta tossed with roasted garlic, tomatoes, garden-fresh basil and grated Reggiano
Chef's Specialties 
Balsamic Braised Short Rib with butter basted wild mushrooms, roasted carrots, and cauliflower puree
Prosciutto Wrapped Pork Tenderloin with white beans, pancetta, rosemary, escarole, tomatoes, orzo and farro 
Sandwiches
Burger Americano: White cheddar, heirloom tomatoes, housemade pickles, red onion, lettuce and special sauce, served with fries
Prosciutto & Burrata Sandwich: Creamy fresh Mozzarella, grilled peppers, mayo, arugula and ciabatta, served with a field greens salad
Short Rib & White Cheddar Sandwich: Open-faced, caramelized onions, arugula and ciabatta, served with housemade chips
Pasta
Roasted Tomato Basil Fettuccine: Fresh pasta, roasted garlic, Reggiano
Here are some of the other items we enjoyed on this night: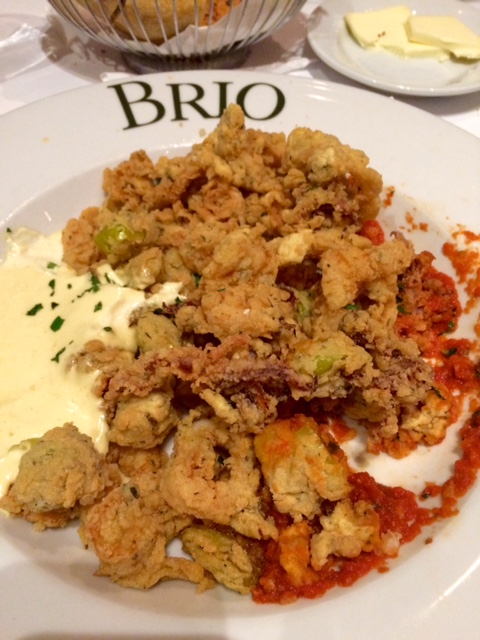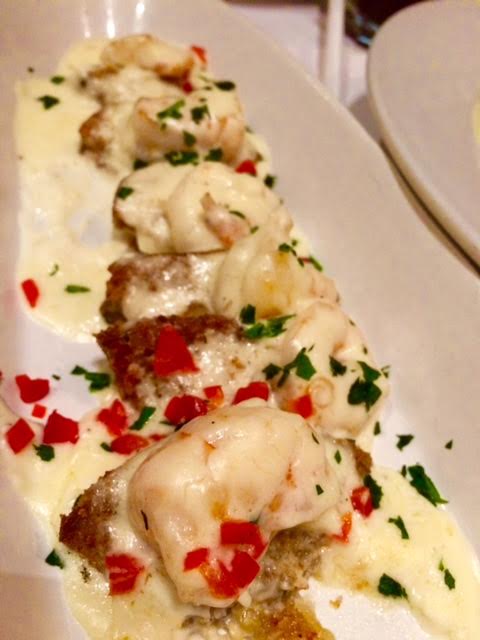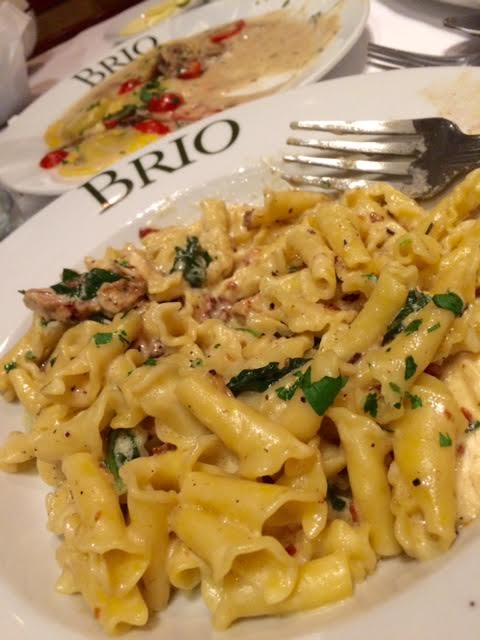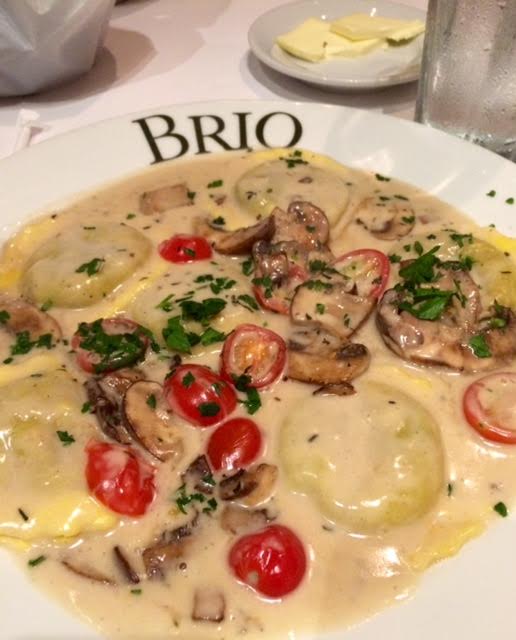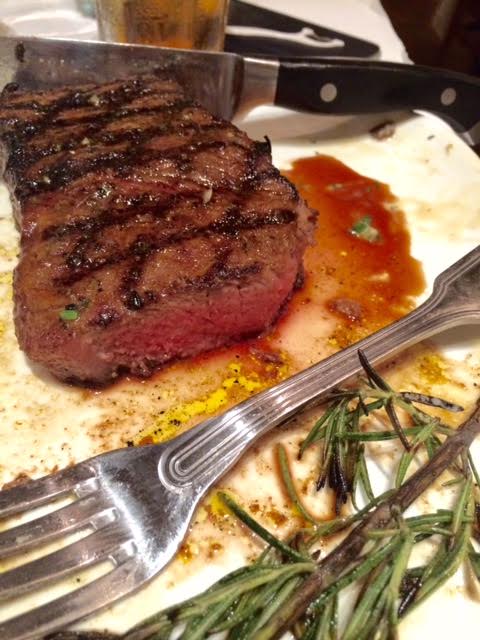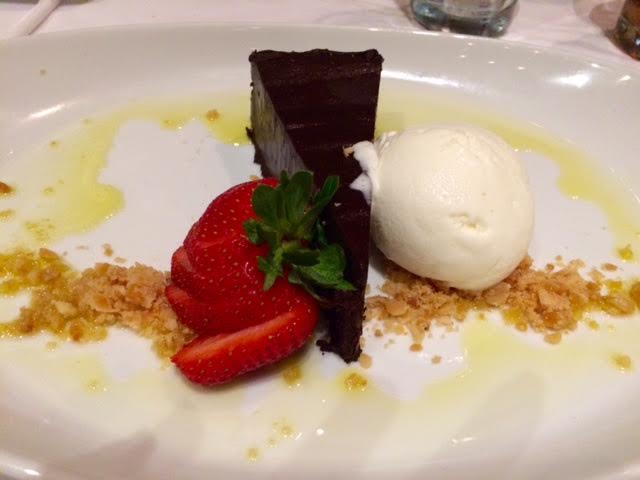 For more info on BRIO!, to look at their menu , to find a location near you or make a reservation, visit their website, www.BrioItalian.com.
————————————————————————————————————————————————————–
BRAVO! Cucina Italiana, its sister restaurant in Jupiter, recently launched a new menu as well, featuring a 2-Course Dinner Menu starting at Only $12.99!!!
Be among the first to try their special 2-Course Dinner promotion, showcasing a selection of five entrées paired with one of three salads, available now and running through Friday, Sept. 30, 2016.
The 2-Course Dinner Menu features dishes from fresh, cut-from-the-sheet pasta to premium quality meats, chicken and seafood with three always-fresh, high-quality Italian salads.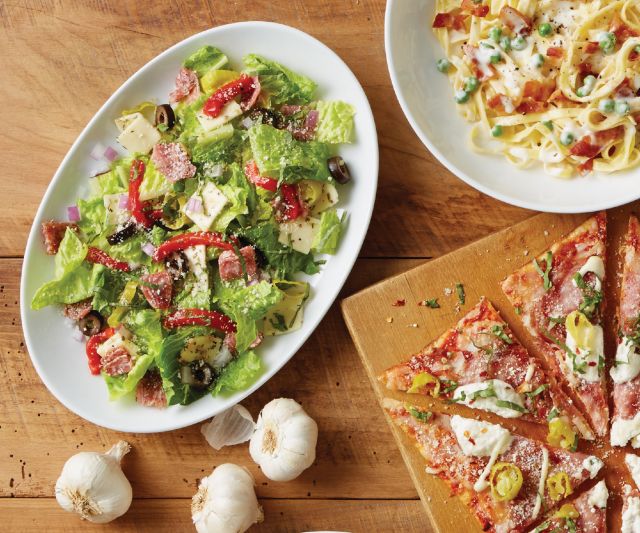 About BRAVO! Cucina Italiana at Harbourside Place
BRAVO! Cucina Italiana at Harbourside Place is located at 149 Soundings Ave., Jupiter, FL 33477. The beautiful 7,098-square-foot restaurant offers indoor seating for guests (including 28 bar seats), and al fresco dining for up to 36 (including six bar seats) on an Italian-style terrace. A semi-private dining area will accommodate groups up to 20 guests. BRAVO! faces the Intracoastal Waterway, which allows the restaurant to provide dockside carryout service. The restaurant is open Sunday 10 a.m.–10 p.m., Monday–Thursday 11:30 a.m.–10 p.m., Friday 11:30 a.m.–11 p.m., and Saturday11 a.m.–11 p.m. Brunch is served on weekends from 11 a.m.–3 p.m. For more information, visit www.BravoItalian.com. For reservations, call the Harbourside Place restaurant at (561) 747-4445.
Until we eat again…
I send you delicious wishes, xo
Denise