Hello Foodie Friends,
Earlier this year, just in time for SuperBowl LIV longtime LA-headquartered taco bar PinkTaco (on INSTA #pinktaco) debuted their newest location and officially brought the VIP party to Miami. The party began with an exceptional South Beach-style opening at 1200 Ocean Drive, Miami Beach, FL 33139. Celebrities were everywhere and cheered as Snoop Dog arrived, and he was, of course, greeted by a raucous Miami Beach welcome.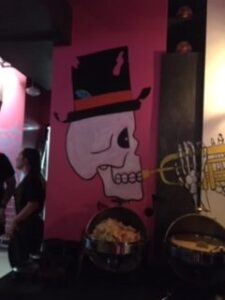 Prior to Snoop's arrival guests were served Pink City's epically delicious tacos all made from scratch with local farm-fresh ingredients. Inside the opening's main visual feature, a Patron tequila ice sculpture, shaped as if it was an architectural detail taken directly from one of the beautiful Art Deco hotels nearby. World-famous Ocean Drive is the heart of Miami Beach's historic art deco district and filled with restored Art Deco hotels. Some guests drank Patron's famous tequila as the sculptural ice melted drip by drip or slowly filled their cups. The mixed drinks included Something Pink made from Patron Estate with fresh prickly
pear puree, a perfect cooling adult beverage and accompaniment to expertly seasoned and cooked tacos.
The bar has front row tables outside to see and be seen on Ocean Drive. You can't miss their famous pink neon sign at the entrance on the corner of Ocean Drive and 12 th street. And parked on the corner is the PinkTaco food truck which is for hire to cater your party or event. The pink hued walls inside thrum with vibrant mural wall art and don't forget to look up at the ceiling. The pink neon theme, oh so South Beach, is carried through the bar's interior walls and actual pink neon signage. When you're seated at the bar look up to admire the Chicano-style artwork, reminiscent of Day of the Dead celebrated each year in Mexico on November 1 st including art in tribute to Mexico's famous 1920s painter, Frida Kahlo.
1.21.20 Blogpost Pink City Taco VIP opening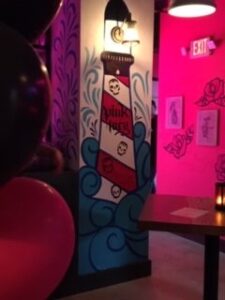 Some of the more interesting and deeply rich and tasty bites included Queso Bean Dip, the Pink Taco with achiote chicken, black beans, avocado, arbol salsa, cotija cheese and habanero picked onions on fresh corn tortillas. The "pink" in the name Pink Taco is from the pickled red onions, which add a zesty bite to the taco.
We also sampled Carne Asada and Al Pastor tacos. This is the real deal just like SoCal Mexican food. Pink Taco Miami serves lunch, dinner, drinks, dessert and brunch daily. Tuesday is Taco Tuesday and every day you can enjoy happy hour margaritas,
beer, sangria and an array from tasty morsels their menu from 3 p.m. to 7 p.m.