Hello Foodie Friends,
I had the opportunity to sail on Royal Caribbean's newly refurbished Oasis of the Seas over the Christmas/Hanukkah holidays. Wow!!! What a ship! It was a 7 night Eastern Caribbean cruise sailing from Miami calling on Labadee (their private island off Haiti), San Juan and St. Thomas. There were three days at sea so it was a very leisurely itinerary which meant lots of time to just chill on deck and enjoy the plethora of amenities and activities on board. Some of my highlights: our cabin. We had a lovely balcony cabin and the room was quite spacious. "Central Park" on deck 8 was quite spectacular. I  was impressed with the amount of trees and foliage found on this deck that opened up to the sky. This deck is where several of the Specialty Dining restaurants could be found as well as the top floor of the "floating" bar that traveled up and down between decks 5 and 8. The Boardwalk was a lot of fun as well with a Carousel and game booths and a few other specialty restaurants including Johnny Rockets and a candy store. The Aqua Theater is also located on this deck at the end of the Board Walk in the back of the ship. The show they do is terrific!!! The soundtrack, amazing! It's a free show and one of the best I have seen, on land or at sea. I would suggest making a reservation early on and sometime towards the beginning or middle of the cruise as opposed to the end as sometimes the weather sailing back into Miami may get a little rough and they might have to move some reservations around if rough weather is expected.
We also enjoyed the ventriloquist, Ronn Lucas . He was both hysterical and amazing. The way he threw his voice was mind-boggling. We also enjoyed one of the comedians who is from Miami. His name is Nery Saenz. Not only was he funny as all heck, but clever tool. He knows he has a name that's not easy to remember, but what is easy to remember is "What Was That Guy's Name?" So he bought that domain and that's literally how I just looked him up for this post.
The Bionic Bar was really quite the spectacle. Drinks were made literally by robots. Check it out.IMG_5301÷
 Other highlights include the Spotlight Lounge. We found ourselves here on a few nights enjoying some sing-a-long games akin to name that tune. Was a lot of fun. I also went on the slides (both wet and dry). Didn't get around to trying the surf rider, maybe next time…
We mostly ate at the Windjammer Cafe since there was such a variety and no waiting. We did eat in the dining room a couple times and we ate at the Hibachi restaurant which turned out to be a bit of a disappointment for us. Not because the food wasn't good, but because the large party they had scheduled to seat with us,,, with never showed up, so it was just the two of us and not much of a "show".
For excursions, we just kinda did our own thing. Total beach day at Labadee. In San Juan, we walked around Old San Juan, visited some local shops, headed over to El Morro Fort and decided to get henna tattoos on our way back to the ship. In St. Thomas, the weather was kind of iffy, so we were fortunate to have gone on our own to Coki Beach to get a little snorkeling in before the rain. We heard the planned water shore excursions were cancelled.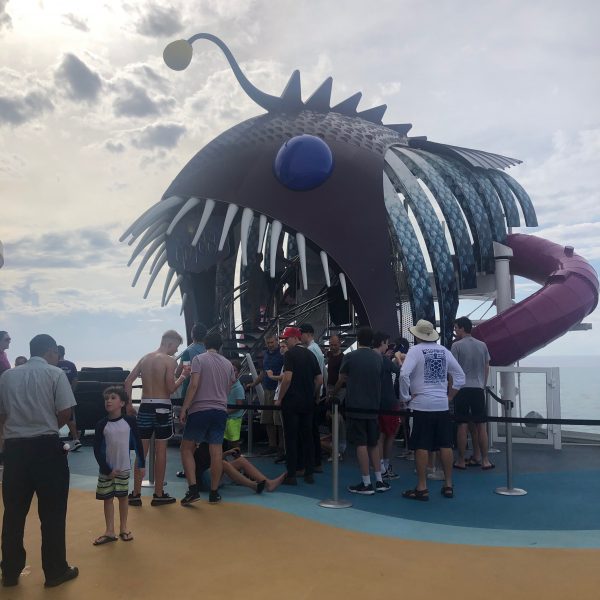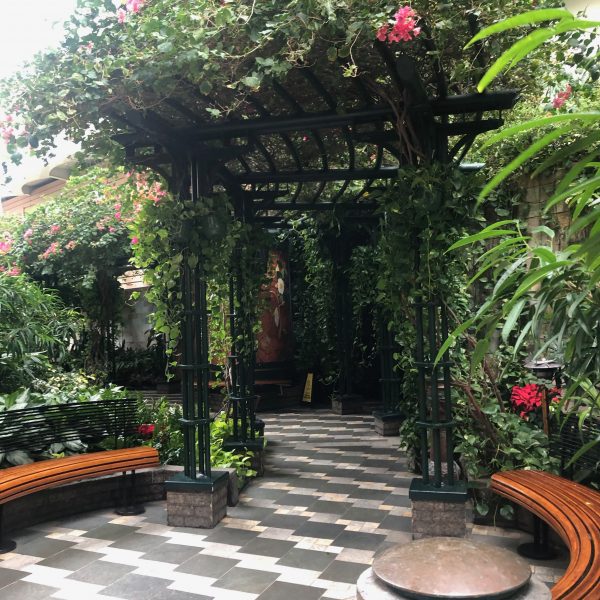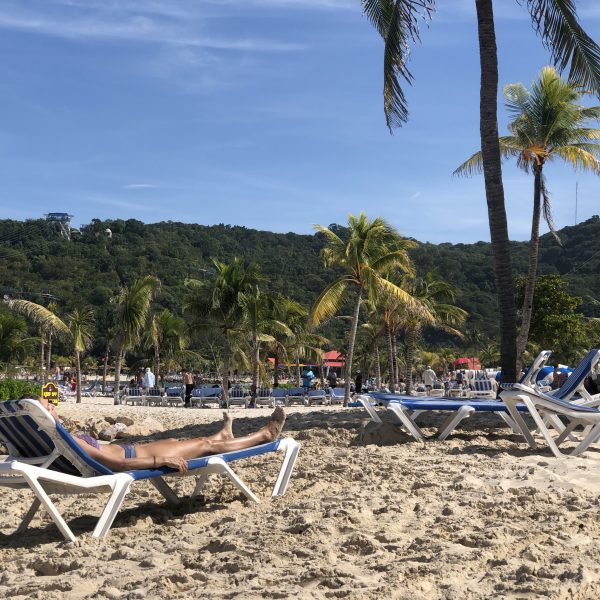 Back on the ship, I got a little lucky in the casino at the craps table. I'm not much of a gambler but sure had fun making a bunch of people a bunch of money with a lucky 20-30 minute roll. Beginner's luck?!?
All in all, my friend and I had a wonderful cruise. I'm looking forward to my next adventure coming up in February; Destination: New Orleans for Mardi Gras. Stay tuned…
Until we eat (and drink) again…
I wish you Delicious Wishes, xo
Denise
Dear Foodie Friends,
This summer we have been fortunate to do some traveling and have taken a couple staycations locally (Wyndham Deerfield Beach and Grandview Gardens B&B in West Palm Beach) as well as a couple out of state. We tasted our way through New York and now this blog post will cover our most recent trip to Las Vegas, It's been 12 years since my last visit to Sin City and I was super excited to check out the food scene, the gorgeous hotels and some shows.
The Venetian/Palazzo was our base for the next 5 nights. I had been to The Venetian before but this was the first time I stayed there. This hotel is gorgeous. Even if your plans don't call for you to stay here, I would certainly recommend a visit; trust me you will want to see the Venetian canals, take a ride on a gondola and eat dinner at St. Mark's Square.
One of the restaurant groups we work with in Miami, V & E Restaurant Group has a couple restaurants in Las Vegas that we decided to check out. We went for brunch at Cafe Americano located inside Caesar's Palace. They are doing a fantastic job serving up classic American fare with a Latin twist and bonus, they're open 24/7. Woo hoo!!! We were warmly greeted and brought to a lovely table near the back which was nice and bright with a lot of natural light coming from the floor to ceiling windows. The GM Gerardo surprised us with a Blueberry Lemondrop Martini which was sooooo delicious. I would highly recommend it. After scanning the menu, we decided to share the grilled artichoke hearts which came with 8 pieces to an order with a balsamic glaze and basil pesto for dipping. I could have stopped right there and gone home happy. But wait, there's more…We ordered the breakfast sandwich on a buttered and toasted brioche bread. Our server Raul had recommended we sub the bacon which comes with the sandwich for their house bacon instead. I'm glad he made that suggestion, because we enjoyed the sandwich and the bacon very much. We also had the steak tacos. Shaved rib eye, avocado salsa and Cotija cheese. It was excellent. I was so enamored with the balsamic glaze they used with the artichokes that I asked for an extra side of it which I also used on my tacos. Yumm!!!
After brunch, we walked through Caesar's Palace including a stroll through the Forum Shops.
Then we ventured over to The Wynn. If you haven't been to the grand hotels at least for a walk through, you are really missing out. The lobby was adorned with beautiful fresh flowers everywhere. It was like the Rose Bowl Parade.
We saw two shows while we were there. One was a comedy show at The Comedy Cellar at The Rio Hotel. It was an intimate space and the acts were decent. Nothing spectacular.
The true highlight for me was the Criss Angel Magic Show though. He was beyond incredible. If you haven't seen him perform, I can't recommend you do so enough!
After the show we headed back to The Venetian's St. Mark Square where we had dinner reservations at Mercato Della Pescheria. (This is another of V & E Restaurant Group's restaurants, also found in the heart of Espanola Way in Miami Beach).
Now this was a most wonderful experience dining at Mercato Della Pescheria in St. Mark's Square inside The Venetian Hotel. We were welcomed by the Manager Mahe and the Assistant Manager Ben in addition to our lovely Italian server Giada. We started off with an Italian High Ball and a Tuscan Red Blend. For starters, we had the Caesar salad and the grilled octopus. The salad was perfectly dressed and packed with flavor. The octopus was so beautiful and thoughtfully plated and cooked to perfection as well. For our entrees, we had the Swiss Chard Ravioli with a pesto sauce and Caccio e Pepe. They do this tableside. Check out the video below. What a treat.
Have you ever heard of Hash House A Go Go? Apparently they have a few of these around the country including Orlando, Chicago and Las Vegas. The one we went to is located in the LINQ Hotel. We did have a bit of a wait, but it was worth it. Portions were big and the food was very good.
On our final night, we headed Downtown to Fremont Street. Have you been there? It's like Times Square on steroids. It's a pedestrian only street several blocks long with street performers every few feet. They claim to have the largest video screen over head that projects a light show set to music thoughout the night..You'll also see people whizzing by on cables up above. Something worth venturing off the Strip for, for sure.
Another restaurant we had to try while in Vegas was Chica by Celebrity Chef Lorena Garcia. We are working with Chef Lorena and her team in Miami to soon bring groups to her Culinary Loft. A second Chica will also be opening this Fall in Miami. The Latin flare is evidenced throughout the dining experience from the bright and cheery decor to the food & drinks.
Well, we came, we ate, we were entertained and like all good things that must come to an end, so did our stint in Las Vegas. So whether you have gambling on your agenda or not, there's so much to do in this adult playground and definitely no shortage of good eats!
Until we eat and drink again…
I send you delicious wishes, xo
Denise
Hello Foodie Friends,
My Assistant Marti & I were invited to The Balcony, a vibrant New Orleans-Inspired restaurant on Las Olas Blvd which opened approximately 8 months ago to check out their new menu which recently launched and now features even more dynamic dishes including some American favorites and tapas for sharing. To celebrate the launch of their new menu, The Balcony is offering a buy one entrée, get one 50% off special on Monday, March 25–Thursday, March 28 from 4–7 p.m.
Our server Myana (pronounced like Bryanna), was super nice and very knowledgeable about the menu items. The cocktail list was quite extensive and loaded with lots of interesting concoctions. Marti had the Sazerac which was made with Angel's Envy Bourbon, Pernod Absinthe, Peychaud's Bitters & Lemon ($15) I opted for the Pink Pearl which was made with Stoli Elit Vodka, Disaronno, Fresh Strawberries & Lime ($15). They were both excellent. Off to a great start. Then GM John and Chef Simon came over to welcome us and let us know that they would be sending out a variety of items for us to try and informed us if there was anything else we saw on the menu that we wanted to try, we were welcome. We were in for a treat for sure!
First out was the gumbo soup. This soup hit all the right notes and flavor profiles for me. It was a great surprise since I had never been one to fancy gumbo before. The warm crusty bread was a nice compliment as well. Great job, Chef! Next up was the Natchitoches Beef Pies (beef empanadas). Natchitoches is a city in Louisiana that is famous for making these little pillows of heaven. They were packed with flavor and I enjoyed the garlic dipping sauce it came with. The other sauce, we were given advance warning, was hot so I stuck to the garlic one. The crab cakes were not only adorable but very tasty. The perfect shareable dish. Chef sent out their signature salad, the Mardi Gras Peach & Berry. What a gorgeous salad; it just popped with color. Chef Simon explained to us that he pickles and poaches the peaches in the peak of season so that he is able to use them year round. We both really liked the freshness of each component of the salad. Our next tasting was the Baton Rouge Beef Sliders and the Shrimp Po Boy. The beef sliders were topped with housemade bacon jam, abita beer cheese, caramelized onion and pickled serrano (I actually didn't know there was a serrano pepper in there, so if you're a wimp like me in the spice/heat department, don't worry). This burger was THE BOMB!!! I am love with it for sure. The Shrimp Po Boy, on the other hand, lacked a little flavor for me and out of all the dishes we tried, was my least favorite. But not to worry, we got right back on track again with the Lobster Bisque made with cognac cream. It was heavenly and I would highly recommend this dish. It ranks up there as one of my favorite lobster bisques of all times. Marti had never tried fried green tomatoes before and I'm a fan when done right and boy did these deliver in the flavor department. They too, raised the bar on which all fried green tomatoes will forever be judged. OK, I'm sure by now you're wondering how in the world we could still fit anything into our bellies, right?!? Well, we couldn't resist at least trying a beignet. When you think of beignets, most undoubtedly the famous place in New Orleans, you know the one comes to mind. After popping one of these lovelies in my mouth, I just closed my eyes and within seconds, I began to feel as if I had been transported to New Orleans. These beignets were served with 3 unique dipping sauces; berry jam, spiced chocolate and orange marmalade.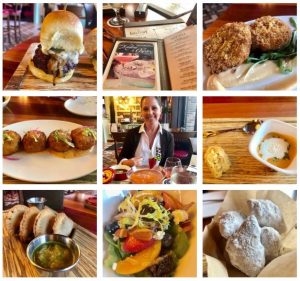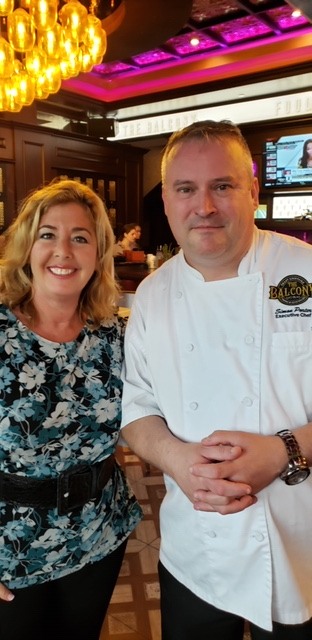 Besides the Lobster Bisque, other new menu items include Vegetable Dumplings, Braised Meatballs, Chicken Cobb Salad, Oyster Po'Boy and more.
"This new and diverse menu offers something for everyone!" said Kim Bokamper, former Miami Dolphins player and partner in PDKN Restaurant Group, which owns The Balcony. "Boasting the savory tastes of New Orleans along with American favorites, the menu merges a variety of appetizing flavors within many unique dishes."
Both the lunch and dinner menus offer the following new dishes:
Tapas: Vegetable Dumplings with sweet serrano chili sauce ($12), Coconut Crusted Shrimp with sweet mango serrano sauce ($15), and Braised Meatballs with house made tomato sauce ($13).
Soup: Lobster Bisque with cognac cream ($7 on lunch menu; $8 on dinner menu)
Salad: Chicken Cobb with avocado, Applewood smoked bacon, Point Reyes blue cheese, egg, heirloom tomato, romaine lettuce, and creamy Cajun dressing ($14 on lunch menu; $16 on dinner menu); Seared Ahi Tuna with heirloom tomato, cucumber, arugula, and lime dressing ($16 on lunch menu; $18 on dinner menu).
Hand Helds: Oyster Po'Boy with heirloom tomato, lettuce, Meyer lemon remoulade, and fries ($15 on lunch menu; $16 on dinner menu); The Burger with lettuce, tomato, onion and fries ($1 add cheese, $2 add Applewood smoked bacon) ($12 on lunch menu; $14 on dinner menu).
Sides: Mash 'n' Collards with Applewood smoked bacon, mashed potato, and collard greens ($7); Fries with moonshine ketchup ($5); Mashed Potatoes with cream and butter ($6); and Sautéed Brussels Sprouts with pecan maple glaze ($7).
The following new dishes are available only on the dinner menu:
Main Plates: Half Roast Chicken with red beans and rice ($19); Shrimp 'n' Grits with Carolina BBQ shrimp and cheese grits ($26); 8 oz. Filet Mignon with Mash 'n' Collards, crispy onions and Madeira sauce ($32); 14 oz. Prime New York Strip with sautéed mushrooms and fries ($38); Grilled Salmon with corto poached potatoes, sautéed Brussels sprouts, and Meyer lemon herb butter ($28); Grilled Ahi Tuna with glass noodles, stir fry vegetables, and sesame seeds ($36); and Pan Seared Chilean Sea Bass with corto poached potatoes and Sicilian ragout ($39).
Side: Glazed Sweet Potatoes with toasted pecans and marshmallow ($7).
————————————————————————————————————————————————————————–
Some noteworthy mentions: Sunday Jazz Brunch, "Sip, Tipple, Savor" Happy Hour (1/2 off drinks and bar bites, M-F 4-7pm), Tableside Crepes Suzette and Bananas Foster every day after 4pm.
Daily Specials:
Mon (all day) 50% off signature cocktails, Kids Eat Free
Tue (all day) $6 Burgers, $3 Beers: Corona/Light, Heineken/Light, $5 Dixie Vodka Cocktails
Wed HUMP DAY ALL DAY HAPPY HOUR 50% OFF DRINKS & BAR BITES, $5 HUMPSTER HURRICANES, 50% OFF BOTTLES OF WINE (bottles $100 & under), $9.99 SHRIMP PO'BOY & DRAFT BEER
Thu (7pm – close) Ladies Night: FREE Tito's Vodka Cocktails, FREE Bubbles – Live Music – DJ
Fri (2 – 5pm) Ditch Friday: $3 Abita Draft Beer, $4 House Wines, $5 Tito's Vodka Cocktails & Martinis, Happy Hour: ($4 – 7pm Half off Drinks & Bar Bites
There's actually more, so to get a complete list or for more information about The Balcony and its new menu, visit www.thebalconylasolas.com or call (754) 200-6344.
ABOUT THE BALCONY
The Balcony, a PDKN Restaurant Group concept, offers a New Orleans-inspired restaurant with a twist. Located on trendy Las Olas Boulevard in Fort Lauderdale, this two-story restaurant features the dynamic tastes of New Orleans, which blends French, Spanish, West African, Amerindian, German, Italian, Irish and Vietnamese ingredients. Guests enjoy New Orleans-style small plates, craft cocktails and live music. The Balcony is owned by former Miami Dolphins player Kim Bokamper and his three partners, who also own Bokamper's Sports Bar & Grill, with locations in Fort Lauderdale, Miramar, Plantation, Naples, and Estero. The Balcony is located at 1309 E. Las Olas Boulevard, Fort Lauderdale FL 33301. The restaurant is open Monday-Wednesday from 11:30 a.m. to 1 a.m.; Thursday-Saturday from 11:30 a.m. to 2 a.m. and Sunday from 10:30 a.m. to 12 a.m. For more information, visitwww.thebalconylasolas.com or call (754) 200-6344.
ABOUT PDKN RESTAURANT GROUP
PDKN Restaurant Group was founded by former Miami Dolphins player Kim Bokamper and his three partners, P.J. Kavanagh, Damon DeSantis and Noel Cullen, in 2008. Following Bokamper's successful sports and broadcasting career, he was approached by current partner Kavanagh about furthering his brand through a restaurant. The first Bokamper's Sports Bar & Grill was founded in 2008 in Plantation, Florida. Today, the group owns five Bokamper's restaurants locations in Florida: Fort Lauderdale, Plantation, Miramar, Naples, and Estero ― all dedicated to providing exceptional service, great food, and an unparalleled atmosphere for friends, families and sports fans of all ages. PDKN Restaurant Group also owns and operates The Balcony, a New Orleans-inspired restaurant on Fort Lauderdale's Las Olas Boulevard and Bo's Beach, featuring fresh seafood and stunning ocean views on Fort Lauderdale Beach.
Until we eat (and drink) again…
I send you delicious wishes, xo
Denise