Hello Foodie Friends,
I had the opportunity to sail on Royal Caribbean's newly refurbished Oasis of the Seas over the Christmas/Hanukkah holidays. Wow!!! What a ship! It was a 7 night Eastern Caribbean cruise sailing from Miami calling on Labadee (their private island off Haiti), San Juan and St. Thomas. There were three days at sea so it was a very leisurely itinerary which meant lots of time to just chill on deck and enjoy the plethora of amenities and activities on board. Some of my highlights: our cabin. We had a lovely balcony cabin and the room was quite spacious. "Central Park" on deck 8 was quite spectacular. I  was impressed with the amount of trees and foliage found on this deck that opened up to the sky. This deck is where several of the Specialty Dining restaurants could be found as well as the top floor of the "floating" bar that traveled up and down between decks 5 and 8. The Boardwalk was a lot of fun as well with a Carousel and game booths and a few other specialty restaurants including Johnny Rockets and a candy store. The Aqua Theater is also located on this deck at the end of the Board Walk in the back of the ship. The show they do is terrific!!! The soundtrack, amazing! It's a free show and one of the best I have seen, on land or at sea. I would suggest making a reservation early on and sometime towards the beginning or middle of the cruise as opposed to the end as sometimes the weather sailing back into Miami may get a little rough and they might have to move some reservations around if rough weather is expected.
We also enjoyed the ventriloquist, Ronn Lucas . He was both hysterical and amazing. The way he threw his voice was mind-boggling. We also enjoyed one of the comedians who is from Miami. His name is Nery Saenz. Not only was he funny as all heck, but clever tool. He knows he has a name that's not easy to remember, but what is easy to remember is "What Was That Guy's Name?" So he bought that domain and that's literally how I just looked him up for this post.
The Bionic Bar was really quite the spectacle. Drinks were made literally by robots. Check it out.IMG_5301÷
 Other highlights include the Spotlight Lounge. We found ourselves here on a few nights enjoying some sing-a-long games akin to name that tune. Was a lot of fun. I also went on the slides (both wet and dry). Didn't get around to trying the surf rider, maybe next time…
We mostly ate at the Windjammer Cafe since there was such a variety and no waiting. We did eat in the dining room a couple times and we ate at the Hibachi restaurant which turned out to be a bit of a disappointment for us. Not because the food wasn't good, but because the large party they had scheduled to seat with us,,, with never showed up, so it was just the two of us and not much of a "show".
For excursions, we just kinda did our own thing. Total beach day at Labadee. In San Juan, we walked around Old San Juan, visited some local shops, headed over to El Morro Fort and decided to get henna tattoos on our way back to the ship. In St. Thomas, the weather was kind of iffy, so we were fortunate to have gone on our own to Coki Beach to get a little snorkeling in before the rain. We heard the planned water shore excursions were cancelled.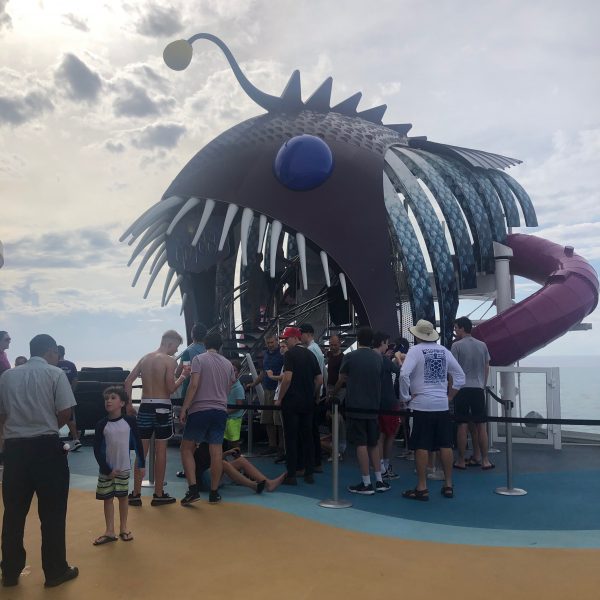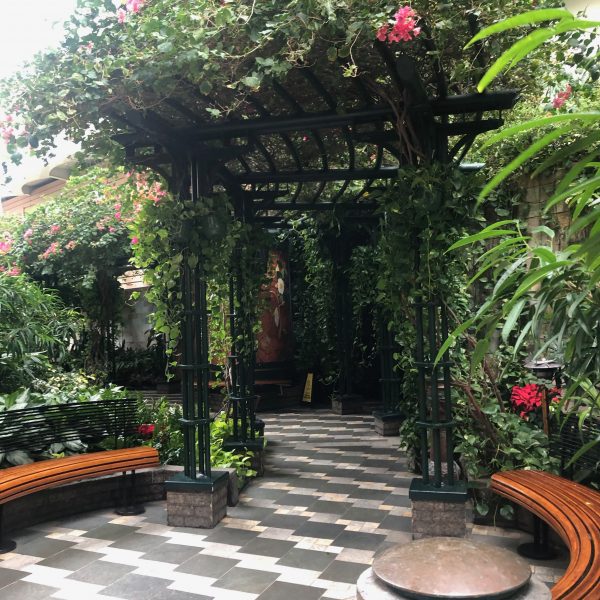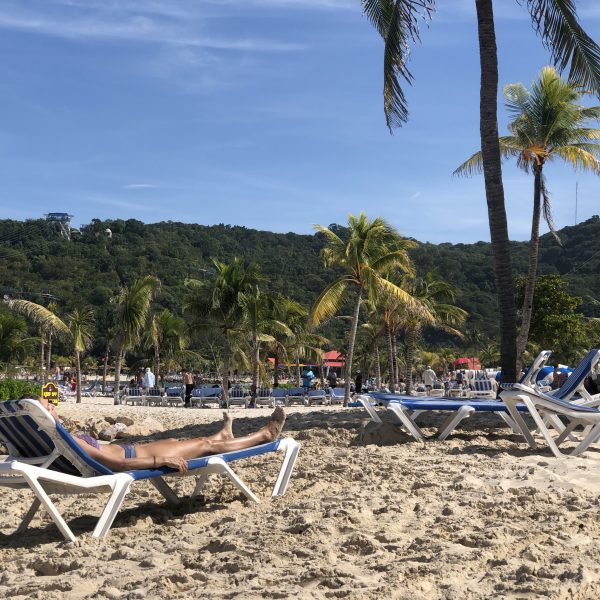 Back on the ship, I got a little lucky in the casino at the craps table. I'm not much of a gambler but sure had fun making a bunch of people a bunch of money with a lucky 20-30 minute roll. Beginner's luck?!?
All in all, my friend and I had a wonderful cruise. I'm looking forward to my next adventure coming up in February; Destination: New Orleans for Mardi Gras. Stay tuned…
Until we eat (and drink) again…
I wish you Delicious Wishes, xo
Denise