Hello Foodie Friends,
Although National Ravioli Day is officially on 
Sunday, March 20th
, BRIO Tuscan Grille South Florida locations have decided to keep the celebration going for four days with 50% off select ravioli dishes from
Sunday, March 20th through Wednesday, March 23rd
.
The featured ravioli dishes are:
Ravioli Di Bello, a mouthwatering Portobello ravioli with crimini mushrooms, grape tomatoes, Parmesan and thyme in a champagne brown butter sauce. BRIO is offering the lunch portion specially priced at $6.75 (normally priced at $13.50), and the dinner portion for $7.98 (normally priced at $15.95). This dish pairs nicely with a glass of Conundrum 25th Anniversary Red Blend, priced at $11.95 per glass.
Lobster & Shrimp Ravioli, normally offered only at dinner, is being featured at lunch during the celebration at the reduced price of $9.75. For dinner, the special price is $9.98 (regularly $19.95). This delicious dish is served with spicy black pepper cream, spinach and grape tomatoes. The 25th Anniversary Conundrum White Blend (Napa Valley, California), priced at $11.95 per glass, nicely balances the spicy finish of the black pepper cream sauce.
Ravioli Alla Vodka, a special feature for the day, is five-cheese ravioli with pancetta, garlic, basil and a rich tomato cream sauce for $8.95.
I was invited to come in and preview some of the ravioli being featured in this promotion in order to share this with you good people in time. Now this is not my first time doing a review of BRIO, click here if you'd like to read my previous blog on BRIO's "Art of Grilling, summer menu.
My dining companions and I tried the Ravioli Di Bello and the Lobster and Shrimp Ravioli. They knocked it out of the park with the Ravioli Di Bello. It was delicious. I will definitely be going back for this one. While the shrimp that surrounded the Lobster & Shrimp ravioli was tasty and plentiful, I didn't care much for the texture of the lobster/shrimp filling inside this ravioli, a little too mushy for my personal taste.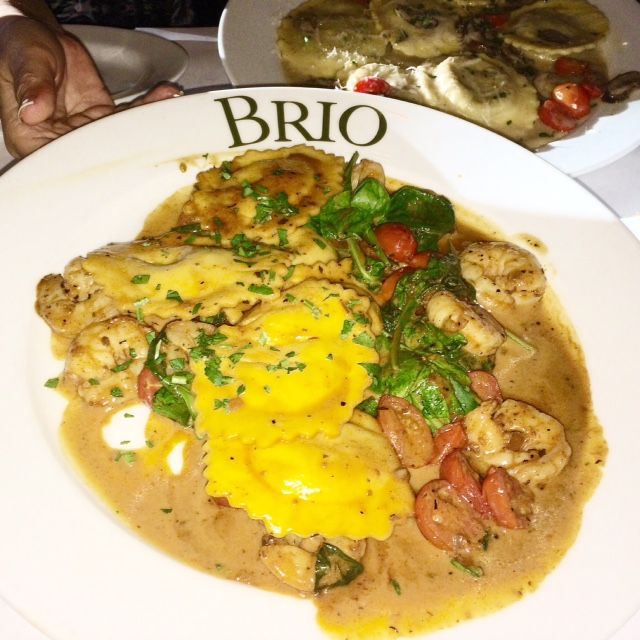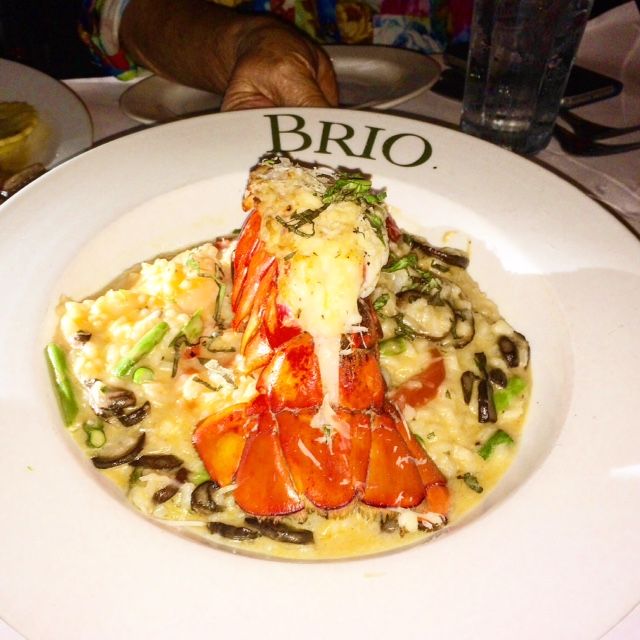 Also going on now through March 27th is A "Tale of Two Risottos" – A classic tale of old-world meets new. BRIO's love affair with risotto and the finest seafood available has inspired these two new decadent creations: Cold Water Lobster Tail with Shrimp Risotto is prepared with perfectly cooked risotto, shrimp, mushrooms, roasted red peppers, asparagus, basil and Parmesan, topped with a broiled Maine lobster tail for just $19.95.  (We had a chance to try this dish as well and we all enjoyed it.) Sea Scallops & Ratatouille Risotto consists of seared sea scallops served over risotto with roasted eggplant, red peppers, zucchini, tomato compote, basil and Reggiano, also for just $19.95.
Reservations are highly suggested and can be made online by visiting www.BrioItalian.com. The National Ravioli Day celebration is for dine-in only and excludes large pans, appetizers and the Children's Menu.
BRIO locations in South Florida are at The Falls in Miami, Dolphin Mall in Miami, The Village at Gulfstream Park in Hallandale Beach, The Shops at Pembroke Gardens in Pembroke Pines, Westfield Broward Mall in Plantation, The Shops at Boca Center in Boca Raton, City Place in West Palm Beach, and The Gardens Mall in Palm Beach Gardens.
Until we eat again…
I send you delicious wishes, xo
Denise