Dear Foodie Friends,
On a recent trip to Orlando to further my education in my Wines for Humanity business and to scout out restaurants for our new culinary tours soon to be offered up there, I was invited as a member of the press to dine at Cuba Libre who just so happened to be launching a new menu the night of my arrival into town.
Cuba Libre Restaurant & Rum Bar, located in Pointe Orlando on International Drive, announces its new menu, which debuted yesterday May 3rd, featuring 12 brand new classic and contemporary Cuban dinner items by Chef-Partner Guillermo Pernot, inspired by his bi-annual culinary travels to Cuba. The menu overhaul includes creative appetizers, entrees, and hand-crafted cocktails. In celebration of the popular restaurant's extensive menu release, Cuba Libre is offering a complimentary glass of its signature red or white sangria to any guest dining at the restaurant for dinner between May 3rd and May 10th, with the purchase of an entrée. Guests must mention the free sangria promotion to their server in order to receive the complimentary item.
"I'm thrilled to introduce so many new flavorful, unique, and authentically Cuban items to Cuba Libre's menus," said Chef Pernot. "While many menu favorites remain, our 12 new dishes range from impressive platters for two, to trendy items with a Cuban twist, and tapas recipes passed down for generations, and I believe that our guests, both new and recurring, will absolutely love the new additions."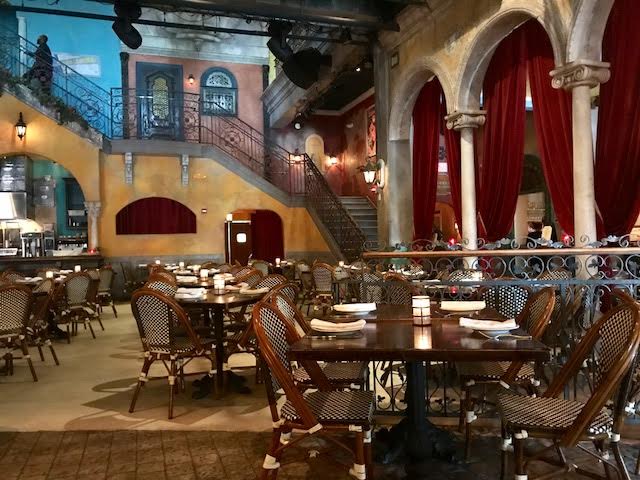 The Cuban restaurant's new menu features 50-60% new items including several massive meat entrees for two, such as the Crispy Pork Pata, a 48-hour slow-cooked Berkshire pork shank, served with grilled seasonal vegetables and Moros y Cristianos, in a citrus pan reduction; and the Ribeye Jibaro "Doble," a 32 oz. salmuera-rubbed bone-in rib-eye steak, served with "boniato bravas" and grilled broccolini. Notable dishes in the new "Latin Steaks and Chops" section include the Vacio Steak Argentino, grilled Argentine-cut bavette steak, with Moros y Cristianos and tostones, and Argentinean chimichurri; and the Puerco Cha Cha Cha, three pork favorites in one jumbo cut: a bone-in loin chop with meaty rib and crisp pork belly, with "boniato bravas" and charred herb salsa, and chipotle allioli. A tropical seafood dish, the Pargo Frito, has also been added – crispy whole red snapper, coconut basmati rice and candied cashews, with a sprouts salad and mango red curry sauce.
Cuba Libre has also added a number of new appetizers based on traditional Cuban recipes, like the Chicken Croquetas, Crab Guacamole, Albóndigas Cubanas (or Cuban meatballs), and Octopus a la Parrilla. Guests are sure to be impressed with innovative menu items like the Cuban Sandwich Spring Rolls, and a Cuban twist on the current poke trend, Chef Pernot's Cuban Poke – marinated seasonal fish, compressed watermelon and English cucumbers, pickled seaweed, avocado, white rice and toasted macadamia nuts, with pumpkin seed oil vinaigrette. An effervescent new hand-crafted cocktail, the Second Street 75, made with Macchu Pisco, simple syrup, lemon juice and sparkling wine, makes for the perfect pairing for the new dinner menu.
My server on this evening was James who provided me the most attentive and friendly service I have had in a long time.  I asked James for some recommendations and he did not hesitate for a moment when he recommended I try the new Crab Guacamole. The plantain chips were phenomenal – so fresh and uniquely shaped, perfect for scooping up the guac. I loved both the sweetness that the grilled golden pineapple provided and the generous chunks of blue crab meat in this dish. This was a winner for sure. Off to a great start.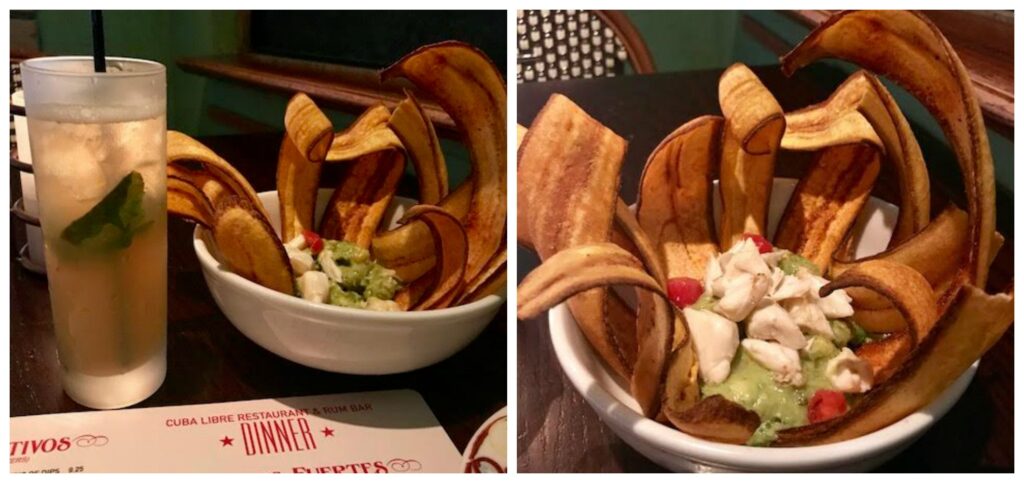 I washed that down with their Classic Mojito made with Pyrat Rum. Next up, I tried the Octopus a la Parilla. I have had octopus many a time, but I had never been served baby octopus apparently…until now. Wow was this ever different and so tasty.  The description read truffle, another favorite of mine, but I'm sorry to say that I just didn't detect the truffle, but I did discover some heat in the smoked potato crema from the Spanish paprika. I liked this dish very much.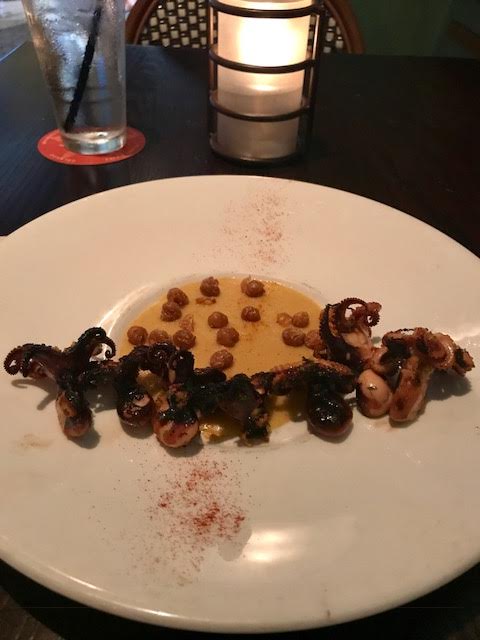 Another new menu item I got to try was the Cuban Poke. Tonight's fish was ahi tuna. A couple things I really enjoyed about this dish was how the compressed watermelon both blended in and resembled the tuna in shape and color and also how it complemented all the flavors in this bowl; toasted macadamia nuts, pickled seaweed, white rice, avocado, English cucumbers and pumpkin seed vinaigrette. Well composed dish.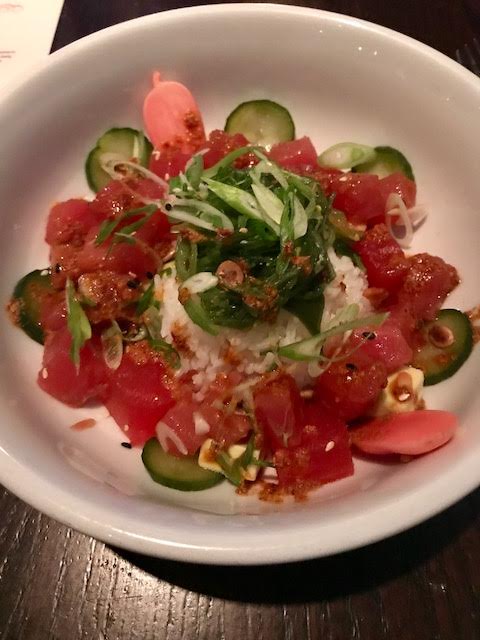 As my stomach was beginning to get full, a duo of steaks appeared before me. From the existing menu I tried the Churrasco a la Cubano and from the new menu, the Vacio Steak Argentino.  This was a grilled Argentine-cut bavette steak served with chimichurri, tostone and Moros y Cristianos (rice & beans). They were both terrific but I have to say that the Vacio edged out the other one by a slight margin in my book. Cooked to a perfect medium rare, the flavors were incredible. The steak melted like butter in my mouth. De-lish!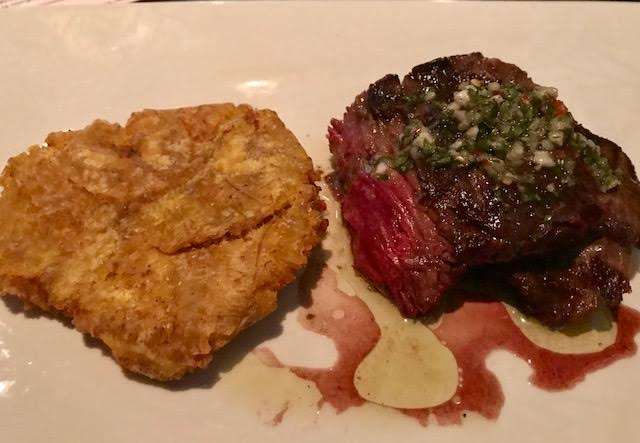 For dessert, I was presented a lovely tray of minis from which I chose the flan. But before I could dig in, I was presented with this lovely box which to select my eating utensil.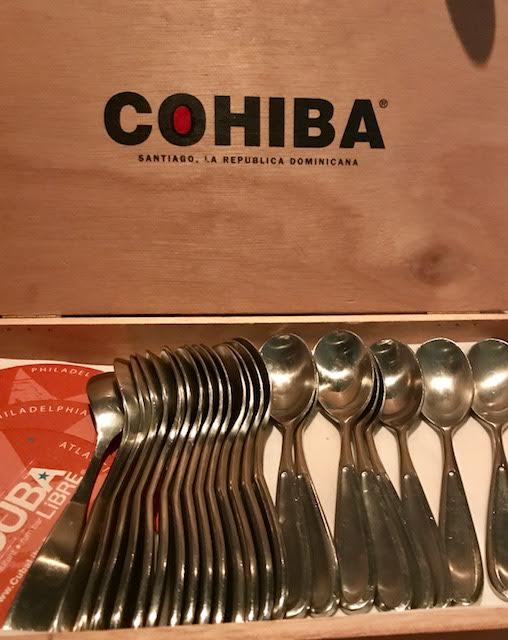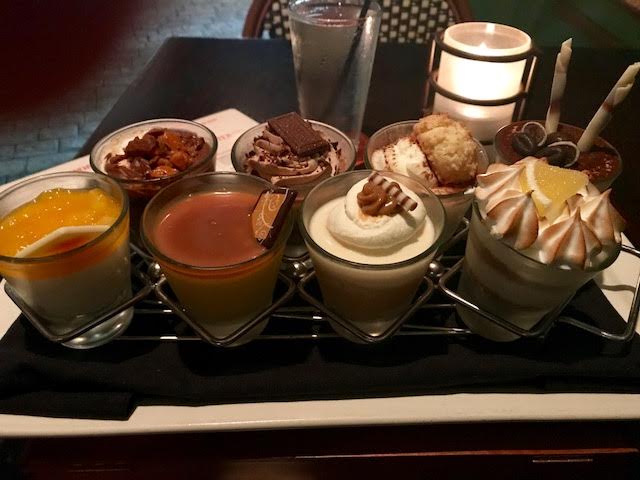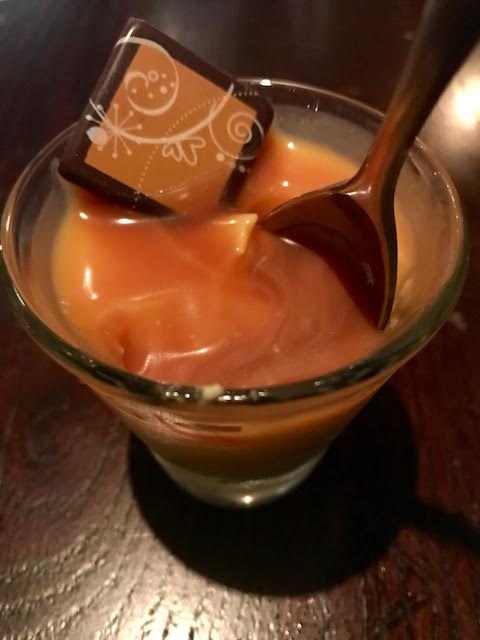 I am so excited that I got to try Cuba Libre while in Orlando and am super excited for the opportunity to work with them on some future groups. If you are traveling to the Orlando area, be sure to make this a stop on your culinary adventures.
About Cuba Libre Restaurant & Rum Bar
Cuba Libre Restaurant & Rum Bar in Orlando serves dinner daily from 5 p.m. until 11 p.m.  Happy Hour is available every day from 5 p.m. until 7 p.m.  The bar is open until 2 a.m. on Fridays and Saturdays.  For more information, or to make a reservation, please call (407) 226-1600, visit www.cubalibrerestaurant.com, follow them on Twitter (@CubaLibreORL) or Instagram (@CubaLibreRestaurant) and "like" them on Facebook.
Until we eat (and drink) again…
I send you delicious wishes, xo
Denise